You're losing business if you don't understand how to use keywords for search engine optimization (SEO) in your content.
Studies show that 95% of people only view the first page of search results. In fact, half of the clicks on the page are on the top three results. In other words, you'll significantly hurt your business if you choose the wrong keywords. It's because you can't get organic traffic when people decide to click through from a list of search results.
No organic traffic translates to fewer sales and leads. That's something no business can afford, right?
SEO And Keywords Go Hand In Hand!
Search engines use keywords to filter results, so make sure that you know how to use keywords in your content in a way that is appropriate is crucial to have a greater chance of having your content found, indexed, and ranked.
Without keywords, you will not rank! The pages on your website will not rank in search engine results pages (SERPs) if you do not establish clear subject relevance by using SEO keywords in your content. If your content does not relate to the searches people make, you cannot get traffic.
It's no secret that there are many opinions regarding how to use keywords for SEO, but I want to provide you with a simple guide to safely and adequately using keywords in any content you write/post that pertains to SEO.
How Many Keywords Should You Use In Your Content?
If you are asking how many keywords to place on a page, the decision will depend a great deal on the keywords you wish to use, how related they are, and the way they help push the message along. Nevertheless, it shouldn't be hard to come up with a list of 5-10 keywords with the proper keyword research. Although, it does not mean you should work on all of them!
First, let's talk about keyword hierarchy. Keywords for SEO can be divided into three types:
1. Primary Keyword
2. Secondary Keywords
3. Other Keywords
The title of the article and subsequent content must reflect the main focus of your article, which should be your primary keyword. There is no way to write a good piece of content about two separate subjects, so only one keyword should be used for the meat of the content.
A secondary keyword is a simple variation of the primary keyword. An average main topic has 3-5 major talking points, which is why it makes sense to incorporate a few of the secondary keywords.
Other keywords are just any related keywords that sound or look different but mean the same thing as the first two. The point is to try and rank for one (or all) of your main keywords in a 'catch-all' net where different variations of those keywords are listed. In this category are typical "long-tail" or "LSI" keywords.
Editor's Note – Internally, we use 1 focus keyword or primary keywords, 3 secondary or supporting keywords, and try to include other keywords naturally in our writing.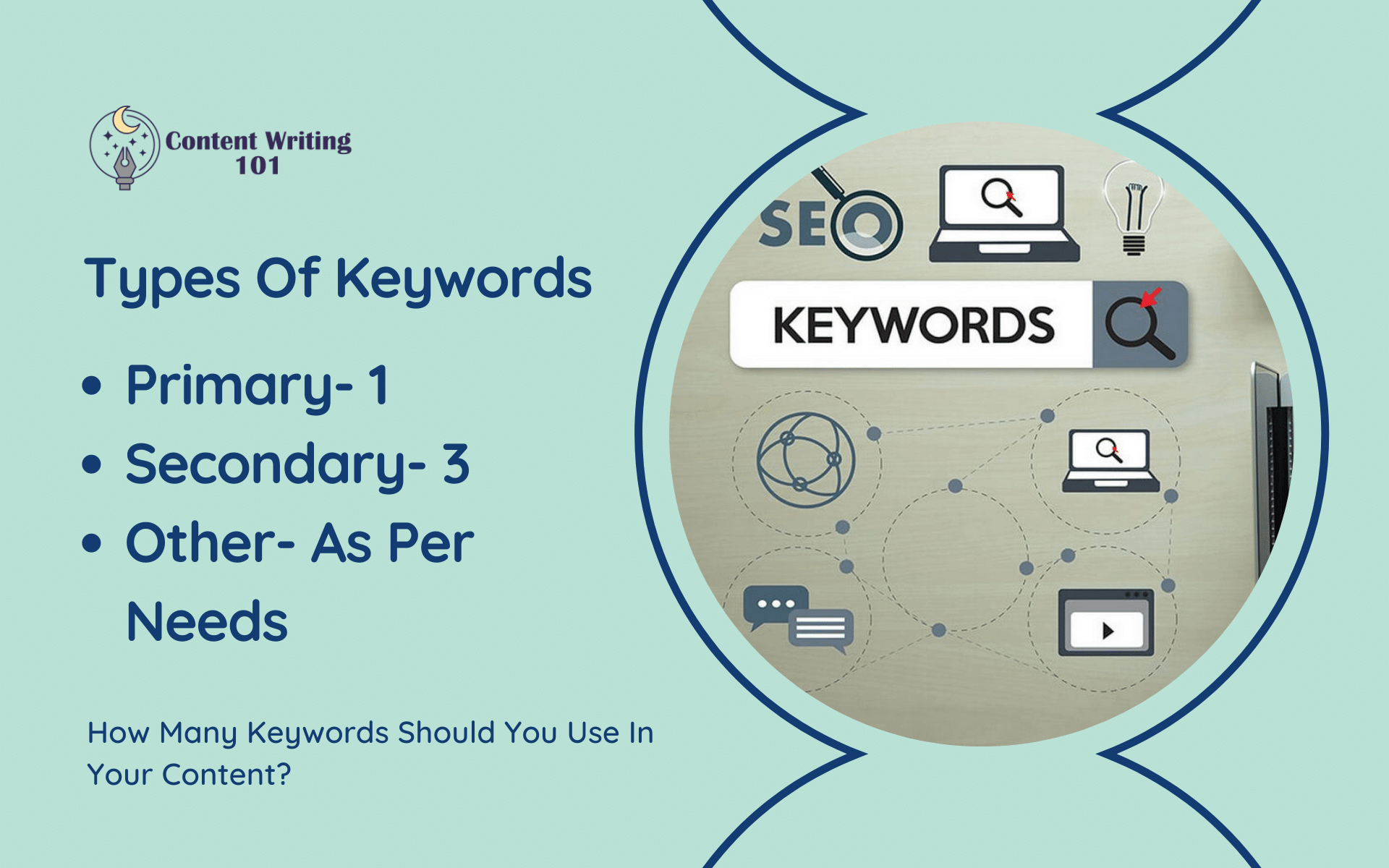 Where to Use Keywords for SEO in Your Content Writing
1. Keywords In Page Titles
Keywords in title tags have been found to be among the most powerful relevancy signals for search engines. They provide a thorough overview of the page's content. It is recommended that the keywords appear at the beginning of the title tag.
You create title tags when writing the page name or the headline. However, you can change the title tag if it doesn't contain keywords. It is best to change the headline to reflect what is most likely to be searched for in the article.
For example, in this blog post, you must have seen a different SEO title on the search result. It's different from the page headline and resonates well with the search query.
It is important to keep page titles under 60 characters so that they will fit easily in search engine results pages. The longer they are, the more likely you are to lose the part of your title you wanted people to see – or appear illogical.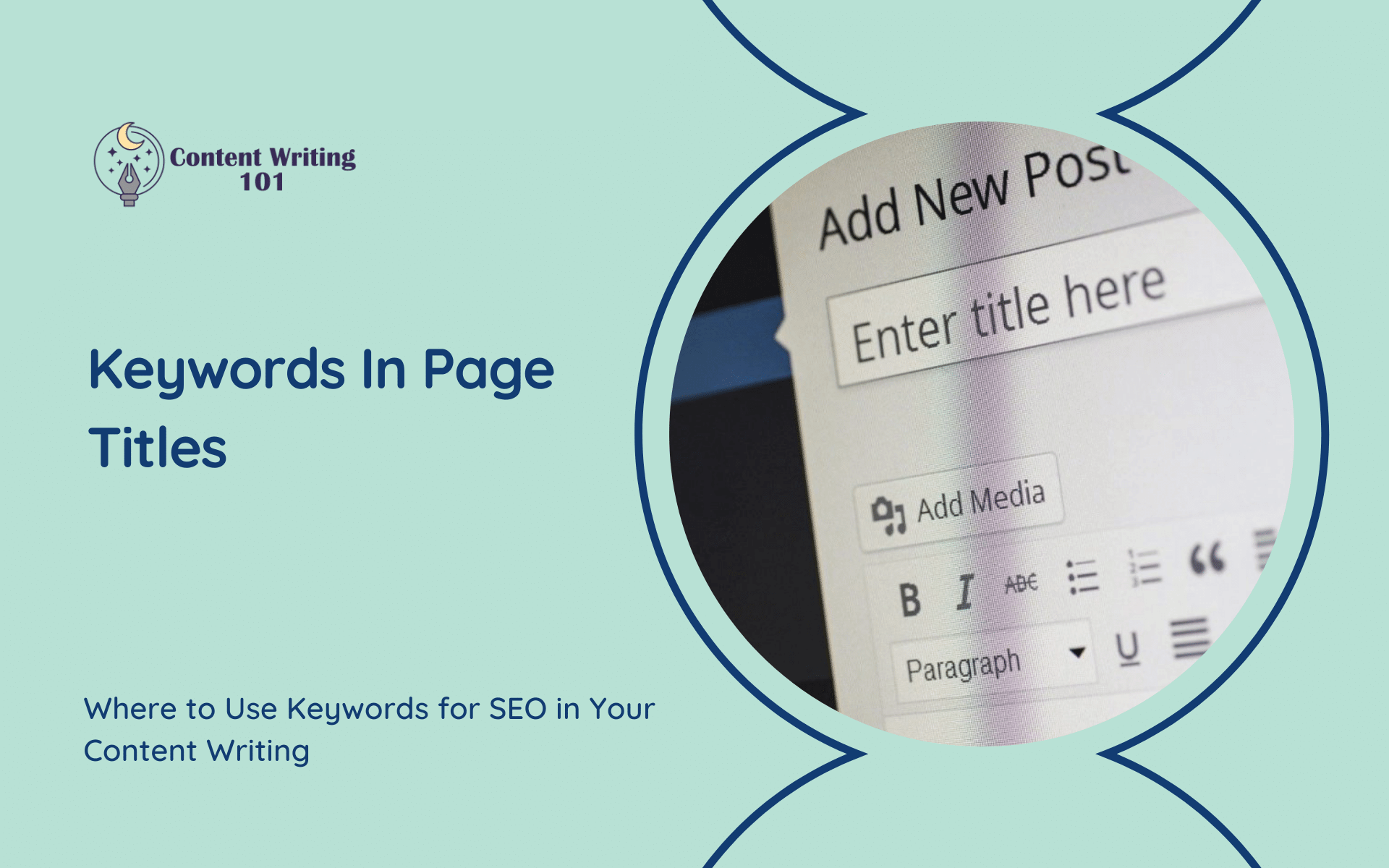 2. Meta Descriptions Containing the Key Words
This is one of the simplest ways to add keywords for SEO, but it's often overlooked. Meta descriptions act as a summary of what a piece of content is about, so placing the keyword here will improve your search engine results. This is an excellent way to make sure your most important keywords appear on the sections of your page that search engines directly serve up.
In layman's terms, a Meta Description is a 160 character (or 20-25 word) description of your page. When people search for a keyword phrase in a search engine, this description appears under the page name and URL.
3. Keywords In Subheadings (H1, H2, H3 Tags)
There are SEO specialists who believe header tags have an effect on search engine rankings; others disagree. However, when they are used, they look great on the page, help break up long blocks of text, and make content more interesting to users, and they are certainly worth the effort.
The most important aspects of building good H1, H2, and H3 tags are writing good headlines and subheads, which all good copywriters do anyway, and ensuring they include a few keywords.
For SEO, the H1 tag – which most themes consider the main headline – is crucial because it is what will appear in the title of the page.
The majority of Content Management Systems functions allow you to highlight words and phrases you want to make larger, bold, underlined, or italic. WordPress allows you to format headings either through the HTML coding in text mode or through a drop-down menu in visual mode.
If you are using Google Docs, MS Word, or a similar program, you can also use the Design or Styles menu to change heading and subheading font sizes.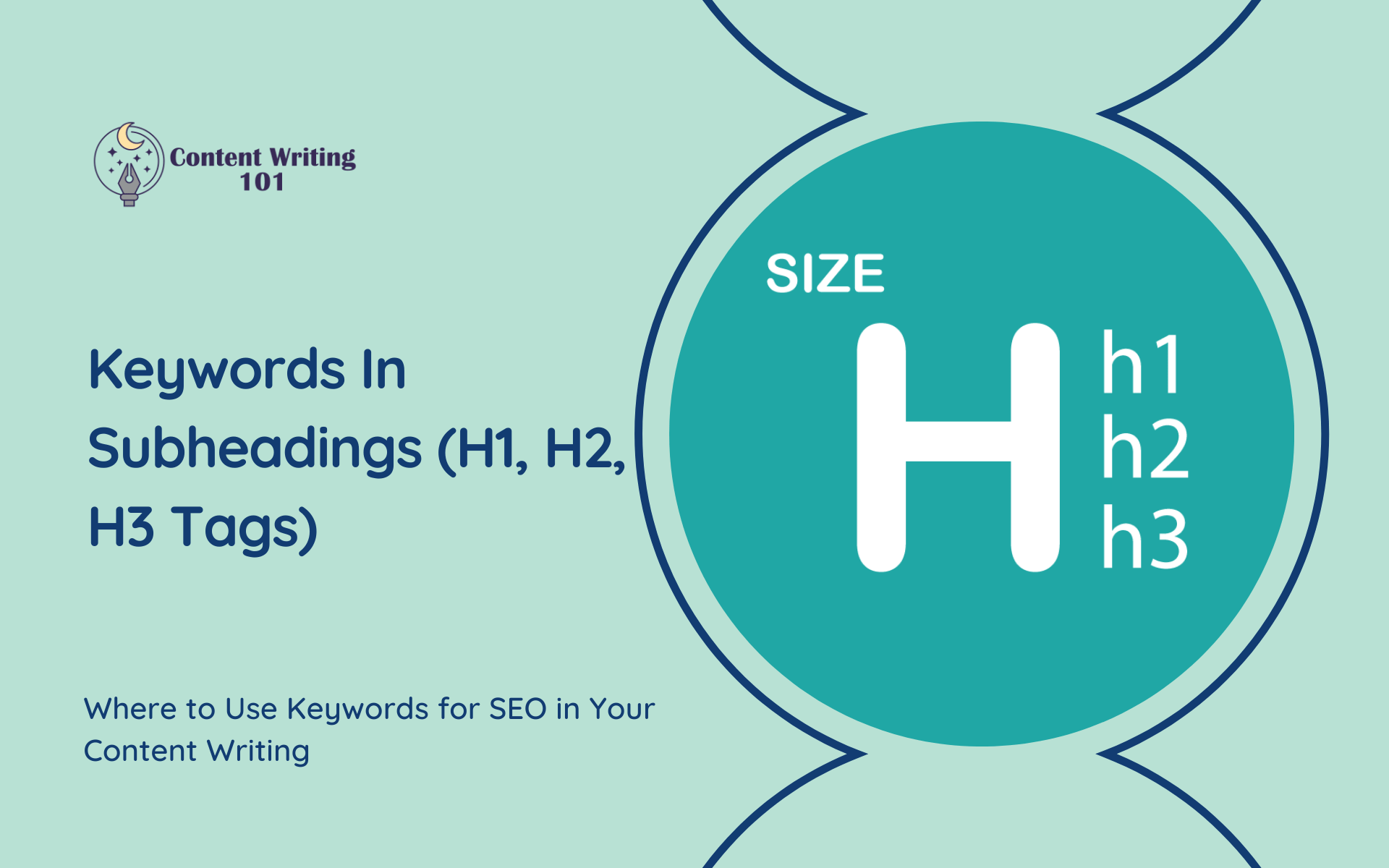 4. Keywords In The Introduction Paragraph (First 200 words)
Since Google scrutinizes the first 200 words of your blog post, it's imperative to place your primary keyword at the beginning, if possible, without sacrificing the content's quality. Furthermore, it is recommended that you use at least one secondary keyword within the first 200 words as well (but not within the first sentence).
The aim of search engines is to gain a broad picture of the article's topic. So, it is important when optimizing content for keywords not to confuse Google or Bing and to lead it to the keywords you want it to focus on. In other words, your primary keyword should appear in all of the most relevant places, followed by your secondary keywords and any other additional keywords after that. It's like a pyramid, with primary keywords at the top.
5. Keywords In The Body Of Your Content
Optimizing the body of your content with SEO keywords is one of the most important things you can do. The reason is that the body contains all the details and is the top ranking factor for SEO.
However, it's vital to get it right. Avoid using poor keywords on your website.
If you are writing your keyword content, one way to ensure your keywords flow naturally is to use "stop words." These are words you can add to keyword phrases to make them sound more natural and increase their ranking value.
Suppose, for example, you were trying to target the phrase "Content Writers Nashik" There is no way to insert that phrase into your content as-is without it looking either like a typo or as a blatantly stuffed keyword. For SEO, it is better to include a stop word within that phrase. If the stop word "in" is added, the sentence will now read "Content Writers in Nashik," which can be written in natural writing much more easily. Give it a try!
Adding keywords to your website can be made easier by looking up commonly used stop words.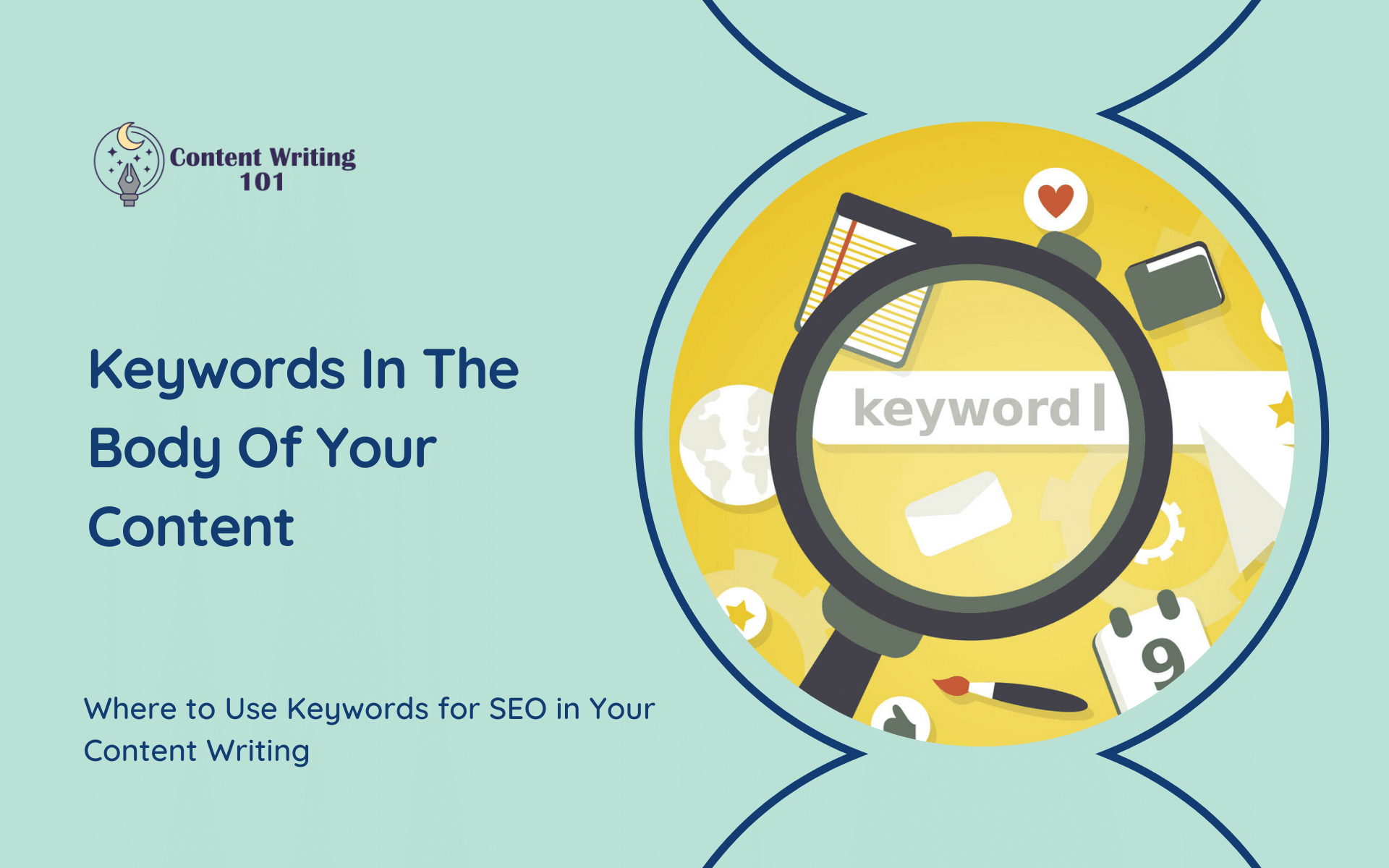 6. In Alt Text
Alternate text (alt-text) is a text that can be inserted into an HTML document to provide information about an image or its contents. An alt tag is a popular term for "alternate attribute" in an image tag.
A screen reader for the blind or visually impaired will read out your alt tag into a text box in order to make your image accessible. This is what the alt tag is for.
According to Google's ranking algorithm, alt text is relatively important to assist in determining what is on an image, as well as the topic of surrounding texts.
7. In Anchor Text Link
Clickable text, or anchor text, found in hyperlinks is used by search engines as one of the many signals they use to determine the topic of a web page, to determine which pages to rank. Therefore, anchor text should be relevant to the page that links to, rather than generic like "Sign Up."
A link saying "Sign Up" instructs a search engine that the page on which the hyperlink appears is about the subject "Sign Up." If your site includes a content marketing guide, write "Click here for our marketing guide" or "Download Content Marketing Guide" and that link's anchor text.
8. In URL
Are you familiar with those URLs that are just a string of numbers and weird characters? They are a turnoff for visitors.
Your URL should be able to tell visitors – and Google – what's on the page, so make it briefly descriptive. If you want to write good URLs, keep them short, and include no more than one or two keywords in a way that makes the URLs understandable to people visiting them.
9. In the last 200 words (Conclusions)
Similar to how the introduction of an article is important to keyword rankings since it sets the foundation for the content, the conclusion of an article (or the final 200 words) can be just as important, if not more.
It is therefore highly recommended that you include your primary keyword again near the end of the post, and a secondary keyword is equally important.
A good practice for blog posts is to include a call-to-action (or CTA) in the last paragraph, so if you can include the primary keyword there, great! If not, make sure that it appears in the next paragraph.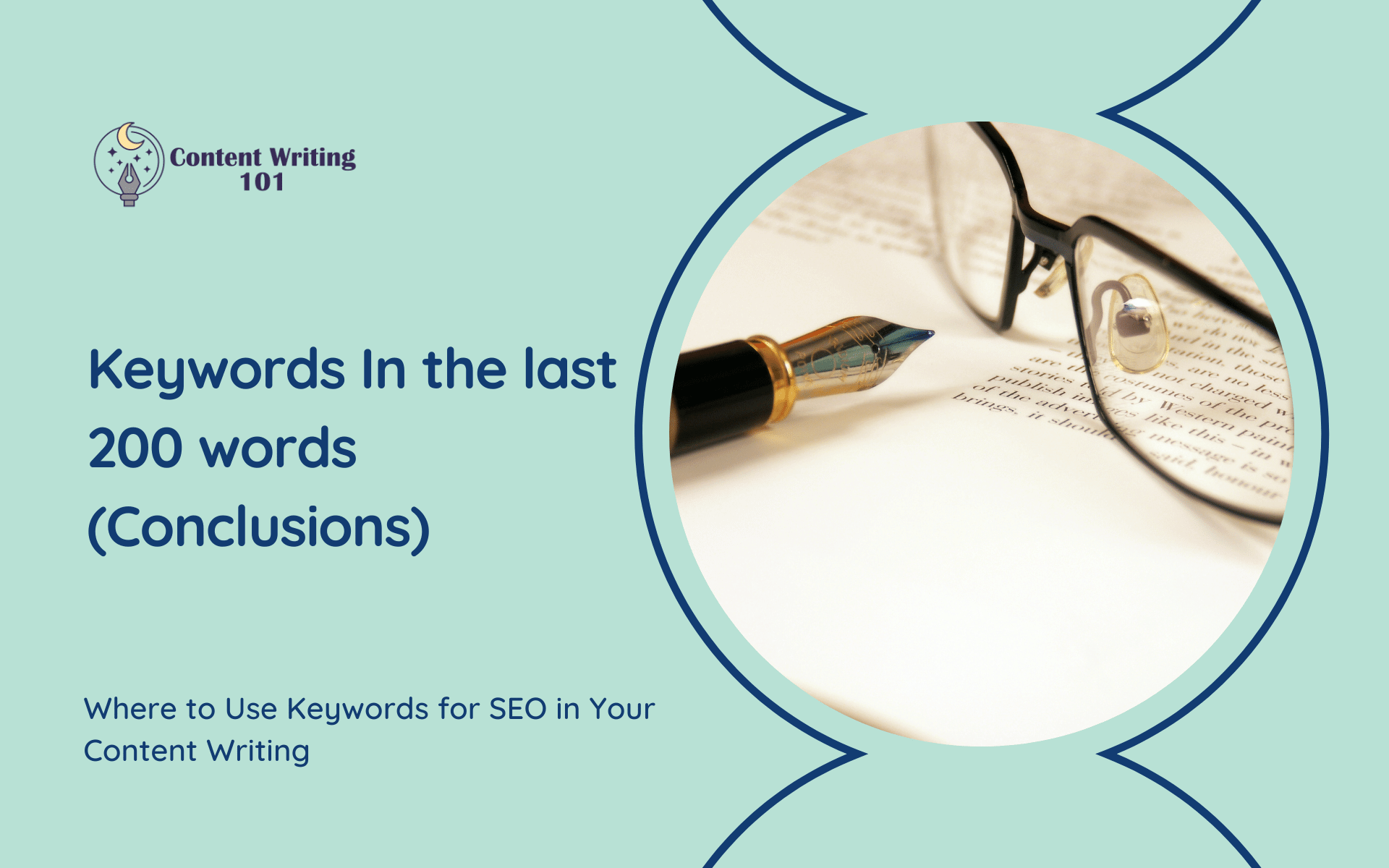 10. Social Media
In spite of the fact that social media doesn't directly impact search rankings, research surrounding social media and SEO shows there's a direct correlation between social shares and rankings.
This is a valid reason to optimize keywords in your social media updates for better search engine rankings.
In an update on any social media platform, it's recommended to use keywords early so that they're visible.
Furthermore, Google indexes Twitter updates, so using keywords there can lead people to your profile on Twitter and ultimately to your website.
In social media updates, hashtags can also be helpful as keywords. Instagram is an excellent example of this, where the right hashtags can help you find great content on the site.
Other social media sites use hashtags, too, but you need to pay attention to how you use keywords as hashtags because they work differently using each site.
11. Directories And External Listings
Lastly, external business listings can also be a great way to include keywords.
Adding SEO keywords to the business description is a good idea if you're creating a Google My Business listing.
That will increase your chances of appearing when customers type keywords relevant to your business into the search box. Thus giving you more online authority and greater click-through rates.
Quick Summary
Ideally, you should use 3-5 keywords total (primary, secondary, and additional).
Put keywords in the Meta Description, Meta Title, and URL of the page.
Titles, headers, alt-image tags should include keywords.
Place keywords in the first and last paragraphs and throughout the body of the text.
Avoid using anything that isn't natural. If the word is odd or does not make sense for your content, use a relevant but not overly specific version of it or get rid of it entirely.
Having good keywords is great, but sticking to the meat of the content is what matters most. Unless your content helps somebody, Google won't rank it. In other words, don't stuff your content with keywords.
Now you know pretty much everything there is to know about using SEO keywords in your writing. What do you have to say about using keywords in SEO? Comments are welcome below!