The extreme capitalist inequality in Squid Game has sent the whole world raving about it on the internet sharing their lessons from squid game. If you've been online, you know what kind of game I'm talking about here. The Korean Show Squid Game has been roaring the top in over 90+ countries since its release. From its complex symbolism, expert foreshadowing, and very well fleshed out characters, the show has won and shocked hearts all over.
The South Korean survival drama can teach you many valuable content writing lessons that your brand or business can use to improve website traffic, but I promise no spoilers here.
9 Lessons From Squid Games For Freelancers – Writers Take Note
1. The People Around You Matter
Consider content writing as a game itself. Especially in a game like Squid Game, people or you can say the contestants are the lifeline. The consequences will be extreme if you don't network well by putting yourself out there in the digital world. Remember, nobody is listening until you speak out. So, grab hold of as many people in your network & exchange knowledge. This communication might turn into new opportunities in the future. So, always approach networking with a learner's mindset. You'll be surprised how many unique ways there are to solve the game.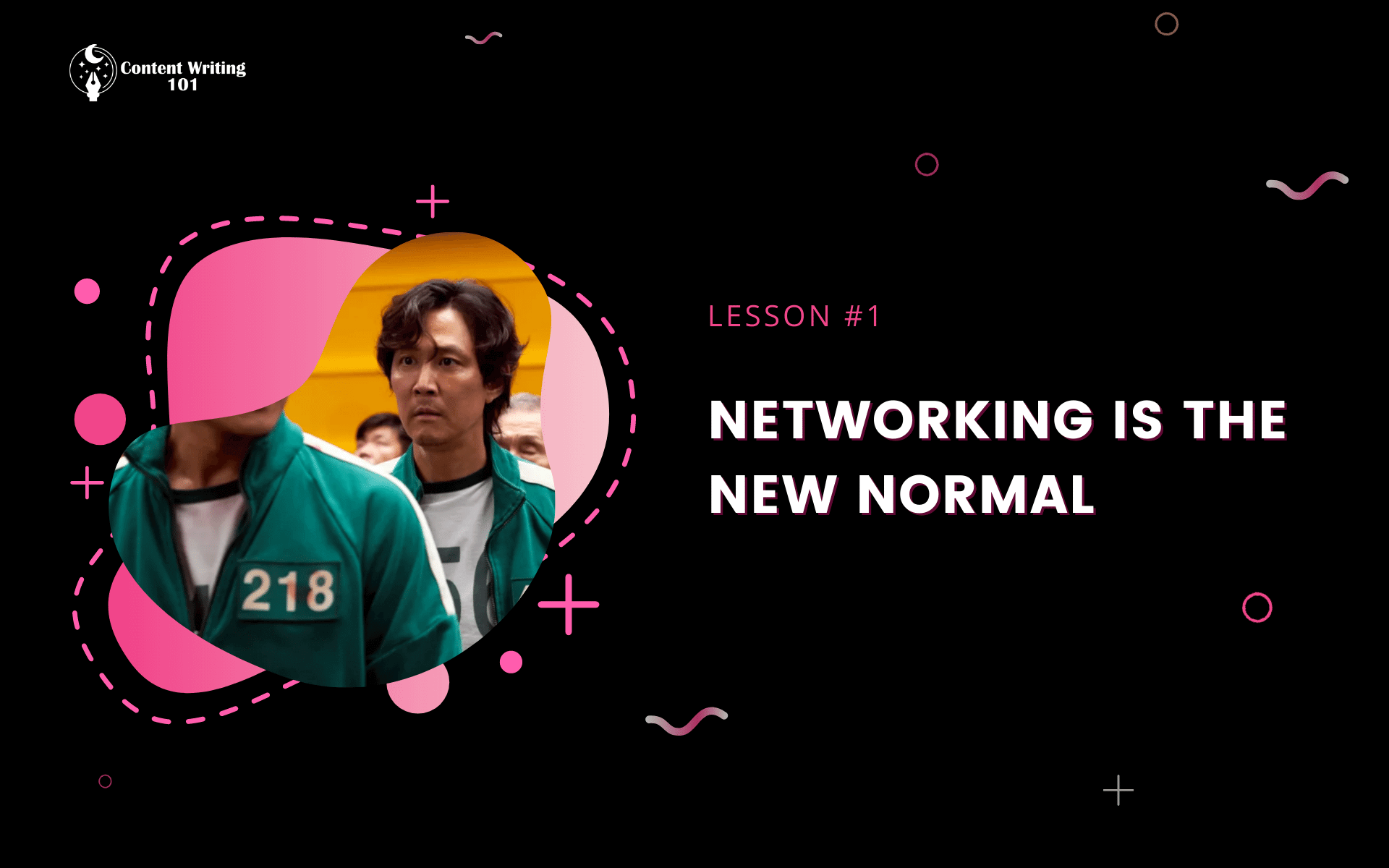 2. You Need A Coach
Trust your seniors, teachers, boss. It pays to pay for what you will learn from the senior figures. Take their feedback sportingly and maintain a good work ethic. There's a reason why they are experienced. If not their methods, follow their advice to immediate effect. Content writing is never an isolated process. This is one of the valuable lessons from Squid Game for writers. As a content writer, there's nothing more blissful than getting an enthusiastic coach who teaches you all the nuances of writing & marketing.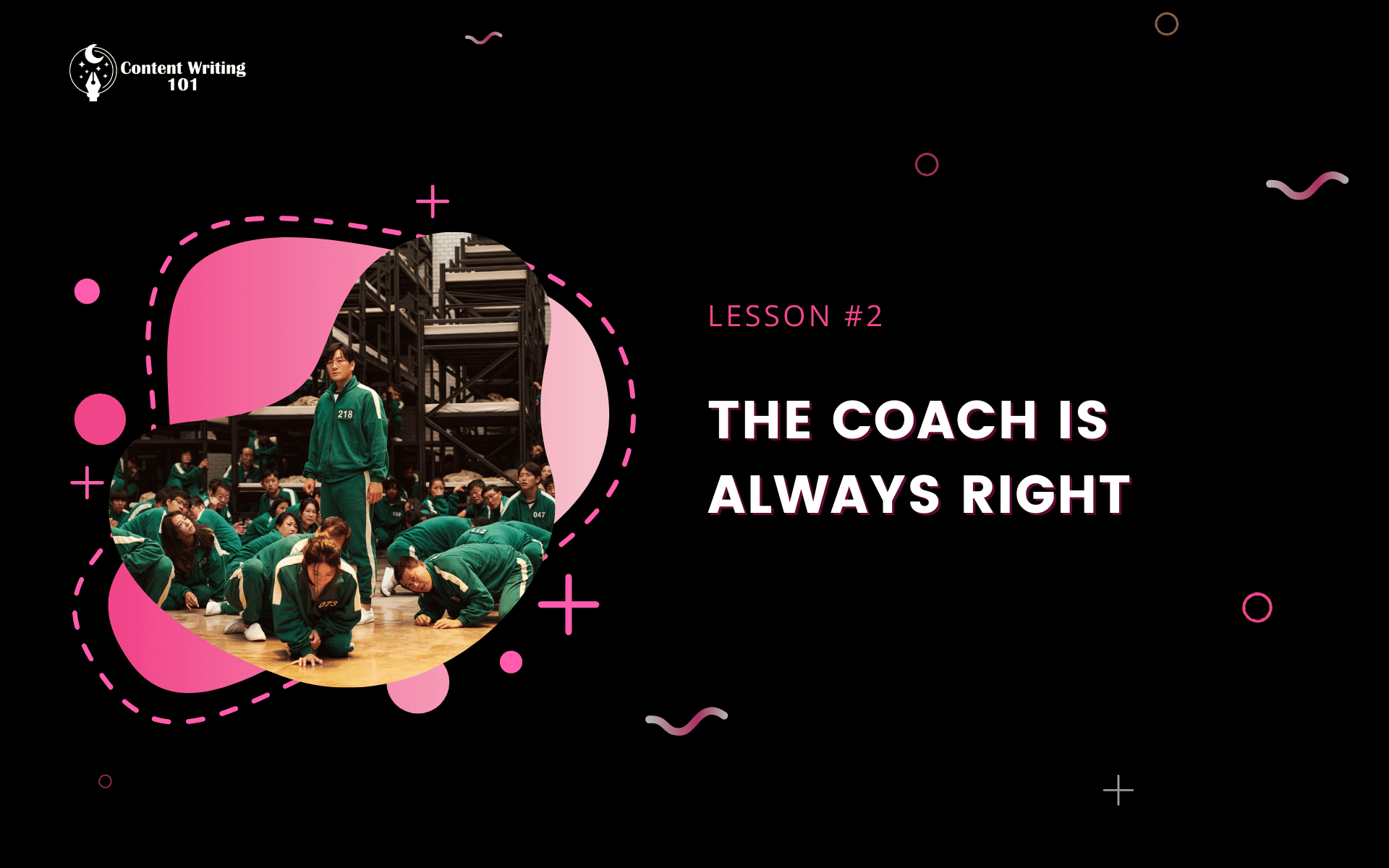 3. World Is Full Of Vices
You will no longer be able to work for free for anyone. It's the most important lesson for content writers. Scammers and thieves are always on the hook to malign your work. If you skip a lookout, they will steal your content and earn money. Don't put out your work for free, especially when you desperately need a content writing job. Instead, work towards building your portfolio, take up online courses, stack up some professional experience and then start applying. Don't shoot blind arrows. Thankfully, you don't have to bear deadly consequences like death in Squid Game, but the lesson is worthwhile.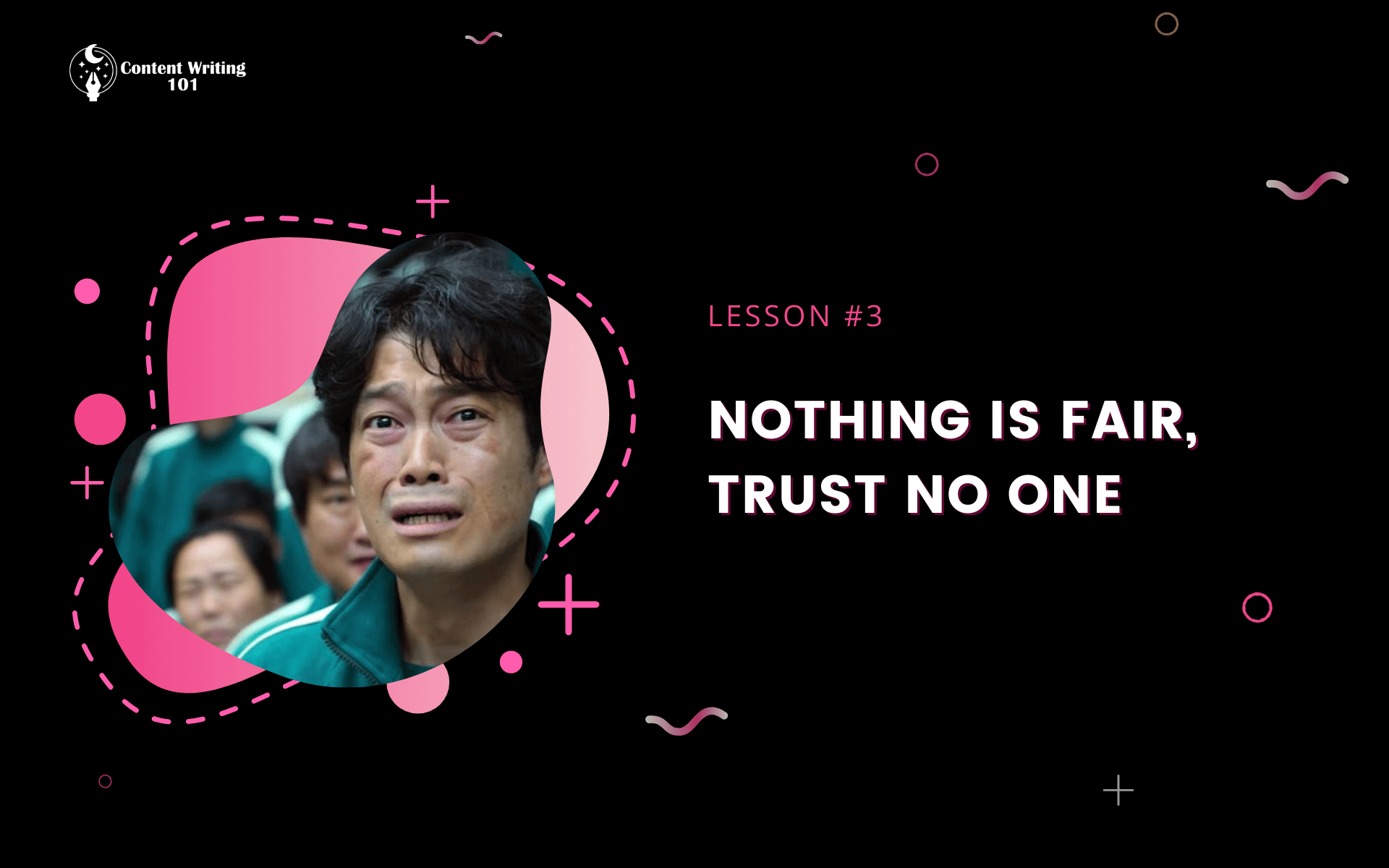 4. The Butterfly Effect: What You Do is Affecting The World in Many Ways
Whatever you do affects your surroundings, your family, friends, and colleagues in so many ways you can't possibly imagine right now. It's a valuable lesson from Squid Games for freelancers in general. If you don't put in the pain of monetizing your skills, organizing your schedule, and regulating your finances, you'll involuntarily affect the world around you. So, make sure you upscale your critical thinking skills and don't make rash decisions.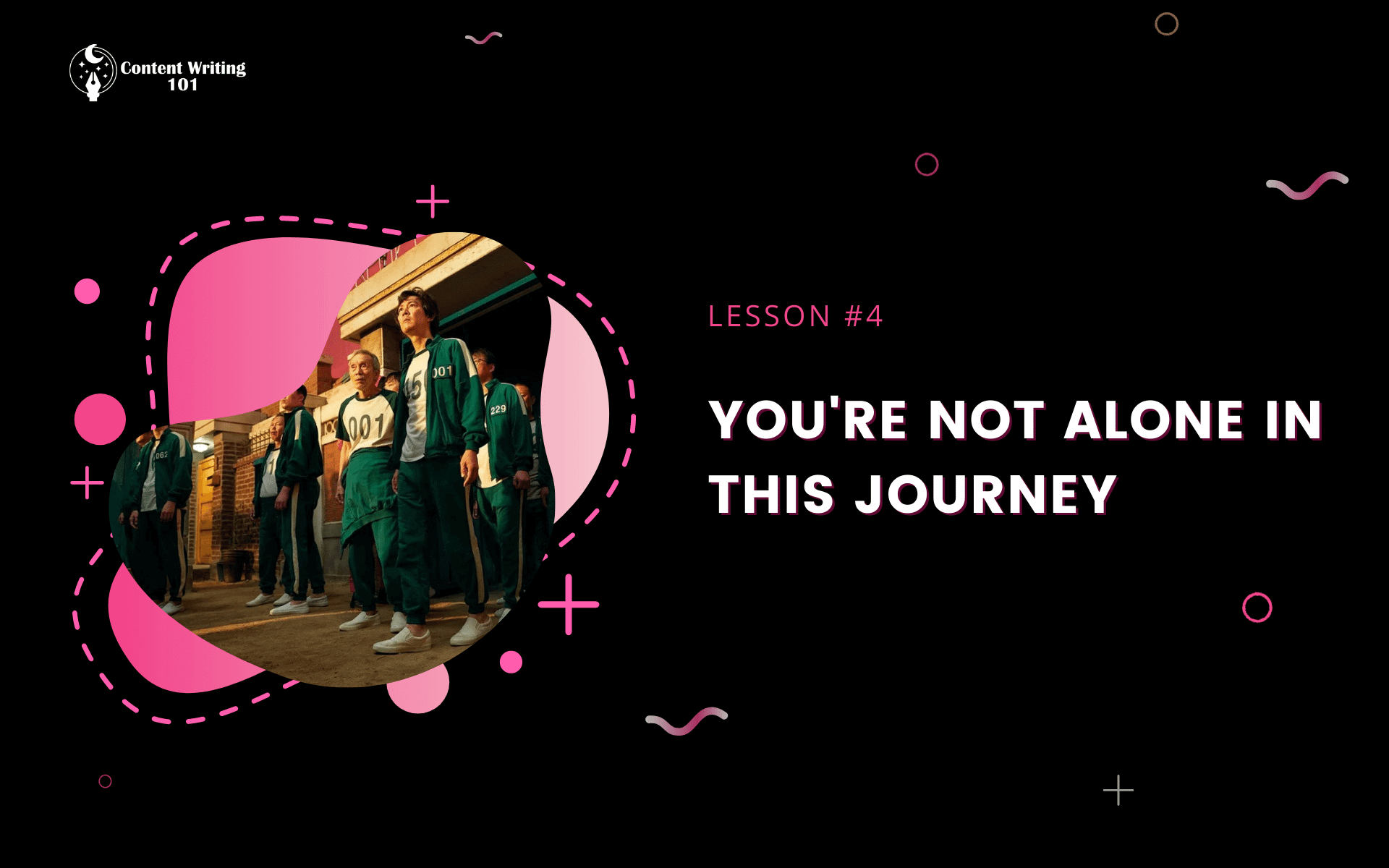 5. Don't Put All Your Eggs in One Basket
Don't tell me you didn't know this one already.
The freelancing world is not one-way traffic. You have to be good at multitasking. Thankfully Squid Game lays more stress on this concept. Freelancers, especially writers, can use this mantra when it comes to managing any decision. If you're looking to monetize your writing skills, don't just take up courses. Try internships as well, pitch cold mails to HRs, open your own blogging website but never miss out on any chance. Don't just settle with one option. Be on the lookout for more baskets, and you'll soon realize how much more you can expand on a professional level.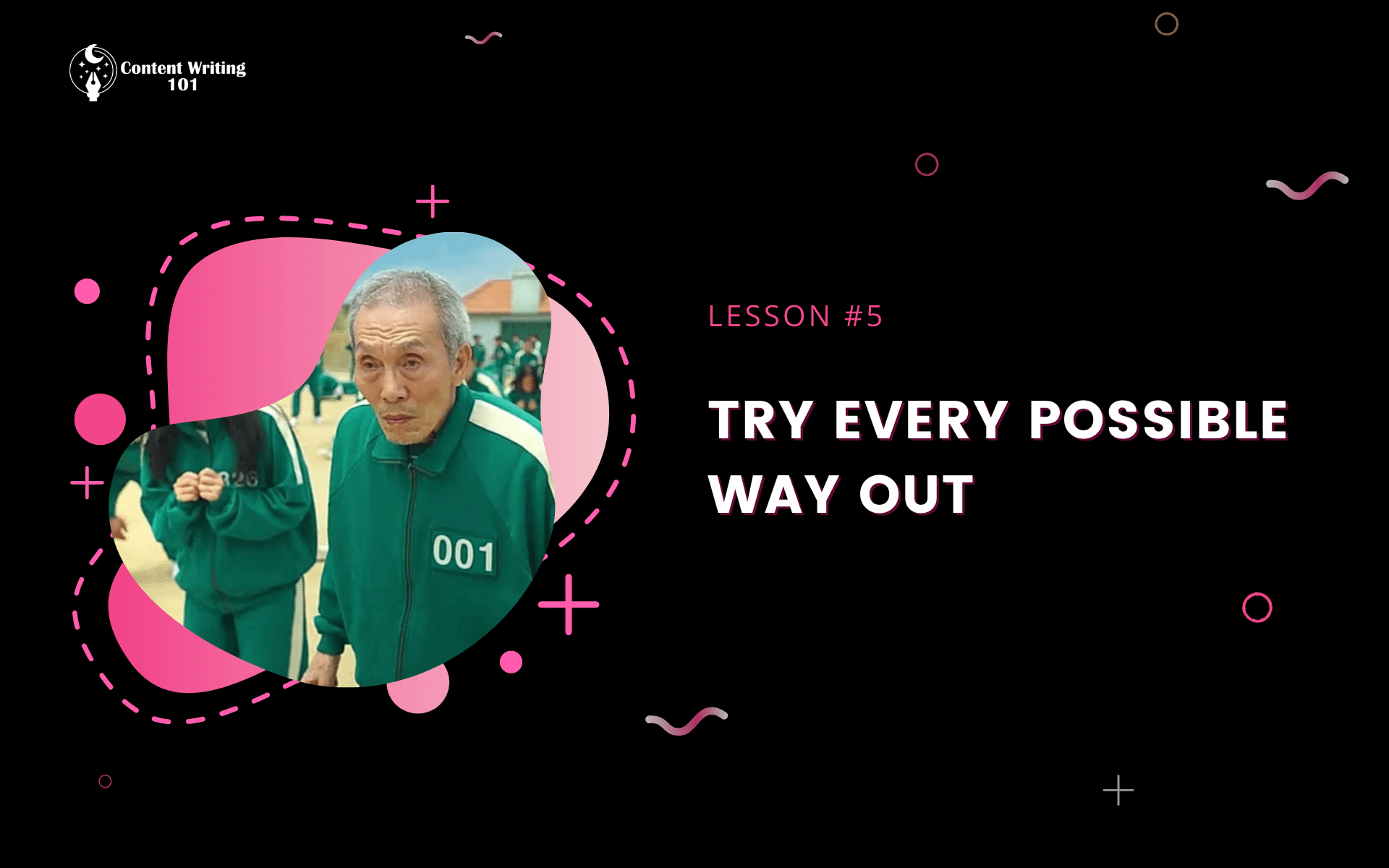 6. Don't Put On The Attitude Game
Did you get a high-paying client? Then you must be planning on dumping your current client. If you have to do it, do it professionally in a calm manner. Tell the viable reasons for your resignation and if they ask further questions, answer rationally. Don't get intimidated by a sudden jolt of questions from your clients. Make it clear, and if possible, write all the reasons and rehearse them before pitching your proposal for a let off. But be kind. Also, be kind to all of them, not just your boss, but also your friends, freshers who are struggling to get started. It's not just the money you should be aiming for. Lifelong connections are what you should aim for.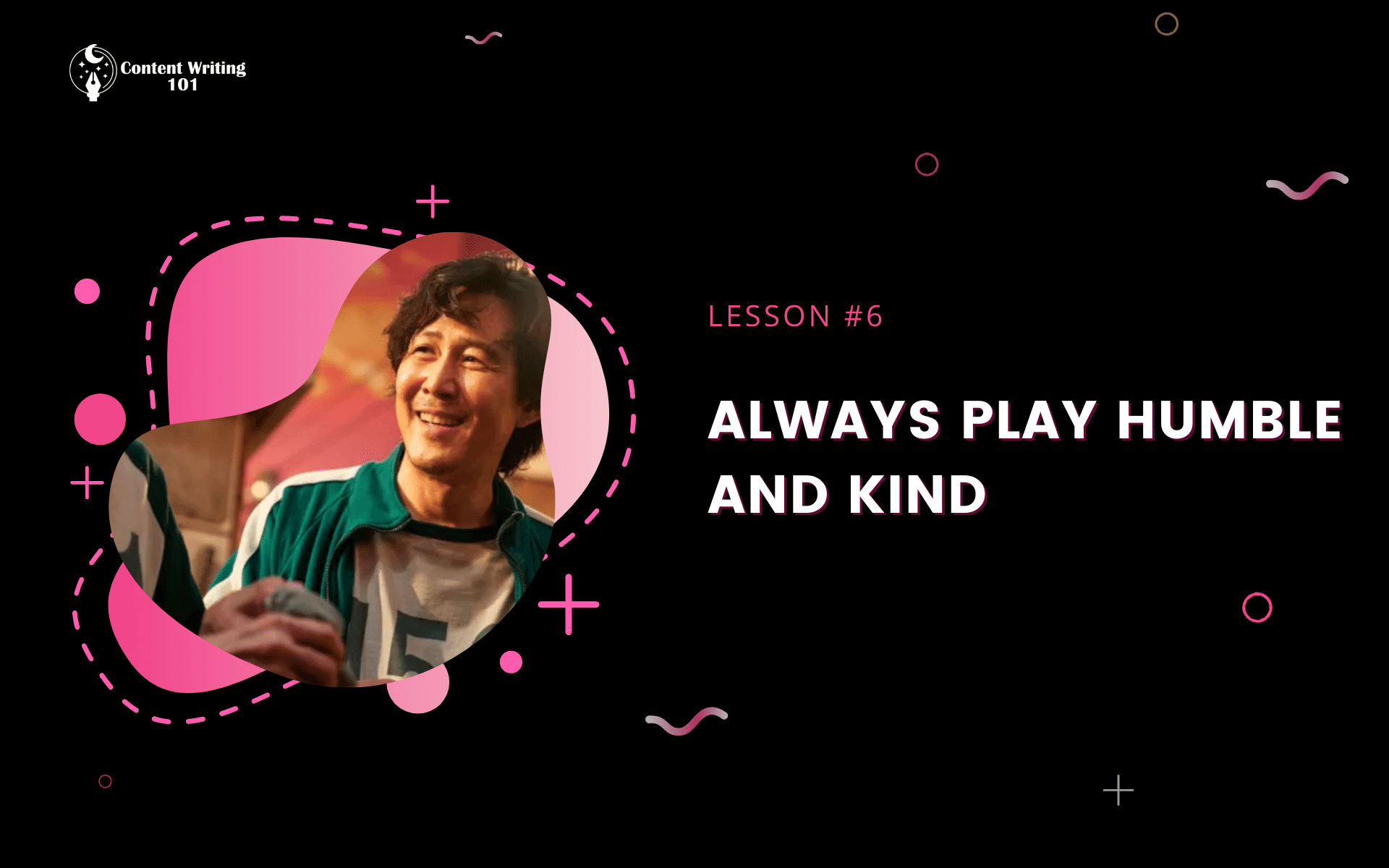 7. If It Sounds Too Good To Be True, It Probably Is
How real can Squid Game get now? Aren't you just tempted to watch the show if you haven't? It's a no-brainer why you should be watching this. This show relates on the fundamental levels, not just as a writer or a freelancer, but as a human being.
This is a bittersweet lesson from the Squid Game for writers. It's common for freelancers to come across fragile promises that promise you an insane amount of exposure for an easy task. Well, congrats if you were smart enough to avoid these dupes. But you must know it is never off the charts. So, keep your eyes open before you agree to anything. Make sure you do ample research about the company and the people involved in the company. This is the best way to avoid any kind of underwhelming experience in your professional career.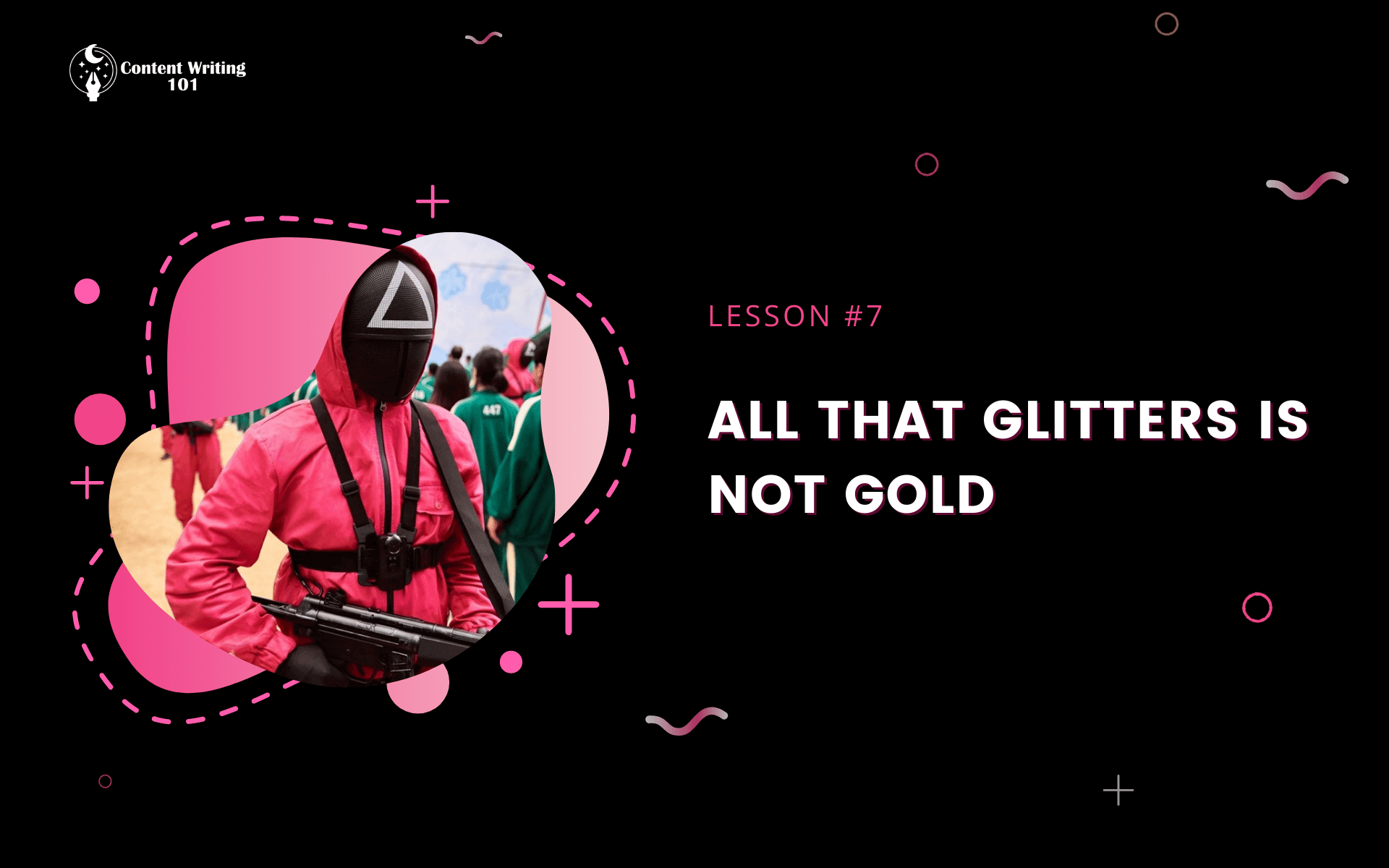 8. Don't Become A Spendthrift At The First Taste Of Success
Always spend your penny wisely, no matter how much you're earning.
You never know when the need arises, and your savings will become your lifesaver. So, focus on enriching your knowledge instead by living within your means. This way, you can grow your wealth and live the lifestyle you want without even trying too hard. Do not construe that the wrong way. It's also essential to give yourself a treat every once in a while and have fun whenever you get the chance. It's nothing but a priceless lesson for content writers from the Squid Game. Meanwhile, talking about balance, read on the next lesson.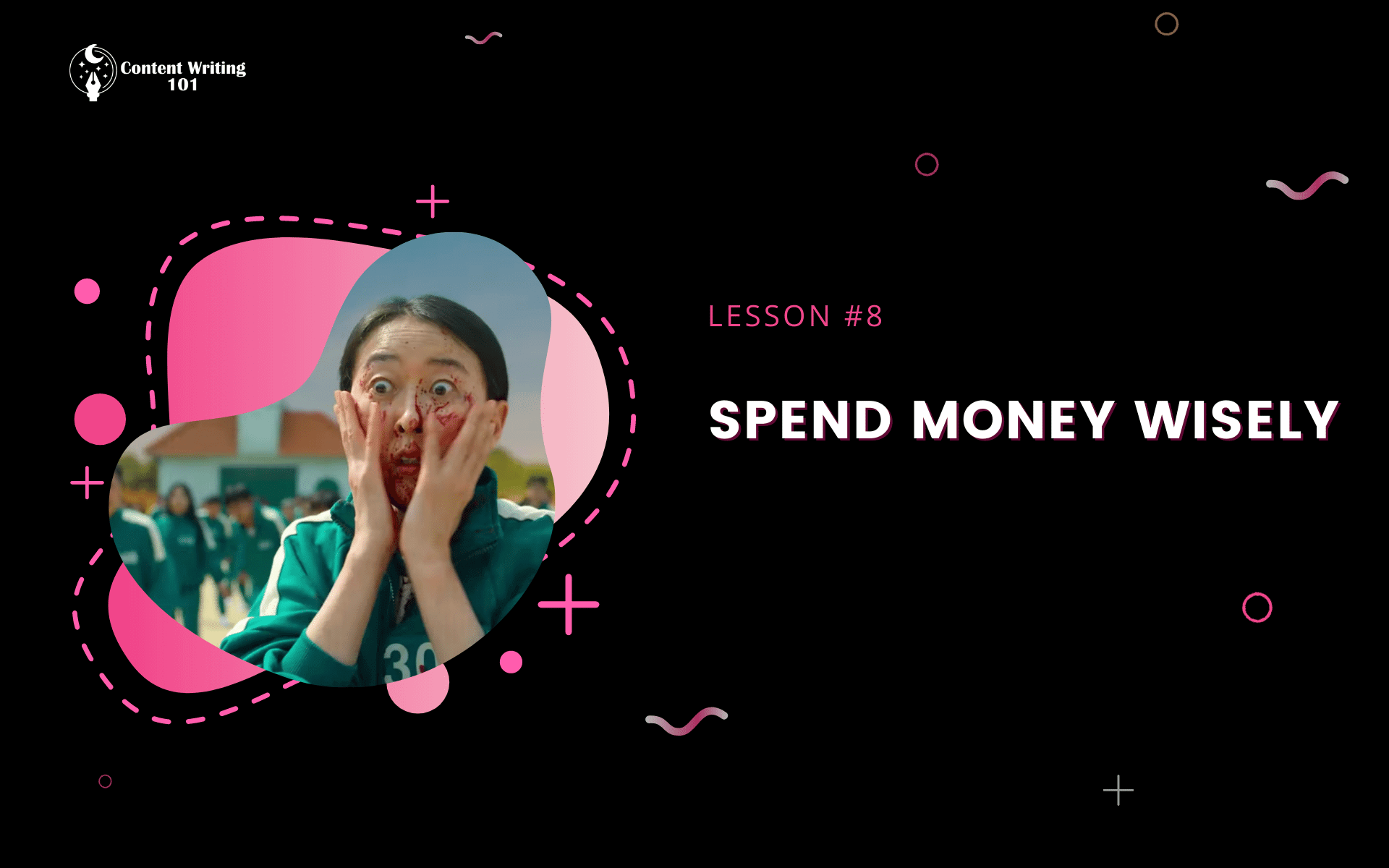 9. Money Is Not The End Of The World
We've all been there. It is one of the biggest lessons for writers from the Squid Game. You can't always say it's lust for money, but yes, it's the need for "more" that negates every inch of fun and sleep from our lives. This is the reason why the concept of work-life balance is everybody's craving but nobody's functional component of lifestyle. Yes, money is important, but only enough to sustain your livelihood. Consider this analogy: Do you work to live or live to work? I guess you already have your answers.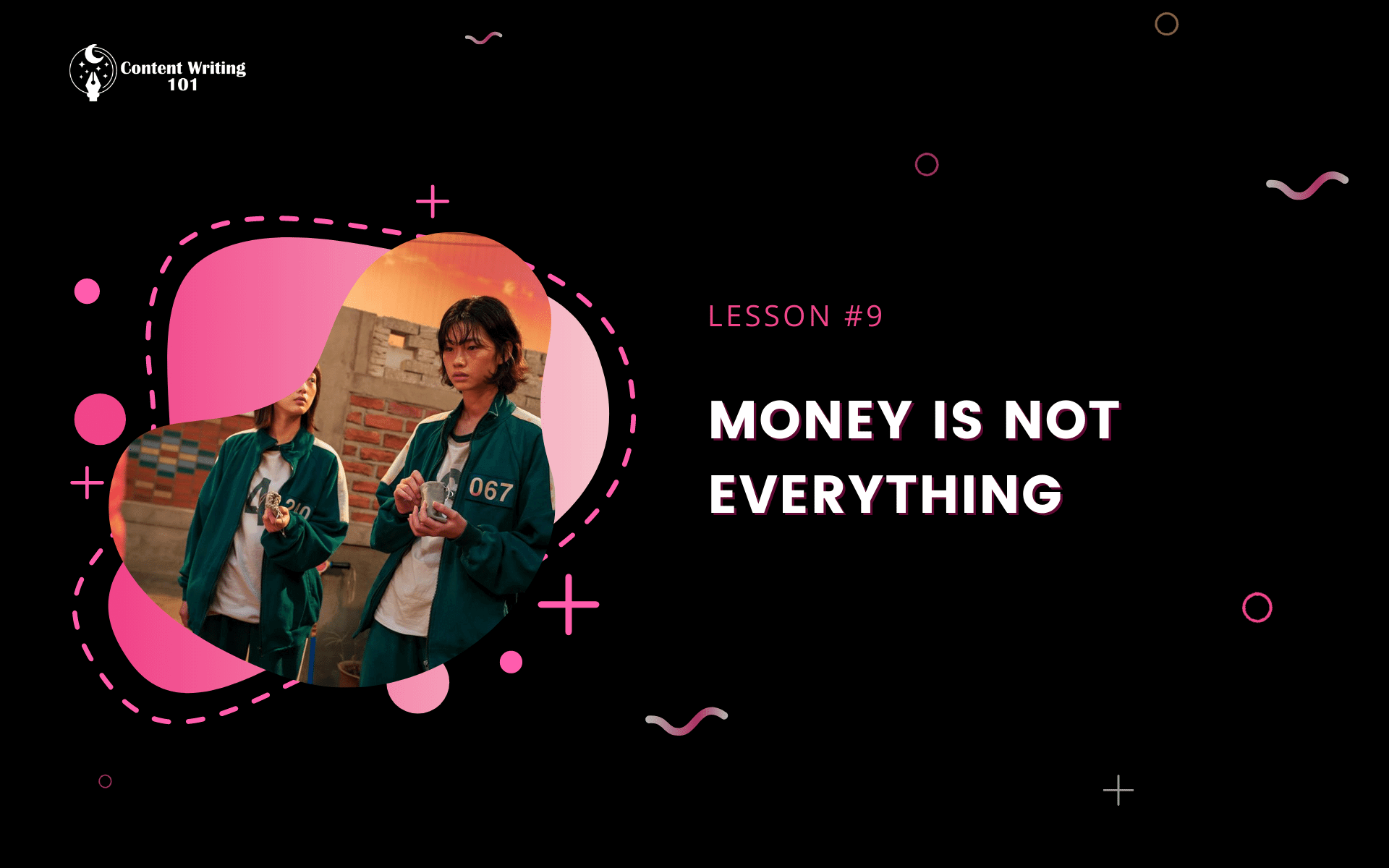 There's no doubt Squid Game has revolutionized the way this capitalistic economy runs in its truest form. There's no exaggeration whatsoever at any point of the show. So, if you've not given it a watch, set aside some time on the weekends and give this one a go. Perhaps you will discover more lessons that relate to your lifestyle.
So what lesson from squid game do you want to share with us? Let us know in the comments below.