When I think about ghostwriting, my first thought is: Is it a paranormal activity or something? What's in it for the writers if there are ghosts writing everything? Don't worry because you're not alone here. As a beginner, even I thought of it as unusual. But ghostwriting is a prevalent trade, and we're going to learn more about it in detail.
So, let's dive into the basics first, and we'll take it from there:
What is Ghostwriting?
The good news is there are no ghosts in ghostwriting.
Ghostwriting is writing without credits. Yes, it's that simple.
So, who takes the credit?
It is usually the client or an industry leader, C-suite executive, or the website owner credited as the "author" of the piece. In other words, the writer becomes a ghost despite being the original creator.
To sum up, we can say that:
Ghostwriting Is Writing Content On Behalf Of The Author.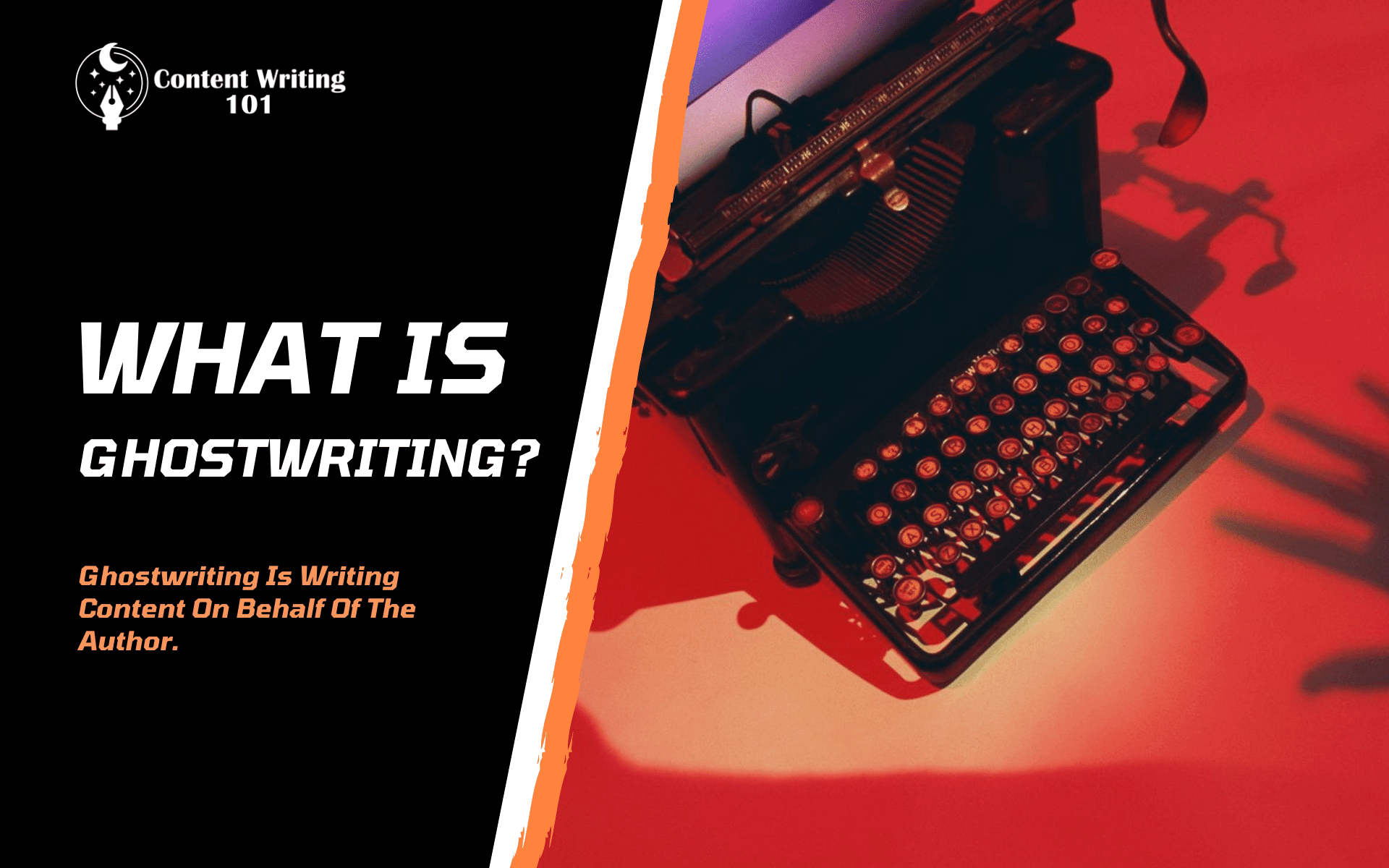 Who Are Ghostwriters?
Ghostwriters work on projects under the name of another party. From technology experts, celebrities, and VIPs to business executives and politicians, every other business professionals need ghostwriters for content requirements.
In addition to these actual organizations, some ghostwriters work on behalf of other organizations, non-profits, etc.
So What Exactly Is Ghostwriting?
If there are one thing writers long for, it is accreditation. If you're a ghost, it ought to be a disappointment.
However, there's a flip side!
Ghostwriting is a well-established practice. Developing a reputation that allows a significant public figure to engage you to write a speech takes years of experience. It may even be a celebrity asking you to write a memoir. This will be cited several times in this article.
Expertise is the primary factor in ghostwriting. Read on to discover the reasons why.
Why Would Anyone Hire A Ghostwriter?
To craft an effective sales pitch, A speech, a presentation, etc., you need a lot of creativity and time. This is a situation where ghostwriters have a chance. Companies like anonymous work in their favor in order to raise the stakes for authenticity.
Ghostwriters manage to rack up a lot of success, more than traditional authors. And, it makes sense. In return for giving away their work, ghostwriters are well paid.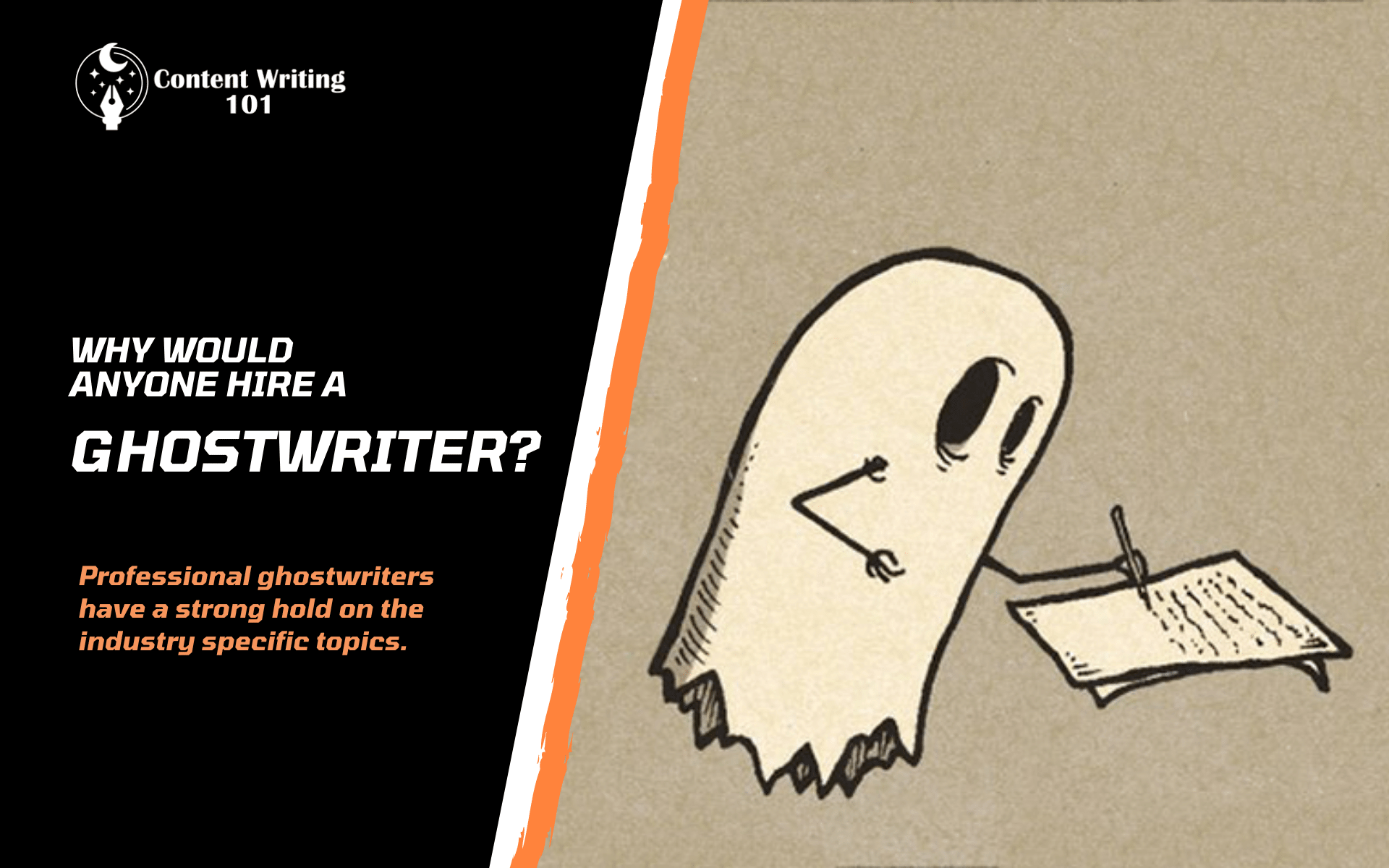 Types Of Ghostwriting Projects
In the professional world, full-time Ghostwriters are those who write books credited to someone else.
In addition, Ghostwriters engage in writing the following content types:
Books
Articles
Speeches
Blogs
Editorials
Social Media Posts
In addition to professional ghostwriters, there are other freelance and informal ghostwriters:
1. Freelance Ghostwriters
Most of the Ghostwriters are freelance writers. But why do they become ghostwriters in the first place? The reasons are pretty straightforward:
Reason #1 – Freelancers already have a stable income source elsewhere, so they're willing to concede the accreditation for ghostwriting.
Reason #2 – Ghostwriting is very lucrative and pays well. Since writers get a guaranteed cut and hence helps them get established as a writer.
Reason #3 – Freelance writers who work with content marketing firms hope to secure a big project at some point in time.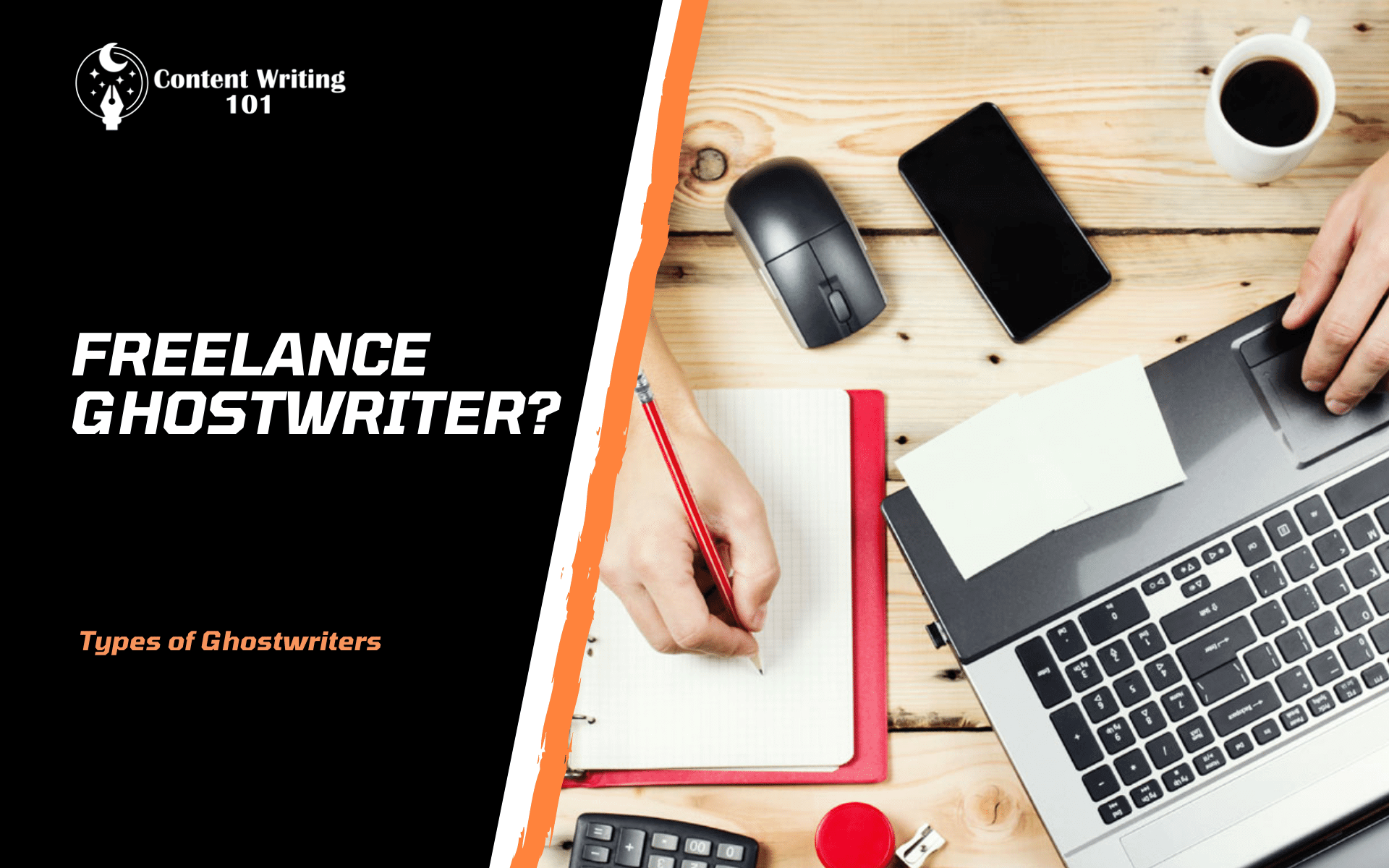 2. Executive Assistants And Secretaries
Diplomats, politicians, CEOs, etc., hire assistants and secretaries for speeches, sales pitches, scripts, advertisements, and many more projects. Since they don't get accredited, they're titled, informal ghostwriters.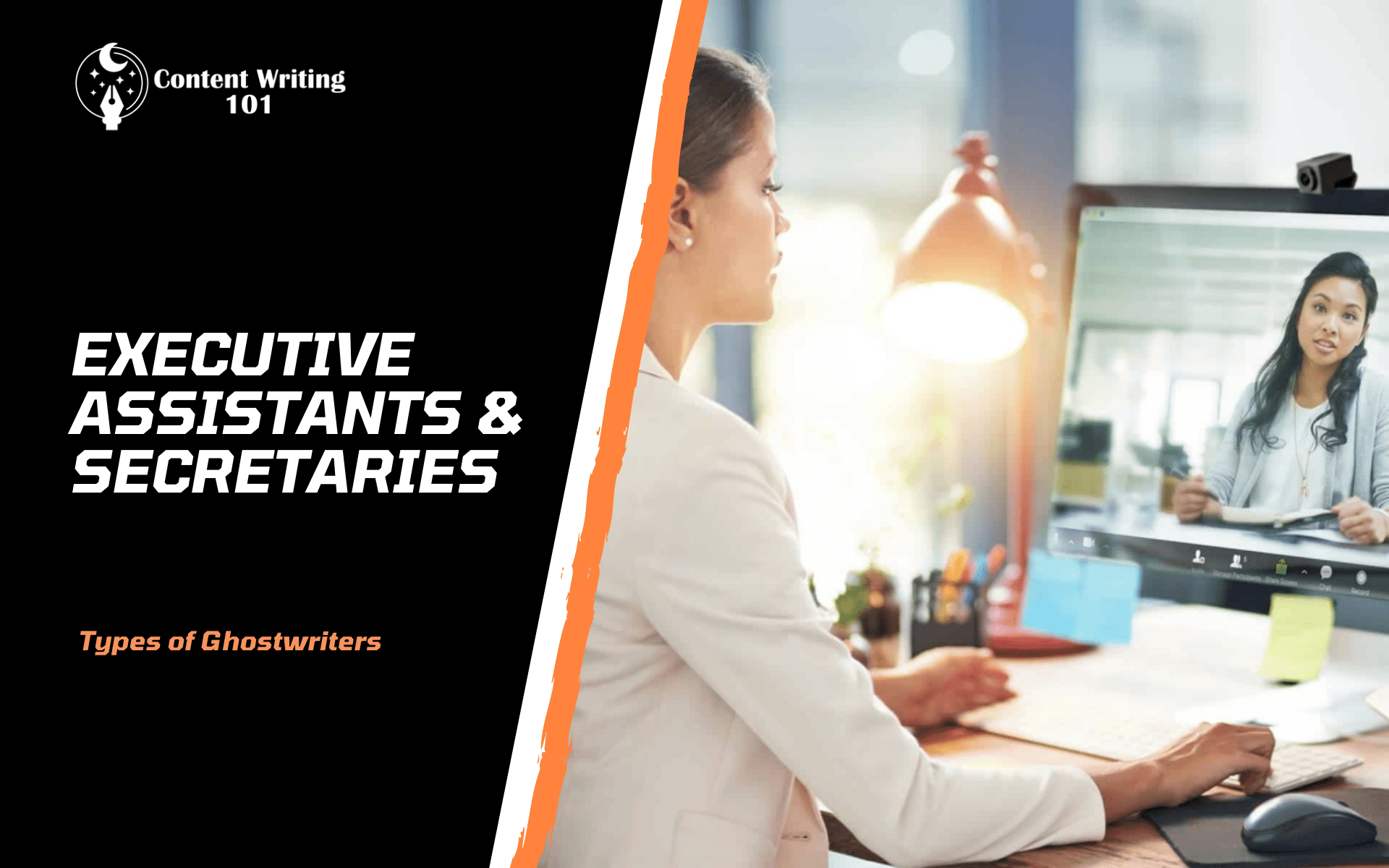 3. PR Professionals And Firms
Many PR professionals who can afford non-credited work pursue ghostwriting projects to gain employment in a corporate environment.
A lot of corporates draft Ghostwriters to undertake the following projects:
Speechwriting
Article Writing
Media And Press Relations
A press release is an essential tool for PR folks, and if you want to learn how to write a press release, we have the perfect guide for you.
4. Marketing Team And Managers
People in the marketing team of a company are already well versed in written and communication skills. These in-office employees dabble into ghostwriting projects to get exposure in writing industry-specific content.
In-office employees take on several content marketing projects like
Speeches And Articles On Behalf Of The Company's Tech Leads
Communications For The C-Suite Executives
Writing Product Descriptions For The Sales Team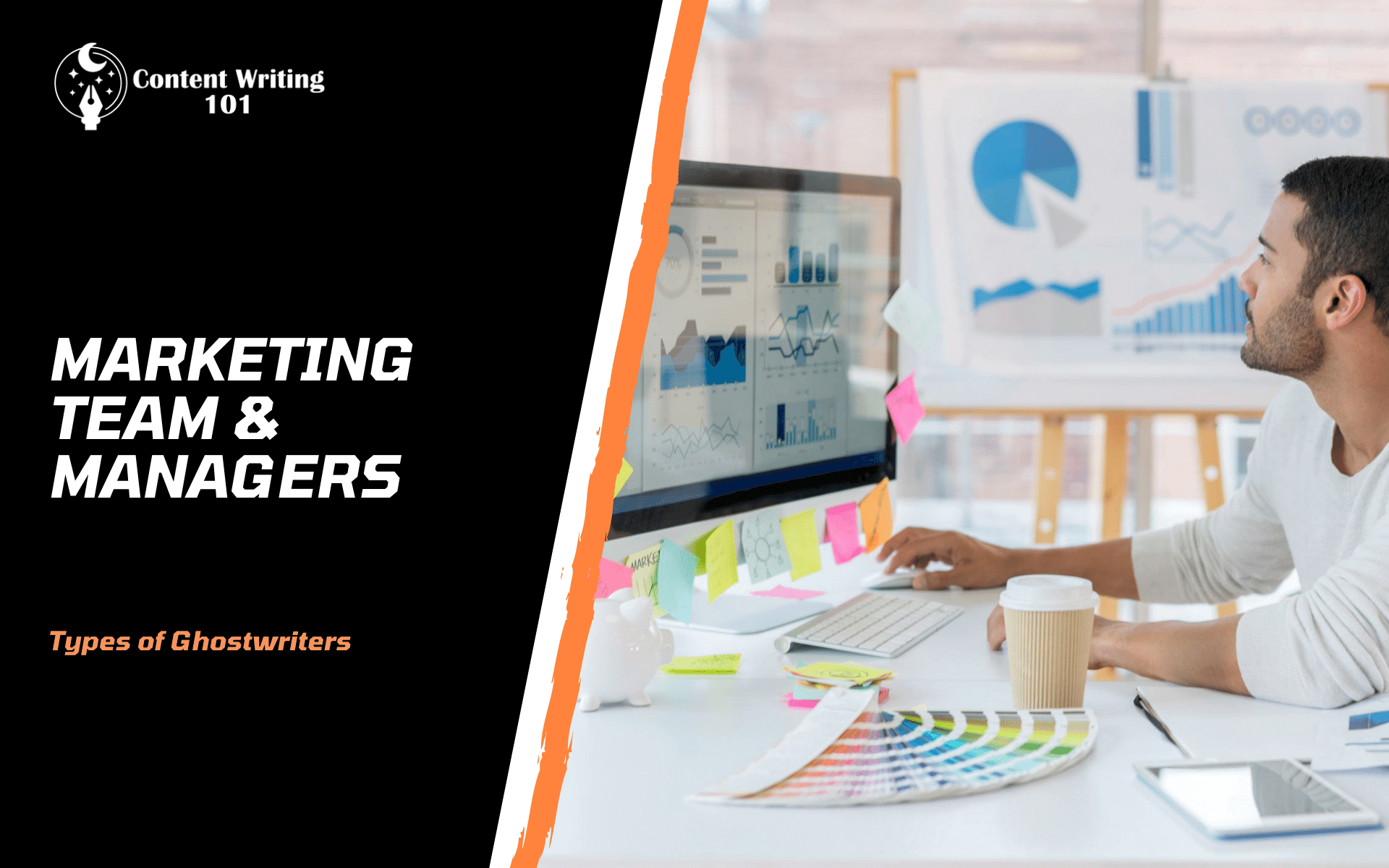 5. Content Agencies
Most marketing firms struggle to produce engaging content consistently on social media, newspaper op-eds, etc. So they outsource to content production agencies.
The ghostwriting deal takes place only after mutual consent. Content agencies run with a full-fledged team of writers who complete the job from planning, research, writing to editing and distribution.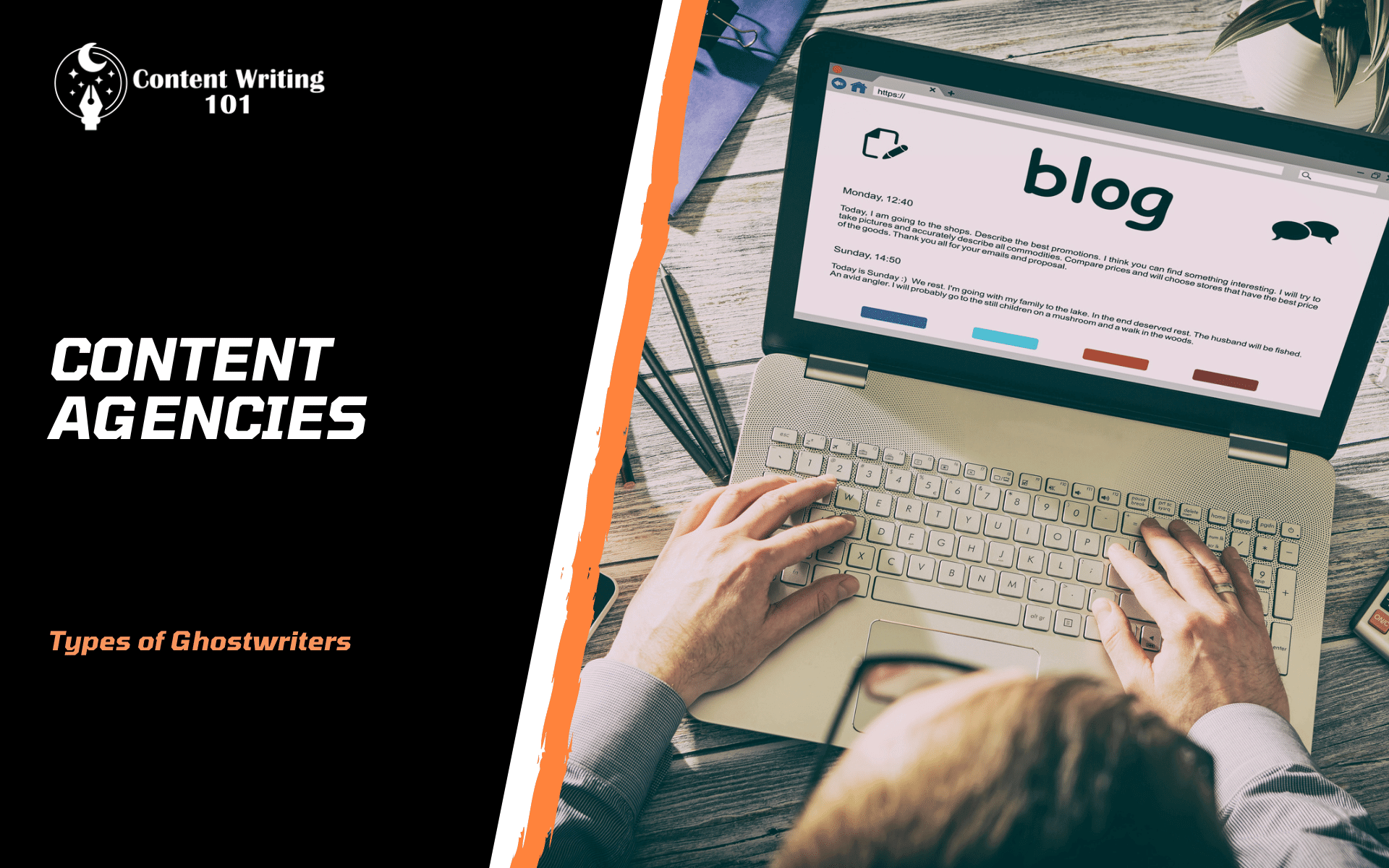 6. Spouses, Friends, And Family Members
Anyone in the family with an interest in writing can become a ghostwriter for the company.
Business professionals who have writers within their network can hire them as ghostwriters. Ghostwriting projects are a welcome break for writers as they gain quality experience.
Also, it is always a bonus to receive referrals from peers and well-known companies.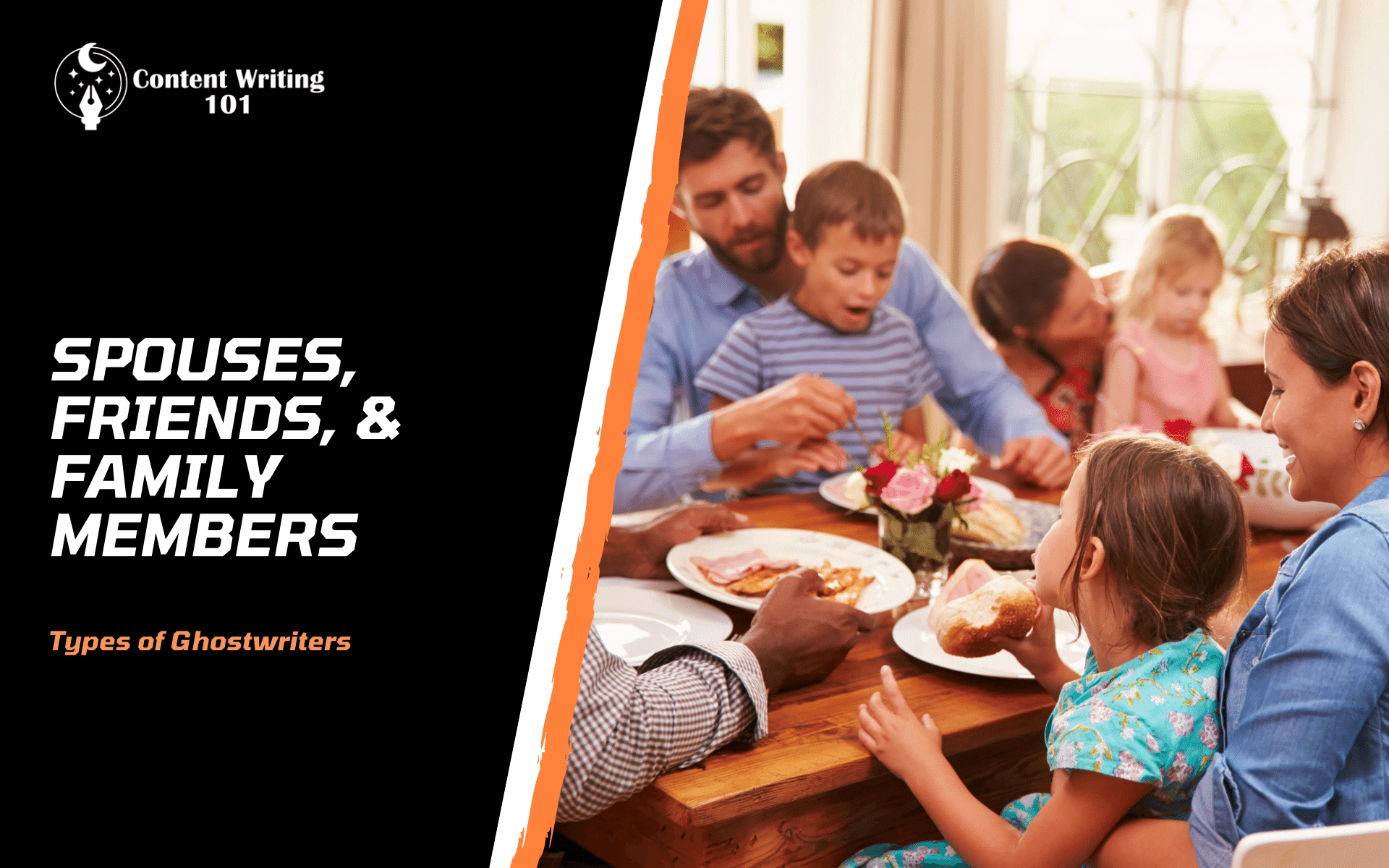 Why Become A Ghostwriter? – 6 Reasons Why You Should Consider Ghostwriting
Let's look at six good reasons why you should take a leap into ghostwriting:
1. Good Payscale
As mentioned earlier, a good pay scale is pretty much understood. If writers give up their byline, a good cut is guaranteed.
Ghostwriting can be very lucrative if you have the right customers.
2. Involuntary Style Of Work
If you are an established freelance writer, you are more likely to find ideal clients during times of need.
Involuntary ghostwriting gigs are an additional income source many freelancers choose despite having a regular job. Not only do they get quality work experience, but a good side income as well.
3. Exposure
Your skills can be tested at the expert level with ghostwriting since there's a high probability your clients are well-versed in whatever they do.
4. Wide Range Of Opportunities
When a ghostwriter becomes established, they can take on multiple gigs simultaneously. But remember that the odds of getting projects are directly proportional to your level of expertise.
5. Steady Flow Of Work
You can keep a steady system of handling all the deals one by one as long as your range of opportunities remains open from different businesses to marketing firms.
6. Accreditations
Although Ghostwriters sign up for an anonymous gig, some authors want their names in the accreditations.
It's entirely subjective whether the ghost gets the acknowledgment or not, but the practice is wholly mutual and transparent.
Some celebrities and leaders share a minor footnote in their content praising the ghostwriter.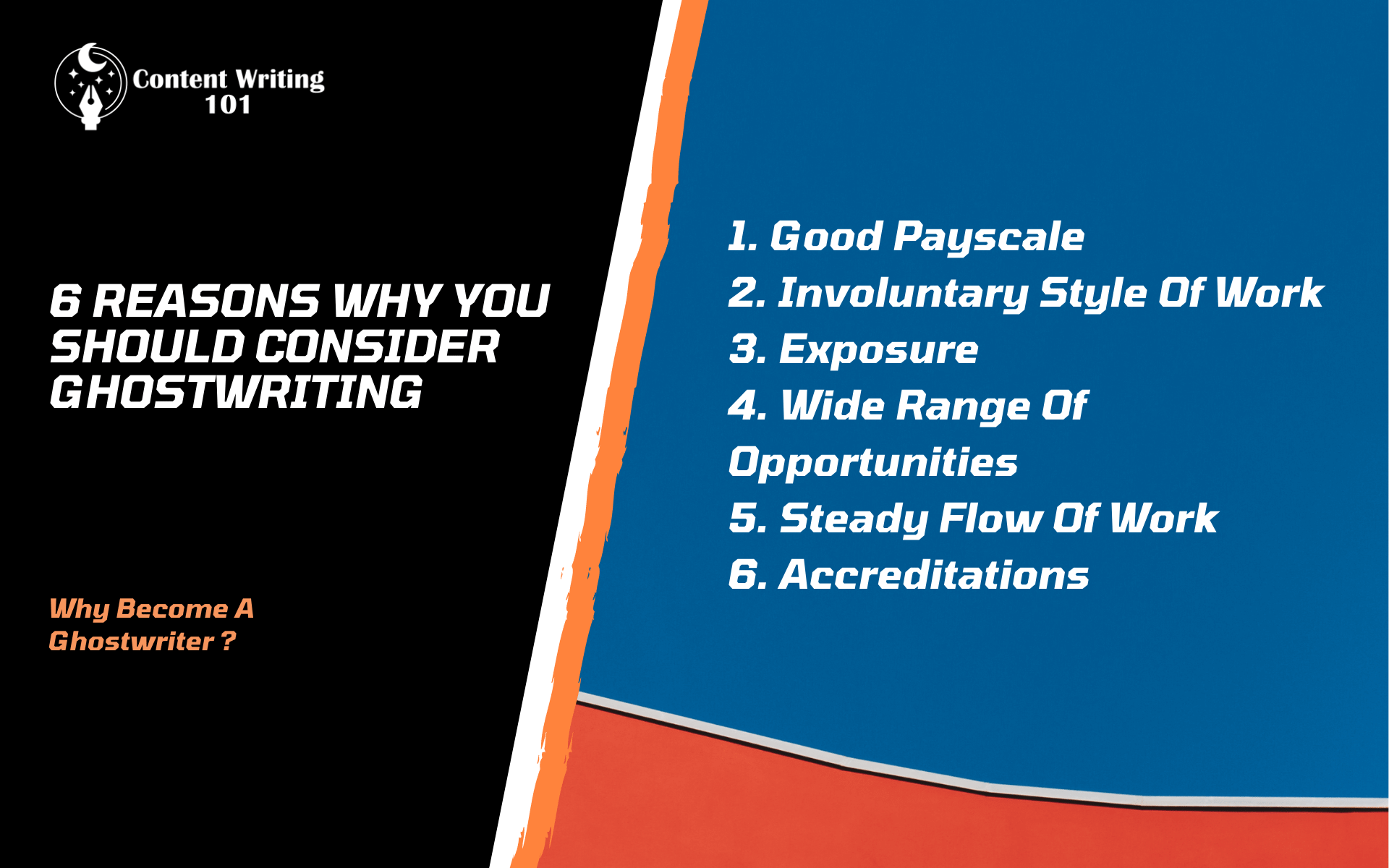 How To Become A Ghostwriter?
There's no such thing as becoming a ghostwriter. Ghostwriting is a side hustle. It's the gateway to enter into the world of content writing or to earn some extra cash along the way. Nonetheless, there are lots of ways to get started with ghostwriting. Let's jump into a few of those ways:
1. Become A Freelance Writer
The experience you gain from working with clients as a freelance writer adds a great deal to your credibility. That, in turn, allows you to attract more clients. This credibility helps you gain access to ghostwriting projects. Since freelancers have an edge in networking, they can land good ghostwriting jobs.
Congratulations if you're a freelancer! You can take the chances in ghostwriting gigs.
2. Get Into Book Writing (At Least Two)
As a beginner, getting a gig as big as publishing a book can be tricky. Unless you have the exposure to writing big projects like memoirs, e-books you might struggle to land a good deal.
Yes, clients can't trust you as you are yet to build your credibility, but there's another thing regarding the pay scale. Considering you're a newbie, professionals might trick you into an underpaid gig. The huge hours you'll put in will result in extreme burnout and an underwhelming experience.
3. Start Guest Posting
Guest posting means writing for someone else's blog or website. It helps you create a niche and get your name out.
Ghostwriting requires experience, and while starting out, it's tough to get a gig. Hence you can write guest posts to help get your foot in the door.
4. "Ghostwriter For Hire"
You must have come across writers on social media with "Ghostwriter for hire" mentioned in their bios. This helps them expand their readership base to a broader array of writing firms and clients.
You can write, "I am a ghostwriter, specializing in ghostwriting books for hire." Potential clients find you more easily in the process, and it's up to you to choose the most suitable prospects.
Frequently Asked Asked Questions About Ghostwriting Answered
1. Does The Profile Of A Writer Differ For Ghostwriters Who Don't Write Books?
Though the job profile is more or less identical, the most significant difference is in the pay scale. In addition, those who write books are considered official Ghostwriters, while others are deemed, informal Ghostwriters.
However, you should have at least two books under your belt before tackling professional Ghostwriting.
2. How Much Do Ghostwriters Earn?
You will earn more or less depending on the type of clients you have.
Blog writers and article writers receive a payment of at least $50 per post on average.
On the other hand, ghostwriters make $2000 to $9000 per book, but the pay-out increases with experience to $30,000 per book or even a lot more.
3. Is Ghostwriting Worth It?
If you're a freelancer, the answer would be no, as your online presence, as well as credibility, decides your stay in the market. But it could well become a side hustle if you want to expand your writing to the level of book writing.
The demand for ghostwriters is rising as content holds importance to the market and the economy's globalization. The more transparent and interactive your content is, the more profitable your company will be. Therefore, better pay scale.
For all these reasons, ghostwriting becomes an essential aspect of content marketing strategy for corporate firms.
4. Is Ghostwriting Legal?
I'll break this down into two subdivisions. These divisions explain under what scenario Ghostwriting becomes illegal, against ethics and standards.
Academic Ghostwriting
As long as you're not a peddler who gets down to offering perks and payments to get their research papers and assignments done, academic ghostwriting is legal.
Even though it is often shelved under the category of ghostwriting, it violates the universal code of education, i.e., transparency.
So, the authorities have to carry out legal documentation before finalizing the ghostwriting project. Without a legal framework, any ghostwriting remains a shady practice.
Rap Ghostwriting
Another practice that made waves around 2015 was Rap Ghostwriting, in which rapper Meek Mill accused Drake of hiring a ghostwriter for Mill's song "RICO."
Ghostwriting has been around for a long time in the rap scene but is often ignored.
Ghostwriters are often unwilling to participate in interrogations to avoid adverse reactions.
There have been several cases where Ghostwriters have not been reimbursed or credited even after signing an agreement.
Natalie Robehmed, an associate editor at Forbes who focuses on media and entertainment, says that rappers use secret scribblers for input. Whether or not credit is given is an untold tale.
She found that every ghostwriter Natalie talked to told similar stories about work released without their knowledge by artists.
Conclusions
The funny thing is it wouldn't matter whether you built castles out of the royalty or wrote some record-breaking musical numbers. You'd still be a ghost. This is why ghostwriting requires the skills of a selfless writer.
Anyway, ghostwriting is a prevalent practice and an excellent way to get some experience early on. So, have you had any ghostwriting experience? Drop your story in the comments.