The most significant marketing skill set required these days is the art of spreading the word without overwhelming the public with jargon. Marketing is driven by communication. It doesn't matter what type of product or service you offer. If you cannot communicate clearly, you will lose customers.
So, the question comes – how will you put the word out? Is there a tool for this specific purpose?
Yes, there is. This leads me to announce the knight in the shining armor – Press Releases.
No, not the traditional Press releases you saw in newspapers and TV bulletins a decade ago. They don't work as effectively now. PR strategies focus solely on hyping and overblowing announcements that seem more like sales pitches. As a result, the audience grew weary, and the impact of press releases dwindled.
However, the digital economy gave birth to a modern breed of press releases
– the evolved version that fits the current marketing dynamics. It's a press release that talks about announcements but doesn't sound too salesy.
So, What Exactly Is A Press Release?
A press release is a formal announcement made by a company about its latest developments, news, events, product launch, etc.
Whether you call it a news statement or a media release, all of them essentially are the same.
The narrative of a press release is to hook the audience through an intriguing story simply. The company has the liberty to distort the narrative, and that's where the problem begins.
Do you remember Dale Carnegie's principles on How to win friends and influence people? One of them tells you that the core element of forging any kind of friendship is sparking an interest in the mind. To state the obvious, press releases also work the same way:
Catch Their Attention With A Hook
Fill In With Relevant Details
Leave Your Contact Details At The End.
While press releases are not very formulaic in nature, I have a few easy-to-follow pointers regarding the structure, types, and a few best practices. So, let's get into it.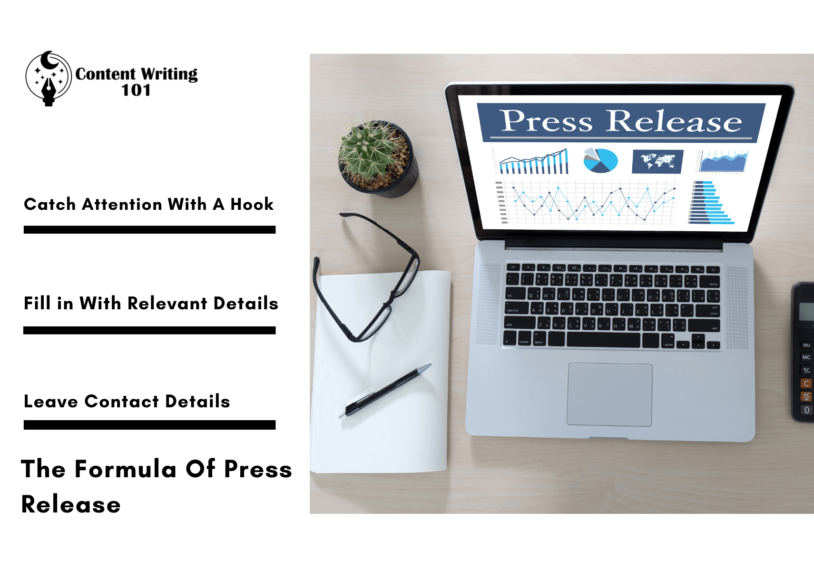 What Are The Different Types Of Press Releases?
Structure-wise, they are all similar, but functionally they differ. There are 9 types of press releases in total. So, let's learn more about them in detail:
1) New Product news
Do you have a new product set to be launched? You might want to try releasing press releases to hype up the product. You'll have to emphasize your product's benefits, features, underlying technologies, pricing, accessibility, and additional details.
If your product is entirely new for the audience then, you must quote industry experts or your company's CEO to give it a personal touch. These quotes help the audience familiarise themselves with the new product. The better the delivery, the more the sales.
2) New Partnerships News
Companies need to inform about their upcoming partnerships, partner's names, potential reasons, benefits, quotes, and other details like the dates.
What's essential in a new partnership press release is defining the trajectory of ongoing business and how it will impact current and future stakeholders.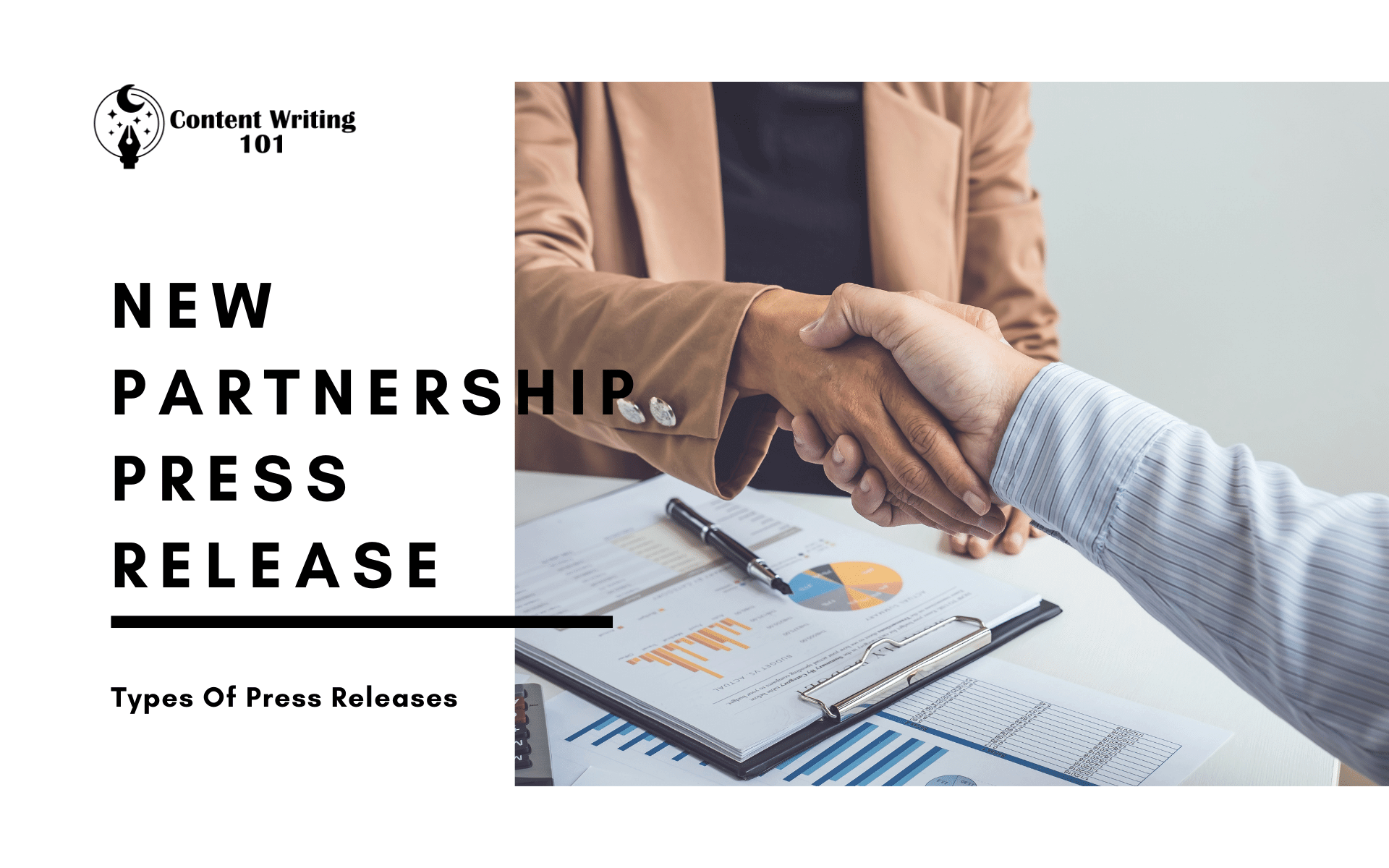 3) Merger And Acquisitions Announcements
Much like new partnerships, mergers and acquisitions or M&A, in short, implies the process when two companies combine into one. These types of press releases come from both organizations. They need to inform about the shareholder values, their combined objectives, quotes from founders, and other extra details.
4) Award Announcements
Awards showcase credibility. Whenever a company wins, you'll see media coverage everywhere, and rightly so because award press releases fetch immediate attention.
Make sure you include all the details about the award, criteria, top contenders, and details of the event.
5) Event Announcements
Events are pivotal occurrences, and they need good media coverage. A press release can be used to inform the public about the company's objectives, date, and place, who the guests are, and other necessary details.
The primary purpose of an event press release is to present a summary of the event with dates, downloadable images, and clear contact details.
6) Hiring/Promotion Announcement
Companies need to put out information about organizational changes. Whether a new employee has been hired or the current one is being promoted, press releases are a sound way to claim authority over the position.
Make sure you include in-depth details about the background, work experience, photos, and any additional details if required.
7) Branding Shifts
To create a different identity in the market, companies change their corporate image. This is called brand shift or rebranding. It involves renaming the brand name, changing the logo, and the design for an already-established company.
Any such branding shift or change has to be publicly announced. A press release must contain all the details about the reason for the shift, key changes to come into effect, time of commencement, and quotes from the leaders. Make sure you include additional images to expand the reasoning process.
8) Relocation/New Office/Inauguration News
It's natural for companies to go through relocation, office renovation, or inauguration. Therefore, a press release announcing all the details regarding the news must be sent out to get coverage for the brand. It should include the date and place, reason for the move, and details of the event (if there's any).
Make sure you include some images. Visual aspects are critical when it comes to relocation press releases.
How To Format A Press Release?
Now coming onto the formatting of press releases, you need to be as clear and concise as possible. Here's the format that works for any kind of press release:
1) Headline
Neither too flashy nor clever. Keep it to the point that can spark an interest in the reader.
2) "For immediate Release"/ Date of publishing
It is to notify the journalist about the date of publishing the release.
3) Subheading
Italicize the subheading to summarise the purpose of the news.
4) Company Contact Info: Name, Email, Phone
Contact details of your company should be at the top.
5) Summary
Get straight to the point. Write 2-3 bullet points highlighting the main information, what is the news about and the reasons why the audience should care.
6) Introduction
This constitutes the first paragraph of your press release. Introduce what your press release is all about.
7) Additional Details
Here you include relevant data in detail, quotes from the leader.
8) Extra details
In the third paragraph, you should include other details like objectives and upcoming ventures.
9) Boilerplate
A boilerplate is like a company's short description. It describes the identity of the company.
Here you include:
Name Of Your Company
Foundation Year
Coveted Achievements
Founding Year
Upcoming Ventures
Mission Statement
Company's Workforce
10) Footer
A footer is in general a final note in case the journalist wants additional information about the company.
11) "###" at the end
This sign informs the reader about the ending of a press release.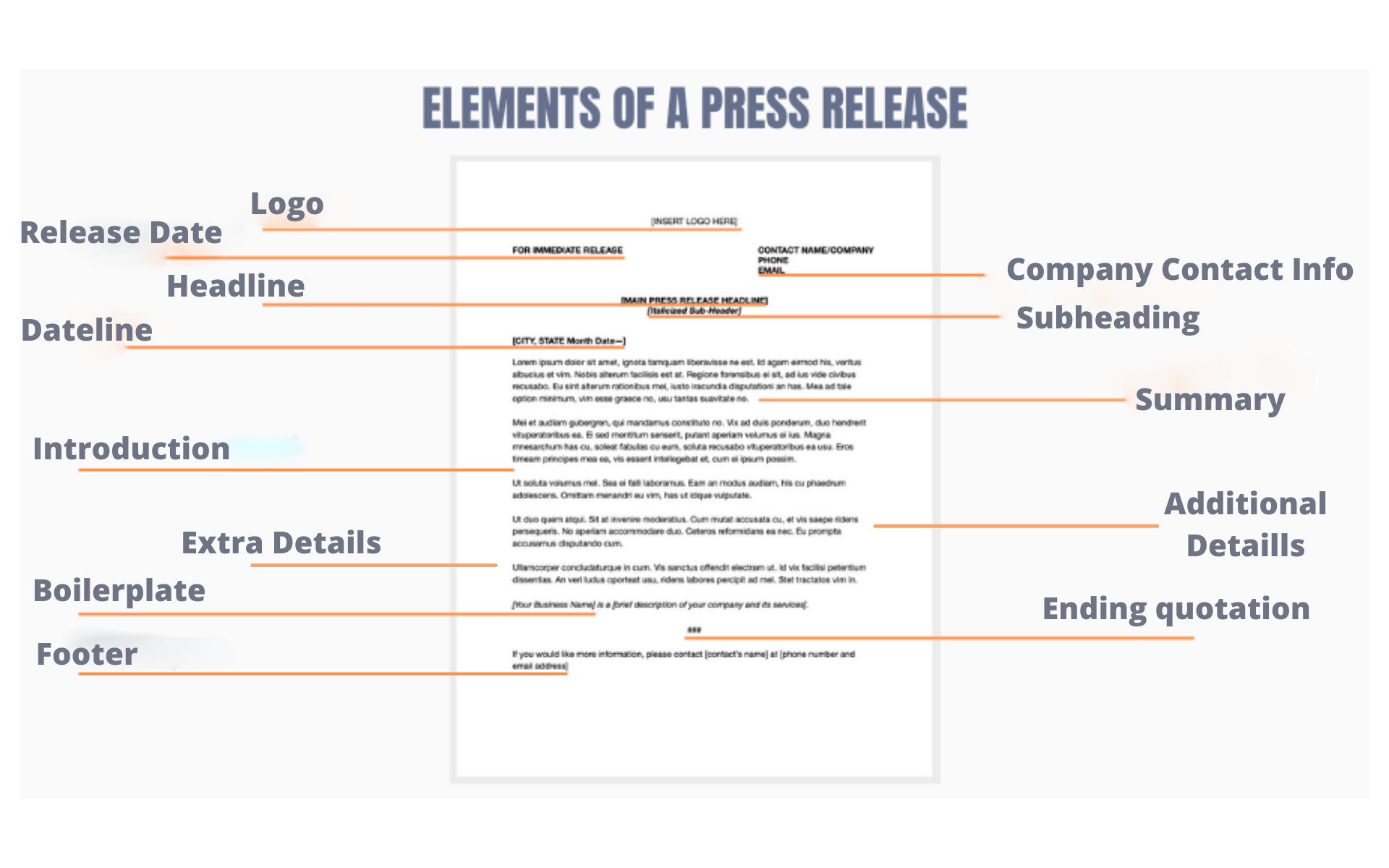 How To Write A Press Release?
One big aspect of press release writing is they need to be on point. Journalists and editors get close to 20,000 press release emails per day. It is very unlikely yours will be picked unless you make an excellent impact straightaway. So, if you want your press releases to get the attention, you have to make them newsworthy- something journalists would love to publish.
Here are a few rules you must keep in mind while writing a press release:
Step1: Decide What You're Going To Talk About
You have plenty of options to choose from. It depends on what it is you're going to announce.
Is it a new product, some event, branding shifts, or an award ceremony?
Remember, a press release is a communication tool for companies. If you don't align your narrative with the type of press release, the message may get lost. So, make sure you get all the guidelines clear, and once you're set with the type, it's time to hit it off.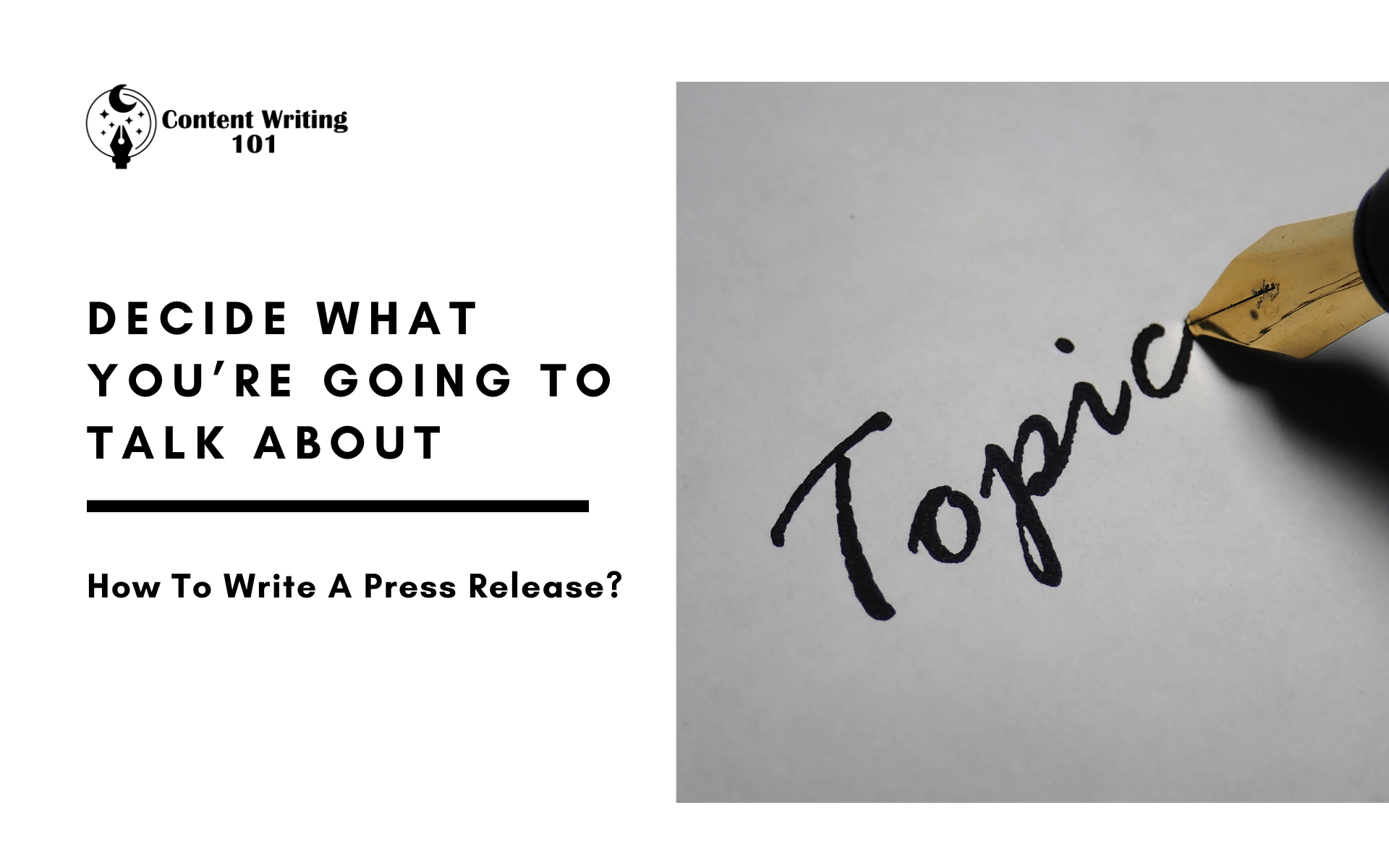 Step 2: Use A Clear And Informative Headline
Do you like those pesky pop-up ads in the middle of your favorite Netflix show? No, right. What's the reason?
They're irritating, aren't they? Plus, the content is awful.
Similarly, when you're writing headlines, avoid super clever, flashy words. Trying too hard leads to exhaustion. Keep it simple, and it will be good to go.
Fun fact: A press release is the last thing journalists want to read. This is not to deter your self-esteem but to tell you why you need to be on the spot with headlines.
A headline acts as the subject line of your mail. You certainly don't want that blank stare from the journalist when he comes across your mail.
Use data, action verbs, questions, or humor to make it interesting. Ask yourself before you finalize the headline? Is it something you'd want to open?
Step 3: Follow The Inverted Pyramid Model
Similar to blog posts, the inverted pyramid model works here as well. In fact, press releases have to be on-point, so it becomes more important to follow a concise structure like the inverted pyramid. According to the inverted pyramid model:
A) The most important information goes at the top
Generally, this section contains the 5 Ws-
Who is the subject matter of the story?
The subject matter concerns your company. This part provides all the necessary insight about trajectory, growth rate, and so on. After figuring out the subject matter, make sure you put it into perspective in the first paragraph. Get it rolling from the start. You shouldn't keep the people waiting for the main part.
Is it about a new product update, awards, event, or a merger? Describe thoroughly what the story is all about. Verify all the details of the announcements and mention them in easily understandable language. Language holds the key here.
Why is the story relevant to the audience?
One of the most important aspects to note is the worth of your press release. Why is the story worth it for the audience? And this explains Dale Carnegie's philosophy of friendship very well. If you talk about "You," the audience is going to lose interest. Instead, make your story about them. Make it look like, "It's all about people and not me."
It is obvious why you should specify the date and time of the event. Is it supposed to be happening now? If yes, then have you thought about the public behavior regarding your industry? You have to keep time-sensitive things in mind too. Once the timer gets old, you're going to get a new one. Be precise and specify when it is due to be published.
If it's an offline event like an award show or a new office opening, you need to notify the press about the location. In other words, tell all you need to in the first paragraph only.
Get the best part of the story out early!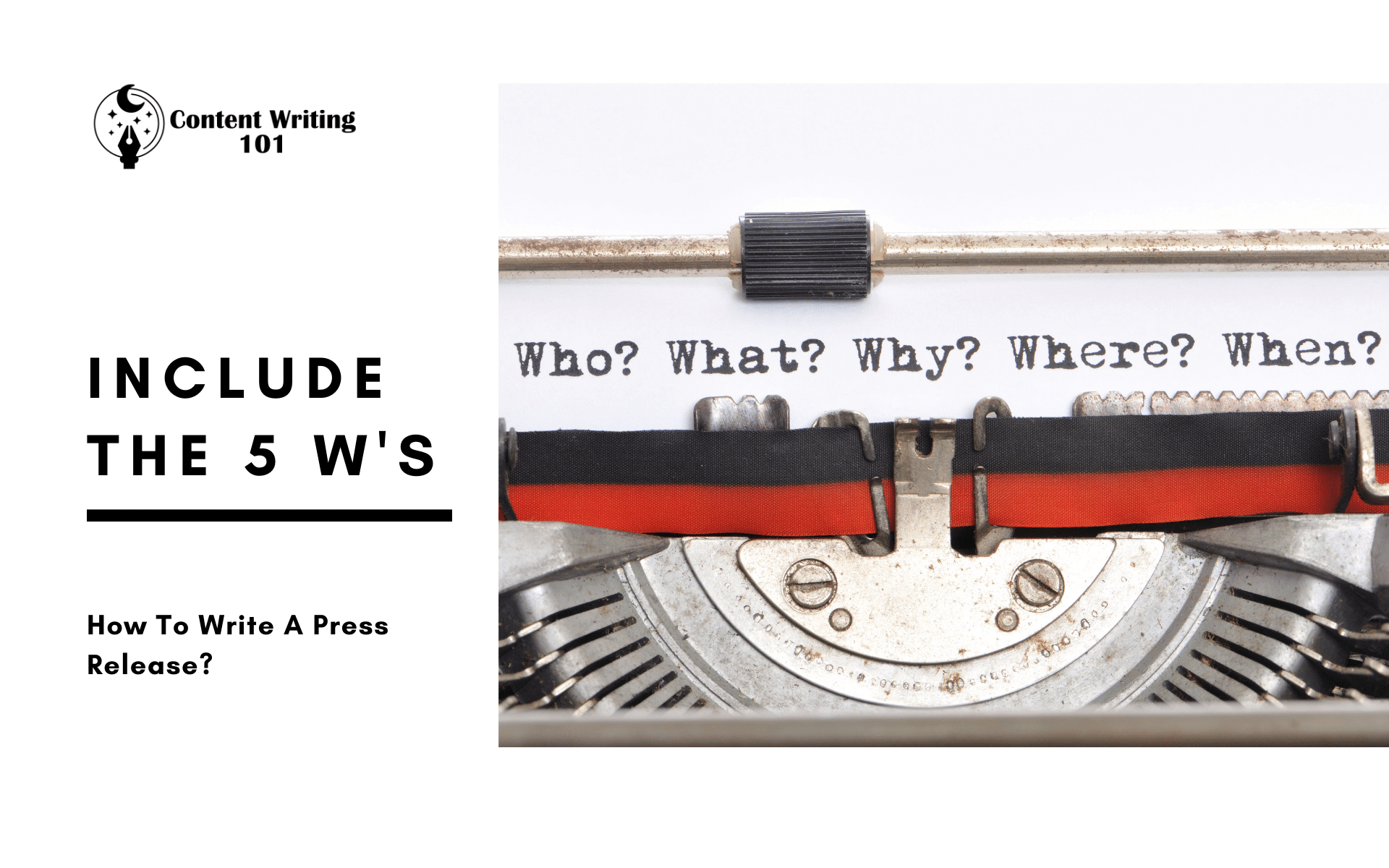 B) Then comes the relevant data and quotes
Here you back up the introduction with relevant statistics to paint the picture. Use quotes if you want to impart a personal touch to your story. Any quote coming from an industry expert or a company head will definitely add to the credibility of the announcement.
C) Add additional info here
Why is your announcement newsworthy? This is where you add strength to this point. Having mentioned all the relevant details above, it's time to end with a short note about the company's high-end work process, upcoming ventures, and a simple call to action.
This part should prompt the reader to take action.
Step 4: See If The Checklist Is Ready
A checklist is all the additional elements required to complete a press release like:
Images
Hyperlinks (cite all the resources and statistics)
Company name
Product name
Step 5: Add Contact Details
The media must know who to contact for more information. So, provide your company's contact details:
Spokesperson
Job title
Contact number
Email
Social media handles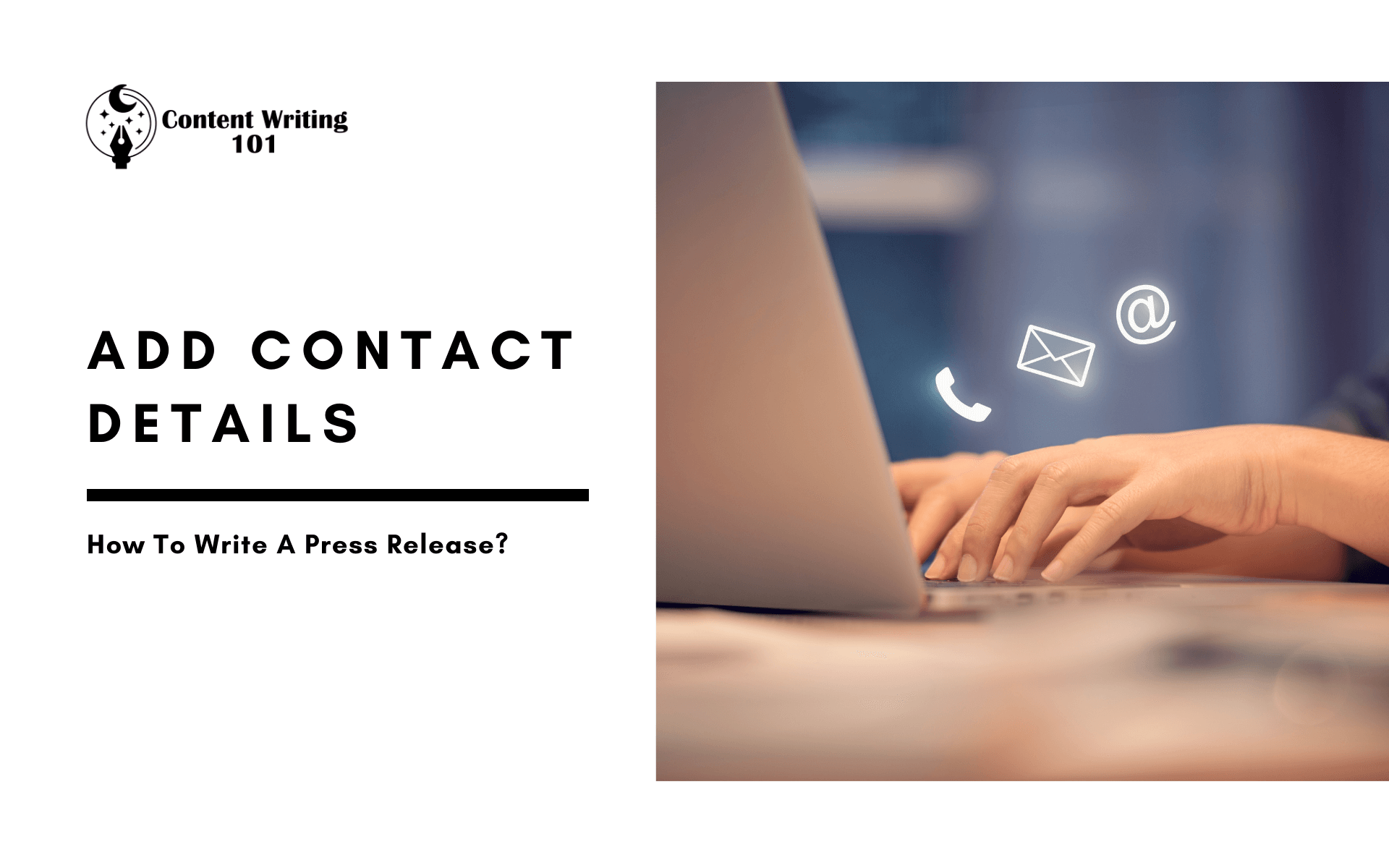 Step 6: Edit Without Mercy And Pitch!
Imagine how many eyes will be glued to your press release. You don't want the journalists to go through the extra pain of removing grammatical errors and spelling mistakes. So, go through the piece again and again. Use grammar checker tools for efficiency. It's not until you go through at least three to five rounds of editing that you can finalize the draft.
Once you're done with the editing, you're all set to send your pitch.
Let's discuss the best practices to get your content upfront.
Press Release Dos And Don'ts
1. Do Not Use Outdated Jargon
This goes without saying that you're not writing for your colleagues. You're writing for the audience. So, you must keep the language simple and easy to understand. Moreover, if you use complicated terms, the journalist will most likely pass it on to the trash bin.
2. Do Not Stretch It Over Two Pages
Anything beyond two pages is a straight-out fluff. There's no way an editor will read a lengthy press release. A press release should be concise and easy to scan.
You stretch it over 400-500 words; you're already out of the game. In most cases, it should be one page, but if you have some technical info to address, you can stretch it to maybe two pages.
3. Do Keep The Subject Line Personal
Most journalists won't even open the mail if they encounter a bland subject line. Try to go a little personal or casual (no swearing, of course!).
Using the name of the editor works wonders. Having clear identification of the recipient sends a positive vibe. These simple acts of kindness can pay off in the long run.
So, keep it short and personal as if you were talking to your accountability buddy!
4. Do Not Send High-resolution Images Directly
Do you want your story to get blown off at the last minute just because the images didn't load up at all? It would be such a shame for all your efforts to go in vain like this. The problem with high-resolution images is that they fail to load properly. Their large size clogs up the loading speed. Something the journalist won't fancy at the time of distribution.
To avoid this, always use low-resolution images, and embed them within the doc file. For further convenience, you can attach a folder containing all the images in high resolution along with the word doc file in the mail.
5. Do Keep Your References In Check
It's better to leave the links to all the reference websites at the bottom or in a separate file as an attachment. This saves journalists the hassle of going through the research for verification.
Never use copyrighted images in any way. Instead, use stock or original photos. It keeps your research transparent.
Press Release Distribution Best Practices
Writing is only half the battle. Once you're ready with the release, it's time for distribution.
All the effort you put into crafting the perfect press release will pay off here. Meanwhile, you can distribute a press release through social media and blogs/websites, but in the end, you will not get the attention you want until you catch the eye of some reporters or journalists.
So, here are a few things to keep in mind to kick off your distribution process:
A) Focus And Target The Right Journalists
For good coverage, you need to find good journalists, especially those close to your industry. Find the data of reporters and journalists and maintain a spreadsheet. Filter them out based on industry preferences. Lastly, show them why they're the right fit for your press release topic and type.
B) Send The Release At Least 2 Day Before
Press releases are time-sensitive. You must send your release off at least 2 days before to let the journalists craft a good story around it. You can hold off the publication until a specific date specified in the "For immediate release" section.
C) Use Press Release Distribution Or Wire Services
Wire services like Newswire, Muck Rack, Cision help your release get the right exposure at the right time.
Most often, your releases get lost in the bundle due to traffic. Wire services reach out to a wide array of trusted media outlets and help you amplify your campaign's message.
D) Go Offline If Required
This might seem a little extra. But think of the traffic journalists encounter daily. Wouldn't it be easy to send your release through other mediums like post, snail mail, or other offline mediums?
Sending a press release offline has two benefits:
It gives you an extra shot at the selection.
You get to bond with the journalist in person.
That's a great tradeoff, isn't it?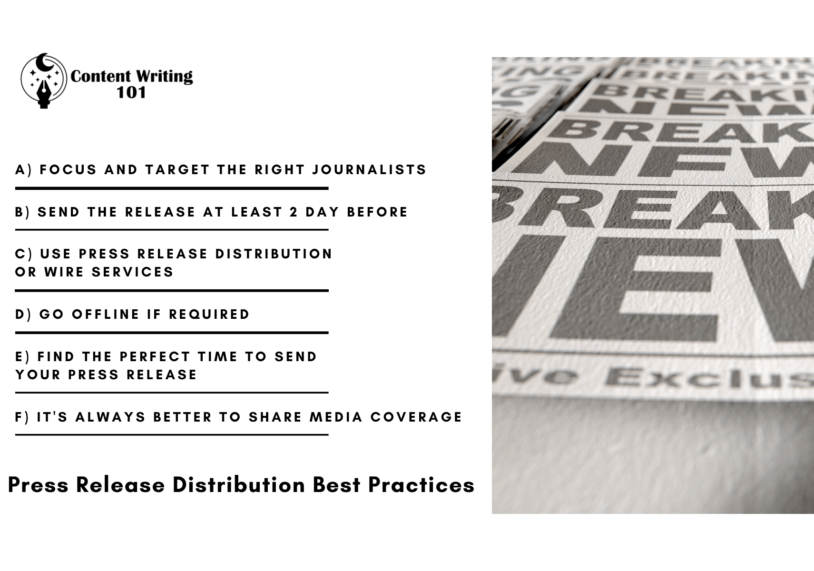 E) Find The Perfect Time To Send Your Press Release
What's the best time to publish a press release?
3 pm, 5 pm, or at the earliest 10 am in the morning? Nope. Let me tell you.
A simple reverse psychology trick works in this case. Everyone thinks that releasing at the top of the hour is the best strategy. While it might work for the premium companies, if you're just starting out, you'll have to work a little differently here.
Instead of the standard top-of-the-hour timing, you should keep the timing random, like a few minutes after the hour, something like 10:22 AM or 5:14 PM. It makes sense that there won't be much traffic around this time. It increases the chance of selection. Sounds doable, right?
F) It's Always Better To Share Media Coverage
Even though a media outlet has featured you, your work isn't over. The buzz must go on. So, you must share stories about your media coverage on social media, engage audiences in a conversation, and track your progress at every stage.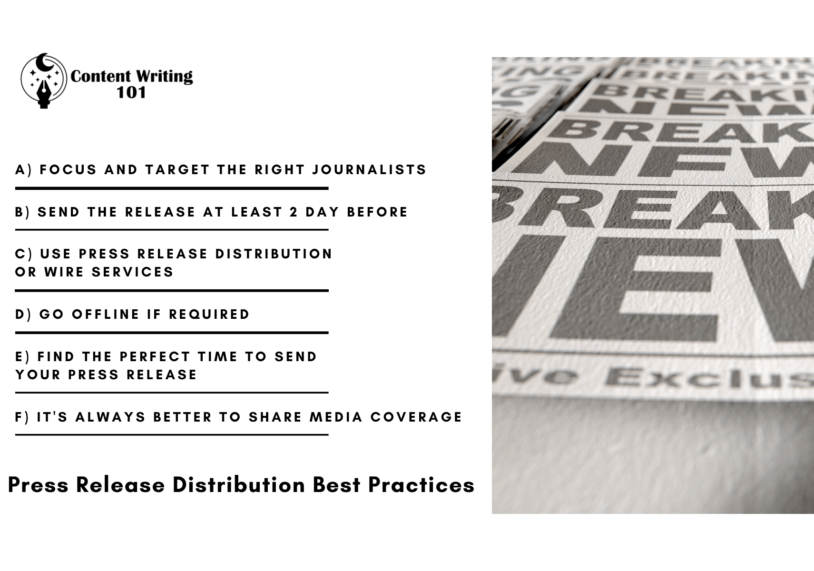 Now Go Make Your Grandma Proud!
Press releases are tricky to begin with. First, a writer has to pull those catchphrases out of thin air, and then the journalists have to frame a story around it. It's a clever way of communicating to the customers using simple language to announce the news.
Ultimately, it's the language that makes a difference. The first half of your story should immediately hook the people. Press releases that get right to the point make a good impression.
Similarly, you should start off as if you're explaining everything to your grandma before going into the details. Check this grandma angle, and hopefully, "more business will come your way."
Did you truly find this blog helpful? Let me know in the comments what you want to learn next.