Whether you're a business owner or just a freelance writer, you must have come across the terms copywriting and content writing. A quick google search will tell you that both are used interchangeably and are essentially synonyms. But you probably have also been wondering, which one should I become? Which one is better – copywriting or content writing? Does content writing pay better or copywriting? If you've wanted a comparison between copywriting Vs. content writing you're at the right place.
One skill that is common across both content writing and copywriting that you must master- Good writing. Now whether they are two poles apart or stand side by side depends on their purpose.
A business or company's primary focus is on enriching trust and building a rapport with its readers—both copywriting and content writing help create content that knocks on every reader's doors.
A writer has to build a relationship with their readers just through their words. As the situation demands, they should start as a writer and branch out into a copywriter or a content writer.
Copywriting and content writing are two sides of the same coin. You will find the reason why they don't coincide in this article. Let's dig deep into both worlds and then figure out the best choice for you as a freelancer.
What Is Copywriting?
Here is a copy of the famous Pepsodent toothpaste advertising copy by Claude Hopkins:
"A film, a dangerous coating That robs teeth of their whiteness"
Guess how many people brushed their teeth before Pepsodent appeared in their morning routine? 7 percent.
Given that the dental hygiene of Americans was at an all-time low, this ad was the ultimate savior.
The campaign led 65 percent of Americans to brush their teeth. Hopkins played with human psychology, which is what we now call copywriting. What Hopkins did is the best example of how copywriting should be carried out:
First, find the obvious pain point of the audience
Second, define the benefits.
The art and science of copywriting rests on addressing pain points and offering solutions. Creating great copies has always been driven by value first and not just generating sales.
Cut to today, copywriting is everywhere. If you've ever signed up for a newsletter, it's probably because of a copywriter's great tagline.
Businesses also need copywriters to help them create homepages, landing pages, product pages, subscription pages, letters to customers, blogs, articles for e-zines, and e-newsletters. With more and more people interested in copywriting, the demand is excellent right now and growing.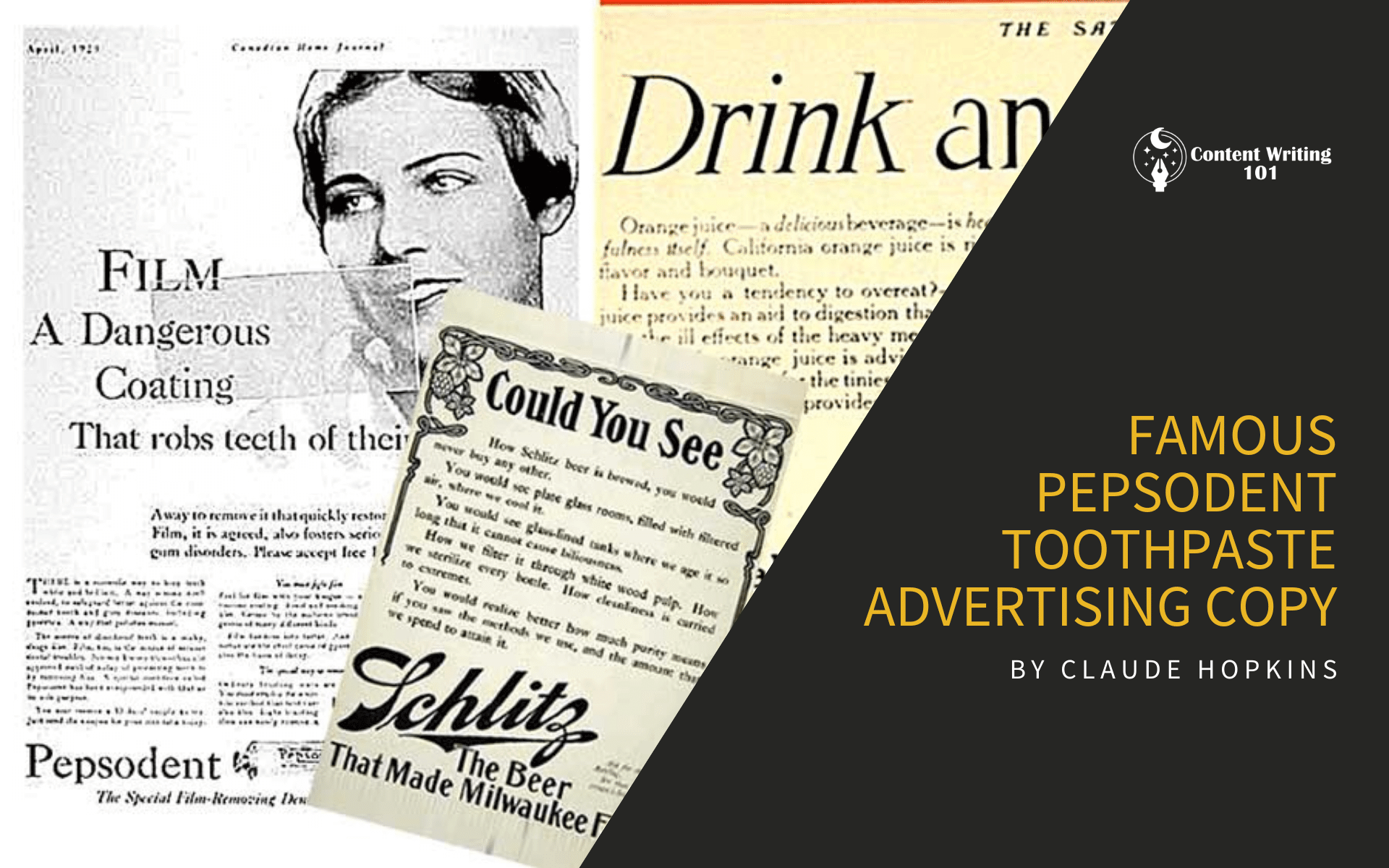 Back in the good old days, copywriting was limited to newspaper ads. Slowly with television, the movement transcended to Television. The advent of the Internet changed media and marketing as we knew them forever.
As a result, copywriting is no longer limited to newspaper ads. Copywriting, however, is in many ways more evolved, and it is one of the primary job functions in content marketing.
Here is a list of types of copywriting jobs:
Ads – Traditional And Online
Slogans And Taglines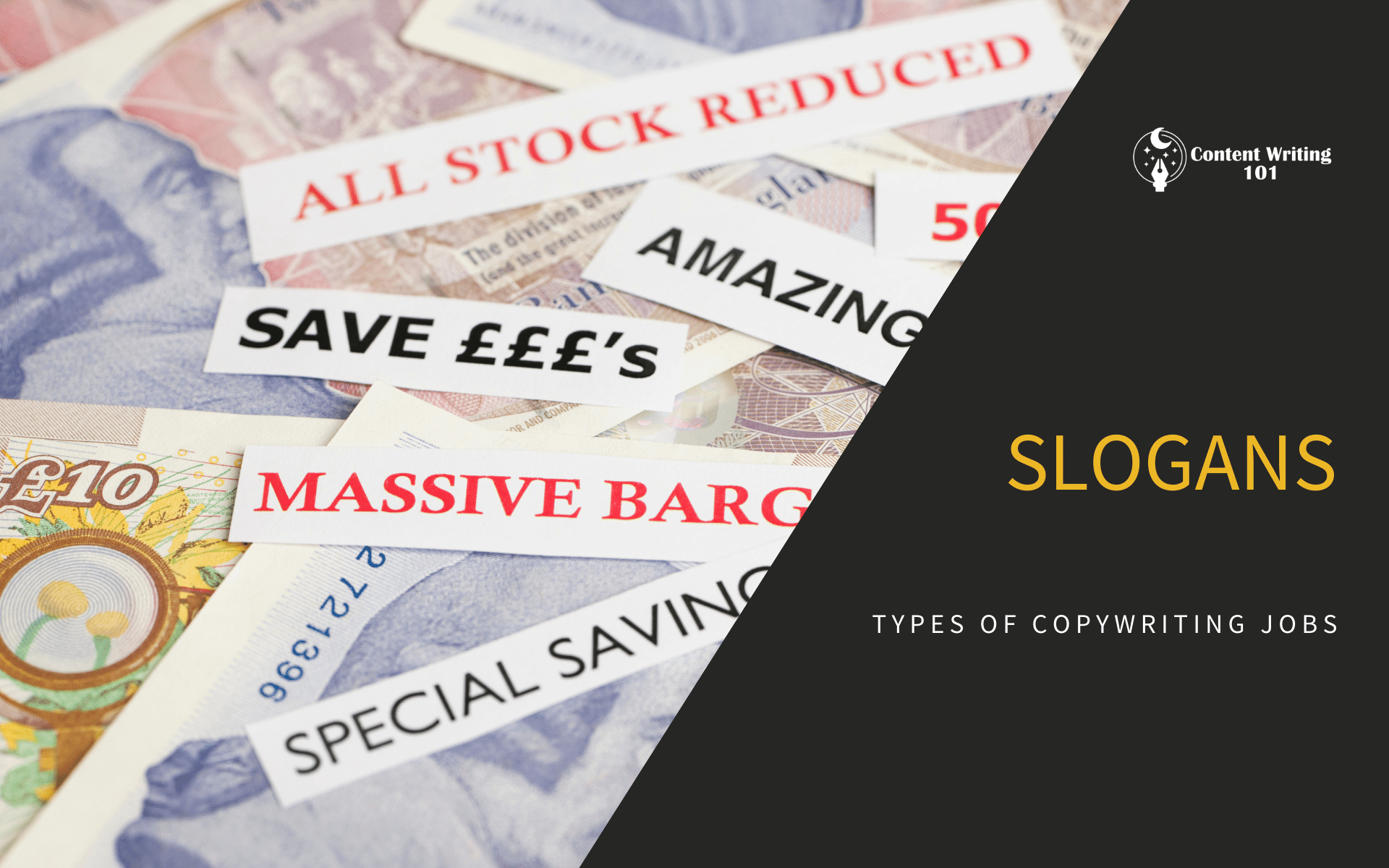 Web Page Content
Email Campaigns
Televisions Or Radio Commercials
Catalogs
Billboards
Brochures
Postcards
Sales Letters
Direct Mail Letters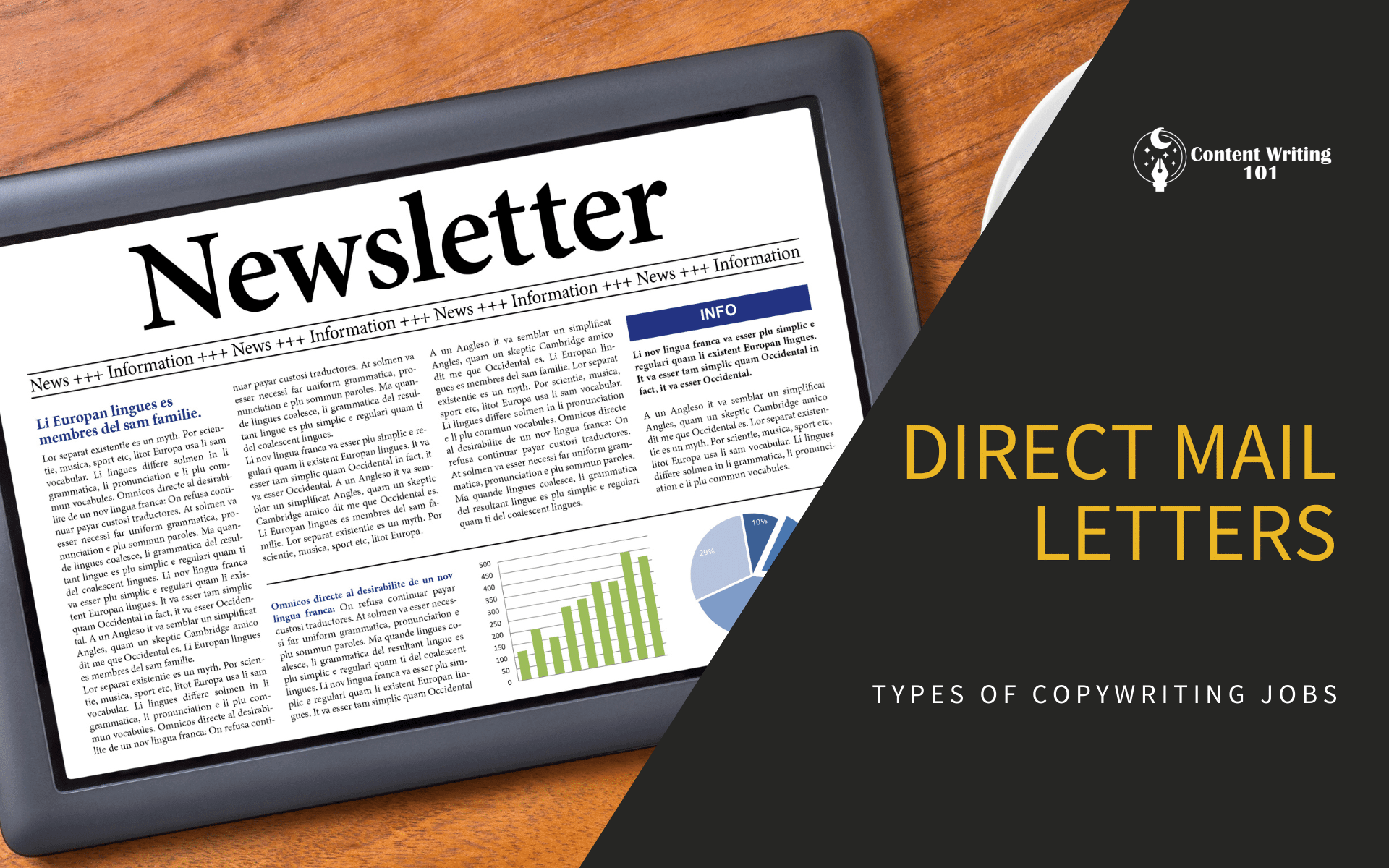 Jingle & Lyrics
Social Media
While copywriting is usually short-form writing, it's the most challenging. 73% of content marketers hire copywriting professionals as part of their strategy. This shows why copywriting is a marketable skill. To be a master in copywriting, you require a lot of skills and years of experience.
Have you ever worked as a copywriter? Feel free to share your experience with us in the comments.
Alright then. Time to change gears.
What Is Content Writing?
A well-written piece of content enhances the reader's experience. There is one condition, though: the content must be helpful. It's because people don't want to waste time on the internet. The specific nature of online readership cannot tolerate any ordinary piece of content.
That's why even the search engines scout for content that is worthwhile for the readers. The fact is, Google claims content is the most crucial ranking factor for a website.
This art of presenting information or providing solutions to people's problems is called content writing. Even though content writers strive to increase website traffic, the end goal of content writing is to inform readers with an unbiased, well-researched message. That's why content writing has become an integral part of the current marketing world.
All content should have a long-term effect on the audience based on the end goal. Five significant steps are involved in achieving long-term results: strategizing, conducting research, writing, and proofreading.
In addition to these five steps, a good part of the content writing process goes into optimizing the tone of the content according to the industry type and objectives.
Content writing is commonly practiced in various media with formats including book publishing, writing for news publications, engaging online content, and writing content for websites and blogs.
To summarize, in today's digital environment, the actual concept of content writing is the process of developing original, relevant content that can improve your ranking on top search engines like Google.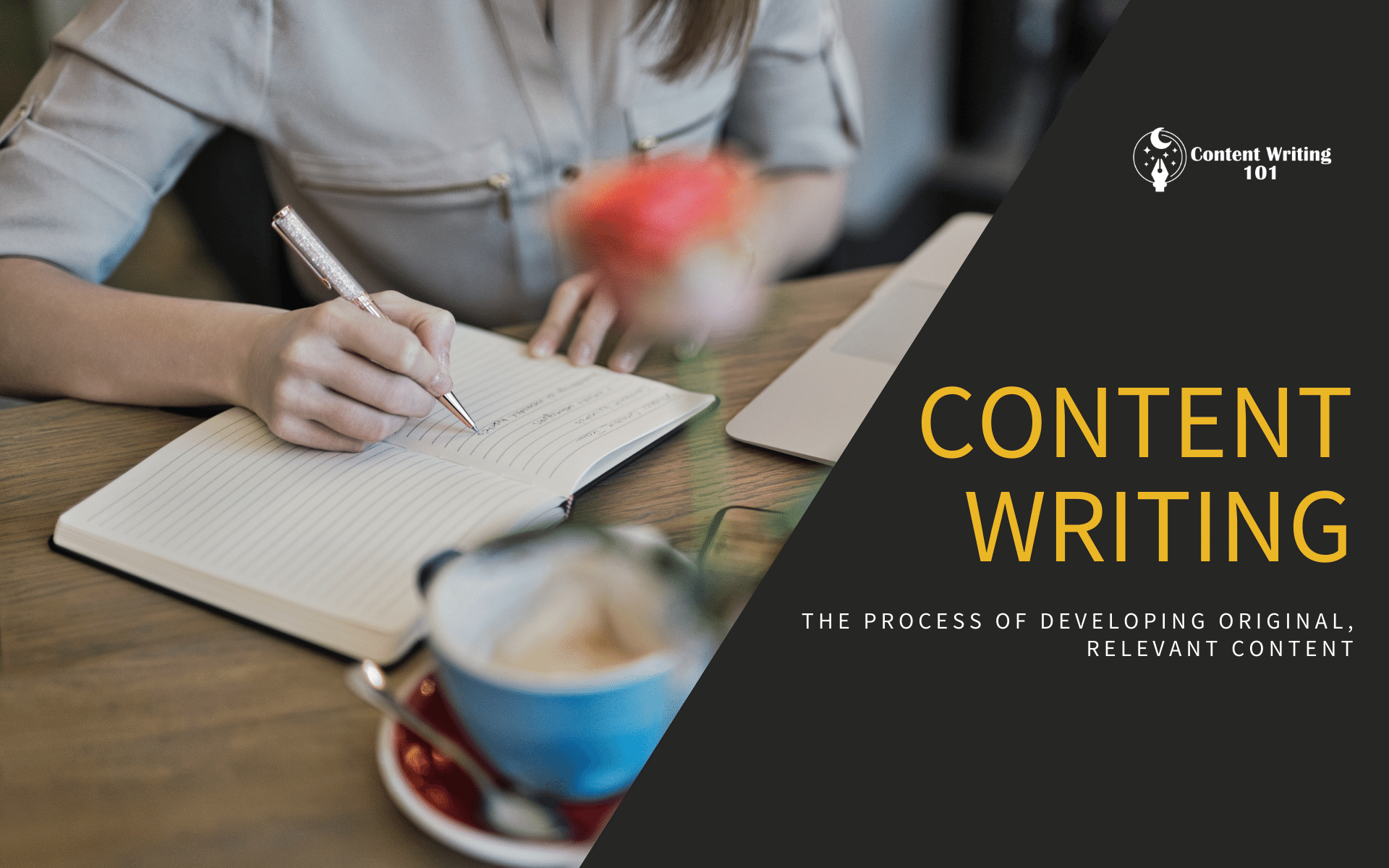 Types of content writing jobs
The Internet is full of content. Videos and images generate a lot of traction in the world of content marketing. But that does not mean that other types of content are no longer relevant.
The one you're reading right now is a piece of content. Flashy social media posts are another type of content. That explains why content is not just a passing fleet. It's here to stay.
A variety of content means a variety of career options. People think content writing is limited to the internet only. But the offline industry is also filled with myriads of opportunities. Let's take a quick peek into the types of content writing jobs.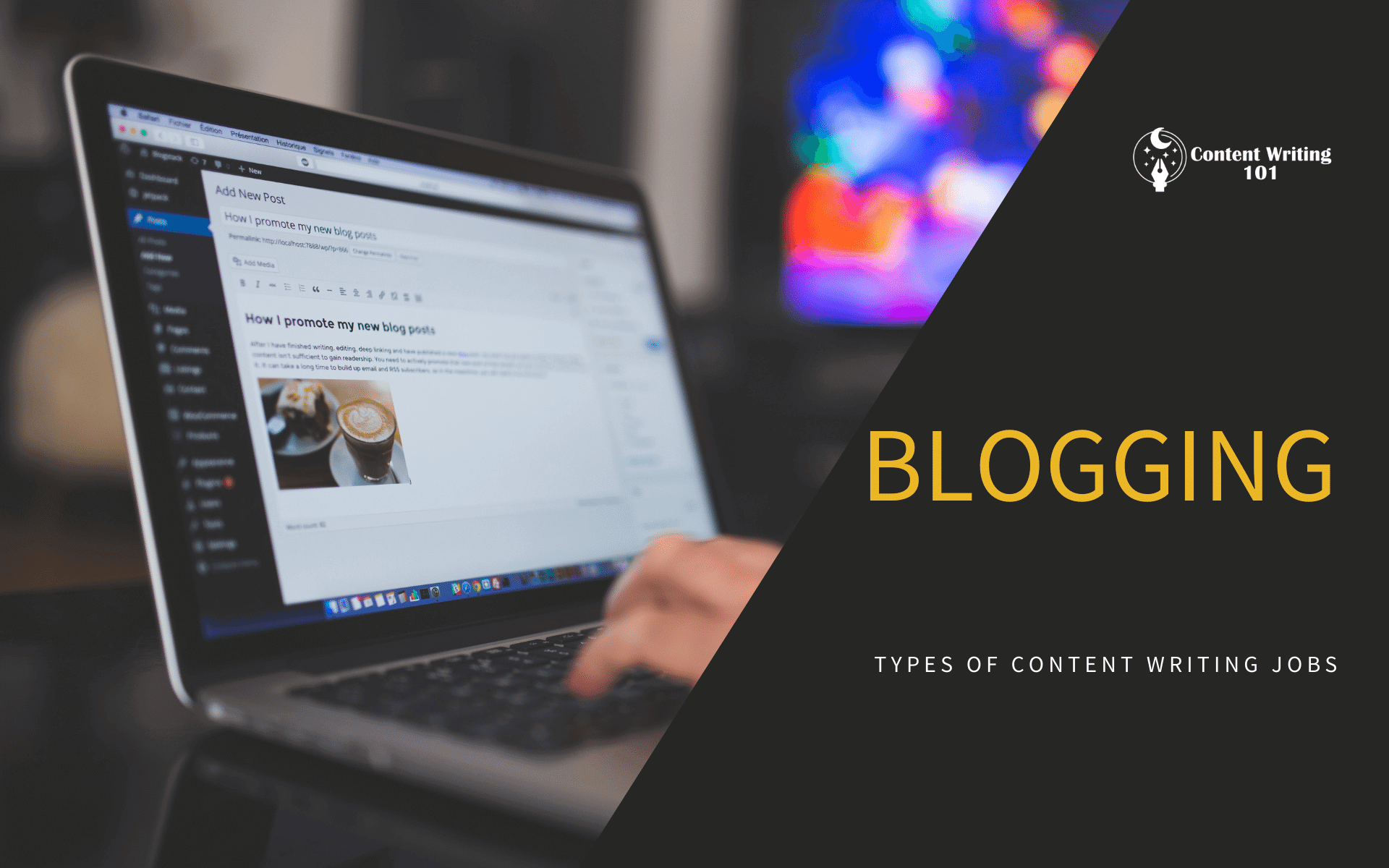 News Writing
Magazine Writing
Press Releases Writing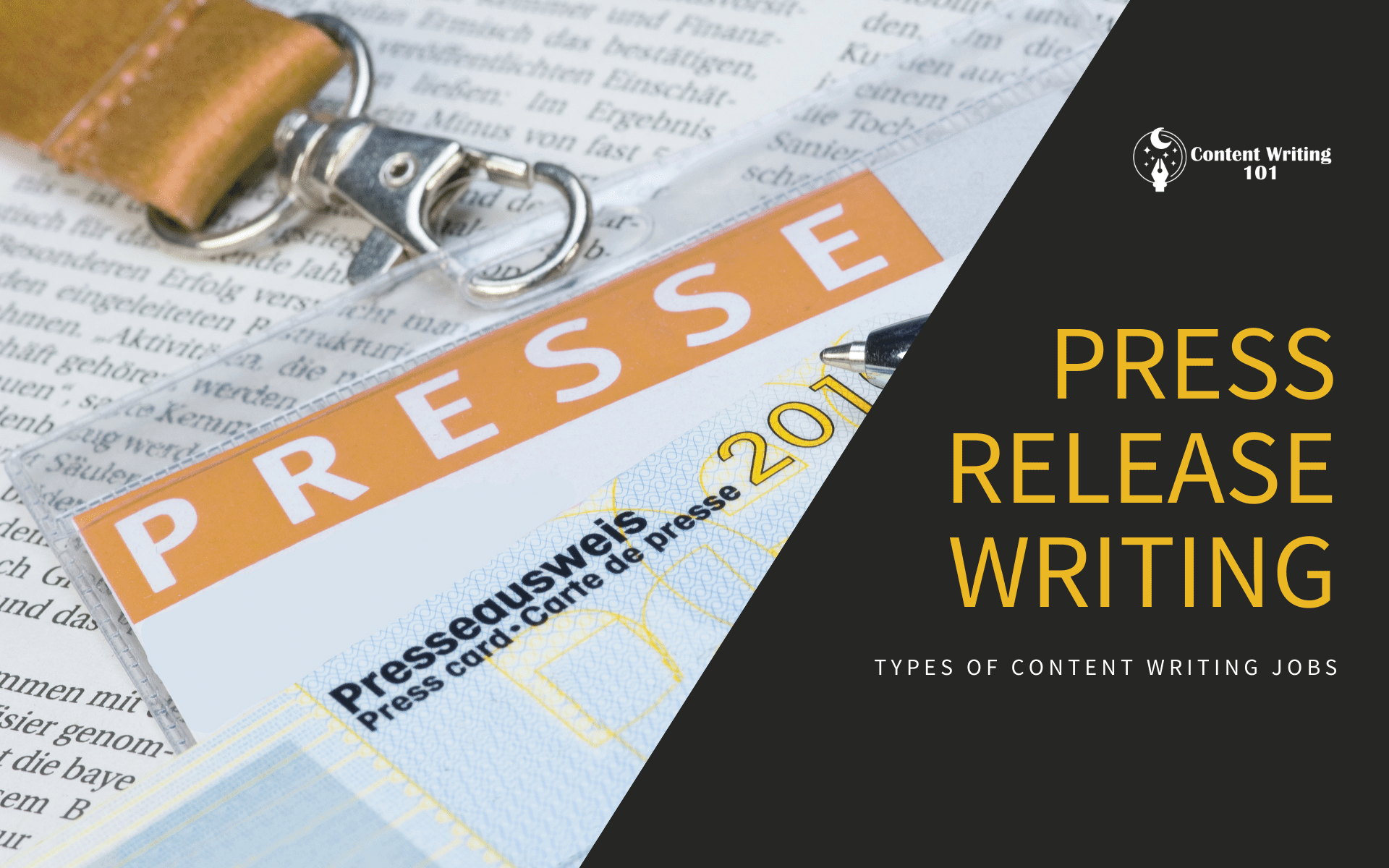 White Paper Writing
Email Newsletter Writing
Ebook Writing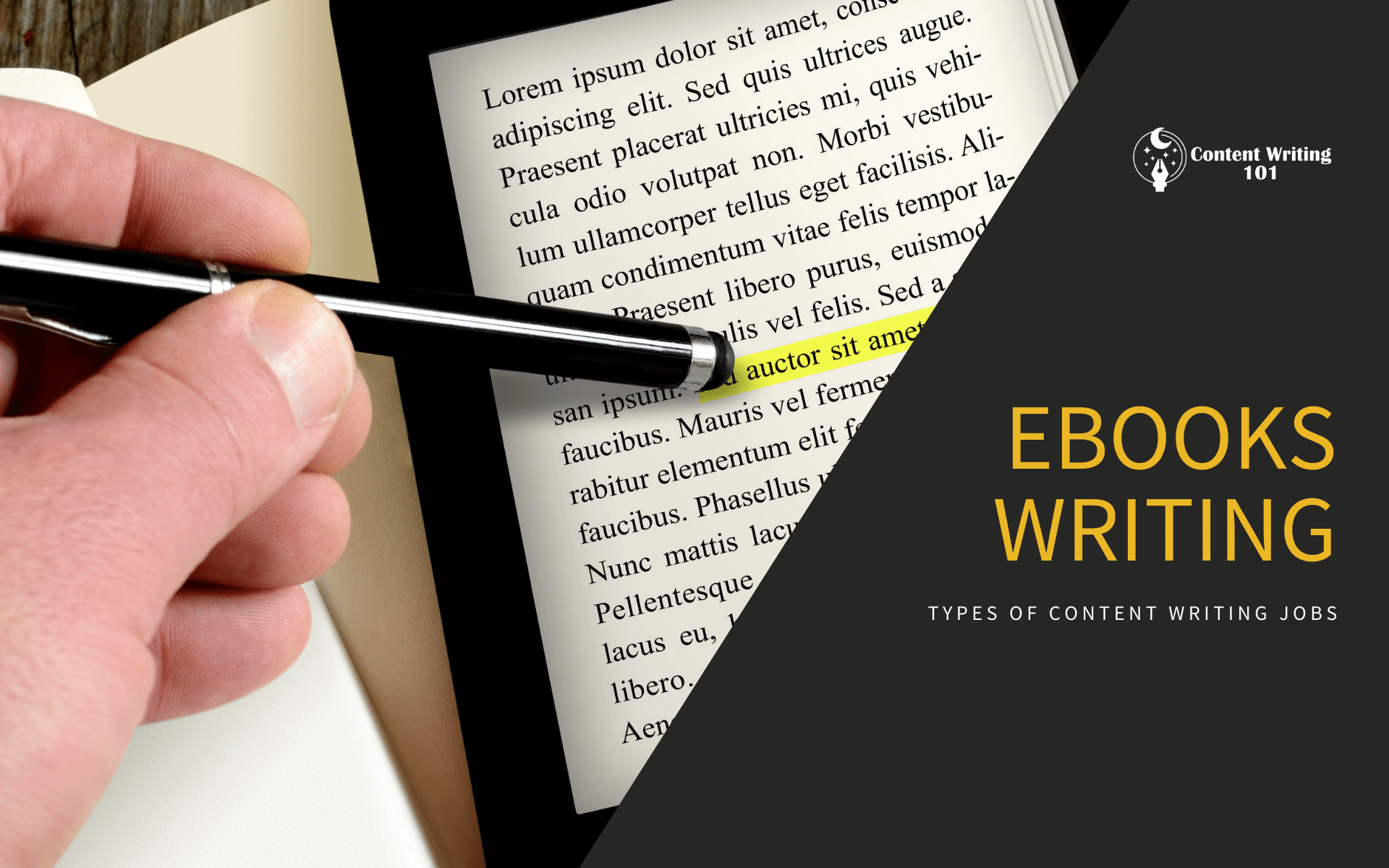 Book Writing
Print Magazines Writing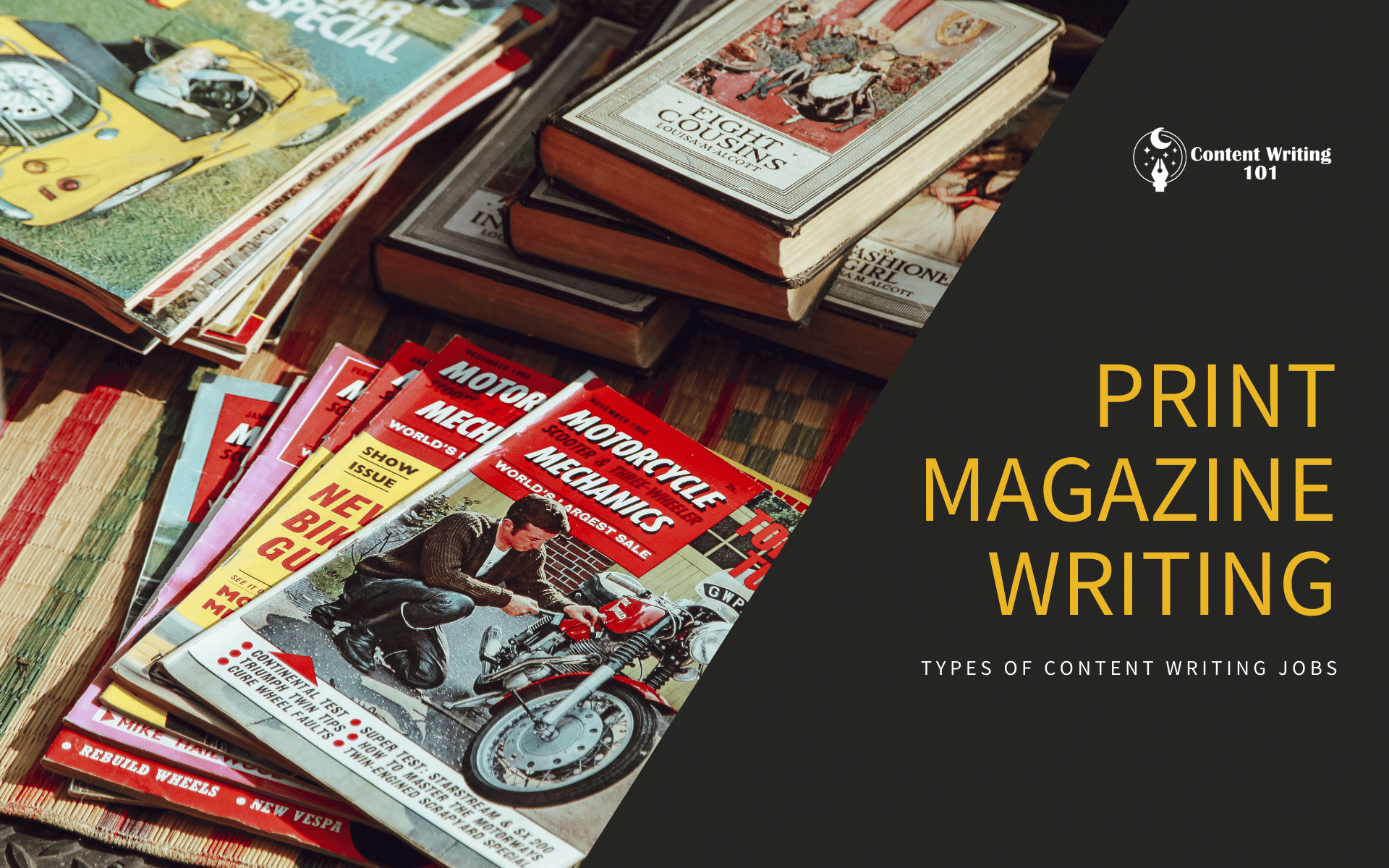 Script Writing (Audio/ Video)
Case Study Writing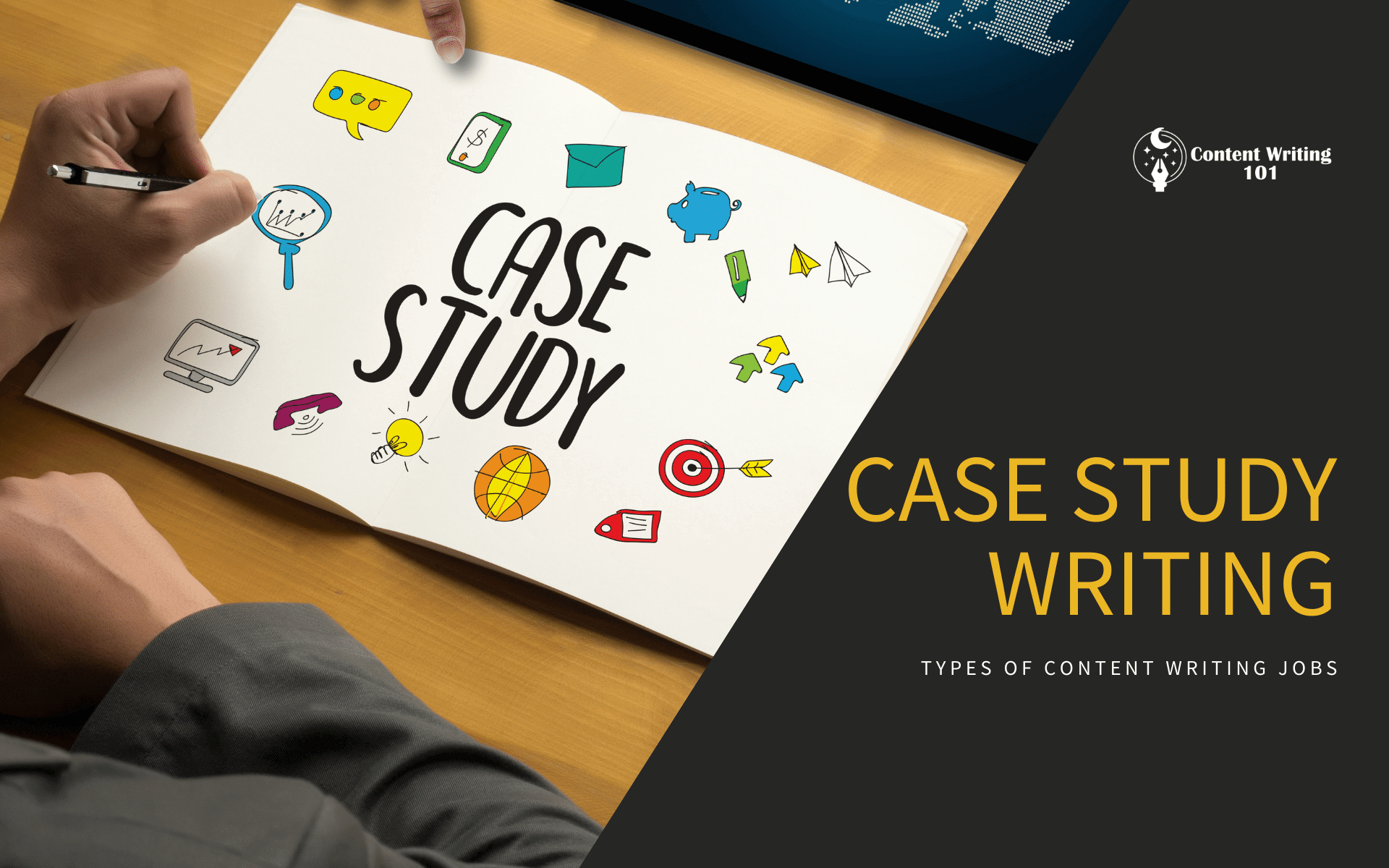 User Guide Writing
Infographic Writing
Copywriting Vs. Content Writing: What's The Difference?
If you're looking for differences, consider this statement – "Copywriting without great content is a waste of good copy. Content without copywriting is a waste of good content."
The statement simply means both are complementary to each other. Both follow the same underlying function: To grab the audience's attention with a valuable piece of message. So, that difference is not in their function but purpose.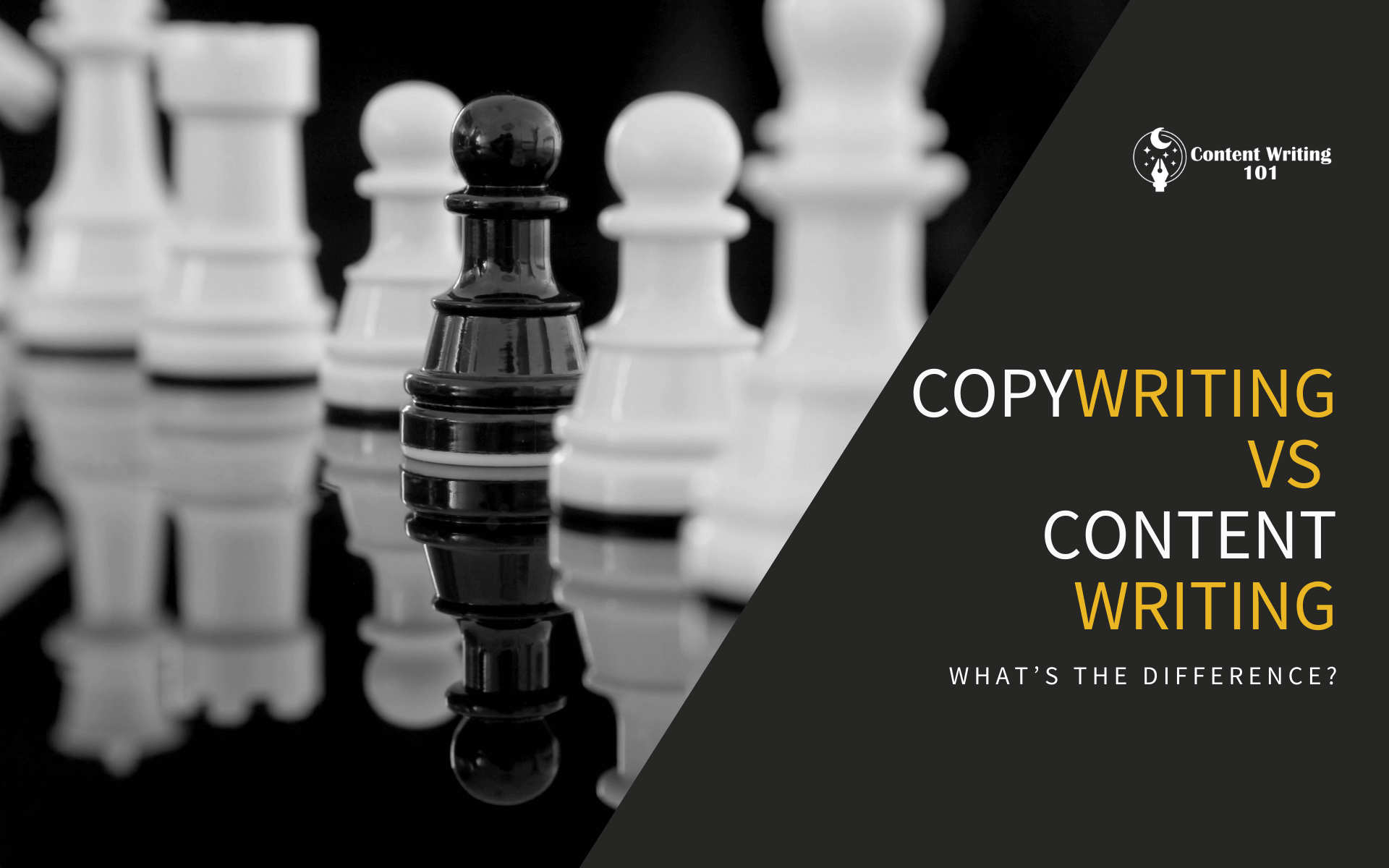 Does A Difference Really Exist Between Copywriting And Content Writing?
Copywriting and content writing have become one with the advent of the internet.
As stated well by Dan Lok, content is a form of pre-selling. A content writer uses his storytelling skills to give a heads up to the readers about a particular product.
Now how will you sell the product without catchy taglines, ads, and calls to action? This is where the copywriter comes in handy.
Copywriting vs. content writing are both complementary to each other. Good content educates the readers while a copy entices customers to buy the product.
Let's take a simple example from your daily life:
You move into a city, a new home. You need some furniture. Would you go around strolling half the town in search of the best deals?
No, You won't. You'll quickly search on the internet to get the results.
The Internet has wholly refined this process. There are thousands of free articles available on Google, so you'll find yourself searching online in a flash. Then you will see multiple search results. So, the question is, how will you filter out the best fit?
You have to read all the articles that provide you with information on the best dealers. The one with the best call to action will eventually lead you to your ideal dealer.
In this way, good content helped you review all the articles while a copy led you to your destined dealer. That's the power of the internet!
The Difference Is In Their Purpose!
To decode the differences, we need to recall their purpose again.
The purpose of content writing is to provide information to people. On the other hand, copywriting is intended to provide information with the intent of driving sales.
Congratulations, you've made it. You can find the difference below:
Content writing is informational while copywriting is commercial.
However, there are several other differences. That is more of a corollary to the major one. The following infographic can help you better understand: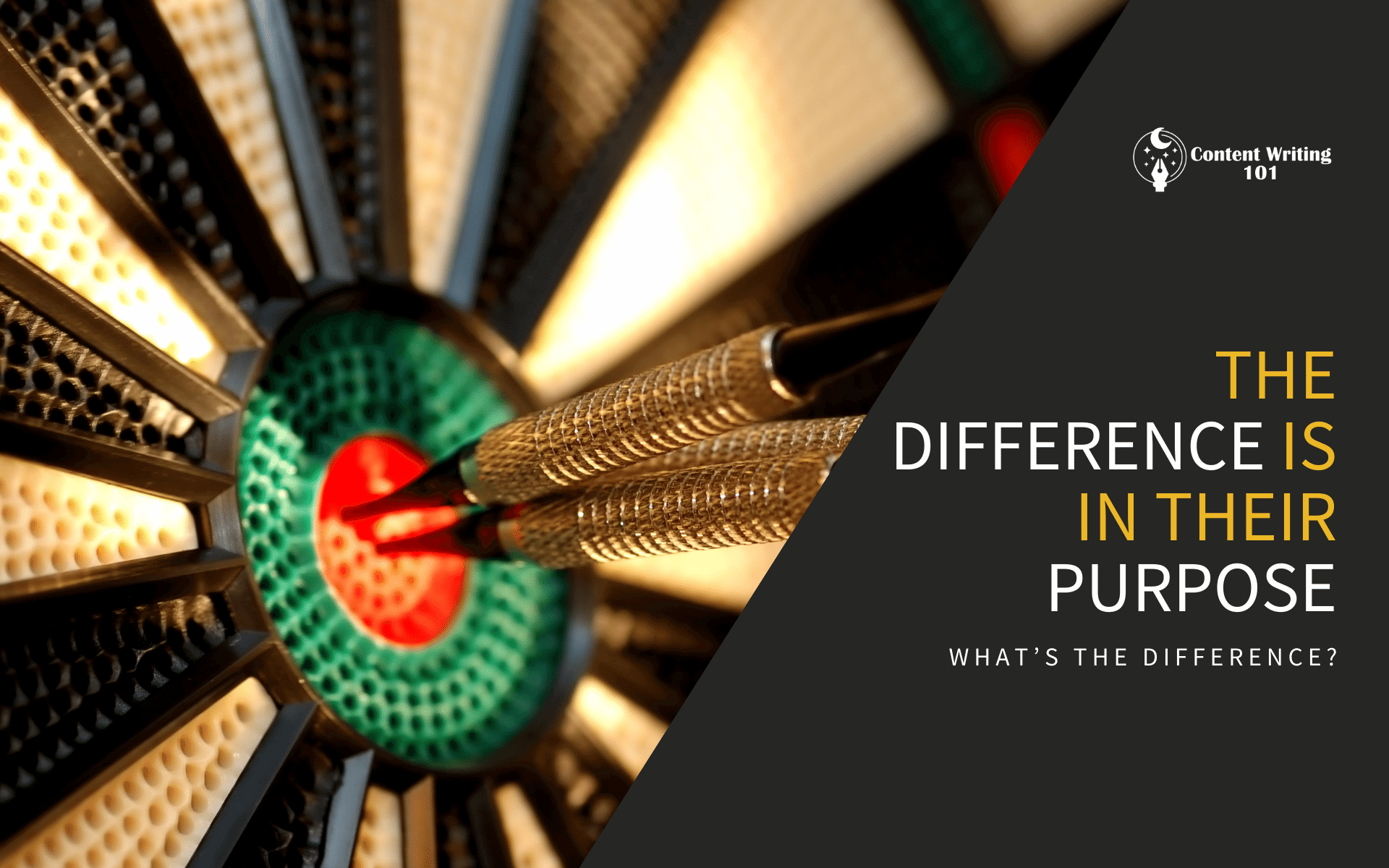 Myths About Content Writing V/s. Copywriting – Busted!
Debunking myths is essential in this day and age of internet marketing. In the pursuit of adding value to the customers and earning money, several myths start floating around recklessly, thereby affecting the overall atmosphere of online marketing.
Here are a few misconceptions that you need to be aware of before venturing out:
Myth #1 – Content Marketing Takes A Long Time To Show Results and Isn't Worth Deploying in 2022.
A common myth people believe in like it's the gospel of truth. Yes, lengthy content may distract casual readers and affect readership, but it is still worth it.
Copywriting is often short and persuasive and thus attracts readers. Any marketing agency pays heed to the conversion rate of copy or content.
If a copy can attract buyers and content is informative, the length does not matter as long as the purpose is clear.
Lengthier posts tend to convert better than short ones and get more organic web traffic from search engines. A report by SEMrush suggests that posts with 3000+ words get three times more traffic than short-form articles (less than 1500 words).
Readers want detailed explanations, and thus they time reading longer articles. The longer a user stays on your site, the happier search engines are. As a result, Google sends more traffic your way because the content is interesting, engaging, and entertaining.
Myth #2 – Copywriting Is Easy Because It's Shorter
Can you visualize me shaking my head in denial? That's because it's a big myth!
Blaise Pascal, a French mathematician, and philosopher had said, "If I had more time, I would have written a shorter letter."
To be honest, it's much more challenging to cut the drag in copywriting. That's why it takes time to master the skills of a copywriter.
Your three-line ad could very well become the next best copy. But guess what, it doesn't happen overnight.
You come across so many ads in a day. How many do you click through to eventually buy? The reason is simple. The ads were overly sales-driven and hence, couldn't make any impact on you.
Remember, a copywriting job pays you for the sales you affect, not your excellent long drafts.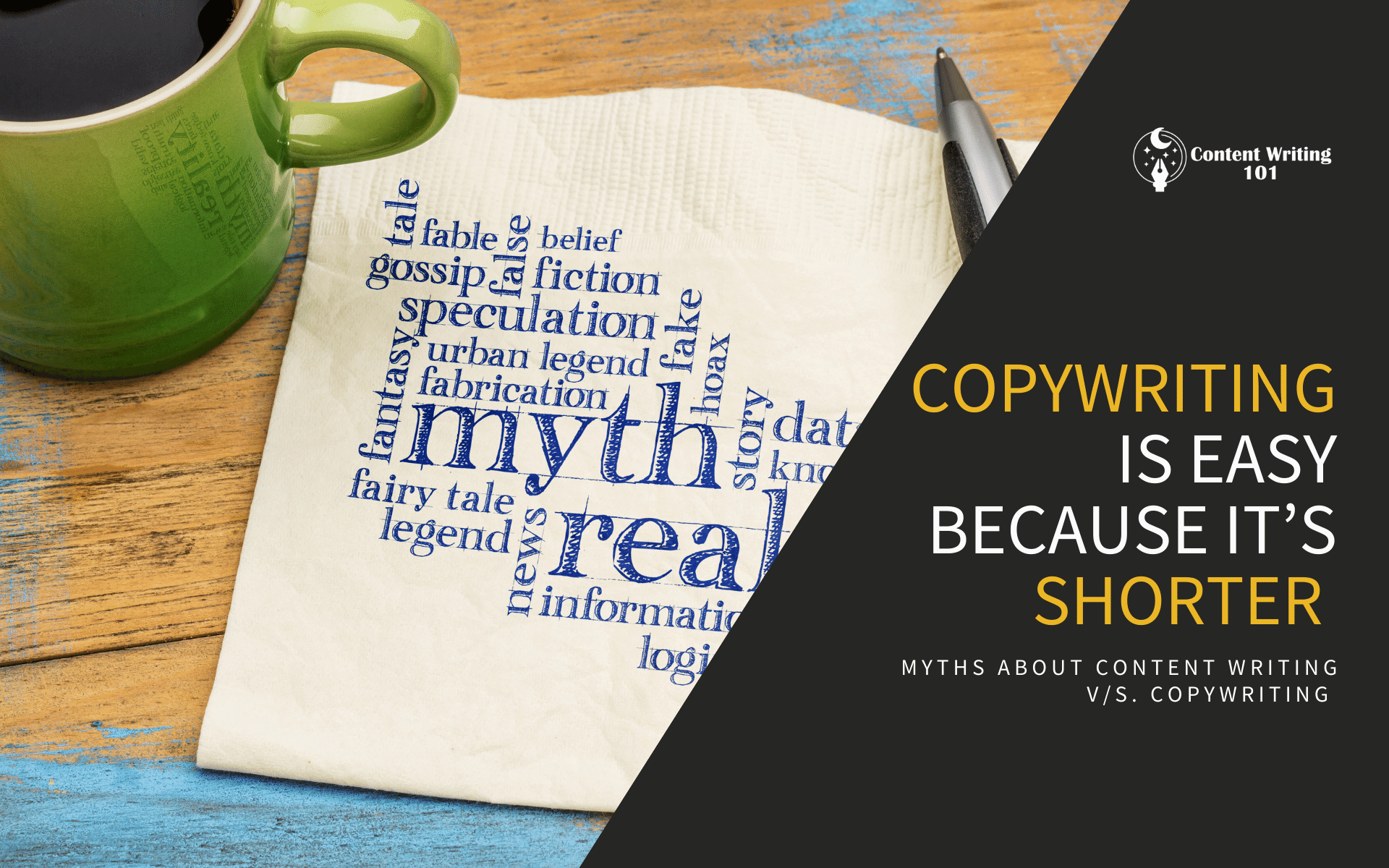 Myth #3 -Copywriting Is All About Cute Words
There's more to copywriting than just cool puns. It's about using target keywords. But you should keep in mind the difference between saying too much and saying too little.
The key is to tinker with people's emotions so that words could lead them into your website and make the purchase. Copywriting is more about using audience-friendly words. Whether you use cute flicks or formal tip-offs, as long as the end goal is fulfilled, you're good to go.
Myth #4 – Keyword Density Guarantee SEO Success
Dave Brown, a senior editor, says it best – there's a difference between keyword density and keyword optimization.
Poor keyword density affects the rankings so much that you might get penalized. You shouldn't cram keywords everywhere. That affects the overall look of the article.
When you optimize with keywords, you use them judiciously.
Using them in titles, subheadings, meta descriptions, image texts with optimum sprinkling helps the copy or the article crawl up the rankings and attract traffic.
Frequently Asked Questions About Copywriting & Content Writing
To help you gain some insight into what people in the industry typically ask, I offer a list of commonly asked questions.
These questions have been picked from a general perspective. If you have any doubts, feel free to drop them into the comments or join our Facebook Community for a wholesome discussion.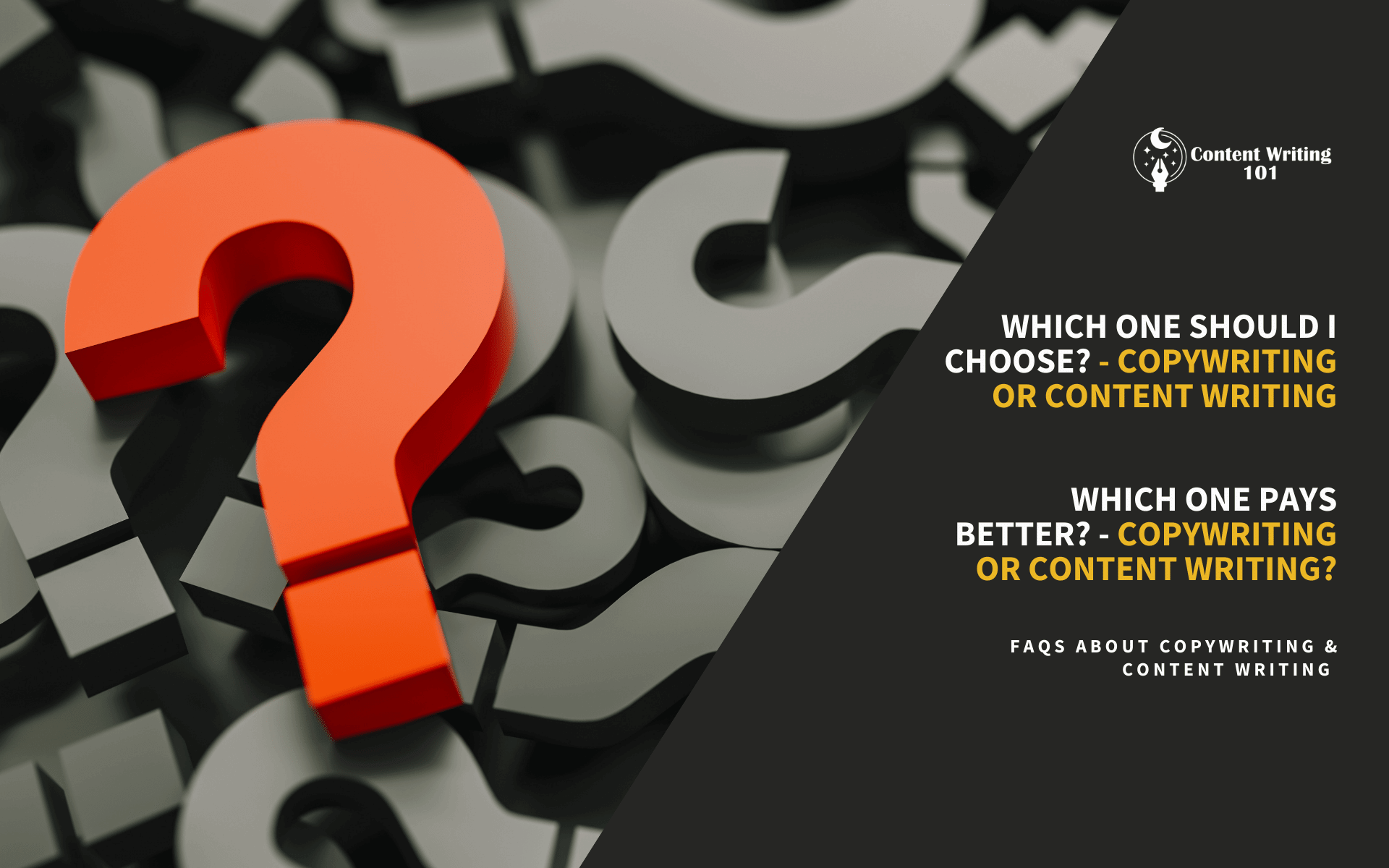 Which one should I choose? – Copywriting or Content Writing
It's crucial to keep both worlds in mind. Informative content needs a clear call to action. Writers who can connect with the general public are vital to any marketing agency.
You should write in such a way that your readers are rewarded, and for that, you need to have good copywriting skills as well. So, it's not a matter of choice.
You should be focused on writing well while learning them one by one.
Which One Pays Better Copywriting Or Content Writing?
I won't be diplomatic. Content writers are paid for the delivery of blog posts that may sell in the future. In copywriting, the writer is paid to persuade customers to buy the product.
The process of copywriting is instantaneous. Sometimes, you may have to come up with copies at the last minute. If you're experienced enough, you will make good money. As a result, copywriting is profitable.
As long as you possess the required level of expertise, it is possible to earn well in content writing as well, but it requires patience.
Learning copywriting is an art. Though copywriting is mostly writing short-form, it takes out-of-the-box thinking to bring out an effective copy that sells.
You need to play smart. Learn both. Eventually, it's your writing skills that get tested, so it's a fair deal to know both.
Do SEO Content Writing And Copywriting Go Hand In Hand?
SEO content increases visibility while copywriting increases leads.
In conjunction with copywriting, SEO content plays a key role in the core marketing strategies. Content marketing relies heavily on these two elements for almost all core strategies used to build a brand.
This is the reason why both SEO and copywriting are the pillars of content marketing.
Final thoughts
It's important to keep in mind that both fields offer plenty of opportunities. It's just a matter of perspective and gaining the required expertise in that respective field.
No matter what you write, as long as you stick to the purpose, you'll make a good cut. Your copy or content must cater well to the target audience. Do the needful analysis, research. Keep the tone and style consistent, keeping the brand's message at the core.
If you focus on blending the nooks and crannies of both worlds, you can build a long-lasting career.
So, are you upbeat about it? What skill do you want to get better at first- Copywriting or Content writing?
Copywriting Vs. Content Writing – A Visual Comparision