What is the primary purpose of a business? Tell me the first thought that came to mind – Providing solutions, generating leads, or creating huge profits? All these goals come under a broader umbrella called brand building. Businesses want to build a brand that provides solutions to people. It's a vicious cycle where a brand's recognition is directly proportional to a customer's trust. The better you represent the brand, the larger your customer base will be.
Now, trust-building shouldn't be a problem, right? All you have to do is provide solutions. Yet, why would a customer choose to use your service? Is there a specific case in which your service successfully solved a customer's issue?
This case will be your story through which you'll persuade potential customers to choose your service. Customers look for social proof before investing in any type of service or product. When you have a success story by your side, you stand out as a reliable brand.
Is a case study a form of story? Yes. Let's understand why.
What Is A Case Study?
Marketing professionals use storytelling, one of the most powerful tools they have for evoking empathy in customers. A story has a hero and a villain. Your brand is the hero who'll solve customer's problems (villain). Using a story, marketers describe how their business overcame the customer's problem.
A case study is a real-life testimonial based on a real customer experience. Authenticity is what makes them believable.
What a case study is, however, can be explained the simplest way. What does the name imply?
Study of a case. Yes, simple.
A case study is a study of a specific case (the villain) and how your product, service, or software (the hero) successfully solved it.
Most businesses are built on trust. Companies can establish trust with audiences through these success stories.
Case study= Customer's Success Story + Brand's Message
Is Case Study An Advertisement For Your Services?
My heart is screaming a resounding "No" here. Can you hear it?
Now, let's get this straight. The first thing I would like to say is that you have a valid point. This is a problem faced by many marketers today. The problem is that they choose to focus on industry jargon rather than look to the fundamentals that make case studies readable — a story.
A case study is not an advertisement or a press release. Why? Having a clear understanding of the purpose is the key to understanding the difference.
Case studies are used to generate in-depth research on a specific product, customer, group, institute, or community. Advertisements, on the other hand, are used to promote special features of the product.
A common objective lurks behind the scenes, didn't you notice?
Both case studies and advertisements are about talking about a particular product. Not you, the customer. So, can you guess what's the bigger difference now?
Case studies talk about a specific issue (a customer, group, institute, or community), NOT about the brand or the product. On the contrary, advertisements are promotional, not research-based. Adverts simply amplify a specific agenda, product, or the whole brand.
The gravest sin marketers commit while creating case studies is they simply ignore the customer. They forget to add that human element. As a result, such case studies turn out to be robotic, instantly forgettable garbage.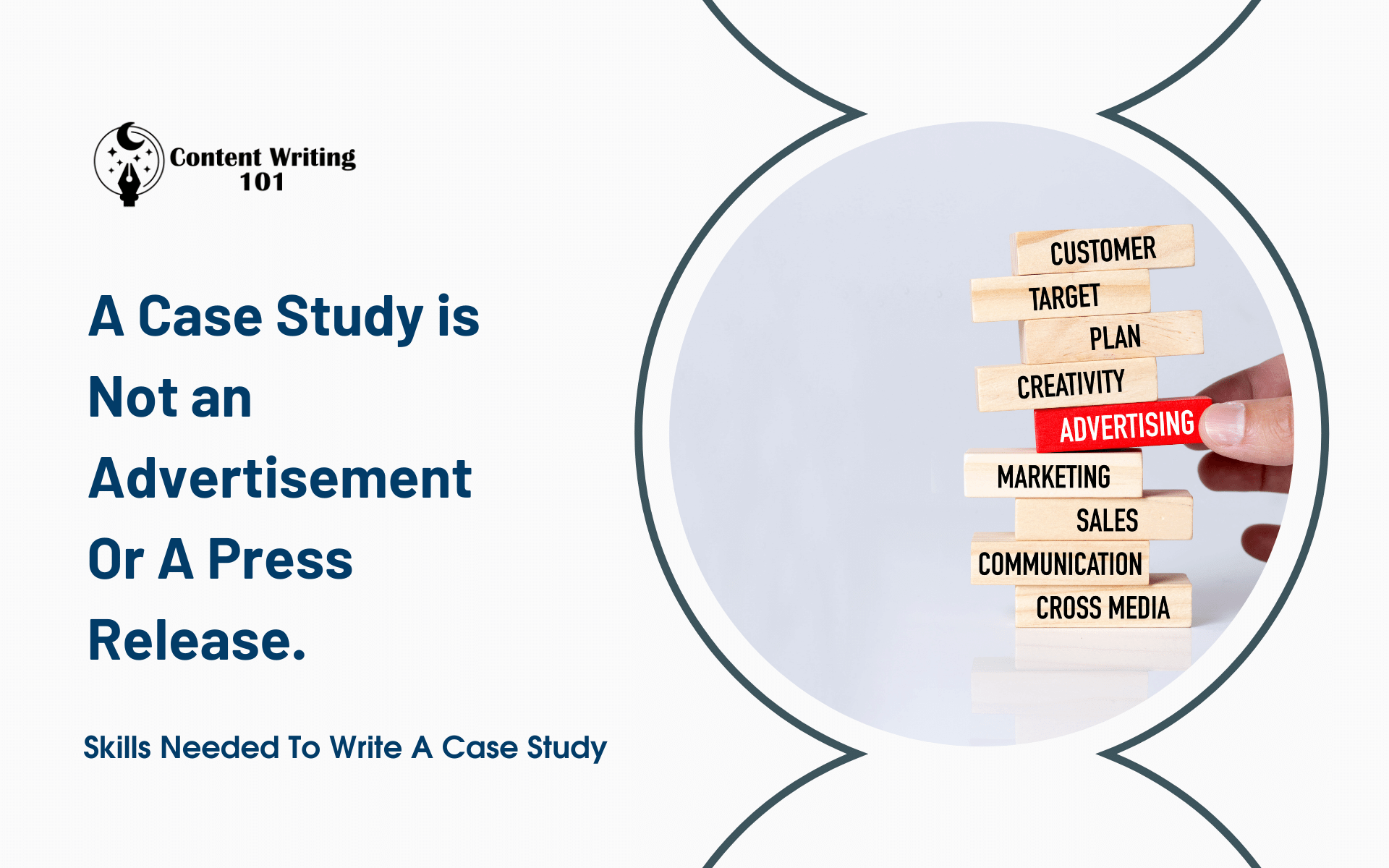 Are Case Studies Really Important?
A resounding Yes this time!
Let's suppose you're a B2C freelancer working as a brand developer for a D2C company. Now, your company launches a new invoice generating software. So, you'll have to create a lead generation tool to reach out to the customers.
Case studies come in handy here. They help the customer believe in the product through a well-researched analysis. How do they utilize this research? Here's how:
When anyone wants to buy software or research something, they look it up online. And as a result, the customer's buying decision is dependent on the nature of the information available online.
According to research, Google processes over 40,000 search queries per second. And, more than seven in ten of these searches are about specific products. These are customers who are looking to learn about particular products online.
Now, think of the reason why a customer would go on to buy your product when there are so many options already available.
How will you attract the customer to buy your product?
In the form of a thorough case study.
That's right, dear reader, go back and read it again.
If you've presented an impactful story where you resolve a customer's conflict, come up with viable steps, and finally provide the solution through your product, you've won the battle.
Is Storytelling The Only Skill Needed To Write A Case Study?
There needs to be a story, no doubt. However, is that enough? Certainly not.
A case study is a comprehensive analysis of how a brand overcame a challenge, what their solution was, and what benefits they reaped from it.
The challenge is in the story. But as you go further down the line, you'd have to give concrete examples, references, facts, and findings to support your story. A case study without these is essentially a theoretical paper.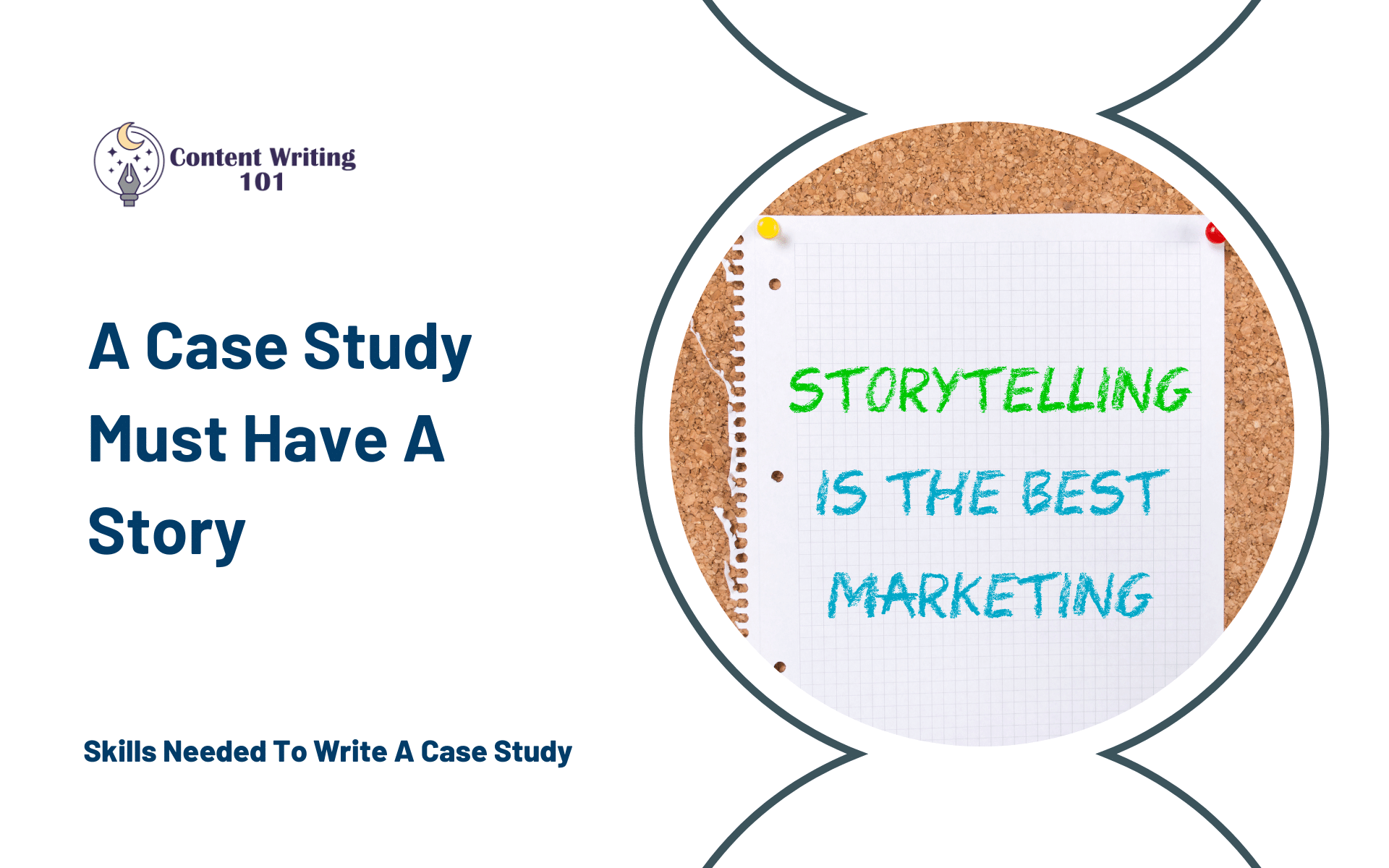 Other Skills Needed To Write A Case Study
I'll just get to the point. To prepare a case study, you will need the following skills:
1) Clarity – You Must Narrow Down Your Case Study's Objective
If you're writing a case study, the first step is to determine the exact purpose or goal of the subject. Specifically, what did the client achieve by the end.
All business case studies demonstrate the value of your services, though they can be tailored to suit different client objectives. But in general, case studies talk about a specific issue. So, you need to converge your story to a particular outcome. Here are a few case study's objectives that help you narrow down your approach:
Showcase how your product helped in Increasing leads
How did your product/service help in Increasing efficiency and cutting costs?
How did you help them in Increasing profit margins
Implications of your software/service on Government regulation compliance.
Did your product/service assist them in Increasing the customer base?
Was there growth in revenue because of your?
Did you help them enter into a new market?
Did your product help them in Increasing sustainability and energy efficiency
2) Planning – You Must Know How To Create An Outline
Outlining or planning is the first step to writing anything. A case study outline helps you to get a top-down view of all the data. Brand building relies heavily on research, which is another reason you should be good at it. In addition, research only comes alive when it follows up with an intriguing outline.
Fun fact: Creating an outline increases your speed threefold. I know that now you're tempted to give it a try.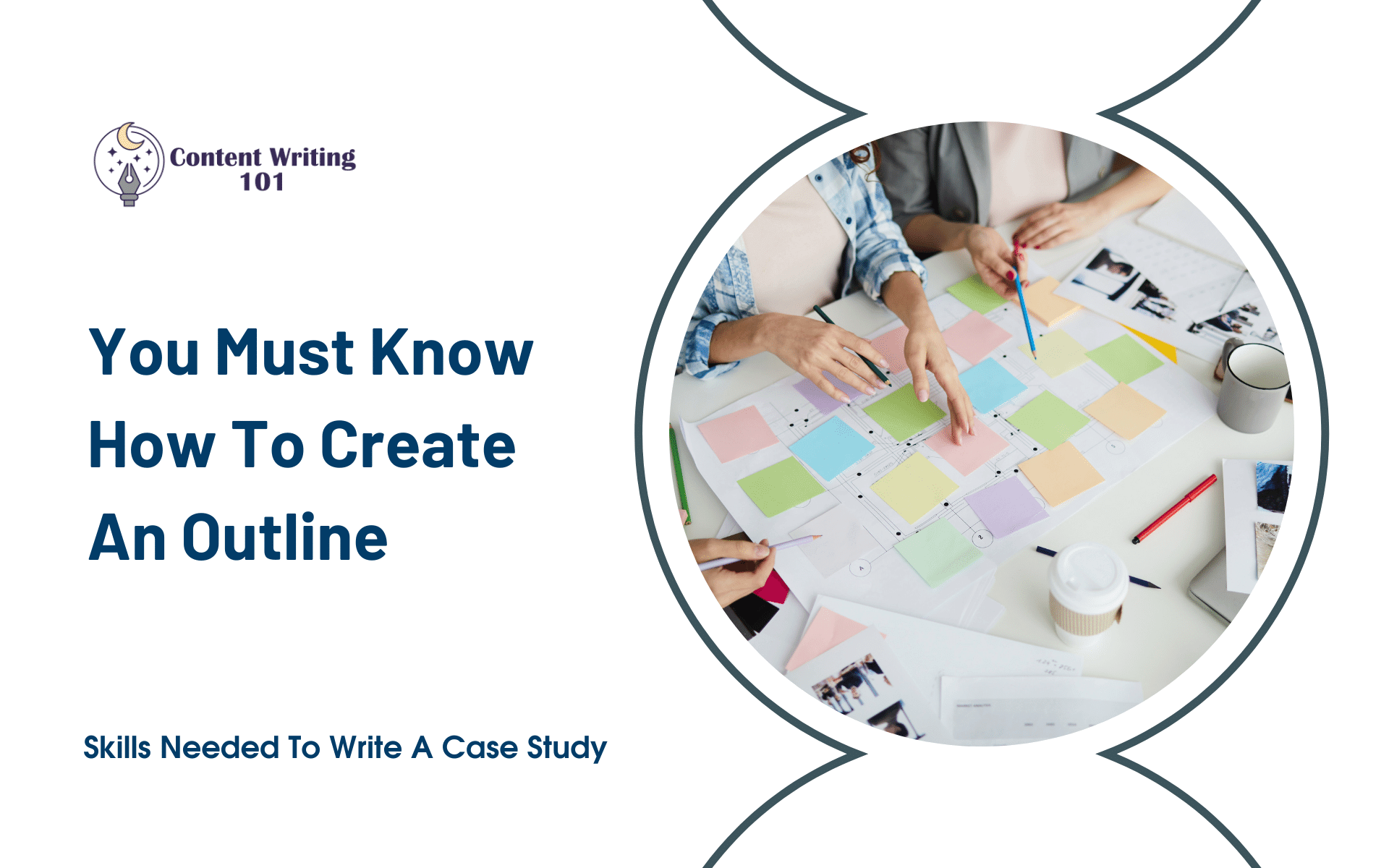 3) Formatting – The Ability To Create A Scannable Case Study
If readers don't bother reading past the introduction, what's the point of writing a well-researched piece of content? Everything will go in vain, right?
How can we solve this problem?
A scannable structure. There is an inbuilt scanner on most readers. They don't read; they scan through your content. And if the reader doesn't find what they're looking for, you've lost them.
That's why you should create a scannable piece of writing. It allows readers to find exactly what they want quickly. You must also learn how to use numbered and bulleted lists and any designer's beloved whitespace.
Don't let complicated words turn off readers. It's a cardinal sin in any type of writing. So avoid using complex terms and jargon. Instead, use clear, simple language to demonstrate your point.
As per research, the average readability for a case study is very low compared to other content types. But realistically speaking, you don't write a case study for the general audience. You write for the target customer who's looking to purchase the product or service.
It's always best to hook them up before they even start reading. This is why it's crucial to have a format that goes well with your content.
4) Data – Support Your Claim With Facts And Numbers
It's easy to claim that your software doubled up the speed and boosted the overall sales funnel. But don't you think these claims, if not supported with facts and figures, will sow a seed of doubt in the readers?
In other words, whatever you claim, you need to back it up with solid references. Take this as an example. Saying that sales have increased by 20% is clearly superior to simply stating that sales have increased.
Facts, statistics, and figures are like gold dust, i.e., precious. This adds a lot of clarity and uniqueness to your story.
In addition, make sure you include links for the source of all your statistics, and your content will seem much more authentic. Also, be sure to use numbers to back up your claims. This could be anything – revenue sheets, charts, graphs, etc.
5) Visuals – You Should Be Able To Strike A Balance Between Visual Content And Text
A Picture is worth a thousand words. And when I say that, I mean it.
Most marketers do not focus on blending pictures and case studies. It is as if they just leap from challenge to outcome without a comprehensive middle part.
There's no point narrating the whole story if you don't "show" the actual story. The middle is where you put all the visuals, figures, and statistics to make your story more relevant. Your case study should look as if you're trying to narrate an actual story. You must include visuals as they help you steady the pace of your story. The reader is able to visualize whatever you're claiming, which makes it even more effective.
So, try to use visuals wherever required. Also, when you're processing visuals, try to incorporate infographics, prototypes, animations, charts, photographs of people in action, and other reference materials. Readers will lose interest if you don't show them the entire timeline in which you completed the challenge successfully.
Another critical thing to note is the balance between visuals and text. Quite frankly, too much of anything dilutes the effectiveness of the point. By all means, use images, but do not overuse them. Too many pictures create the opposite effects. So, always always keep the amount in check.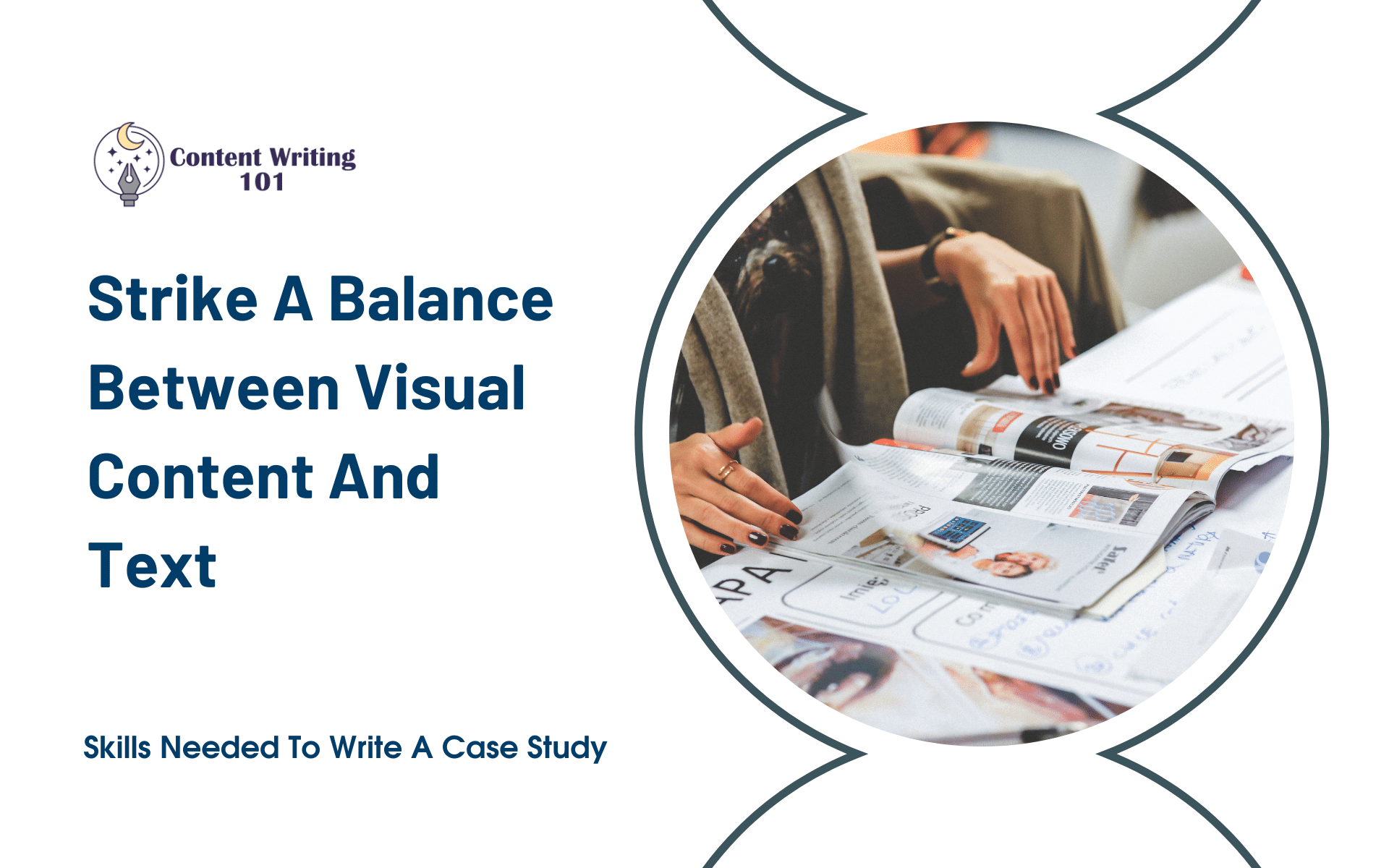 6) Narration – You Must Stick To The Timeline To Represent Your Information
This reflects how deeply you've studied the case and how well you understood the growth of your brand. Every story has a beginning, middle, and end. You build up to a conflict, then take steps to resolve it in a satisfying way.
This chronology is specially designed to keep the essence of a story. If you jumble up the order, readers will move on.
Take the invoicing software as an example. A clear indication of how your software changed the digital economy in a definite time frame will make the reader want to read more. If it takes a timestamp to enunciate how your product increased the efficiency of customers over the course of 5 years, then do it.
You see, that's what makes a good storyteller. As you write, take your reader on a journey.
7) Language – You Must Use Persuasive Or Action-Based Language
There's nothing more important than clear, actionable language because you need the reader to engage with your research and facts and not just skim through the end.
Using complex jargon simply distracts the reader. In a case study that is specifically designed for a numbered group of people, you can't really afford to leave the reader baffled. Easy and clear language reflects your idea much more clearly without frustrating the reader at any point.
I know it takes a lot to be prepared for a case study. But learning these skills will help your work stand out from the crowd of mechanized case studies. So keep reading.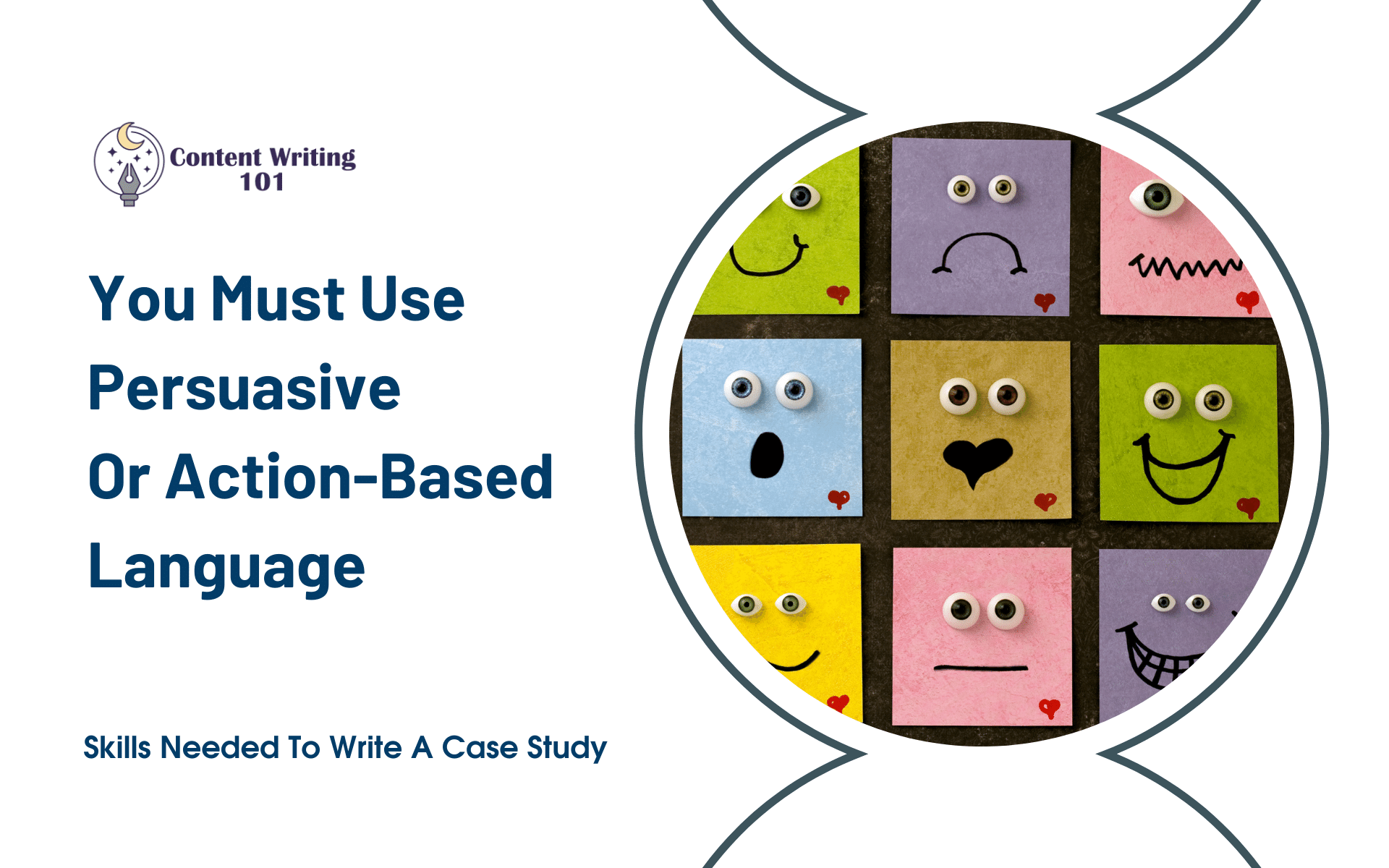 8) Identification – You Must Find The Right Study Candidate
Whenever you describe a project you have done, you must do more than just pick a random candidate and describe the project. You need the right candidate to illustrate your messaging clearly. You may want to take a look at these qualities when selecting the candidate for your case study:
Understands Your Products
A customer with specialized expertise is the best choice. This allows them to describe the value of what you offer more effectively for future customers.
Has An Unexpected Success Story
Robust case studies will come from clients who have experienced the best results. The more excited your prospects are about your product or service, the more likely they are to convey the enthusiasm that you want them to feel.
9 out of 10 customers prefer a reputed brand who they either follow on social media or in general. While a case study can have powerful stories about unnoticed candidates, it's always better to feature recognized ones.
Has Past Experience With Your Competitors
It helps to have customers who came to you after working with a competitor to highlight your competitive advantage and to persuade them to choose you.
So, these are the skills you need to prepare a succinct case study that is beneficial to both the reader and your brand. But wait, the story is not over. Having brushed up on these skills and drafted a case study, it's now time to learn how to present the case study.
How To Present A Case Study?
Now comes the meat of the story. It's easy to get overwhelmed after collecting all the information. But when it comes to structuring the whole thing, there is no one-size-fits-all approach. The presentation may differ depending on your assignment or your case study's objectives. But in general, every presentation consists of three basic steps:
Selecting The Medium
Drafting The Outline
Editing The Draft
Where To Publish The Case Study- Selecting The Medium?
There are many mediums where you can publish your case study. Where you publish your case study depends on where your customers are. After you figure out where your customers are in abundance, you can easily publish and promote your final piece across those mediums.
The most popular medium of distribution of your case study is on your own website or on Medium, a blogging platform.
Content repurposing is another method of sharing content across multiple platforms. Crafting written case studies that may live on your website and get featured on social media posts should be followed by creating infographic case studies for Pinterest and video case studies for YouTube. In general, repurposing involves using different content formats for different mediums.
Let's talk about all those formats you can use to repurpose your case study in brief:
Written Case Study
Case studies written as an ebook and made available as a PDF download work the best and act as a lead magnet attracting the right audience for your business. You can then set up an opt-in form and landing page to secure the PDF, creating a mechanism for the readers to fill out the form before downloading it.
This way, you can not only increase the traffic to your website but also generate leads at the same time.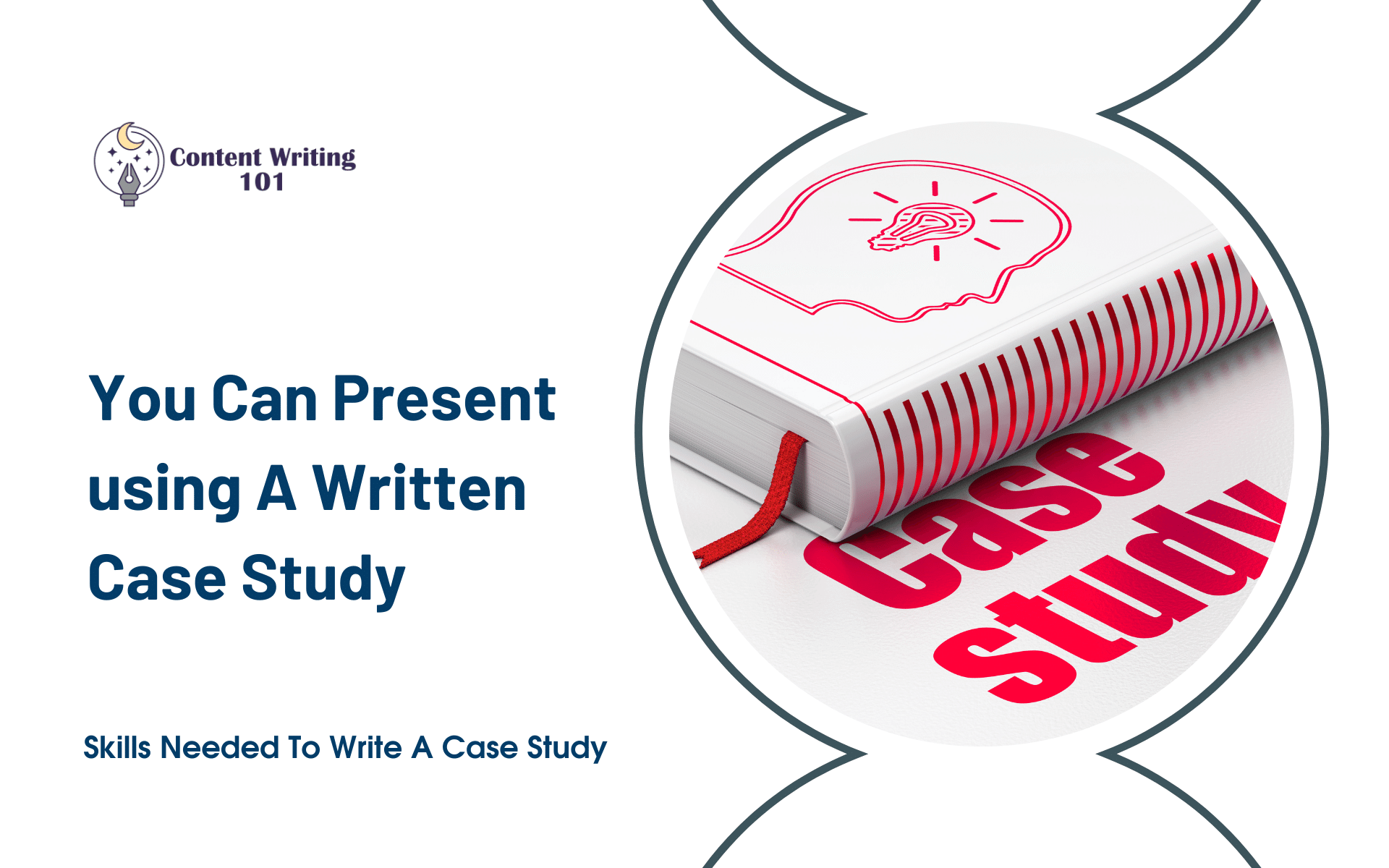 Video Case Study
A video case study involves creating a detailed video analysis of the case. If you prefer, you can shoot a direct interview with the client or simply narrate the entire case study with visuals and images. It will increase your customers' trust level if they can watch you in person discussing the product or service they purchased.
Infographics Based Case Study
In general, infographics can be best utilized for comparative studies. But you can also use an infographic to demonstrate the timeline of your story.
When it comes to the formatting, make sure you keep the text size bigger for clarity. Use contrasting colors to show comparative studies. The vertical lines used to separate the two sections should be clearly visible.
You may also choose to include charts and graphs within an infographic to include statistics associated with your case study.
Audio Case Study Based Podcasts
Podcasts are a great medium to connect with your clients in an honest and open manner. It's a wonderful way to sound more human and credible to your audience, as they'll know that you worked together closely with an actual client.
The podcast format creates a closed room atmosphere where you can feel like you are speaking directly to the speaker. That's why podcasts are becoming an increasingly popular way to promote your content.
How To Draft A Case Study
Case studies require a particular structure when they are drafted. By following this structure, you establish your narrative and make your story worth reading.
Regardless of the format of your case study – whether written or visual – here is a rough outline that you can follow:
Title
A title should be short and simple. You should create a project name that is concise and interesting to describe the work you did with your subject.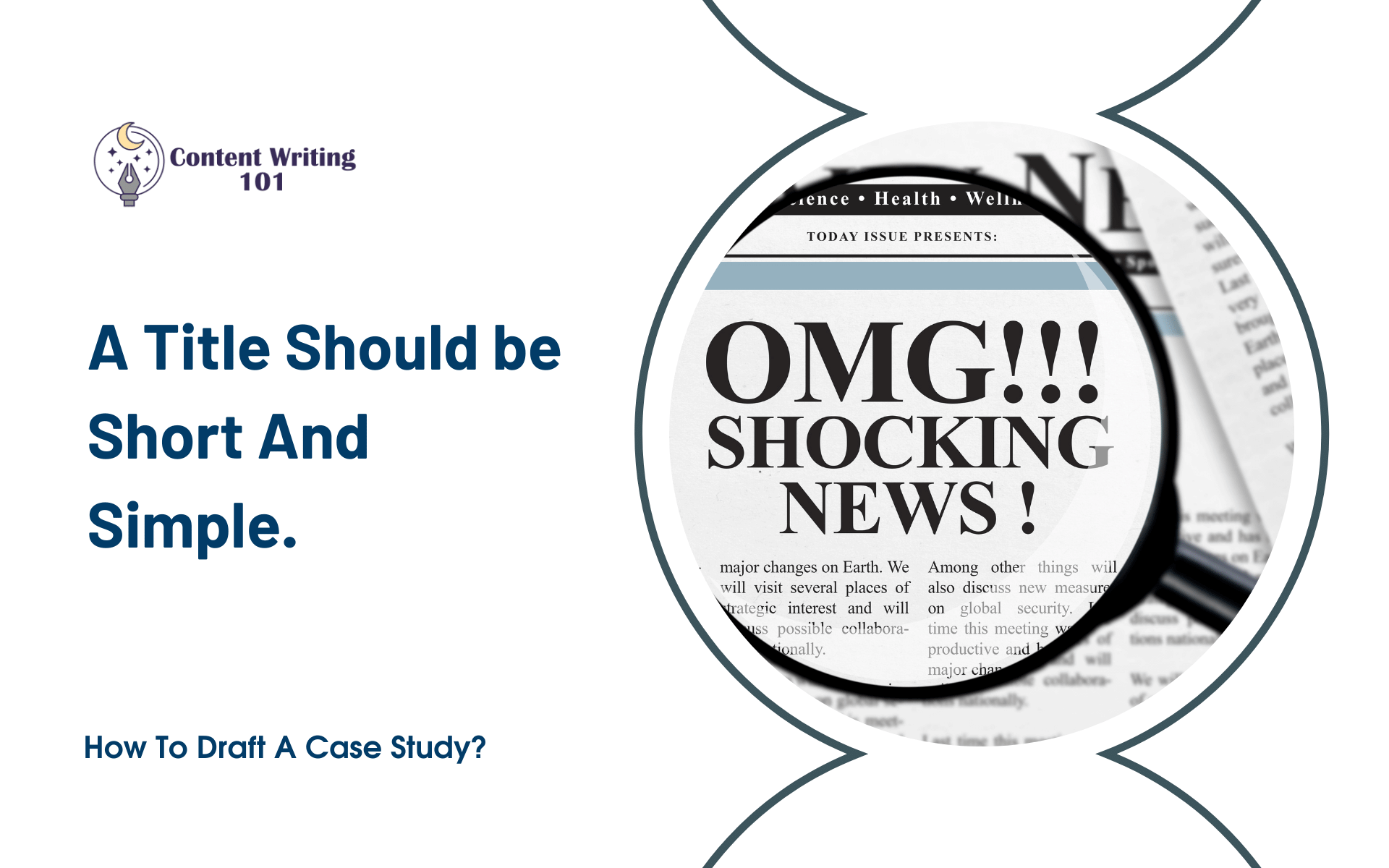 Subtitle
A subtitle is a brief explanation of what you've accomplished. What were the results, and how you arrived at this outcome will be explained within the case study.
Executive Summary
An executive summary for a case study is a 2 to 4 sentence summary of the whole story. Here's what you can include in the executive summary or the synopsis:
The purpose of the case study.
Area of research.
Findings and issues of the study without providing more details
The theory/solution that will be applied
Any assumptions – Your assumptions must not be wild guesses and must be vaguely close to the approximate data.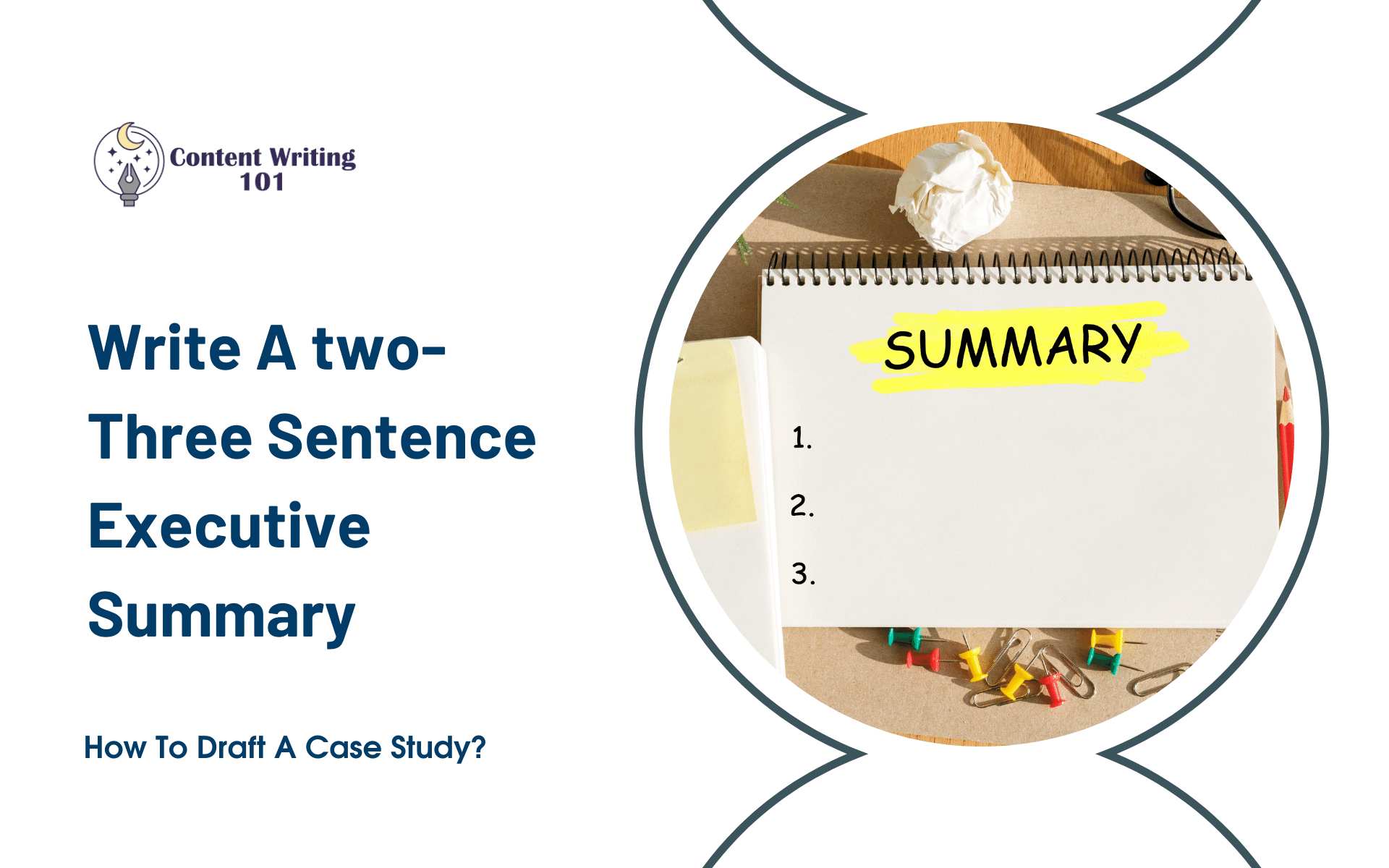 About Section
This section gives a brief description of the client or business you served, which you can get from LinkedIn or their website.
Challenges
You can describe the customer's challenges in 2-3 paragraphs that they faced prior to using your product or service. You should also include the exact goals and objectives the customer wished to achieve.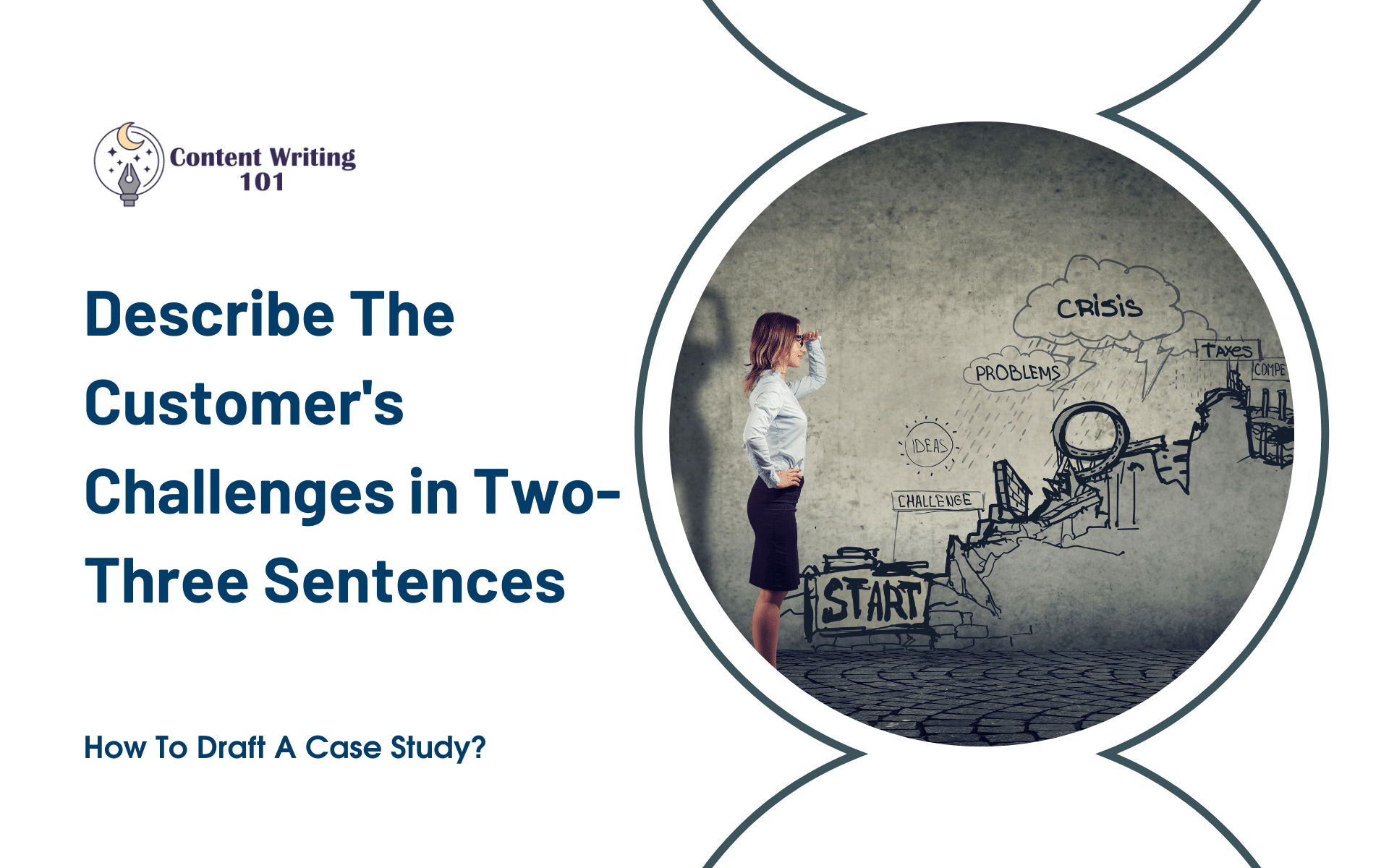 The Solution
The solution should be outlined in 2-3 paragraphs. To add depth to the case study, you may want to include testimonials and quotes from the customer.
Outcomes
Describe the benefits your customers received in this section. You can use testimonials to illustrate how your product or service benefited the particular company or person. Also, don't forget to include numbers to quantify your contributions.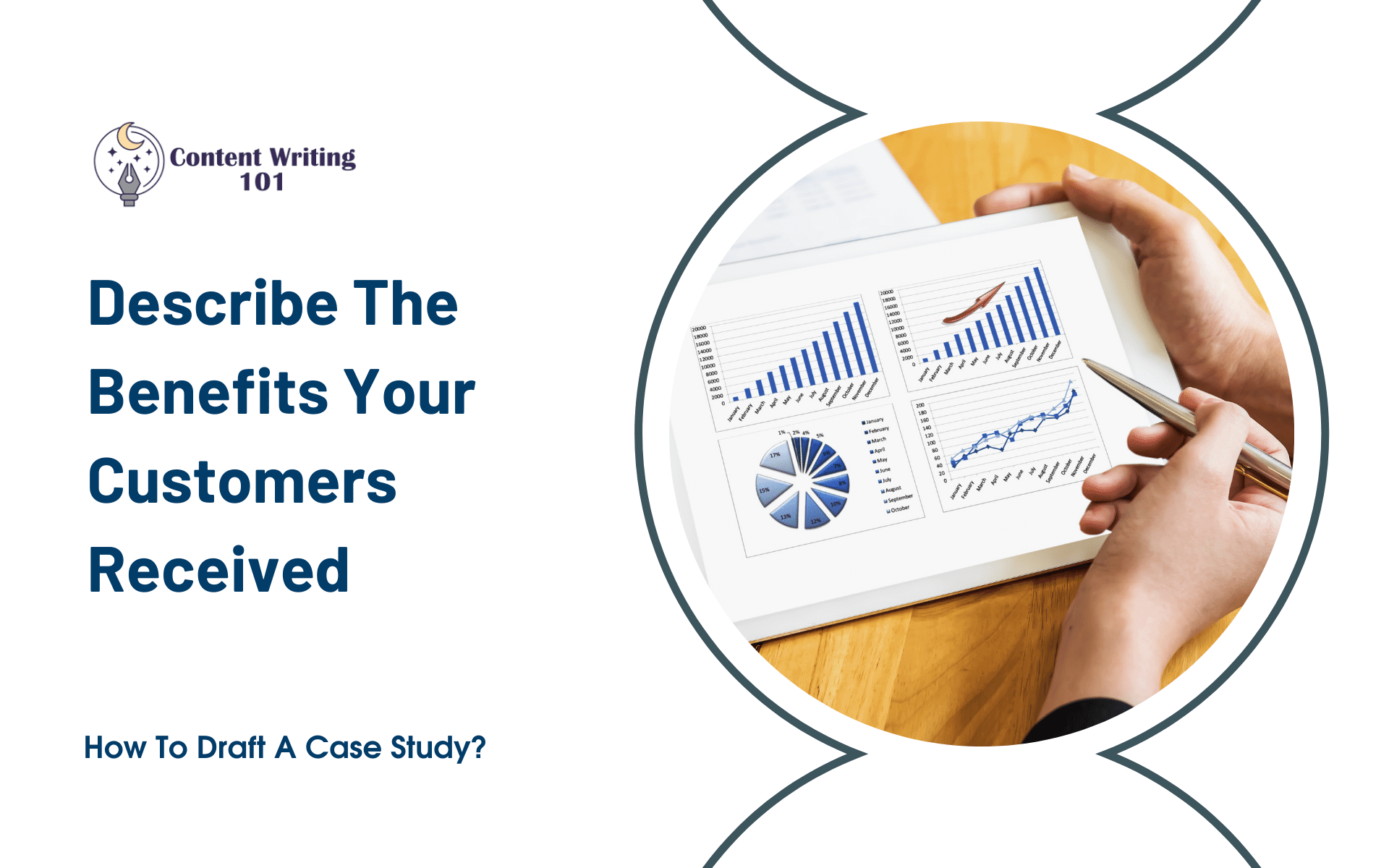 Visuals Or Quotes
Choose one or two powerful quotes to supplement the text. Visuals are a must to keep the story appealing. Use images, infographics, or short clips for better clarity.
Plans For The Future
We all enjoy epilogues. An epilogue is a glimpse into what your company has in store going forward. The same applies to your thoughts on what's coming your way after the case study, whether or not you are included in these plans.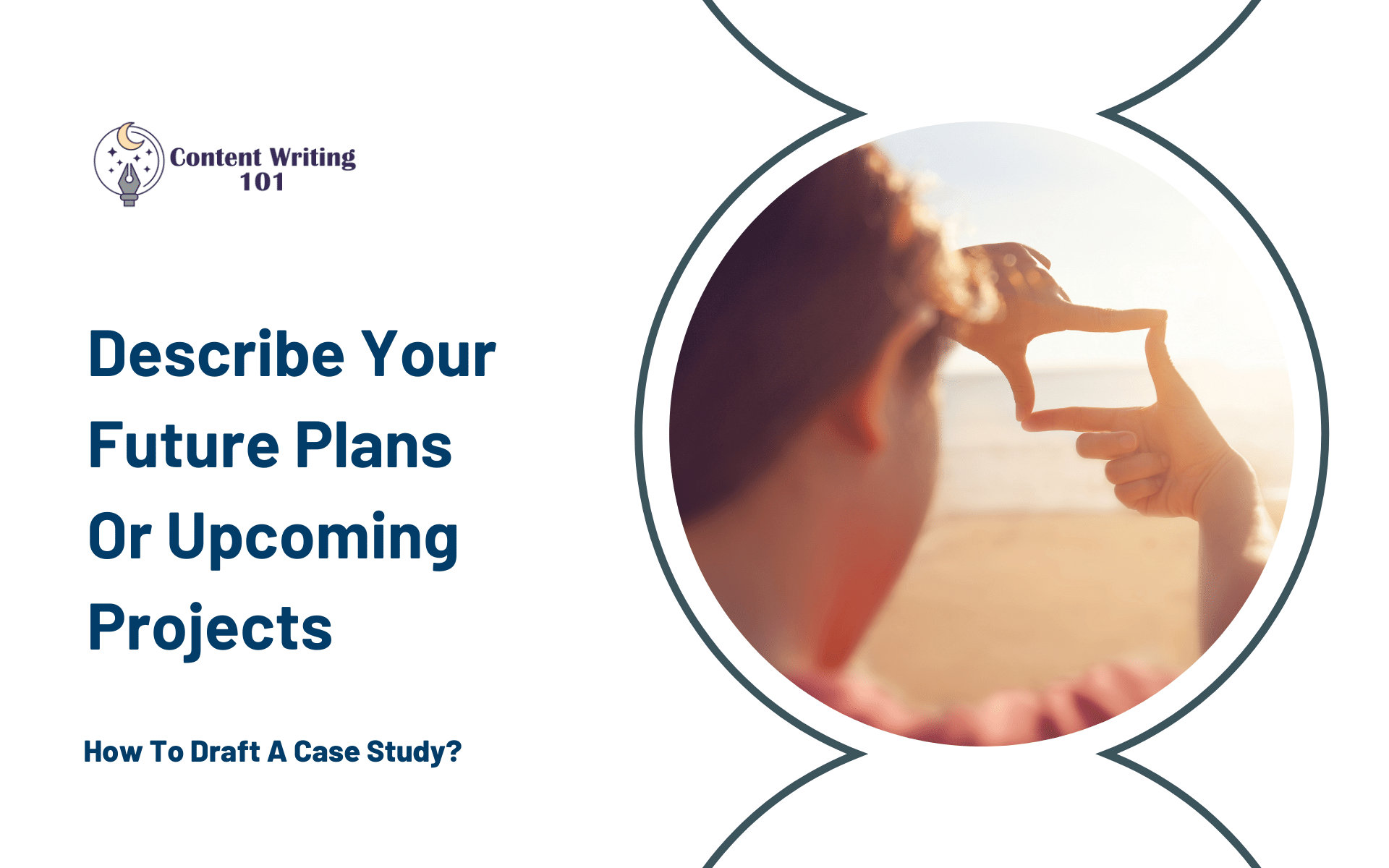 Call-To-Action (CTA)
You may want to include a call to action (CTA) in your case study to encourage readers to visit your website after reading about it. You can write any type of CTA you want, as long as it's action-oriented rather than promotional.
References
All the references that you used during the research must be included in your case study. You must cite them properly.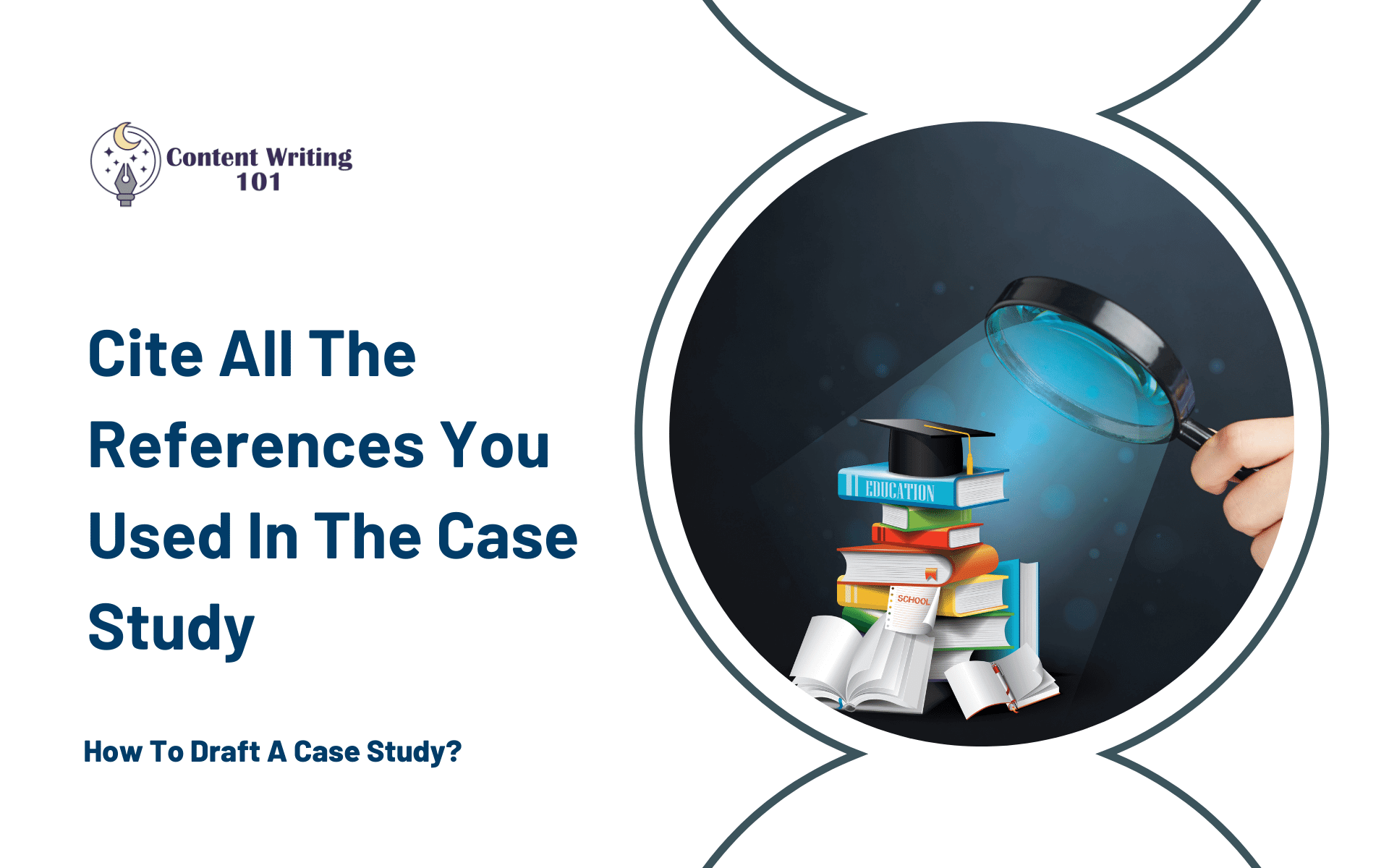 Appendices
These are original sources of the statistics you used while writing the case study. You must attach any original data that should be included in the study, but it shouldn't interrupt the flow of the main body.
3. Editing The Draft – Final Touches
It is now time for the most crucial part – editing. Once you're done with the drafting, it's time to revise and edit.
Check the first draft of your case study analysis for inconsistencies or gaps in the content or structure after having completed it. In addition, check whether you have explained the following arguments in detail.
What Is Your Thesis Statement?
Is Your Problem Statement Clear And Direct?
Have You Provided Evidence To Support Your Claims?
Does The Analysis Lack Any Component?
After quality checking, make sure you've proofread. Also, to state the obvious, don't forget to check grammatical errors and spelling mistakes using software like Grammarly. Now that you've edited your case study, it's time to submit it!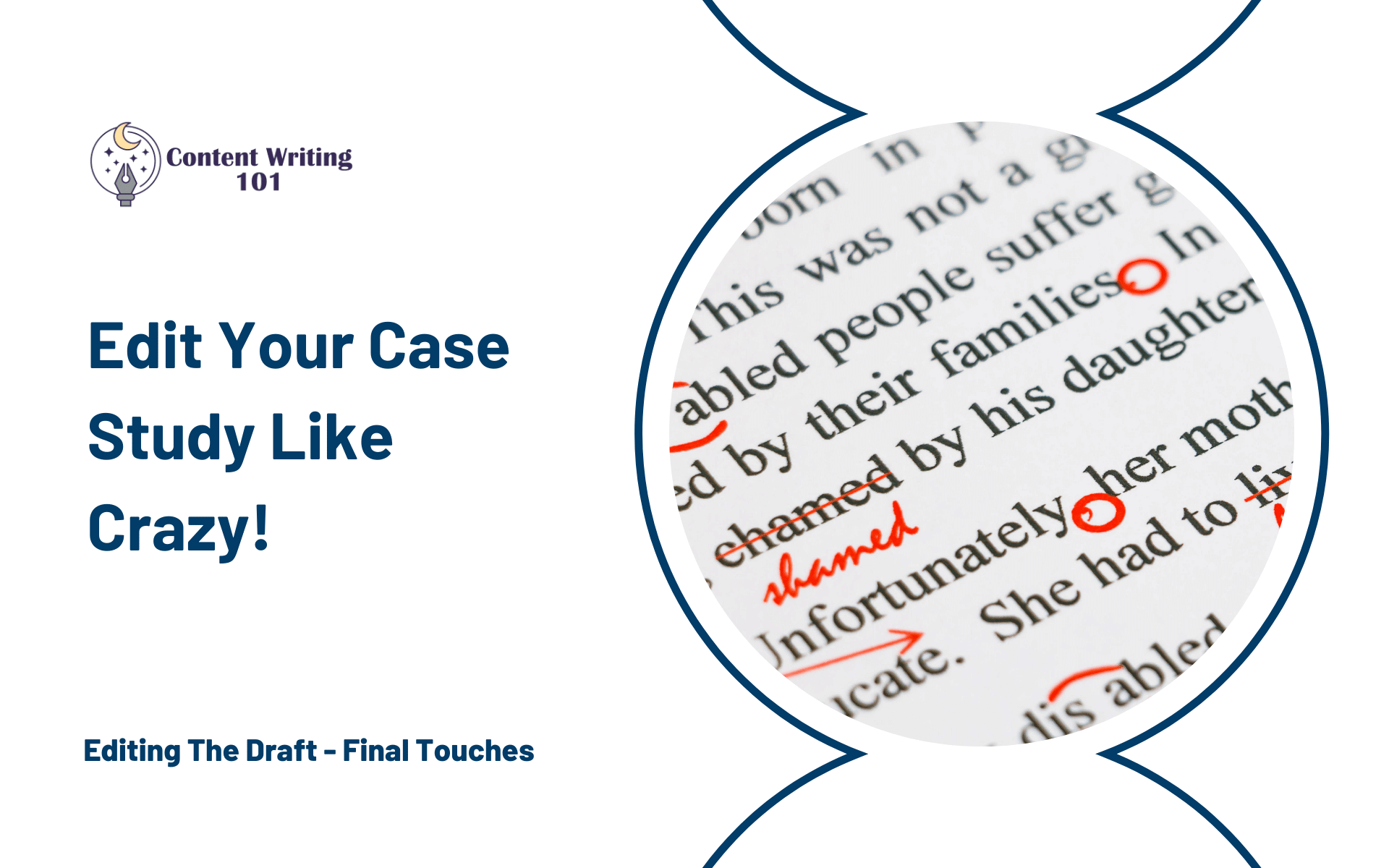 Getting The Word Out
It's been a long road for you. The information you gathered, the way you organized the structure, and the way you presented it all was hard work!
Now is the time to tell the world about it.
Remember that case studies may not generate huge amounts of buzz, but they're effective in persuading future prospects of your brand.
When you follow the above steps, you will not only blow customers' minds but also ensure that your brand stands out from the crowd.
So, What do you think? Are you up to the task of writing a case study now? Is there a case that you're willing to talk about? Feel free to comment with your thoughts and questions.