So your overreaching genius boss has decided to step up the game and bring in some professionals. They want to hire freelance writers.
Congrats! This is a huge step and in the right direction. You'll finally have a team to work with. However, your boss feels intimidated by this decision. Smart business owners realize the importance of content marketing to their overall strategy, which is why they want to hire the "right" people who are qualified for the job. So, to save himself from the daunting task, he assigned YOU to take charge of the hiring.
Even though you were angry inside, you accepted the job. However, you know how quickly things can get messy. The task of hiring professionals can be challenging, especially for beginners. The idea of hiring the "right" people blows your mind. Therefore, you probably will end up hiring someone from a content writing company in India to do your work which wouldn't be a wrong decision.
I know you weren't expecting a knight in shining armor, but this may be something I can help you with. I know managing an entire staff when you can barely manage yourself seems like a Catch-22, but you're not alone.
So, how about making a checklist? Yes, a list that will explain the entire process of hiring freelance writers? If you think it will make the job as easy as possible for you, then you're absolutely spot on. I'd suggest you go through every topic to have a complete understanding of the topic.
Let's cut to the chase then.
The 3 Step Process For Hiring Good Freelance Writers
Every time we scouted for the right ways of hiring, the information was very generic and wasn't classified. We both know how helpful it is to break down a complicated process into bite-sized chunks, and that's how I got to the core of the whole process and segregated a step-by-step methodology of hiring the right content writers without compromising on quality.
The 3 Step Methodology To Hire Freelance Writers Easily Covers –
How to find high-quality freelance content writers?
What to look for in a freelance content writer?
Freelance hiring best practices for you
Let's go through these three steps one by one:
A. How To Find And Hire Freelance Writers For Website And Blogs?
There are several places where you can find people looking for work, including job boards, social media, and Google. In order to make this process more manageable, I divided it into three parts:
1. Utilizing "Vetted" Sources
The first thing you should do is to reach out to someone in your network who runs a content marketing agency. You can request them to provide you a member of their team to help you or find you a "vetted" writer, a writer who has been thoroughly investigated both in terms of quality and character. Once you know you have the right person, you can proceed with the next steps of the hiring process.
Do you understand the concept of vetted sources?
Basically, these sources are people you are close to whose recommendations you can trust. Make sure you make it clear to them that you need the best writers. Someone with whom they have had a positive working relationship.
Clearly, the benefits here are worthwhile. Vetted sources lower the risk of hiring below-par writers. The writers you'll get have already been thoroughly tested in every aspect, which lets you off the burden of multiple rounds of reviews.
Yet, despite all this, things can go terribly wrong here as well. You won't always get quality writers. Remember that you always have the option of saying no.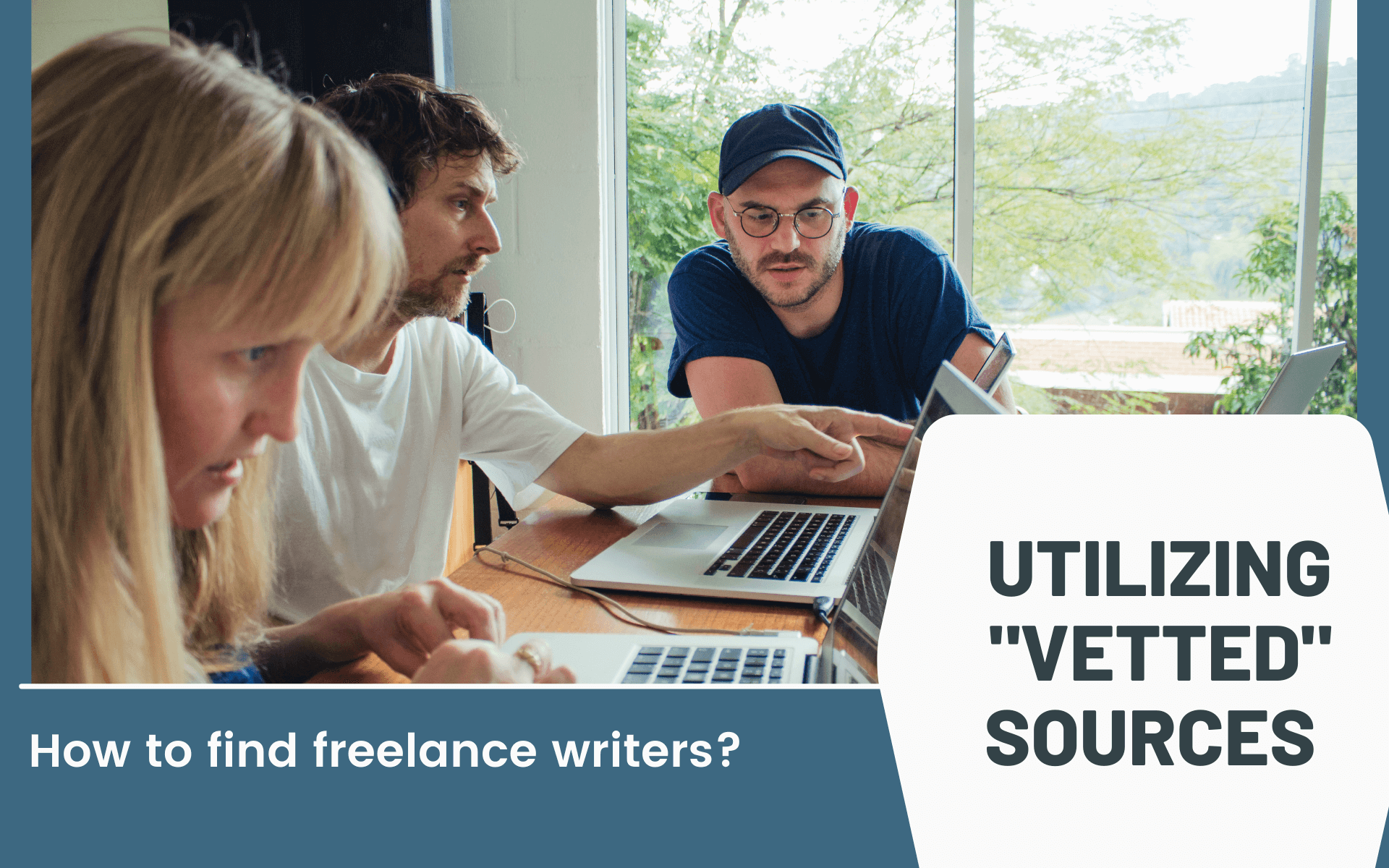 2. Using Job Boards
Have you heard of ProBlogger or BloggingPro?
They sound like twins, right?
Jokes apart, these are examples of some of the best job boards you can find. Some hob boards are specifically dedicated to finding the "right" people looking for work like content marketing writers, affiliate marketing writers, copywriters, social media content writers, bloggers, etc.
On job boards, the hiring process is simple:
Post the job details and description
Interested writers apply for the position
You sift through the applications and filter out the ones suitable for your job.
Finally, you hire the "right" one.
Be prepared. It will be an arduous task for you. You will receive hundreds or even thousands of applications. Taking this path is not a bad idea, but it takes time. Here's how:
You'd have to ward off the unqualified ones (statistics say 75% of them are misfits)
Once you disqualify a bunch of them, you'd have to go through the writing styles of those who remain
You'll then have to go in for sample test runs to ensure they are actually as good as they say
You'd then have to check for testimonials (if any)
Finally, you'll have to share all the legal documents and complete the formalities to hire them.
Job boards are an excellent way to go when you have an allotted staff to work out the hiring process. If you are a small-scale company, I'd suggest you go for vetted sources like Agency Content Writing 101.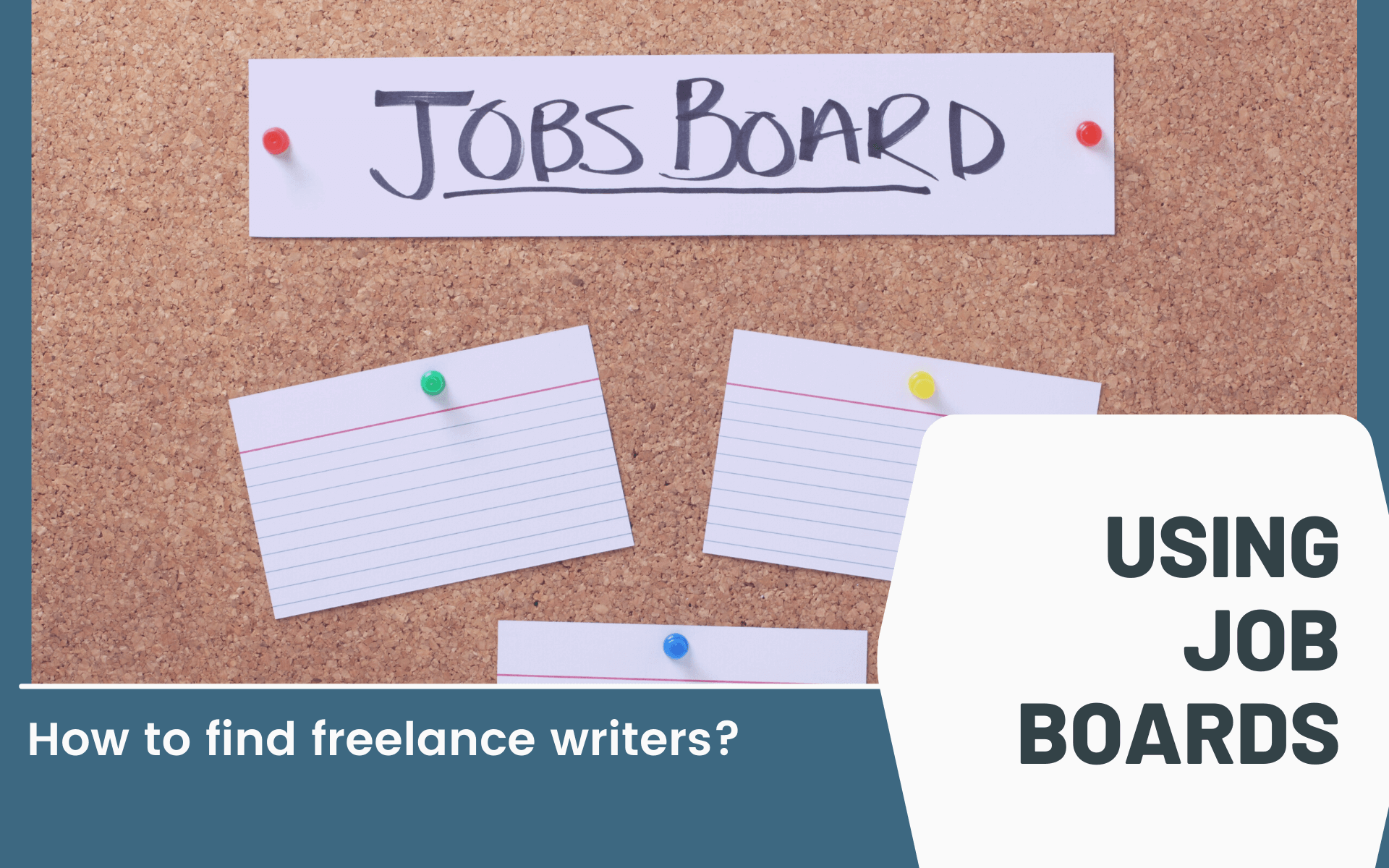 3. Using Freelance Marketplaces
This is the place where freelancers from all across the world come to find work. Depending on their experience, they get reviewed by the platform. So, you can either search the whole list of freelance writers and filter out based on the reviews or post the job and let writers bid.
Are you familiar with Upwork, Fiverr, Bark, or Beesy?
These are some specialized marketplaces for freelancers. The global freelance market has grown exponentially in recent years, thanks to these coveted platforms. It is thus no surprise that almost 35% of fortune 500 companies turn to these freelancing sites to outsource their work.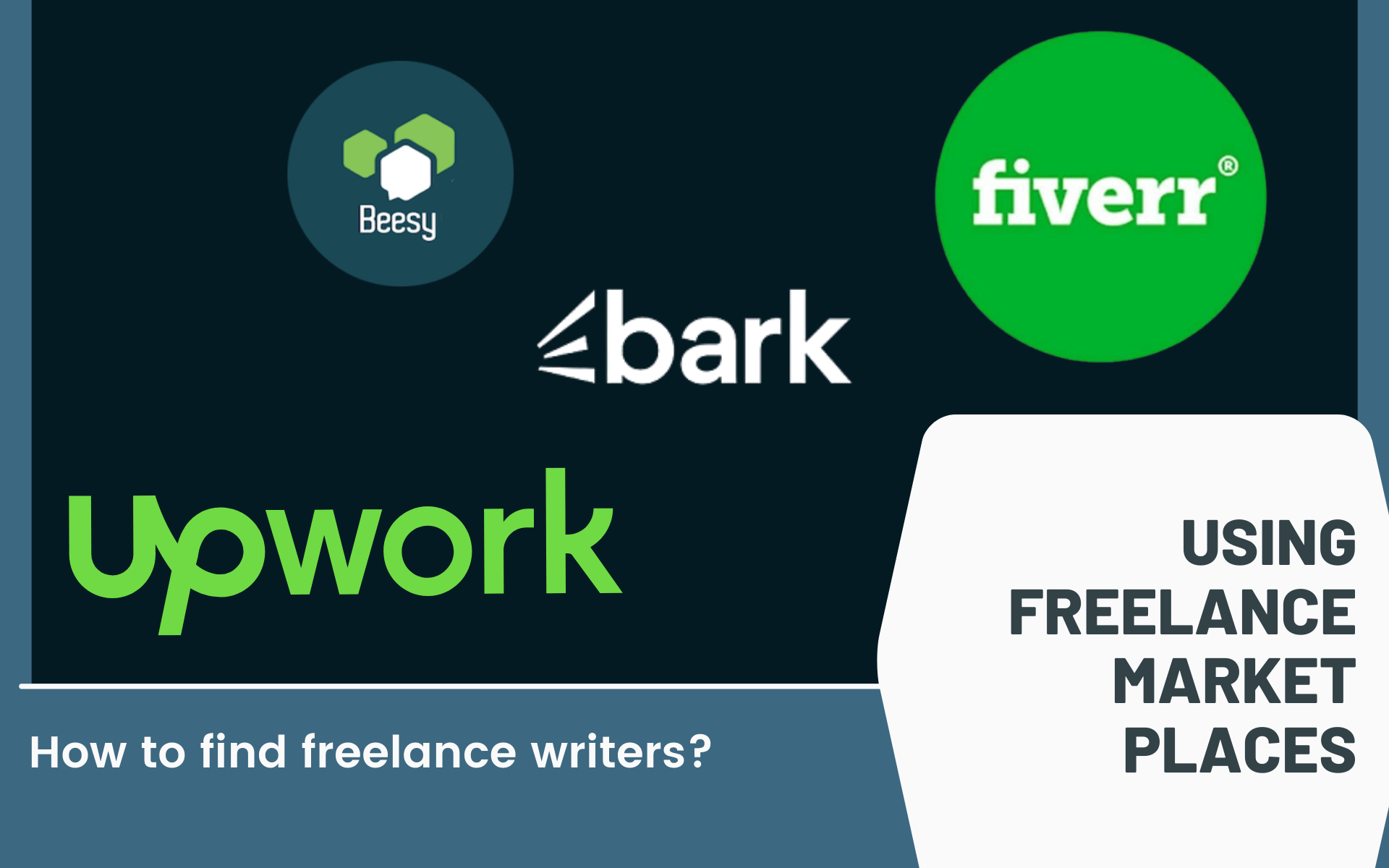 You can also work with us, a content marketing company in Nashik, to outsource content writing.
Let's move ahead and discuss the qualities of a content writer.
B. What To Look For When You Hire A Freelance Content Marketing Writer?
You went through their portfolios and filtered the best fit, but that's not enough. Unless you decide what you are looking for in a writer, you won't get the right one. So let's discuss what you should look for in a content writer:
1. See If They Can Write For Humans And Not Just Search Engines
While you're going through their work samples, you must check the following qualities.
Do They Know How To Write For Humans?
Humans have feelings, and so should their writings. In most cases, the bloggers communicate in a robotic language. By taking this tone, you not only destroy the flow of the article but also make readers turn their backs. They will simply lose interest after the first time.
To find the right one, you must check whether the writer:
Uses clear, concise sentences
Uses simple words and avoids jargon
Communicates through a story
Don't think twice before discarding those who write copy-pasted content. If you feel the writer has a unique way of writing, it's the ideal fit for you. So, seek humans, or else be prepared to get your robotic content ignored by humans.
Do They Know How To Write For Search Engines
What's the point of hiring writers whose content can't rank on search engines? Ultimately, you need writers who create SEO-optimized content. SEO is the life-blood of any web content, and without SEO, the entire content will turn out to be dead meat. You have to ensure if the writer knows the basics of SEO practices.
Pro-tip: Simply ask them what SEO is? If you're met with a prolonged pause or a blind stare, you should look elsewhere. This sounds harsh, but SEO is a must if you want the content to gain some credibility online. So, you have to check whether the writer follows these practices:
Uses relevant target-specific keywords
Formats the article using headings, bullets, subheadings, or numbers.
Constructs accurate, optimized headlines and titles
Uses internal and external linking
Pays attention to the use of visual content like images, infographics, GIFs, etc.
You cannot expect readers to find your content unless the SEO is in order. To put it another way, the writer should be able to improve the overall user experience of the website so that it's visible across the web.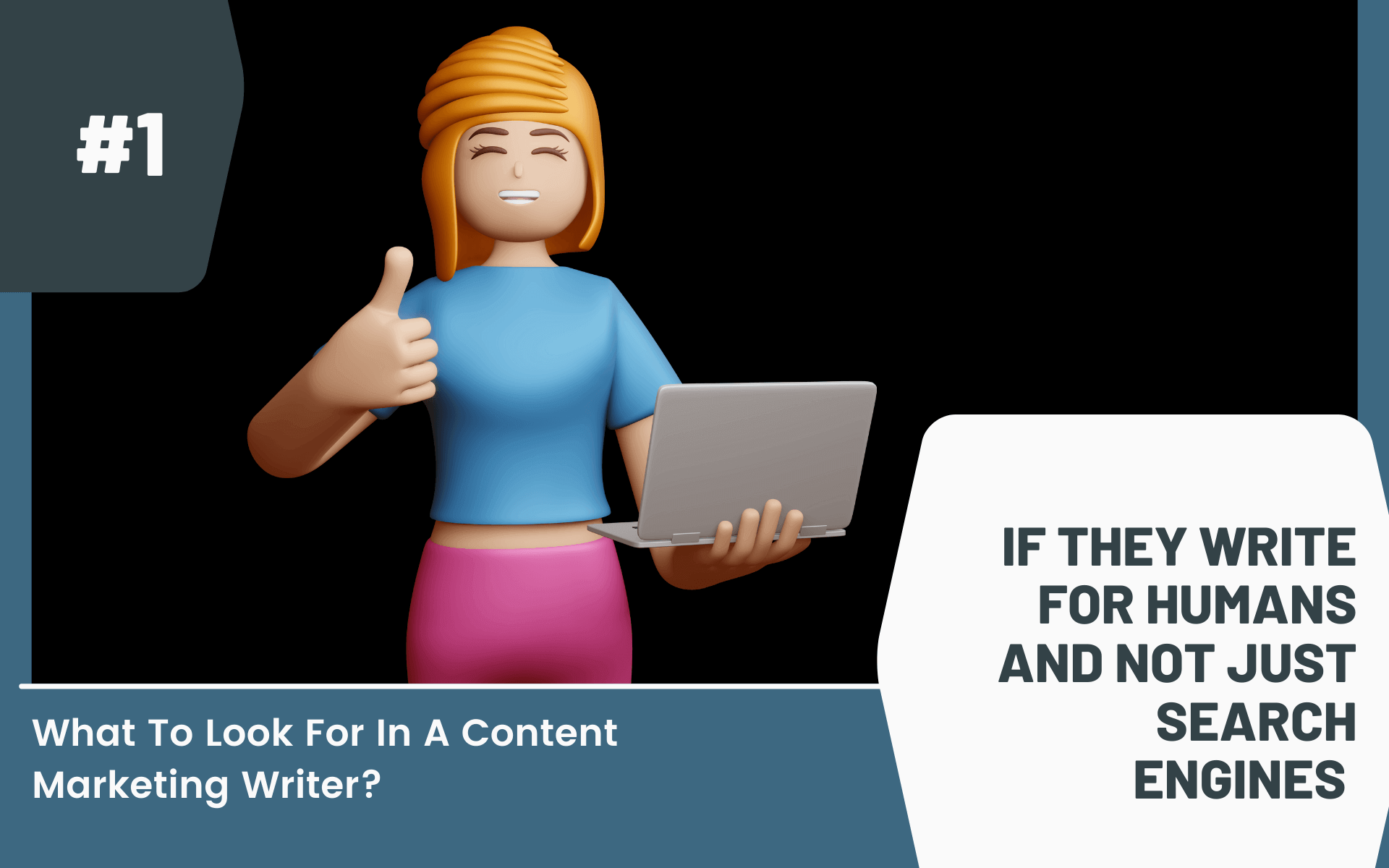 2. Check Whether They Have Given Their Latest Or The Best Samples
You might say why look at their latest samples, and not just their best ones?
Well, because you want regular writers. Not the ones who wait for inspiration to write. Writers tend to be picky about their work. They disregard anything that strikes them as "normal." They look for the best ones for evaluation tests.
Well, that might be a good practice in creative writing. But when it comes to content writing, the structure is pretty simple- Maintain a regular and daily writing schedule.
You want writers who can produce well-researched content consistently. Therefore, you should look at the writer's latest samples because these will give you a clearer picture of how they write.
3. Observe If They Know How To Perform Competitive Research
Your website doesn't require fan fiction. You need writers who can back up the claims in their story with relevant facts, quotes, images, and industry-related news. This not only helps your content reach a wider audience but also attracts the right prospects to your website.
Do you know an average B2B buyer consumes 13 pieces of content before making a purchasing decision? That's true, according to FocusVision's research. If your content isn't backed up by research, will your content ever be used as a reference by the customer?
Definitely not.
During your screening process, you must check whether the writer understands these basic research practices:
Is the content aimed at the target audience?
Does the writer look for what the competitors are writing about?
Does the writer know how to research keywords (Must be familiar with tools like Ahrefs, Ubersuggest, Reddit, Quora, Google Trends, etc.)
Is the writer familiar with the content auditing process? To develop a new strategy, they must identify the gaps in the current one and suggest changes that are substantive.
Your content will be worthless if you don't conduct competitive research. That's why you need someone who digs deep to get the facts.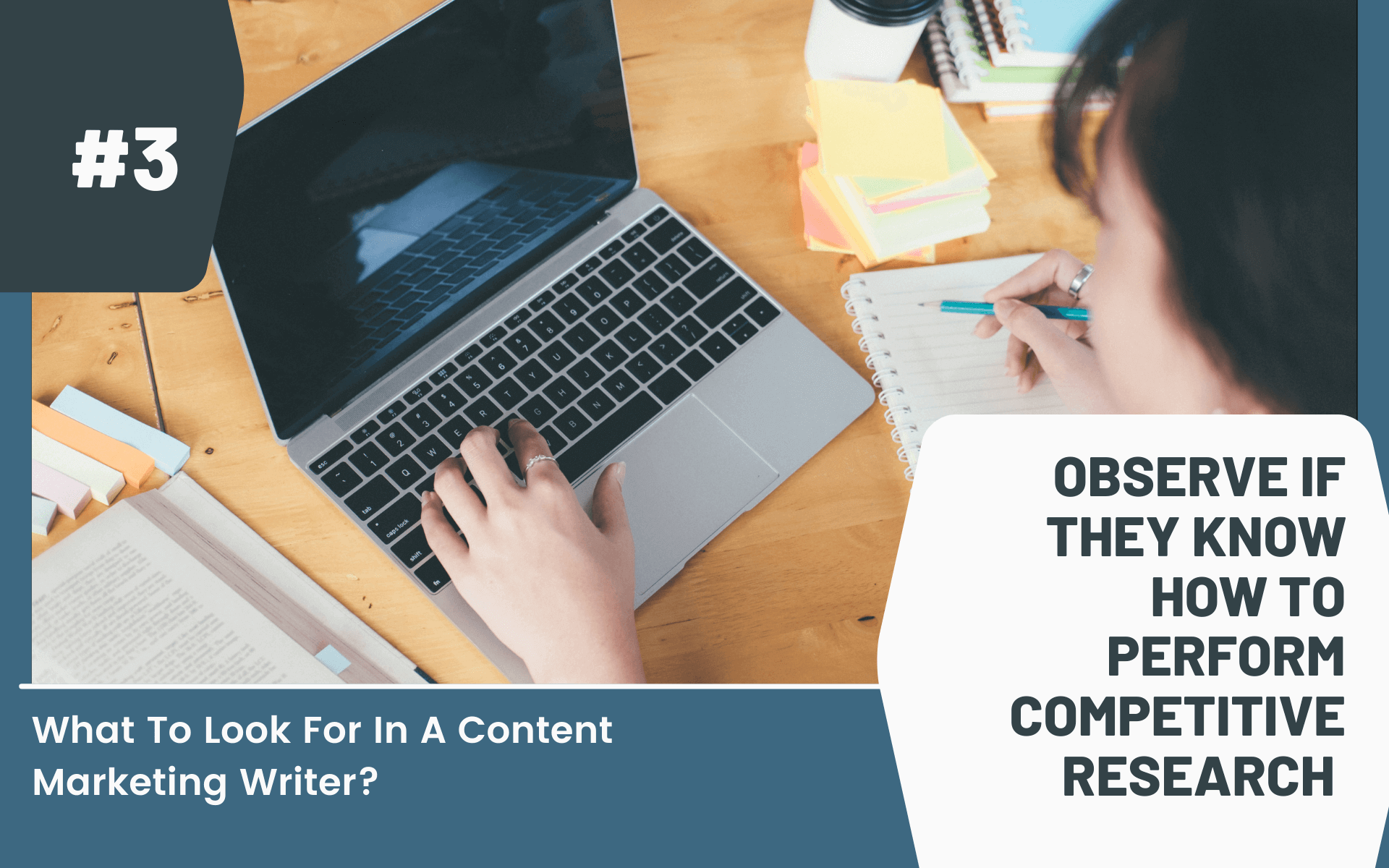 4. Do They Know How To Write For Your Industry?
What kind of industry does your company belong to? Is it finance, marketing, education, or technology?
Let's say you own an IT consulting firm. This means you must create content with a technical focus. So while filtering out, you have to look at whether the writer knows how to write technology-driven content like User Manuals, Technical Guides, Assembly Manuals, etc.
Now, they don't have to hold a Ph.D. degree to write content for your industry. You just have to see whether they are willing to adjust to your industry standards or not.
What if they have no experience in writing for your industry, but you like their writing style?
In that case, you must guide them through the entire research process and take a test accordingly. Once you have evaluated the content, you can then proceed further.
So make sure that your writer is adaptive about the research process.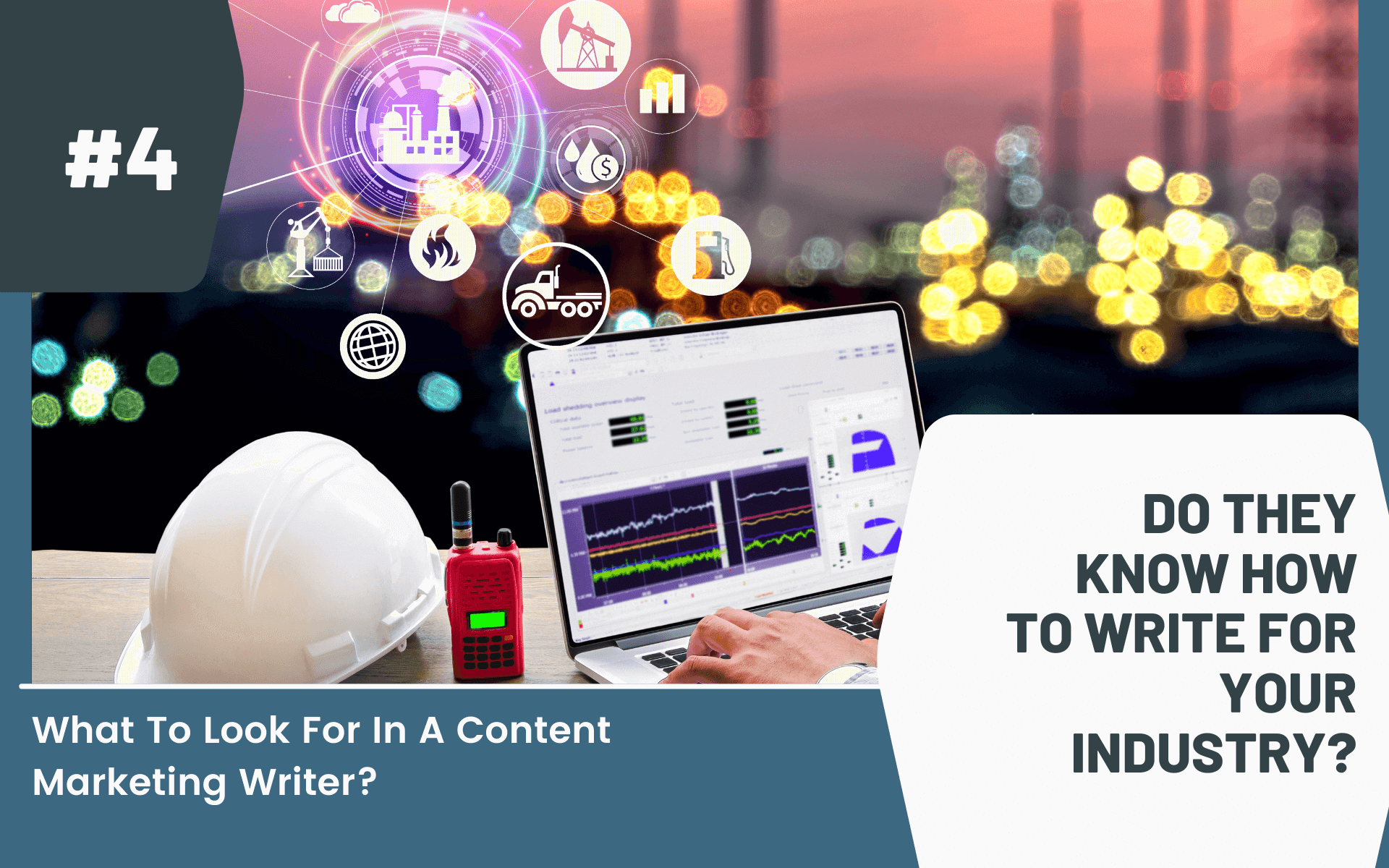 5. Observe If The Writer Knows About The Various Stages Of Consumer Lifecycle
Successful businesses often have the most loyal customers. Have you wondered why?
Because they can efficiently manage customer relationships.
To understand your customers better, your content must be tailored to the five stages of the customer lifecycle. When looking for writers, make sure you verify whether they know anything about these five stages or not.
What Is The Customer Lifecycle?
Customer lifecycle describes the various stages of a customer until they make the final purchase. Simply put, it's the different phases a customer goes through before, during, and after the final transaction.
There are five primary stages of a customer lifecycle:
Reach
Your content needs to be where customers find it. Reach develops brand awareness among the audience.
Acquisiton
Customer acquisition or messaging determines the likelihood of future conversion. It would be a waste of effort to reach customers if you can't provide value to them. The obvious conclusion is that if your content offers value, people will most certainly purchase it.
Conversion
This is where the relationship between you and your customers flourishes. If they make a purchase, you need to keep in contact for future endeavors. You can ask them for feedback. It shows you value their opinion. You can also use analytics to figure out what else they would like you to create.
Retention
If you optimize your messaging according to the customer's needs, the chances are high that they'll make another purchase. Retention is possible only when you perform constant feedback analysis.
This way, you can generate personalized content and build stronger customer relationships. You establish greater trust if your customers become repeat customers.
Advocacy
After retention comes customer advocacy. Here, customers are so satisfied that they simply recommend your brand/products/services to friends and family. This can happen only when you take notes of the previous four stages.
If this social awareness extends to broader networks, imagine how conversion rates will quickly climb up the ladder.
Customer lifecycle, as the name suggests, is non-linear in nature. This means you have to provide relevant content to your brand advocates consistently. Otherwise, your reach will quickly decline.
That's a lot of learning! Ultimately, your writers have to learn about all these.
6. See What Their Editing Process Is
Editing is not an easy task. It is an extensive quality control process that helps the content align with the business objectives. Editing separates a good writer from a crowd of attention-seeking amateurs.
Before you make the big move, you need to be aware of their editing and proofreading process.
Ask them how often do they re-read their content before finalizing it? Do they perform plagiarism checks and grammar checks? What kind of tools do they use to ensure the content is unique and qualified?
And it's a bonus if they know about the infamous Hemmingway quote!
Do you know what I'm talking about? Tell me in the comments.
7. Check If They Follow A Particular Work Schedule Or Not
A freelance writer is bound to have multiple ongoing projects alongside yours. This is one of the downsides of working with a freelance writer that you're one among several of their other clients.
However, it's best to start with a clean slate. You can set benchmarks that allow you to track their progress along the way. Allot them keywords, outline, and the expected deadline to ensure a steady stream of content. The more detailed they are, the more likely your writers will create content that fits your objective.
Among the advantages freelance writers offer is their ability to multitask. No matter how many projects they're working on, they chose yours because they're committed to working. So, you should note their constraints, too, if they ever want to negotiate.
8. Find Out How Come They Know About You
What do they know about your company? What made them interested in working with you?
Do they have any idea about your industry demands?
While hiring, this question is one of the best icebreakers. It allows you to develop a rapport with the writer. If the writer resonates with your demands, well and good. Else, you'd have to dig a little further into their background and qualifications.
Your strategies can be more competitive in terms of ideation and execution if you have good relations from the beginning. So, make sure both the parties click well right from the get-go.
Writing is both a service and a product. When you outsource your content to professionals, you're in a way entrusting your business in their hands. So, it's important to buck up well from your side.
C. Freelance Hiring Best Practices
Now that the questionnaire has been laid out, it's time to understand some of the best practices you must follow before the D-day. These practices will help you set your terms clear with the writer beforehand:
1. Use Paid Tests Before Any Long-term Deal
The last thing you'd want is to compromise on quality. Paid tests can save you from the hassle of hiring subpar writers who you have to fire within a couple of weeks.
So, how should you structure this selection process?
Most large-scale companies that are looking for full-time writers set a "probation period" of 7 to 10 days. This period allows them to evaluate the content on a paid agreement, and if it works out, the writer bags the job.
Moreover, going through their portfolios should not be the only metric for hiring. You need tests to get clarity about their efficiency. It's not just about hitting the "publish" button and waiting for the traffic to boom. If you can't put out quality content consistently, all your efforts will simply bite the dust.
So, make sure you set an evaluation or a "probation" period before deciding to work on any long-term projects.
2. Decide On The Quantity
If you want to ramp up your marketing efforts, you'd need a consistent flow of content. In fact, 9 out of 10 blogs fail to convert because they lack consistency. This forces many content marketers who have a very nuclear setup to outsource their content creation.
The first step toward quality content is defining the quantity. Writing is a classified process. A lot of effort goes into research, execution, and then several rounds of editing. So, your freelancer needs to be wary of the time limit beforehand.
3. Get The LOA Figured Out
LOA stands for Letter of Agreement. Simply put, it's a contract. This is required when you hire employees or someone from out of freelancing platforms. It's an excellent way to get 100% clear on the assigned responsibilities and timelines.
Make sure those papers are ready in advance if you need to hire a writer.
4. Lead The Talk With A Quick Meet-up
Ideally, if you hire a freelancer, it will be a remote affair. So, in that case, arranging an in-person meeting would be impossible. But you can very well go for a Google meet or a Skype call to set things rolling.
A phone call can be highly beneficial. It can be set up like an interview. Take time to learn about one another and ask the questions we discussed earlier.
Also, meetings help you clear the air. You can always share banters to keep it light and steady.
5. Pay For What You Get!
How much should you spend? What payment plan do you prefer? Will you pay In advance or after completion? Is the content you're paying for worth it? All these questions should be answered before you begin your search.
You don't want to end up paying a fortune for low-quality work, or eventually, work will seem like a grind. Make sure your budget is in order and Compare the rates in the market. No matter what you do, payment terms must be clearly spelled out before the job begins.
It's better to avoid paying too much for something that never satisfies – better to invest in quality. Experienced content writers produce quality content, and quality content equates to reasonable conversion rates, which yields the best results.
Therefore, as long as engagement metrics continue to trend upward, it's worth paying those working for it.
Ready To Hire A Freelance Writer?
Does your boss bicker about lack of time to create content? Is the treasured "Content Idea Rack" empty? Do you need some instantly to ramp up content marketing? Do people not relate to your writing?
If you've said "Yes" to any of these situations, it's time to hire a freelance writer!
Hiring a freelance writer or a blogger can pay off at any stage of content marketing. The only time you shouldn't hire someone externally is when you're walking thin on money or already under debt. While investing in freelancing has two sides, it's worth taking a shot if you follow the process I just shared in this guide.
We hope you can now hire a freelance writer with ease and confidence! Don't forget to download the free freelance writer hiring checklist.