Anything that you see on the internet is a part of web content. And it's seemingly huge. Fair to say that web content is now the heartbeat of modern digital culture. Plus, there are so many forms of web content writing. Just to mention a few:
Article Content
Blog Content
Seo Content
Copywriting
Social Media Content
the list goes on….
But the catch of the fact is that every other person on the planet is in the business of web content writing. You watch those YouTube videos, attend Instagram Lives, or engage on Facebook posts on a daily basis. These are all part of a giant network of web content, and since everyone is involved, the competition is huge. You certainly need a little extra to strike the chords with your audience. So, what's that "little extra" needed to drive and retain more and more traffic on your website? A clear line of communication with your users!
Why Does Communication Matter In Web Content Writing?
Generally, users are more inclined to scan for information when reading online materials than they are when reading print materials. Jakob Nielsen observed in a study that "users only read only about 28% of the words on an average web page during an average visit; a favorable percentage is 20%".
It's simply because visitors to your website have a specific purpose in mind. As you craft your site's content, remember your users' tasks so that you can write to help them get the job done. If they don't find what they're looking for, they'll leave.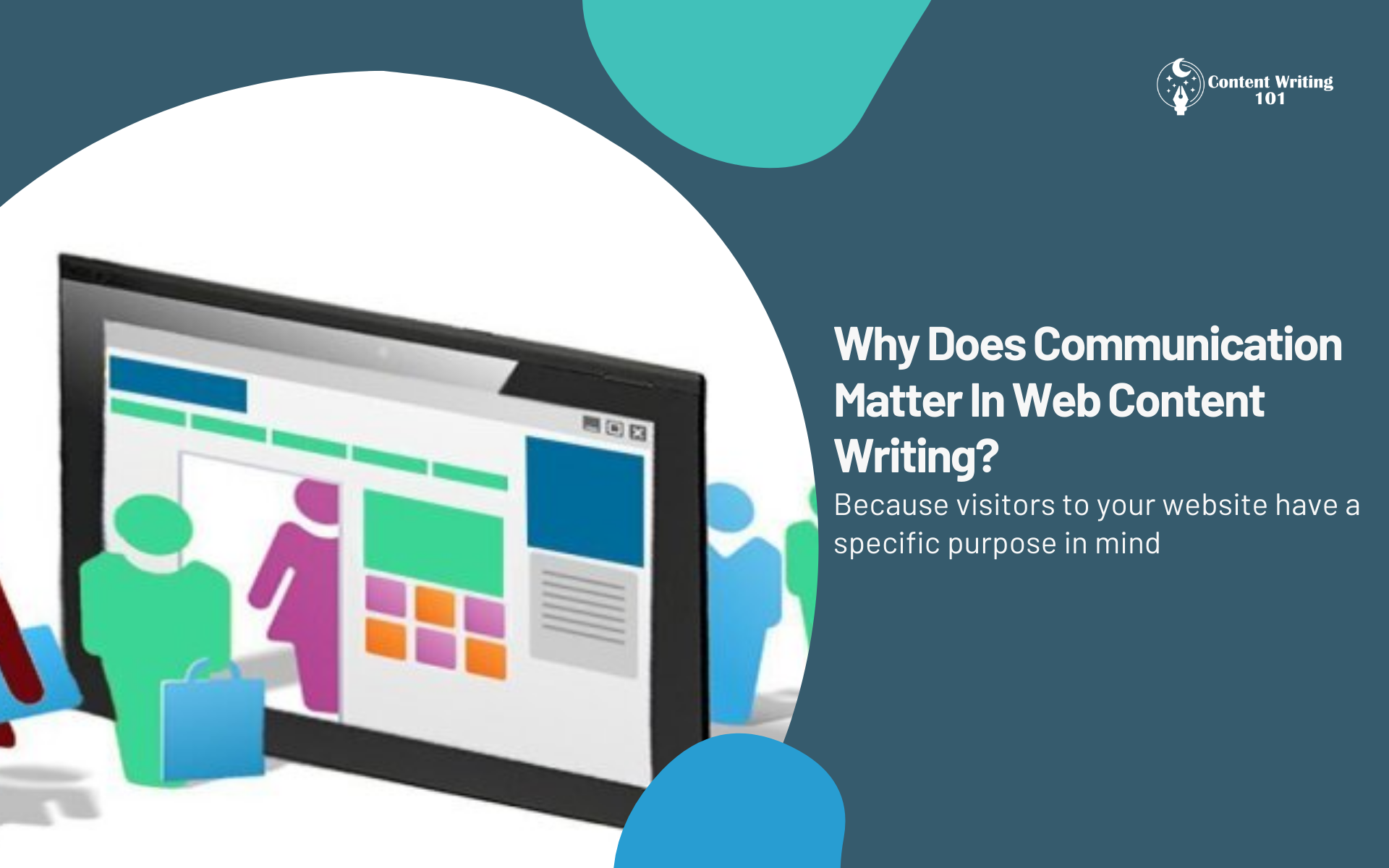 How To Ensure You're Providing High-Quality Web Content To Your Readers?
So, how do you keep them interested for extended periods of time? By creating engaging content. You make it informative, interesting, easy to understand, and most of all, attractive!
Therefore, when building a website, you should prioritize creating appealing and compelling content. If this is your first time (or perhaps your second or third time – it takes a while to learn how to write quality content!), you may feel unsure of what to write and what not to write. Creating compelling website content appeals to visitors and search engines, but catering to both is a challenge.
Don't worry! I have something valuable to offer here- a list of best practices for web content writing. All you have to do is to make sure that you tick all these boxes before hitting the "Publish" button.
Follow these best practices while you're writing and compiling your new website content, and you'll be able to enjoy the benefits of quality content when your next blog goes live!
Top Web Writing Best Practices To Follow
Best practices ensure that you make the reader and the search engine happy with your content. And hence I have broken down the whole part into two chunks: First being Best Practices for the People and Secondly, best practices for the Search Engine.
So, let's jump into them one by one:
Web Content Writing Best Practices For Humans
Each item in the list is meant to improve the user experience on your website. When you align your content to the needs of your audience, you are bound to meet the stars. So, here they are:
1. Grab Their Minds With Headlines
"On average, five times as many people read the headline as read the body copy. When you have written your headline, you have spent eighty cents out of your dollar."

David Ogilvy
What does it take to get people to read your work in a world full of noise? The trick isn't just to have good content or great design. When writing an article, it is crucial to pay attention to the headline.
A headline contains a promise. In a strong headline, the reader is promised specific benefits that will invite them to slow down, click, and read the article.
Top-performing headlines are basically two headlines mashed together. Name a topic, then say what clicking will accomplish. Include a dash, colon, or parentheses after the keyword, and then add a second headline that has the benefit of clickability.
Here are some simple tricks to help you come up with catchy headlines:
Use A Number (Preferably Odd)

Ex – The Complete Copywriting Guide: 15 Tricks Copywriters Love
Include Promises- What The Reader Will Get Out Of It

Ex – Copywriting Tips – How To Write Rib Tickling CTAs Using Only 60 Characters

Ex – Catch Eyes Through Quality Content (Or Watch The Readers Escape)
Build Curiosity Through Emotive Words

Ex – Writing Ad Copies: A Ridiculously Simple Trick To Impress The Audience
Use The 5 Ws And 1 H- What, Why, When, Who, Where, And How

Ex- How To Write Social Media Copies For Sponsors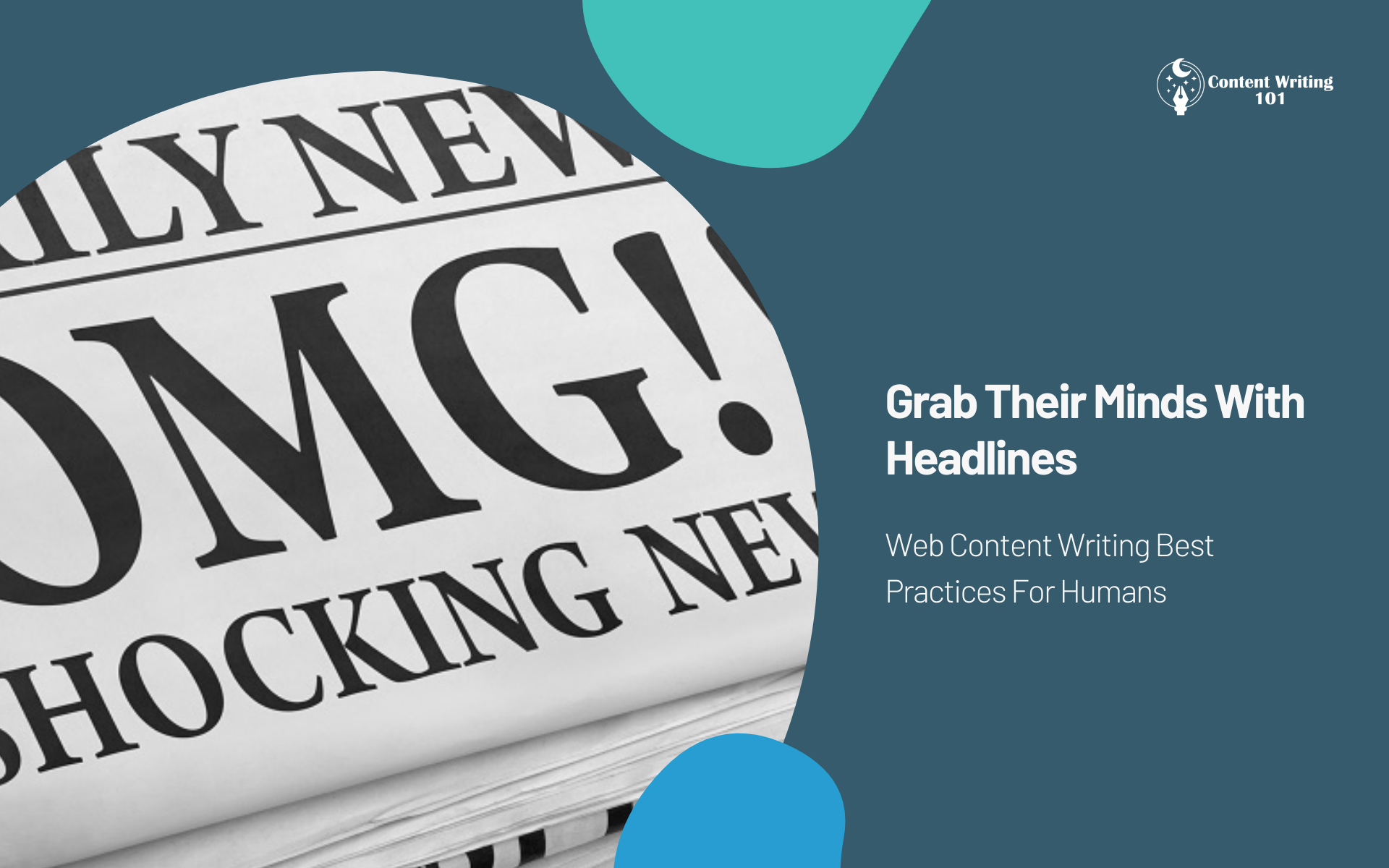 2. Follow Up With Intriguing Subheadings
Subheadings make the article scannable. And we already mentioned above why you need to make your content scannable. Subheadings make the content interesting for impatient readers. If you want to slow down the reader and hook them up on a specific point, use subheadings. Moreover, breaking up your articles into different sections improves readability. It's like interconnecting the following paragraphs with mini headlines to keep the readers scrolling through your content.
Web content writing is not at all a strict process. You can format the subheadings using <H2> or <H3> or even <H4> tags if required. Subheadings create a visual hierarchy. It's not necessary to worry about SEO and keywords when writing subheadings. Let your imagination run wild.
3. Mix It Up With Lists
If your article is a list, you naturally use a number in your headline, letting busy readers know the article will be easy to scan and digest. A list is easier to click on.
Lists can, however, appear throughout the article throughout. In other words If a section contains three or more distinct ideas, use bullet lists. If you present sequential ideas throughout the article, use numbered lists as a format. We recommend staying away from list formatting If your story follows a narrative flow.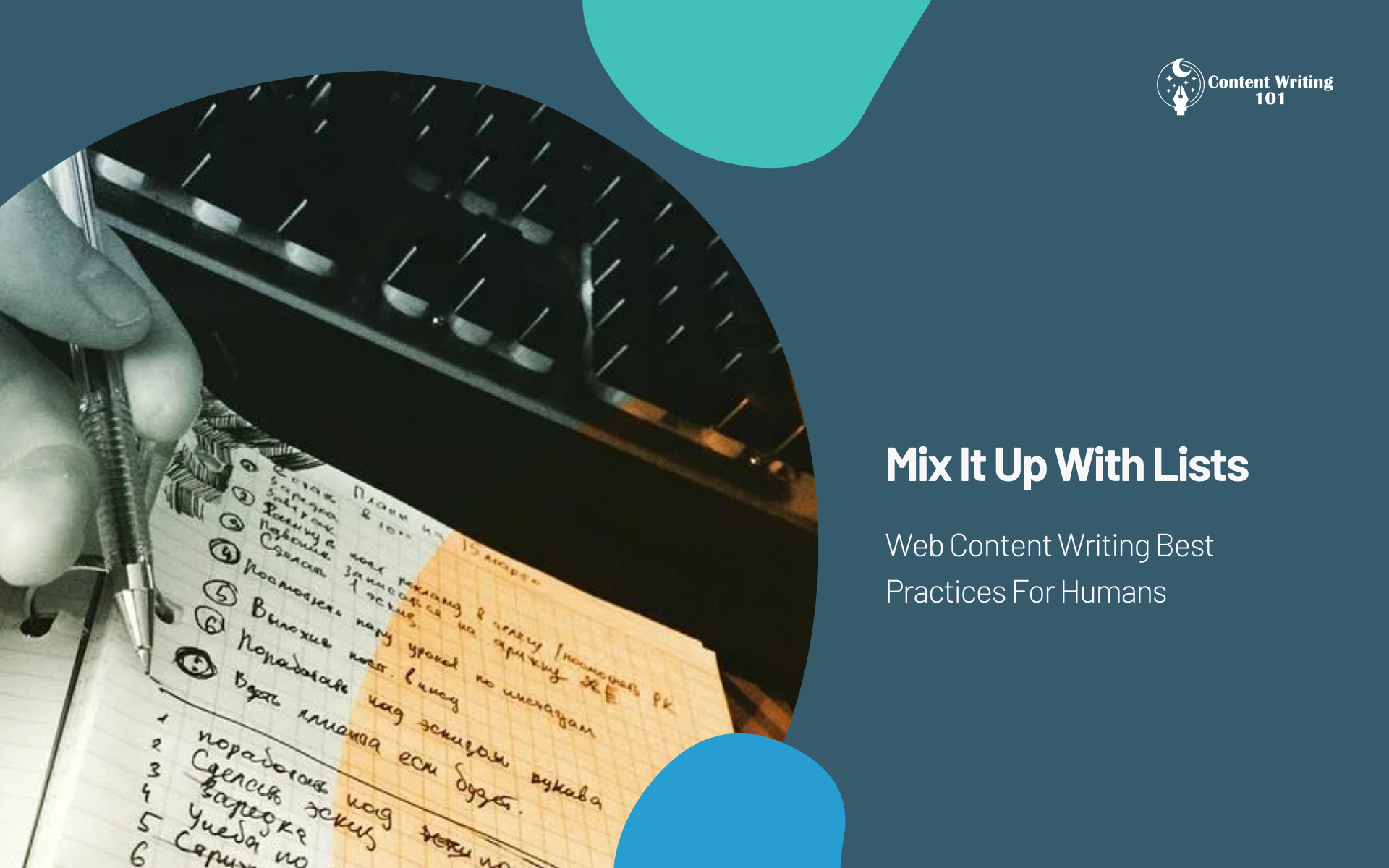 4. Keep it Short and Simple
Studies show that the average human attention span has dropped from 12 seconds at the start of this century to just eight seconds now. With so many content formats competing for attention, short sentences and paragraphs play a critical role in web content writing.
Two things matter: competition and attention spans. During Elizabethan times, there were 45 words on average in a sentence, according to one summary. They shrank to 23 words by the early last century and down to as little as 14 words today.
So don't make your article look like a textbook. Hit the backspace whenever required. It is best to keep paragraphs as short as possible, up to four lines. If it helps, you can sometimes add a very short sentence or one word to emphasize a point. Put dashes instead of semicolons, or, better yet, break your sentence up into two parts.
You may also use "and," "but," or "our" in a sentence if it makes things clear and brief. Get rid of needless modifiers like "just," "good," "simply," "hardly," as they don't add meaning to your sentences.
5. Write and Sound Like A Human
There is nothing worse than content that sounds like it was transcribed by a robot or copied from some website. Keeping your style down-to-earth and friendly goes a long way. This personal connection will make it easier for your visitors to engage with your calls to action. Write as if you're talking to your Grandma. Make sure your web content passes the Grandma test. You have to make her proud.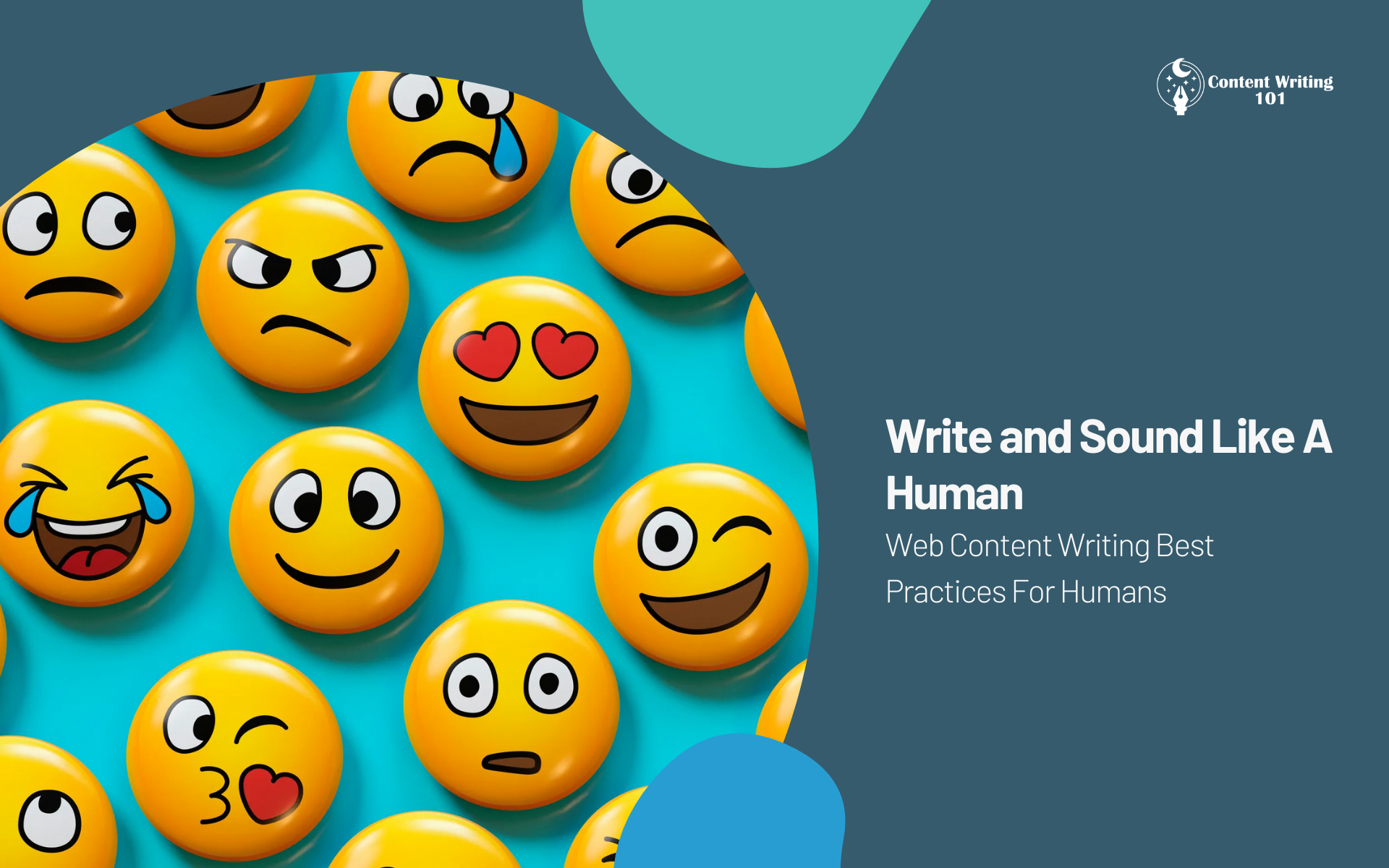 6. Link It Out As Much As You Can
Links are meant to convert the readers into potential customers. So, if you happen to take a reference from another page, your first task is to paste the link onto your editor. Links guide the users deeper into the process.
If you mention The FlintStones, link to it. If you want to name a person, link their email ids. If you mention a subject matter expert, link to their personal website.
If a certain thing already has a page, don't make the people search for it. Make the most out of their short attention span by providing a wide range of relevant links.
Also, you need to keep the phrase "click here" in mind. Making your content contextually relevant is key to improving dwell time. Make the link out of part of your sentence or phrase. Research shows that users prefer the links to be no longer than eight words.
Use CTAs like – "For more information, read the Best Web Content Writing Practices blog." Instead of "To learn more about the Web Content Writing Best practices, click here."
And the best part is, linking is a win-win bet for writers. You take someone's content, link it, and improve your credibility. Linking saves you from getting flagged from plagiarism.
7. Back Up Your Claims
A great writer includes evidence to back up their point. To clarify, they add examples. Ideally, you should support all your points with data and examples.
Web content writing requires at least five types of research materials:
Statistical Research And Studies
Data-Driven Charts And Graphs
Reports And Case Studies
Resource Materials
Suitable (Positive Or Negative) Examples
Better yet, turn your article itself into a research piece. Your brand becomes the primary source of new data when you conduct original research.
It's pretty simple. When you share an article or cite research from others, feel free to mention them (and tag them). Perhaps they will notice and will share your work via their own channels. More mentions mean greater social reach.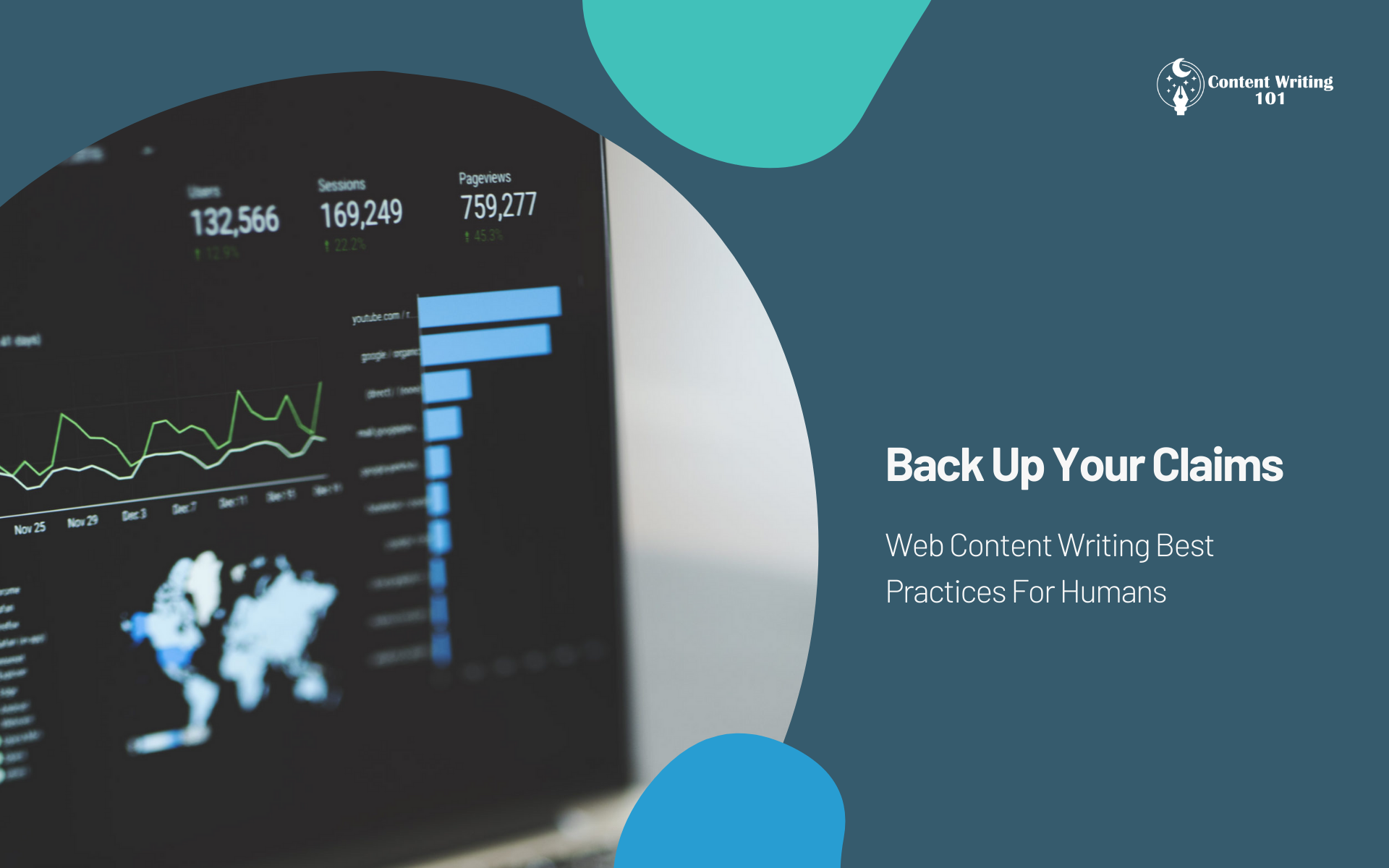 8. Two Heads Are Better Than One
There is a lot on your plate right now, so much so that you wonder how you will ever get everything done.
There is an industry secret that most online marketing experts know: two heads are better than one. You will save your life and streamline your productivity with collaborative content marketing. So, don't feel shy in seeking help from your friends, or maybe hire an intern who can escalate the overall web content writing workflow.
Publishing collaborative content has three main benefits.
The outside perspective adds insight and credibility to the article.
The contributors may share the content, thus extending its reach on social media. It is essential to have an ally in creation if you want to promote.
Every article offers a chance to network. We all love contributing to things. Your collaboration partners see you as a press icon, hence expanding your professional network.
9. Make Your Web Content The Length Ideal – Don't Overstretch Or Cut Short
What is the ideal length of a blog post?
It is likely you have asked yourself this question at some point during your marketing career. But the truth is all "ideal length" calculations are useless. Let me tell you why.
Firstly, You don't always need to write long posts over short ones. What do you want to see when you search for "Best DIY Coffee Hacks"? The best Super Mom Hacks or a historical overview of Coffee beans?
Occasionally, 300 words are sufficient to satisfy search intents, as in the example above. It might only take you 600 to 1,000 words to define a given term, such as when you're looking for a quick definition.
The key to finding the perfect blog post length is to analyze the competition and examine the user intent behind your keywords.
There's no secret sauce to finding the ideal length in web content writing that should cover everything about the topic – no more, no less.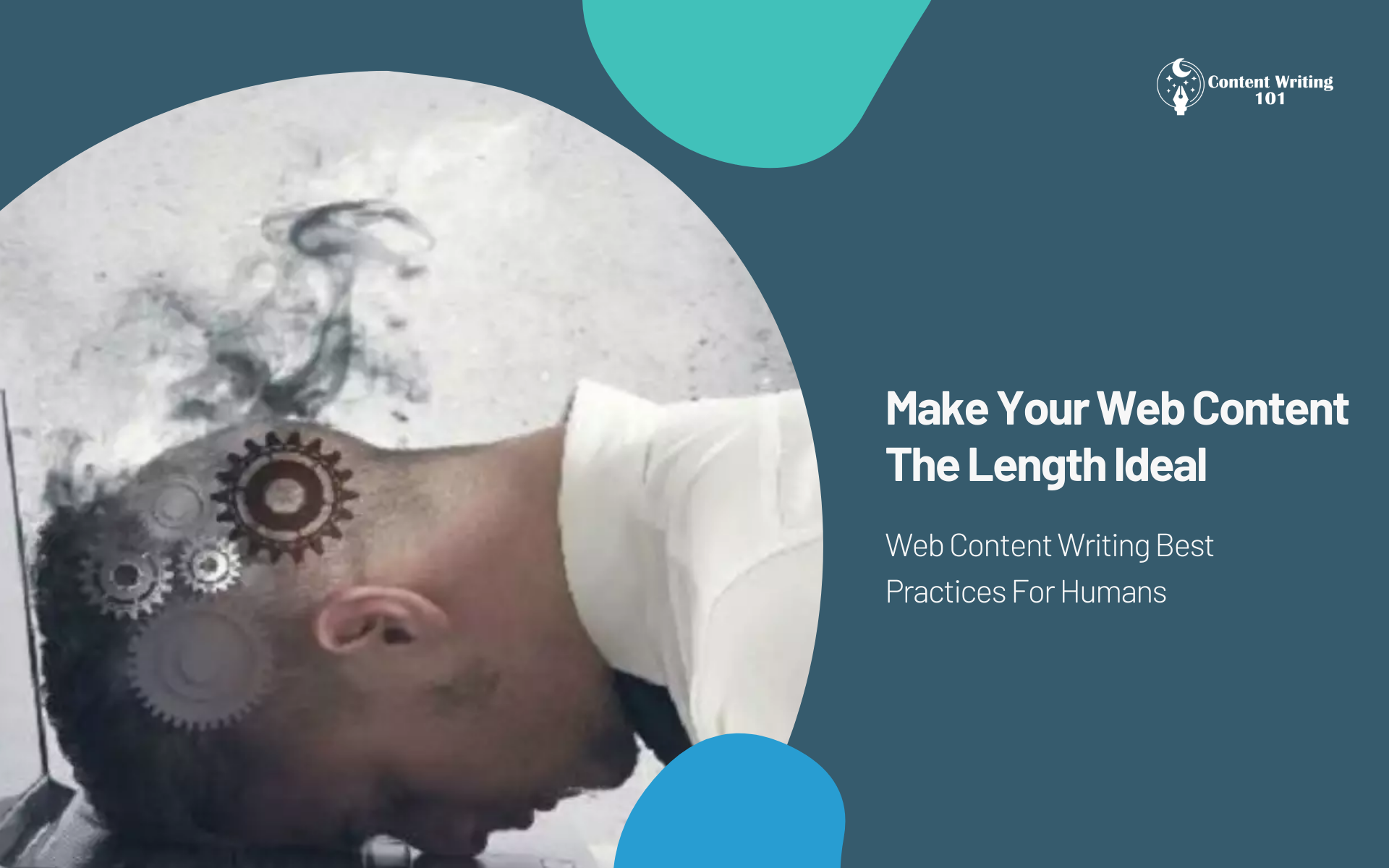 10. Use Enticing Call To Actions
Readers need directions like milestones on the road. If you don't ask them to sign up, they won't. If you don't ask them to visit your social media handle, they won't. If you don't ask them to download your checklist, they won't. So, you need a call to action to influence action on the readers. No matter how perfect your article is, if it's missing an enticing call to action, the readership is sure to take a blow.
CTAs play a big role in enhancing your web content writing practices. CTAs are images, buttons, links, or other graphics that encourage a site visitor to become a customer or participant.
CTAs can work wonders for your social media posts too as they can increase visitors to your site, generate sales, and increase the number of leads and conversions.
11. Establish Yourself As An Author By Creating An Author Box
A blog author bio box is, for many people, nothing more than an insignificant bit of text at the end of the post that displays author information. The truth is, there is so much more to it!
Putting an author bio at the end of a blog post is the perfect way to demonstrate your expertise, authority, and credibility – three factors Google's search algorithm heavily values.
The ideal author box should include the following:
A Profile Picture
An Overview Of The Person's Life (Usually No More Than A Few Sentences).
Links To The Author's Archives And Other Posts On Your Website
Social Networking Profile Links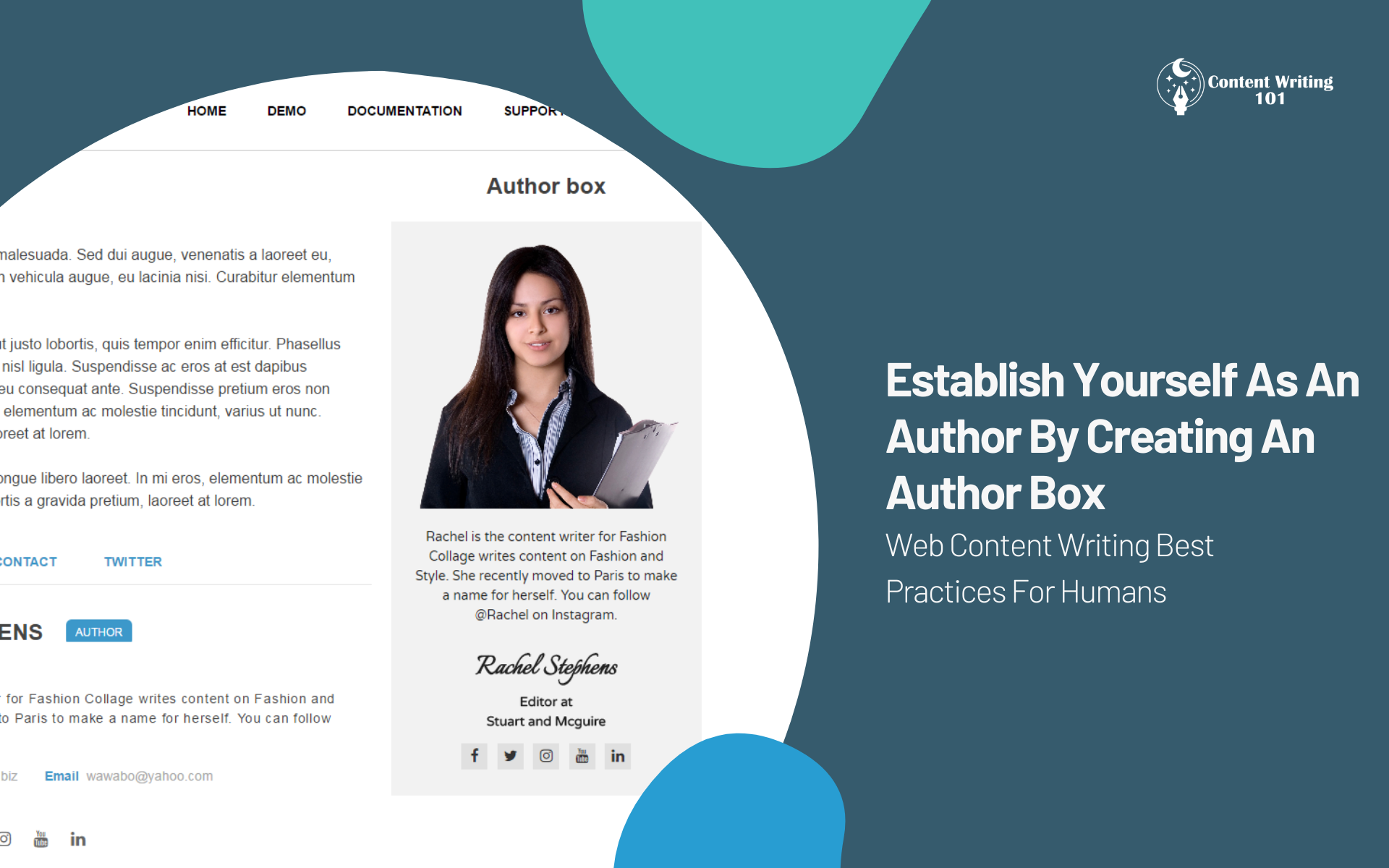 Web Content Writing Best Practices For SEO
Now, we'll deal with the best practices for SEO and traffic. Makes sense. If no one sees it, nothing else matters, right?
These SEO practices will improve the ranking and visibility of your article on search engines. While there must be a balance in the tone to make your article reader-friendly, you can't do away with SEO at ease. So, let's dig into the details:
1. Use Keywords Wisely In Your Content
Keywords are like bullets to a gun or cheese to a pizza. Without keywords, you won't be able to uplift your content to the top of SERPs. There's no general rule as to how many keywords you can use in your content, but in general, you must use 7-8 keywords every 1000 words.
Make sure you don't overdo them. It's similar to compromising on your writing. If you're using keywords just for the sake of it, it will be obvious to the reader, and you'll lose the readership. So, keep it natural.
If you want to learn more about keyword usage, its types, and methods of usage, read our blog How To Use Keywords In Your Content. If possible, do revert in the comments on what you think is the best keyword usage strategy in web content writing.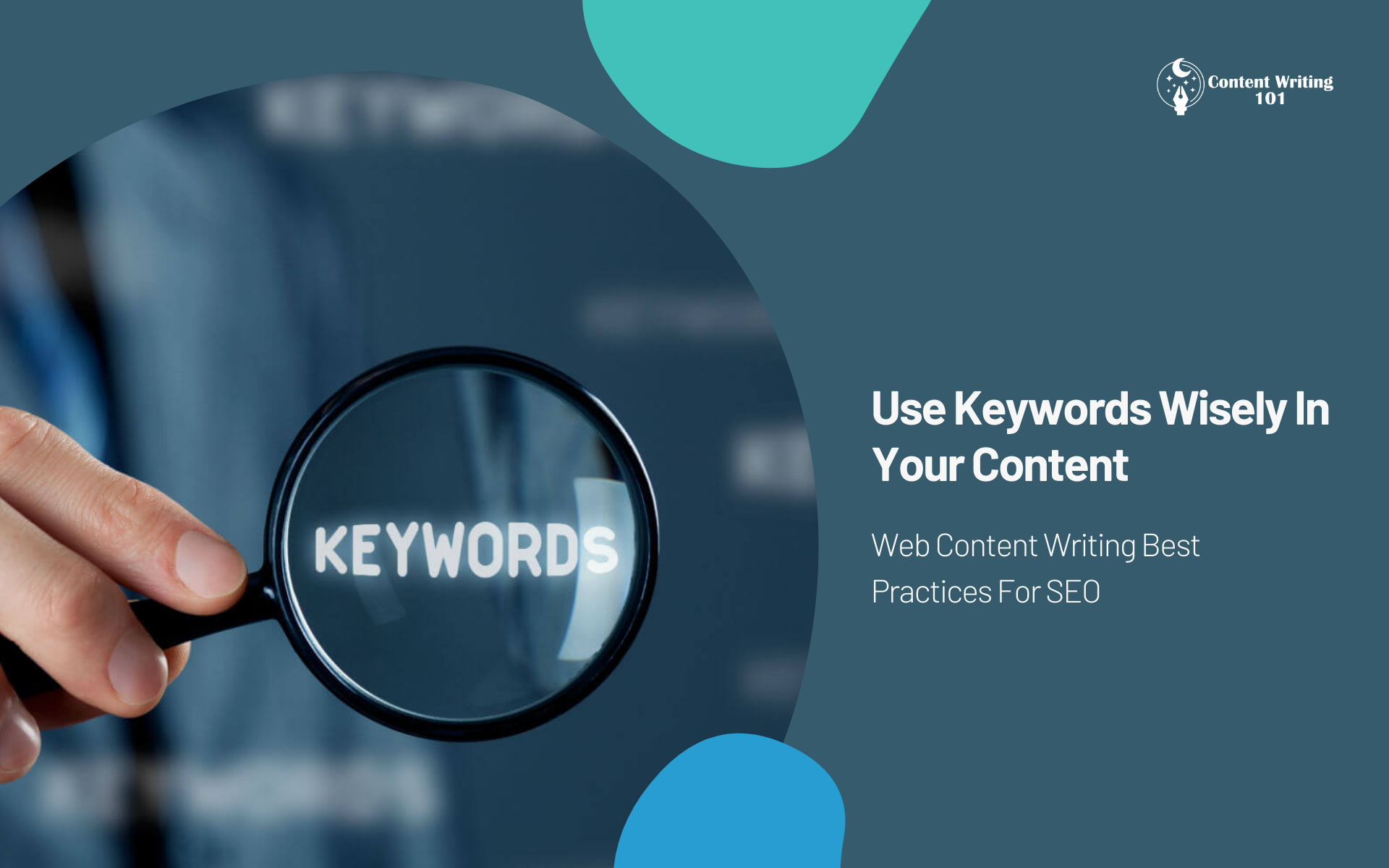 2. Catch Eyeballs With Mind-Bending Formatting
How else do you think people are going to read your content? Without good formatting, you can't push your content up the rankings despite following other SEO tactics. The recent Google update demands your content to be easier to navigate. And this is the reason why long-form content is creating raves in the web content writing world. Long-form content has a better scope of hierarchical formatting, which makes the reader stick to the topic for long.
Though online readers have a goldfish-like attention span, formatting ensures you don't lose them in the introductory paragraph itself. Now, here's what you can follow to create a scenic formatting standard in your content:
Write Short Paragraphs (Break a complex sentence into two parts if needed but Keep it Short, please)
Insert Subheadings (This is a must. No excuses)
Use Visuals in the form of images, infographics, videos, memes, GIFs, charts, and graphs (Or how else can you entertain the reader?)
Use a Toggle list at the beginning of the article to make it easier for the reader to skip to the part they want to read.
3. Never Forget To Add A Compelling Featured Image
Never publish an article without a featured image. When you get social shares, an intriguing featured image is what a reader will stare at first. So, you can't afford to miss out on prolonging the memorability of your content. Users are more likely to remember your content if it had visuals sprinkled throughout.
While using feature images, you have to keep the following things in mind:
Keep the aspect ratio as 16:9 as anything square-ish or elongated this ratio gets cropped and mars down the overall look of your website.
Keep the headlines centrally aligned than in the top or bottom. You may add the headline on the image itself if you wish to get sporadic organic traffic.
Every bit and piece you add in your digital content, be it images, keywords, or something as simple as a Call to Action, can make you talk of the digital town.
Web content writing is not just a casual swing of the bat. It's an evolved communication tool for us. All these practices make way for cathartic conversations with your readers. And this is what writing is all about: To Develop emotional regard in the minds of your readers. Who knows, you might get a bouquet from your secret admirers for the content you produce. So, never stop evolving and follow a web writing regime with these practices.
Did I miss anything? Did you get something to add? Trade some insights with me and fellow readers in the comments below.