The first time I heard the term white paper, I was left with only a blank stare. As the name suggests, I thought it to be a white piece of paper.
Nevertheless, I was surprised to find out that white papers are one of the most important marketing assets. Approximately 70% of B2B customers check white papers prior to making purchasing decisions.
Relax. These statistics are not to overwhelm you straightaway. A white paper is a comprehensive topic. So, why not learn about it in detail? All from a beginner's standpoint.
We have prepared an all-around blog post that will teach you everything about white paper marketing – definition of a white paper, examples of white papers, how to research for a white paper, how to plan and write a white paper, designing a white paper, and promotion of white paper.
So, do you want to upskill yourself and learn how to write white papers?
If yes, then buckle up for some fantastic insights about white papers that will get you going right away.
What Are White Papers?
To go by the definition, white papers are in-depth reports that educate people about a specific problem and ways to solve the problem effectively.
You'll be surprised to know that the term white paper has a century-old history. It came into effect when the British government issued white papers as a comprehensive document to help the legislative agencies propose and address new policies.
Today, white papers are used for detailed analysis for sales purposes by businesses, making them a potential marketing tool. They are produced with an emphasis on product-specific narratives supported by findings and in-depth studies.
So you might wonder if they're the same as research papers. Now, trust me when I say this.
White papers and Research papers look similar on the surface. But they are not!
Both are forms of editorial content supported with extensive research, which makes them an authority source. Their length is similar- close to 12 pages approximately. Both have citations from credible references and journals as footnotes or endnotes.
So, they're similar, yes. But not identical. When you take that upper layer out, the differences start to emerge.
Okay, without stalling you any further, let's get into the three crucial differences between a white paper research paper: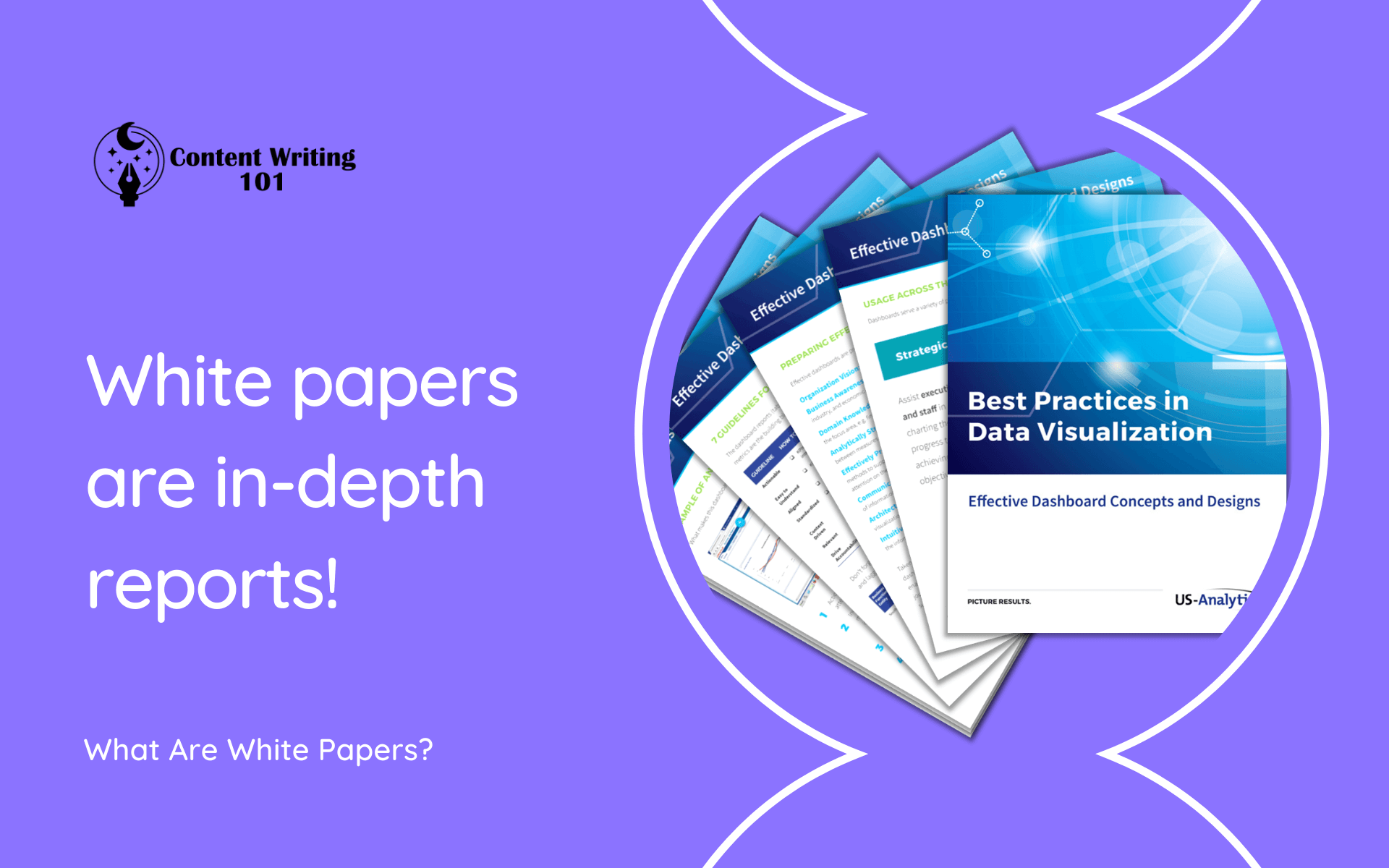 Differences Between A White Paper And A Research Paper
1. Differences In Terms Of Objective
A simple interpretation of the definition given above is that white papers are used to drive people's decisions. So, white papers are very specific in nature.
Here's another way you can put it. White papers are specifically designed to portray a topic/product/service in the main spotlight using facts and figures – how they address a specific issue and extract the best possible outcome.
On the other hand, research papers are very academic in nature. Their goal is to put forward a logical analysis with supporting evidence, comparative studies, and concluding statements. They have a robust framework designed to address an issue from a neutral point of view.
In other words, research papers are broader in nature as compared to white papers.
2. Difference In Terms Of Author
Keeping in mind the goal, who do you think would write a white paper?
In-house staff who knows all the necessary parameters to be presented or a journal author who presents analysis from a neutral perspective?
When you align the goals of both white papers and research papers, you see the white paper author as someone who'd work with the company's marketing team to address an industry-related issue and highlight how the company's product will solve the problem.
In contrast, a research author is responsible for the narrative and the studies, facts, thoughts, and opinions on the topic. Also, the author takes the complete onus of answering the queries, holding conferences, and providing citations for further research studies.
In other words, a white paper writer reflects the company's message while a research author writes for any demographic whatsoever.
Also, did you notice how I used "writer" and "author" in two different contexts? A writer is generally who writes; an author is someone whose work has been published and has been credited for the same.
3. Difference In Terms Of Results
Again, think of the main goal to realize the difference.
White papers are meant to drive people's decisions. As a result, the company converts its audience into customers. It may sound like a sales pitch to you, but it isn't. White papers are produced with commercial intent – drive people's decisions, boost sales, and lead generation.
For a research paper, the goal is to magnify a topic. A research paper carries new concepts and findings that may turn out to be the foundation for even greater discoveries.
In other words, white papers are usually used as a marketing tool while research papers add value to the current educational landscape.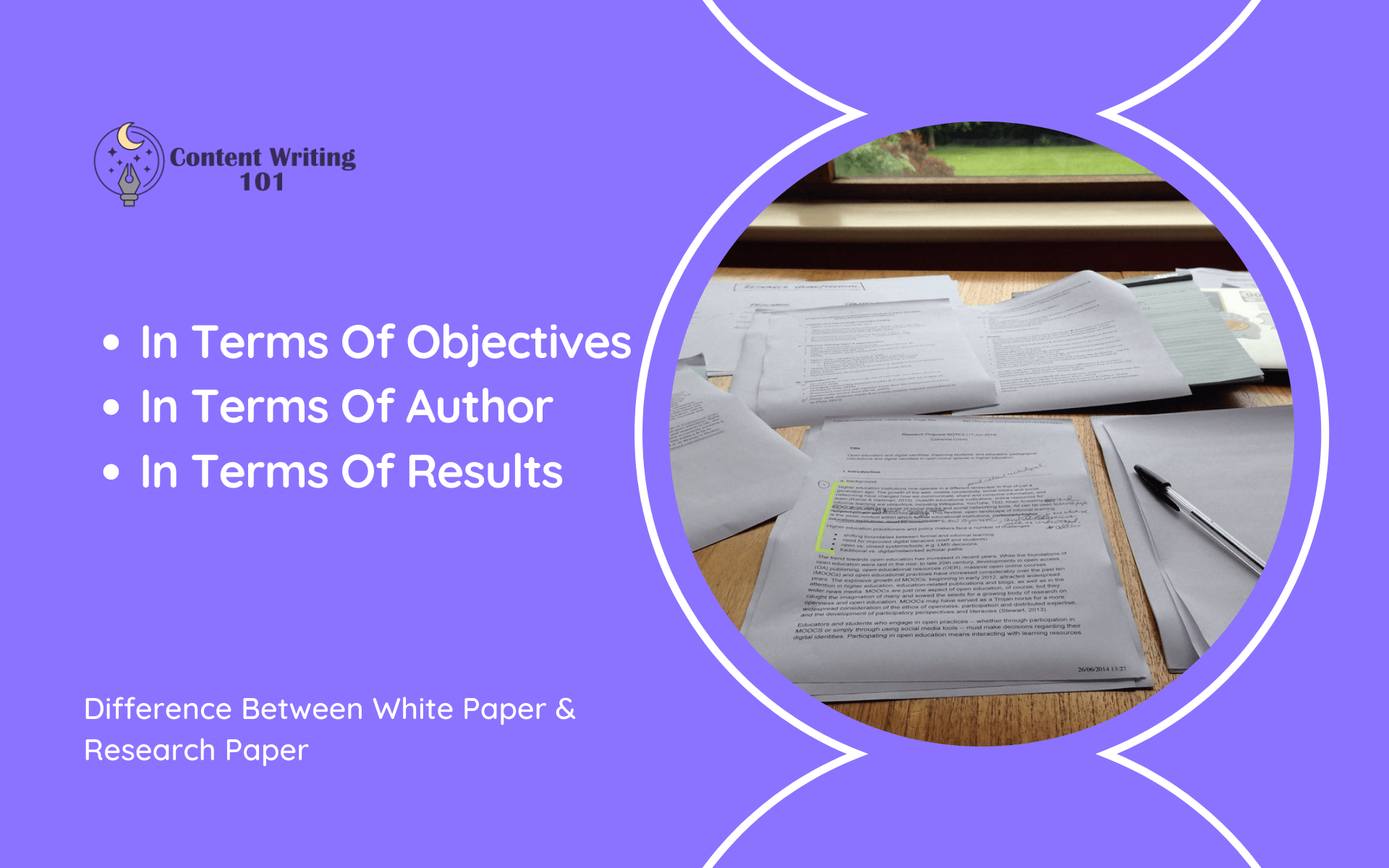 Who Uses White Papers?
As you know, white papers were used by government agencies in the past to propose new policies in a succinct manner.
But it's a different ball game today. As everything is going digital, white papers are now a potential online marketing tool.
White papers have a versatile purpose across all kinds of industries. But in general, B2B marketers use them for sales purposes, discuss industry-specific problems, new technologies, and solutions.
The utility of white papers depends on the industry type. For example, a governmental body will use them differently than a B2B marketer.
Why Should You Use White Paper?
Being a marketing asset, white papers have many advantages. Let's take a look at all of them in detail: :
1. Aids In Brand Building
White papers help you develop your brand. You become a thought leader when you present thoughts, findings, and opinions on an industry-specific issue.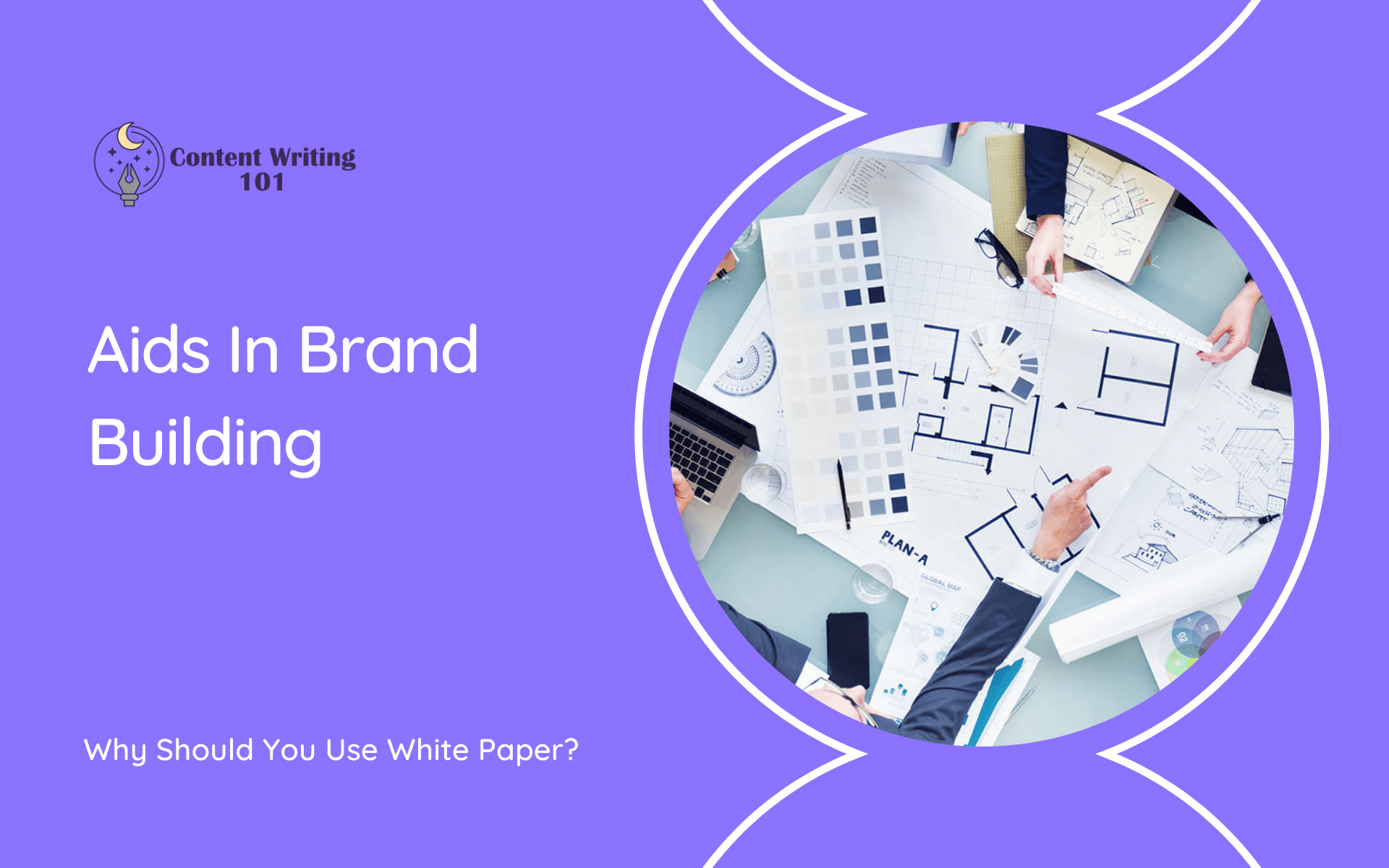 2. Helps Builds Credibility
Different industries can reach you faster when you put your name out in the space after writing a white paper. It improves credibility as you become a potential source of information for a wide array of people.
3. Builds Relationships
You can forge business relationships with new leads. White papers are generally distributed through emails. Your company can build connections with those who engaged in the email. As new leads get in touch, your company's reach increases.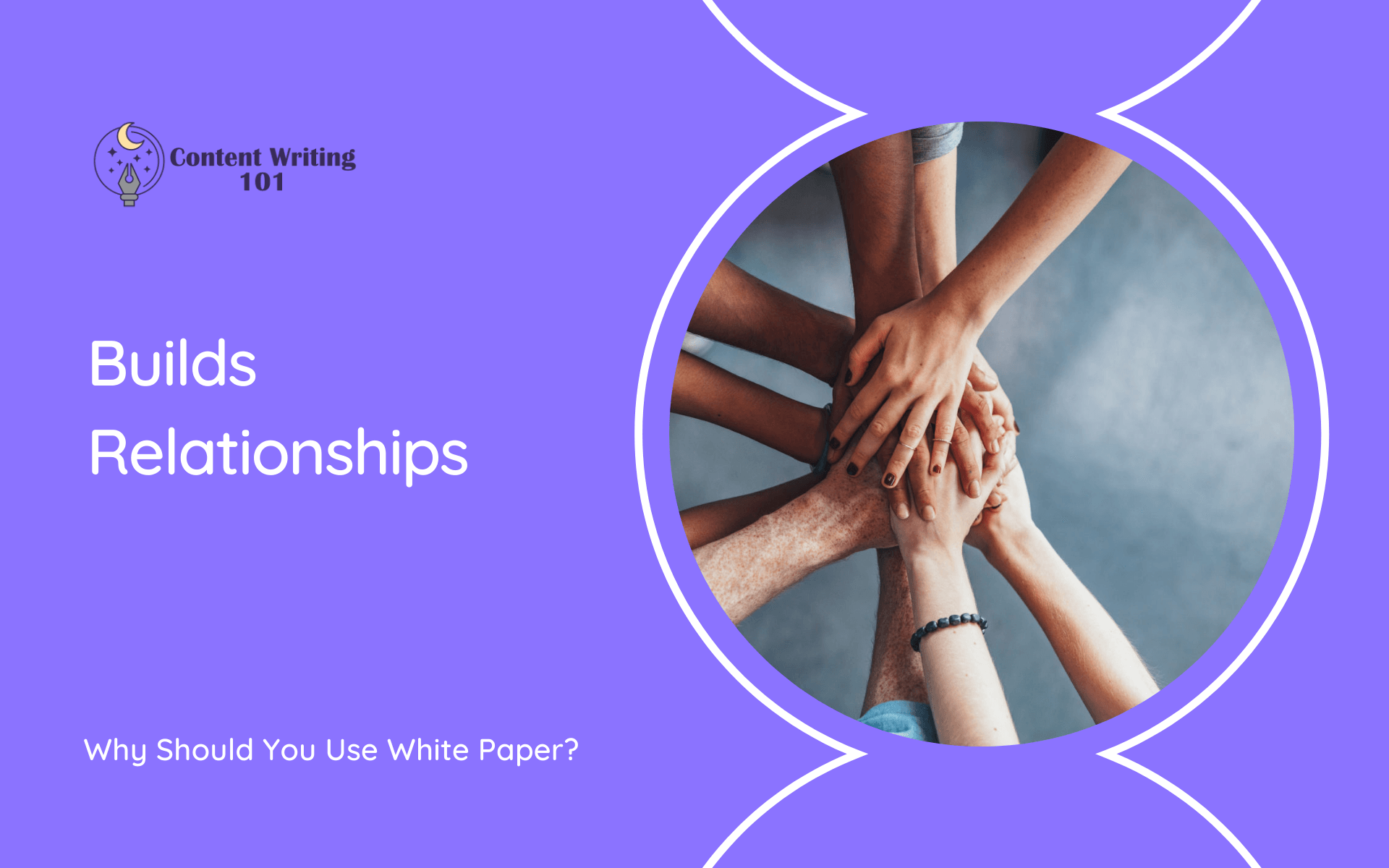 4. Increases Shareability
White papers are descriptive in nature. It is due to this nature that the website visitors feel good sharing your piece on their social profiles. When you provide good solutions to people, the piece is bound to get the desired attention.
5. Attracts Backlinks
White papers generate traffic on your site. The more the traffic, the more people will see. The more people engage, the better the chances of attracting more links.
It sounds like It's worth the effort, right?
Types Of White Paper
Do you want to write white papers? Which one would you like to write?
Yes, there are multiple types of white paper. Let's talk about them in brief:
1. For-profit White Papers
Businesses use for-profit white papers for sales purposes.
This type of white paper simply aims to provide solutions in a succinct format. This makes them a powerful tool in the middle of the funnel, as this is when the customer is extracting information to purchase the product.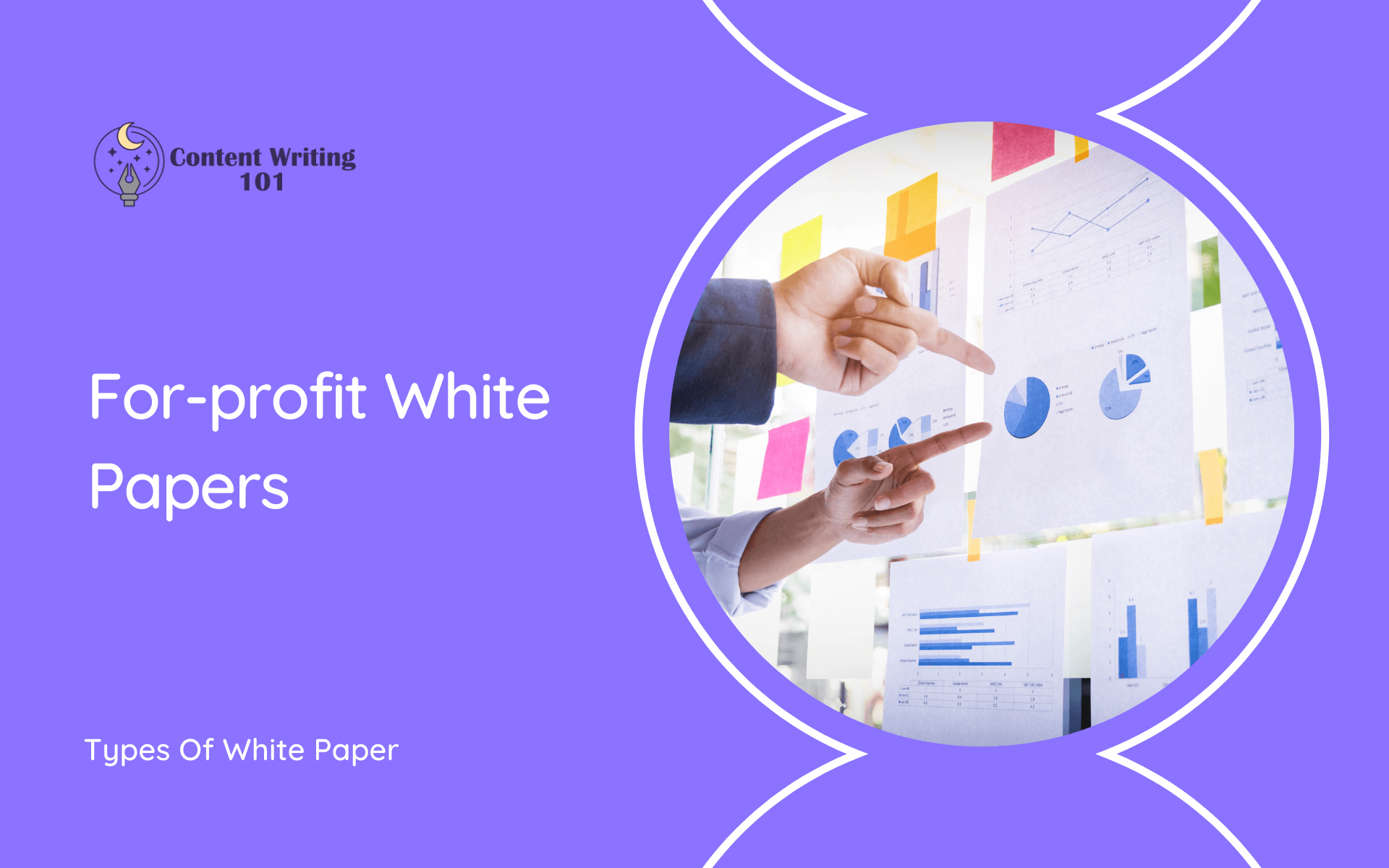 2. Technical White Paper
As the name suggests, a technical white paper solves technological issues. These types of white papers are specifically designed to simplify the technical process with the help of diagrams, charts, screenshots, and infographics. Bitcoin and ethereum showcased their technical capabilities in technical whitepapers to the world.
When technical organizations have to discuss their fundamental processes, they use white papers to demonstrate in detail.
3. How-to White Papers
Yes, you must have heard about these already.
When there's a complex problem, you refer to how-to blog posts. So, is there a difference between how-to blogs posts and white papers?
Yes, there's a big difference.
A how-to white paper will explain the whole problem with solutions and lead you to the problem-solving company.
Now, a blog post is a universal post. It may or may not pertain to a certain specific company or a service provider.
Business organizations use how-to white papers to generate leads at all stages of the sales funnel. They're simply aimed at improving the user experience.
4. Product Comparison White Papers
When you have to compare your product and features from that of your competitors, you use product comparison white papers. Businesses often have a point to prove with innovations. They use product comparison white papers to demonstrate special features of the product as well as the new technologies used.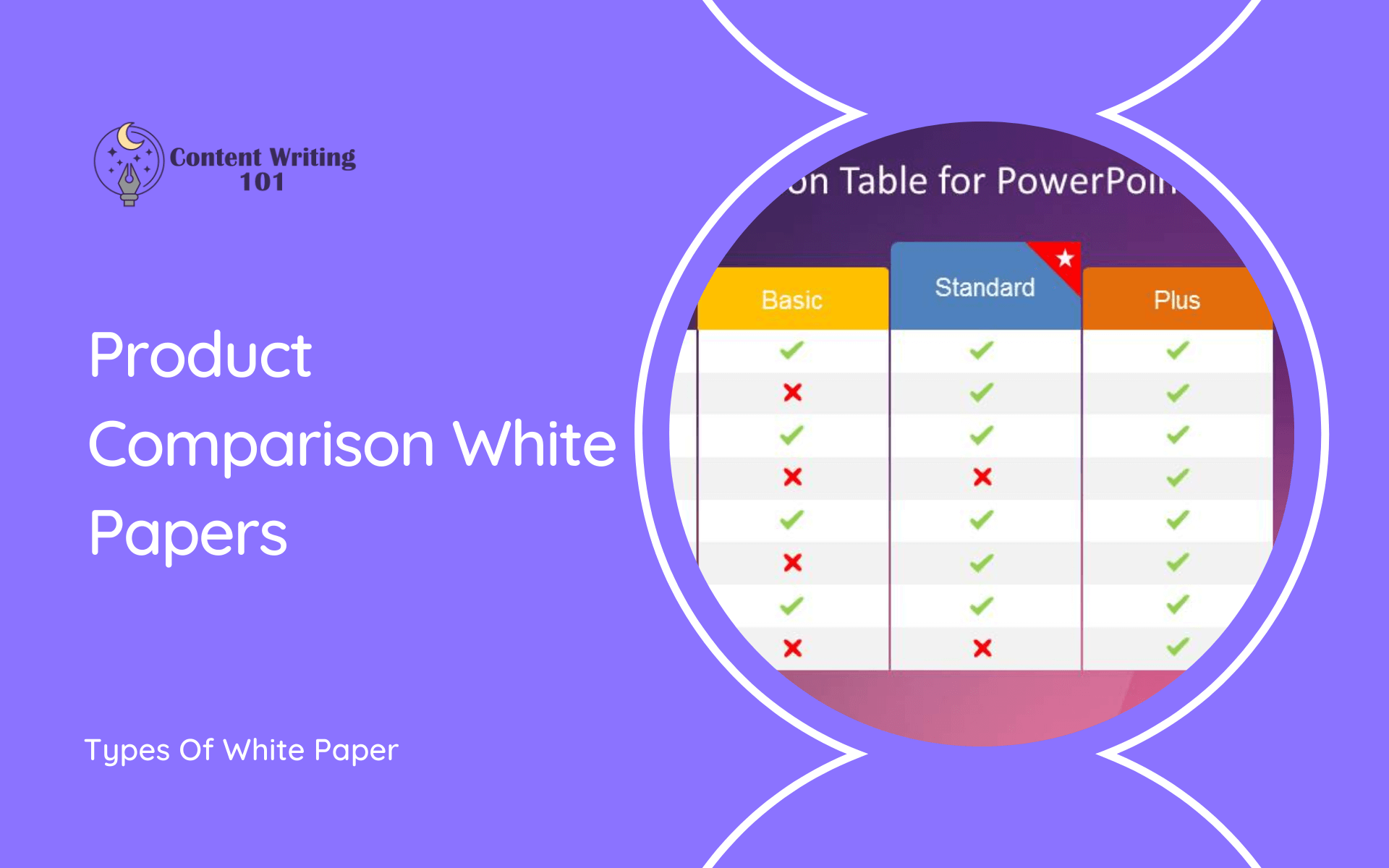 5. Thought Leadership White Papers
When the company wants to establish a new concept that adds up to the existing knowledge of the market, they use thought leadership white papers.
In other words, Thought leadership white papers are aimed at presenting new ideas of tackling the pain points of customers.
Now comes the much-needed question-
The Process Before Writing A White Paper?
Planning to write a white paper can be a daunting task. You have to include so much information that it's natural to get lost in the process. Relax! We'll break down the whole process and go step by step till the end:
1. Research: Pick Your Topic And Type Of White Paper
What are your goals? Are you looking to build brand awareness, or do you want to boost conversion rates for the company?
This will help you determine the type and topic for your white paper.
Let's take an example:
If you're looking to solve the problems, your white paper topic can be about transforming lives with new methodology. How-to white papers can be a go-to option in this case.
If you're looking to hit business goals, your topic could be about new amendments essential to expand marketing goals. For-profit white papers can be the right fit in this case.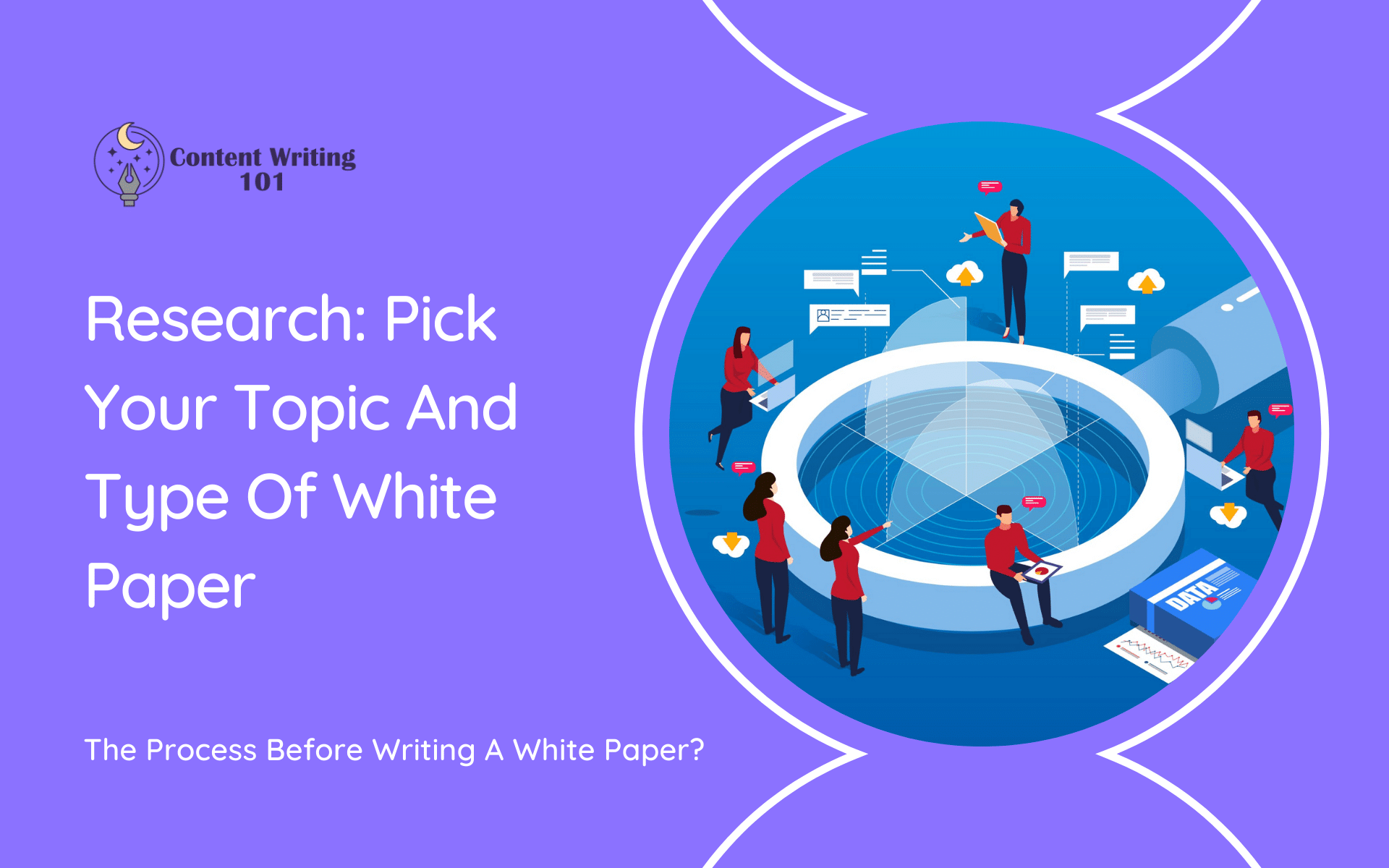 2. Defining The Audience – Figure Out Who You're Writing For
Remember, you have to write for the people. The sole purpose is to add value to their lives. And that brings us to the question –
Do you know the people you'll be writing for?
Are they familiar with the topic?
What industry do they belong to?
Do they need a detailed report or just an overview of the thought?
What platforms do they use?
What kind of search terms are in common?
These are some of the questions that you've to answer before getting your hands on writing the white paper.
These questions will develop your voice. Defining the audience helps you cut down on the research process and present relevant information effectively.
3. Gathering Information – From Customer Reviews To Competitors Study Everything
How will the public identify you as a unique marketer? Through your ideas, your expertise, and the way you present your analysis.
White papers are thus an exceptional tool because nobody can replicate them. While writing, you have to take care that your information is backed up by logic and practical analysis.
This includes the following practices:
Research your customer success stories
Conduct audience surveys to help you make your topic more relevant
Find out what the bigger companies are doing – pick a company related to your niche and analyze their strategies
Google about your topic – collect data, references, links and organize them in order
Keep track of all the statistics you'll be choosing. Statista is a great source to conduct statistical research.
4. Adding Credibility – Interview Experts
When you add testimonials from authority sources and experts, the credibility will increase substantially.
You can find experts on Twitter and LinkedIn. Make sure you set up questions beforehand. Try to narrow them down to a specific issue and keep them open-ended. This way, you can gain new insights into your topic.
After planning comes the main part –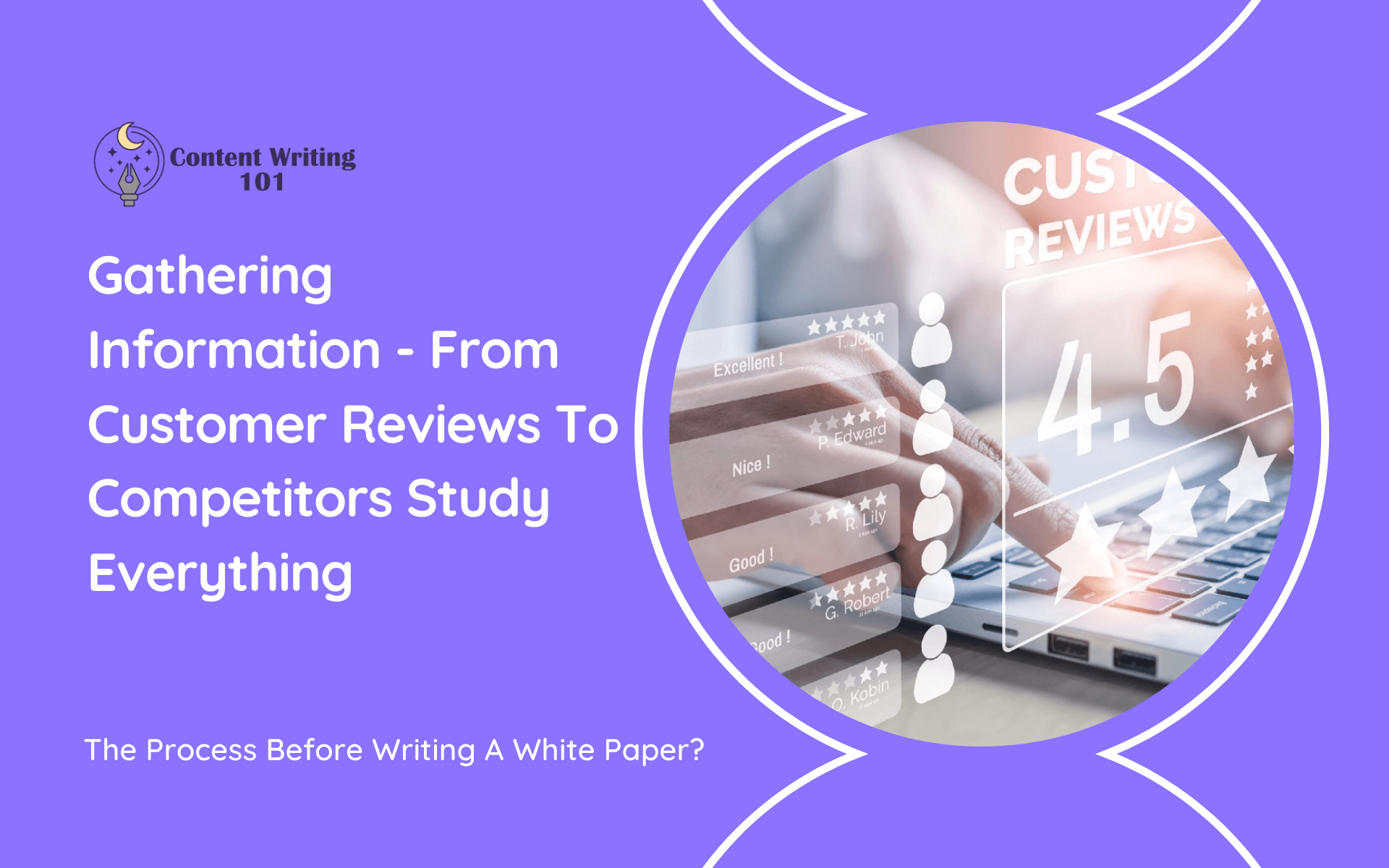 How To Write A White Paper?
So you're ready with all the information, now it's time to get your head wrapped up for the first half of writing, i.e., creating an outline.
How A Whitepaper Outline Should Look Like:
1) Headline
Choose Something that describes your topic. Keep it short and polish it later.
2) Executive Summary
What is your white paper about? Give a brief description in about 2-4 lines to highlight your objective.
3) Introduction
An introduction mainly covers an attractive hook along with a thesis statement. You should keep it very simple and relatable.
4) Section Subheadings
The purpose of subheadings is to introduce your arguments. Much like the headline, here, you have to complement your arguments with subheadings in a step-by-step fashion.
5) Subheading Content
You need your content to look organized like a list. So, you have to keep them as sub-points under each section.
6) Conclusion
You round up the key points here. Don't forget to add a call to action here. It leaves the reader with a concrete brand message.
Now, as you're done with the outline, the skeleton is ready. It's time to flesh up the content with details.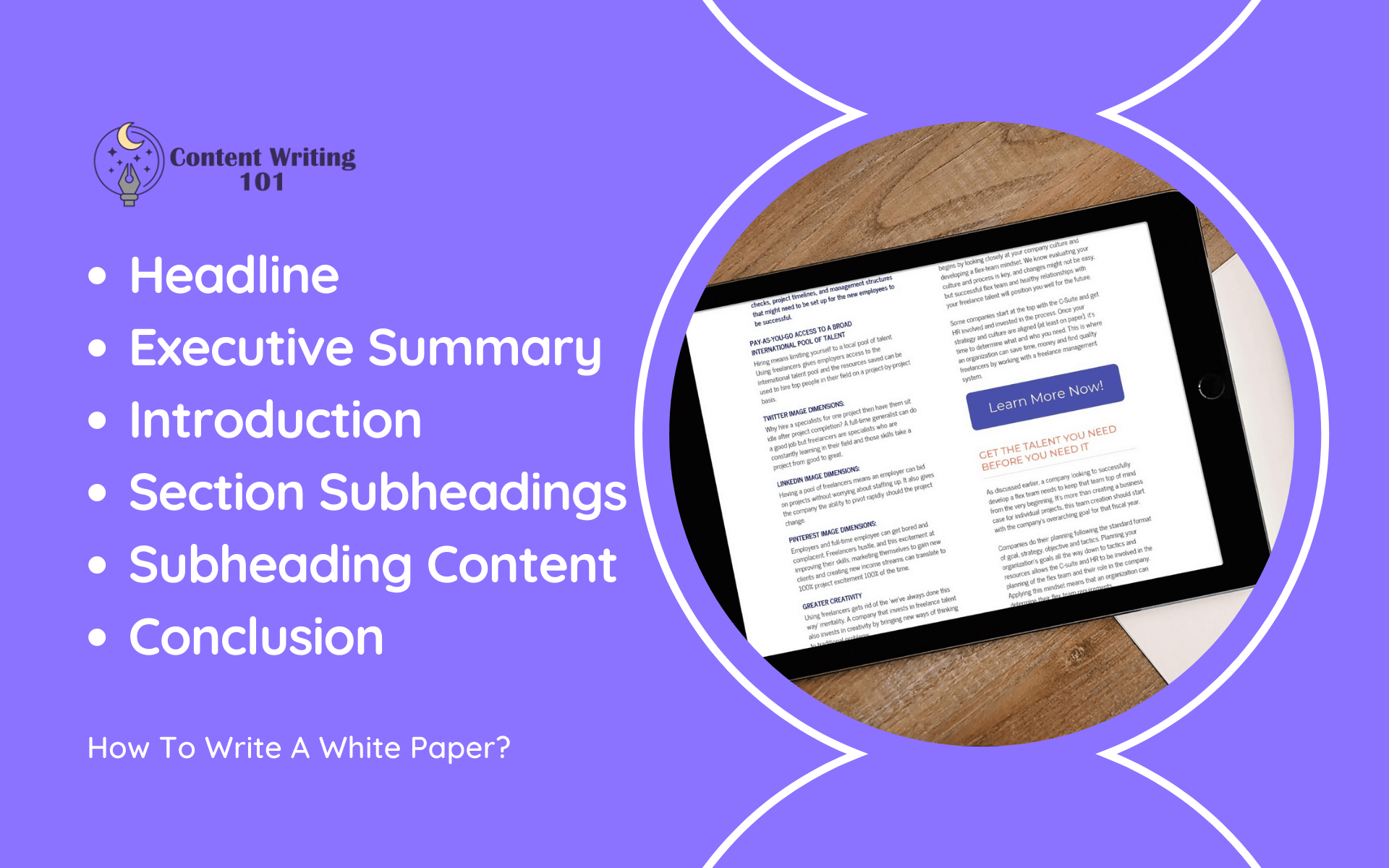 Best Way To Write A White Paper
1) Decide The Headline
How do you want to start your white paper? Through headlines full of jargon or simple and catchy words? Think of it from a reader's standpoint. You'd certainly favor simple headlines.
A white paper needs a strong headline that instantly connects the topic with the reader.
The reader should be able to picture the scenario by reading the headline.
Here's how you can craft a strong headline:
Use simple, emotional, and powerful words
Keep it short for better visibility and click-through rates.
Use headlines that include "why" or "how-to" to generate curiosity.
Use headline analyzer tools (Let's just be honest here, depending on an AI tool to create a headline that will connect well with the reader. It Is a little too abstract, isn't it?)
2) Come Up With A Teasing Introduction
Best introductions make the reader hopeful. That's their purpose: To bridge the gap between your headline and the following arguments.
Similarly, you've to show the reader that they'll be getting the solution right after reading the piece.
That's why an introduction needs a compelling hook. The only reason people would read on is that your white paper addresses their pain point. A hook gives them an alternative to consider – a new approach, a new method, a new product, or a new service.
A mighty introduction combined with a solid headline generates enough interest among the readers. But the job is not done yet.
Now is the time to pull out the information together.
3) Divide Your Information Into Subheadings
Based on your outline and research, you should format your content under distinct subheadings. It not only makes the white paper organized but improves the overall messaging of the piece.
As you dig further into the crux, you'd find out the missing chunks that can be added. What you can do is add a placeholder and come back later to fill it in.
4) Fill It Up With Visuals
There might be a need to present your analysis in a different way by including some illustrations, illustrations, graphic elements, comparison tables, etc.
Secondly, your visual content should be framed in a manner that supports the impact of the overall narrative.
So, this is where designing comes in. We'll discuss everything related to design in a short while, but here, you need to mark all those points where visuals will be needed. After finishing the draft, you can add them to those marked spots.
Well done!
Now, you've got the content ready. What's the next step?
Yes, the keystone for great writers – Editing!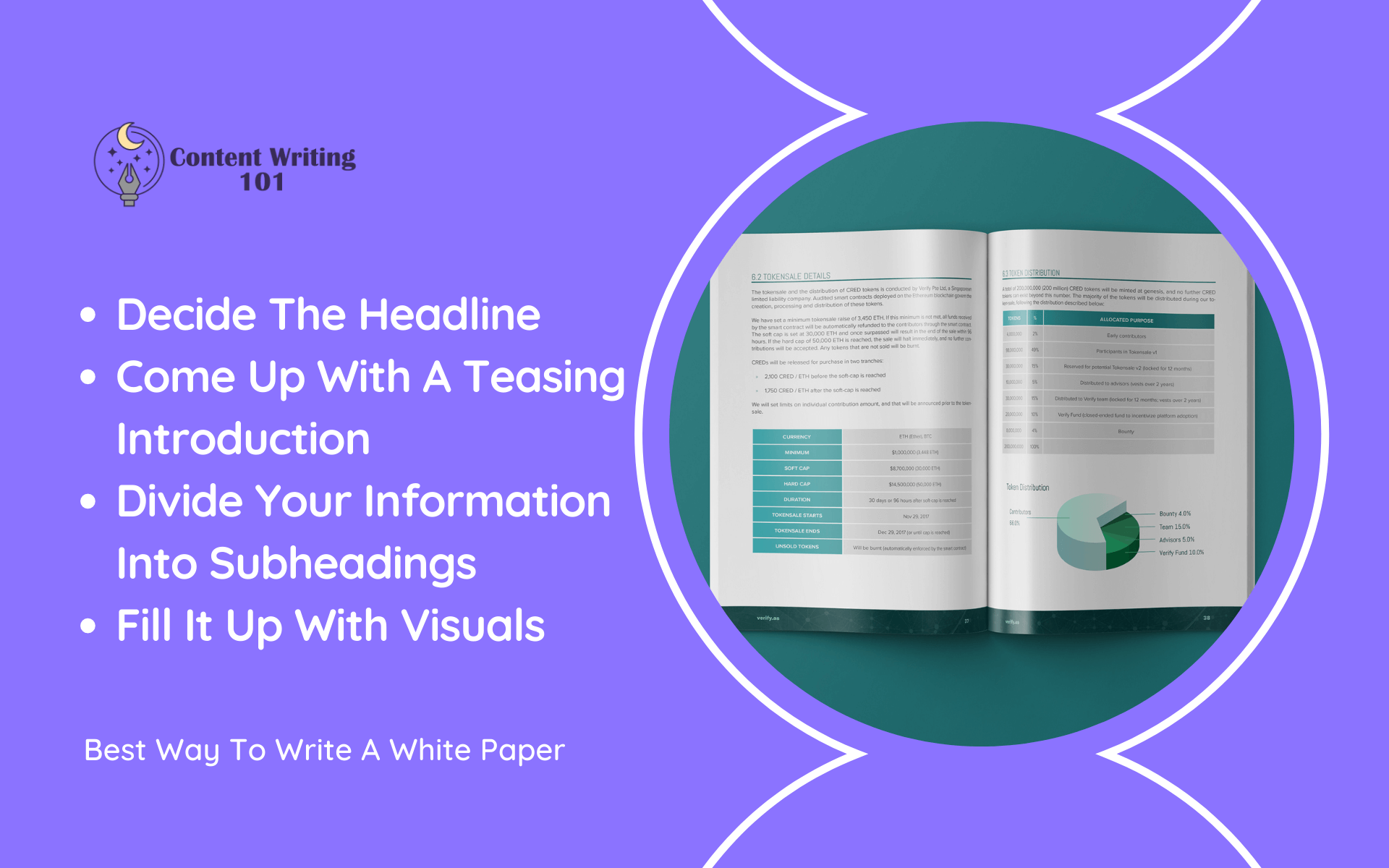 How To Edit The White Paper?
Editing is a long and arduous process. Hence, it's advisable to take a breather after you get done with the first draft. Come back afresh and do the necessary editing carefully. You can always hire someone else to do it for you – an expert or your accountability buddy, maybe.
Editing includes the following steps:
Step 1 – Eliminate Repetition
Here comes the nitty-gritty part of editing.
Sometimes due to over-researching, writers tend to repeat the same facts or some key phrases at different places. It makes the content dull and repetitive. You can avoid such repetitions by reinforcing the points in some other way.
In addition, you need to read your work again to make sure everything is in the right place. Is the flow correct? Does your tone align with the objective of your work? Do you go off track at any point?
Step 2 – Cross-check All The References
Always remember, the purpose of a white paper is to get people to make decisions. ask these questions while cross-checking your references:
Does your work explain the issue?
Are you providing all the supporting evidence?
If you've fetched some stats or results from other sources, are you citing them?
Also, make sure that the arguments/references that you mentioned in the outline are reinforced in the body as well as the conclusion.
Step 3 – Make Sure To Perform Grammar And Spell Checks
You might think that your writing is a walking thesaurus, but trust me, grammatical errors and typos are like phantoms. You don't want to leave the reader horrified only after reading the first two lines.
So, reread your work to check for floating commas and misplaced quotations.
Yes, there are AI softwares like Grammarly that can do the job well, but you shouldn't rely on them completely. Manual editing is a must once you're done with checker tools. Manual editing helps you add more substance to your white paper.
Confidence is essential to effective editing. If you do it right, your white paper is sure to stand out.
Now, here's what we've done so far – Planned the topic, researched facts created the outline, and written the content. So, what's next?
The process that helps your white paper "look" good – Design. It's time to fill in some colors.
How To Design A White Paper?
Design is what separates a monotonous piece of copy from an attractive white paper. Even a subtle change in the design format can amplify the appearance of your white paper.
Nowadays, readers are very impatient. You no longer have the luxury of stuffing images and expect a wave of visitors to warm up the traffic. Having a good design is critical to keeping the reader interested.
So, do you want to learn how to create the perfect design for your white paper? Here is a 6-Step Design Guide that can help you make your white paper look attractive:
Step 1: Design An Attractive Cover Page
You can choose to keep the cover simple by using a white background and black text, or you can integrate the brand colors and text together to give it an aesthetic appearance.
The idea is to keep the cover clutter-free and appealing.
Another way is to use customizable templates from tools like Canva or Venngage. You can customize the template to match the type of white paper to create a unique design.
Step 2: Incorporate Necessary Charts, Infographics, Etc.
Tools like Canva make it very easy to create user-friendly infographics. Organize all your key points into a single document, optimize their length, and then extract them onto the template.
Color and typography depend on your stylistic preference, but I prefer to make it all clean and simple.
Step 3: Choose The Correct Column Layout
Your column layout is one of the last things you need to consider while formatting your design.
Usually, a one-column layout will work just fine, but if your white paper is particularly long, you should consider a two- or three-column format to give it a magazine-like look.
Step 4: Ensure Good Mobile Responsiveness
Mobile responsive collateral can work and look great on a wide variety of devices and platforms. Most companies still use the PDF format for white papers and ebooks, which is not a good practice. Let me show you why:
There is no way to modify the layout of PDFs for different screen sizes. When reading PDF files on mobile devices, users need to zoom in and pan a lot, which can be frustrating.
In recent years, mobile traffic has grown exponentially. By publishing your white paper as a PDF, you'll be excluding a large segment of your audience. So, you must ensure a mobile responsive design for all types of content and not just white papers.
Step 5: Focus On Removing The Clutter
In a long-form report like white paper, you may go overboard to add extra images, statistics, logos, and footnotes, which is a huge problem.
Why?
Because it pulls down the readability, there is a fine line between adequate information and information overdose. When there's information overdose, the overall content becomes disturbing to the eye.
Both the content and the design must be in harmony. If there's any sort of imbalance, the white paper will look cluttered. As a result, all your research will go in vain just because of information overflow.
So, keep a check on the research as well as the design to make the overall content impactful for the readers.
Step 6: Keep An Eye On Trending Topics & Designs
The best way to create great collateral is to take inspiration from others. The aim of the process is to develop your own style by getting inspiration from other professionals.
Investigate platforms such as Behance, Dribble, or even social media to get an idea of what is new in the market.
Change is the only constant in design. It is evolving at a great speed. So, try to engage with peers or design enthusiasts to get valuable insights about designing.
It's important to refine your designing skills if you don't have an in-house designer working. Moreover, there are free tools like Canva, Pixlr, Vectr, among others, that offer a nice platform to create unique designs. You'll get basic insights about content design on the platforms. As you use the features extensively, you will develop your own process.
For a writer who can produce such in-depth white papers, basic designing skills can come in very handy in the long run.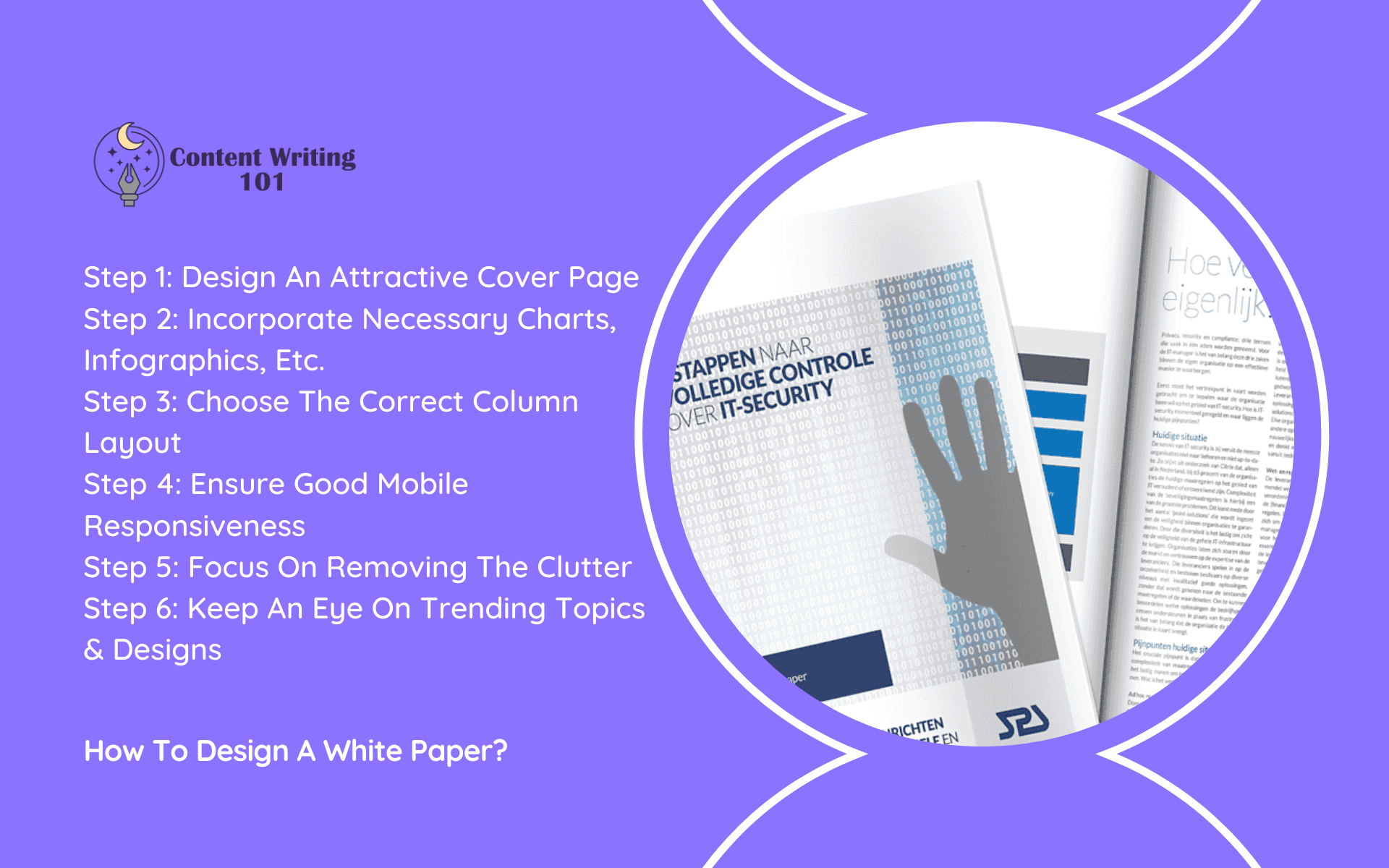 How To Distribute A White Paper?
Now you have a beautiful white paper peppered with tons of content. It is time for the customers to download it.
Experts talk about the concept of gating (the process of creating forms to sell content to subscribed users only) but let me be honest here. It sailed over my head when I read it for the first time.
Following several rounds of rereading and trying various content distribution strategies, we came up with a simple explanation.
There are six ways to distribute the white paper to as many people as you can:
Step 1: Create A White Paper Landing Page
Users can get easy access to your content after filling in their personal details through a landing page or a dedicated resource page where you'll post your white paper.
As a beginner, you might not have a landing page. In that case, you might share the link in your blog post along with a brief summary of the white paper.
Step 2: Share It With In-house Staff To Widen The Reach
White papers are a marketing asset, no doubt but are also an excellent guide for future prospects and customers.
Share it with your sales and customer service teams as white papers can become a great way to enlighten more and more people about your unique marketing strategies.
Step 3: Share It On Social Media Platforms
It wouldn't be fair to exaggerate how crucial social media is for marketing and advertising.
As per a study by AI Multiple, nine out of ten companies adopted a digital-first marketing strategy.
It's nothing to worry about, right?
But it's a challenge. Posting a status update about your new white paper won't fetch you a swarm of customers.
You have to find out where your target audience is likely to interact. Are they more likely on Twitter, Instagram, or Facebook?
Once you've figured out your audience, social media can help your white paper push through the networks.
Step 4: Find An Influencer To Distribute Your Content
Who did you ask for a recommendation to buy a new smartphone?
Your friend, a family member, a review you read online, or an industry-level expert, right? These are what we call the "influencers."
When these people endorse a brand, the audience is more likely to "take action" simply because they trust them. A recent survey revealed 61% of people trust a familiar personality to learn more about the product. That's the power of influencers on our lives.
What if you collaborated with an influencer to promote your white paper?
In addition to sharing your content, influencers might also help you land publication spots. Even better, feature them directly into the white paper itself – anything that motivates them to share your work would be helpful.
Step 5: Email Marketing
Email may not have the attractive viral potential like social media, but it does have other advantages. A group of people that subscribes to your email list does so voluntarily. Thus, this group is more likely to engage than those who come in by other channels.
By encouraging your subscribers to share your white paper with their networks, you can multiply your distribution efforts, thereby building a loyal customer base.
Step 6: Create Paid Ads
Be brave when it comes to spending money on advertising!
You can reach your target readers with paid ads on Facebook, Google, and LinkedIn.The following elements can be targeted to create paid ads:
A list of keywords related to the whitepaper's topic
Specific job titles and career stages
Employees of a particular company
Interests and characteristics of the target audience
It is imperative that you know all the techniques discussed above. However, they aren't the only ones. The best way to distribute your white paper depends on your target audience and the industry in which it is relevant.
If you've worked hard to promote your white paper, repurposing it can provide an additional boost to your reach. Let's talk about it up next.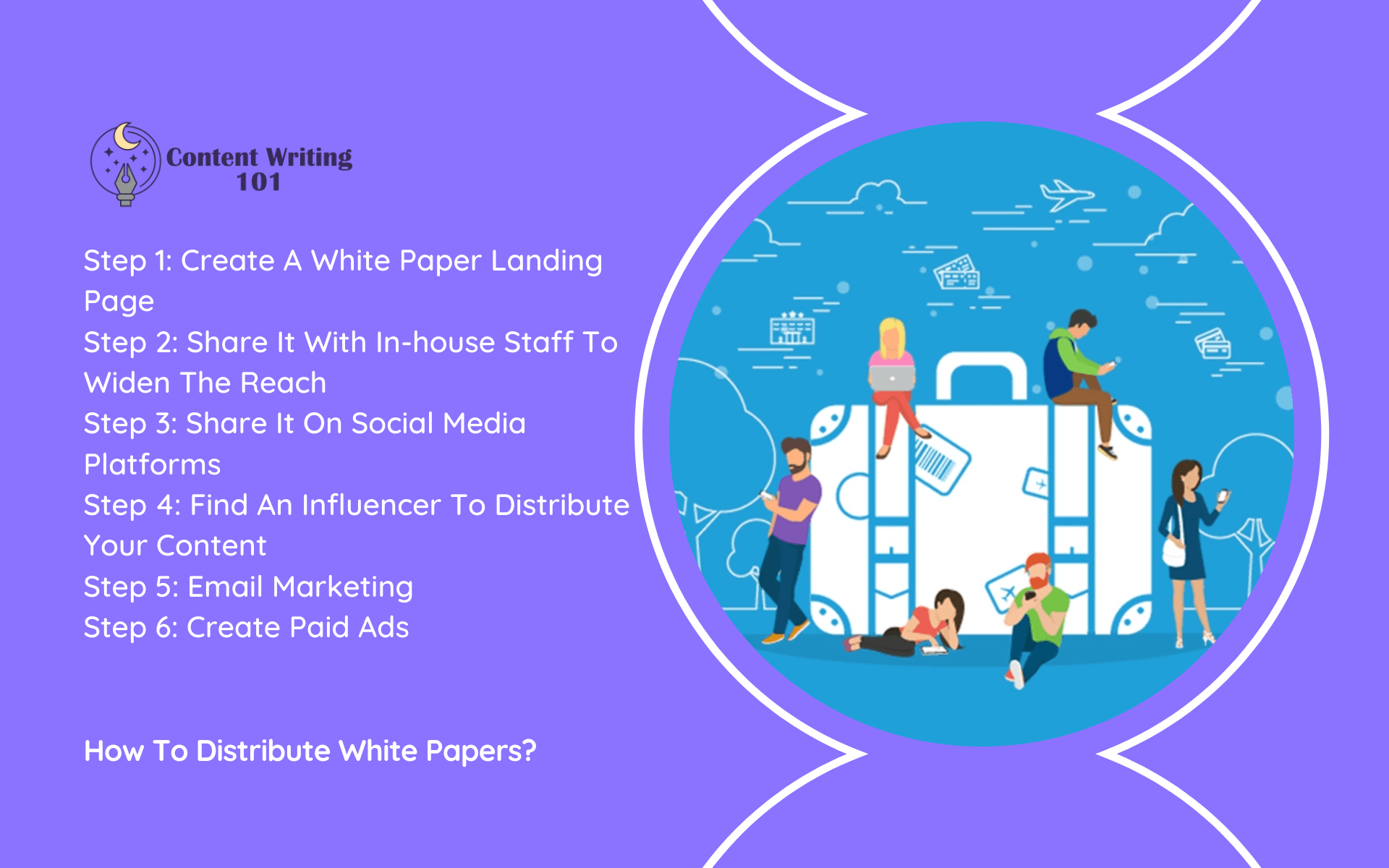 How to Repurpose A White Paper?
The goal of repurposing content is to reimagine it into a different kind of medium. For example, reimagining a blog post into an infographic. Your hard work can be repurposed to multiple platforms by repurposing different sections of white papers, such as:
Thoughts And Opinions To Create Newsletters
Content Under Subheadings Into Blog Posts
Stats And Facts Into Social Media Posts
Research Into A Video Case Study
You've learned the standard way of writing a white paper. But it's better safe than sorry.
While writing a white paper, there are some common errors that writers can't avoid. If any of these errors occur, a content piece that otherwise seems of high quality can easily be wasted. The following are some things you need to keep an eye on:
Mistakes To Avoid While Writing A White Paper
1. Don't Turn Your Whitepaper Into A Sales Pitch
Your readers will immediately become bored if you turn your white paper into a sales pitch. It is best to create a white paper that aims to educate rather than to convince readers to buy your product.
2. Performing Inadequate research
The budget of a marketing team may not allow for the conduct of original research. On the other hand, highlighting a few statistics from the first page of search engine results will not suffice either.
It may take a lot of time to compile statistics and read through scholarly work, but the result is worth it.
3. Lack Of Storytelling
No matter how deep your findings and stats are, a reader is likely to leave midway if you don't hook them up with a story.
Follow the 3-Act structure of storytelling in each and every argument. This type of structure begins with a problem, examines a solution, and concludes with a success story that makes the story more engaging.
4. Lack Of Real-life Explanation To Research Theories
Since most white papers involve sharing research findings, it can be easy to leave them there without describing how they can be applied in practice. Please don't do that.
Don't leave your theories open-ended. You only make a compelling story believable if you back it up with real-life details.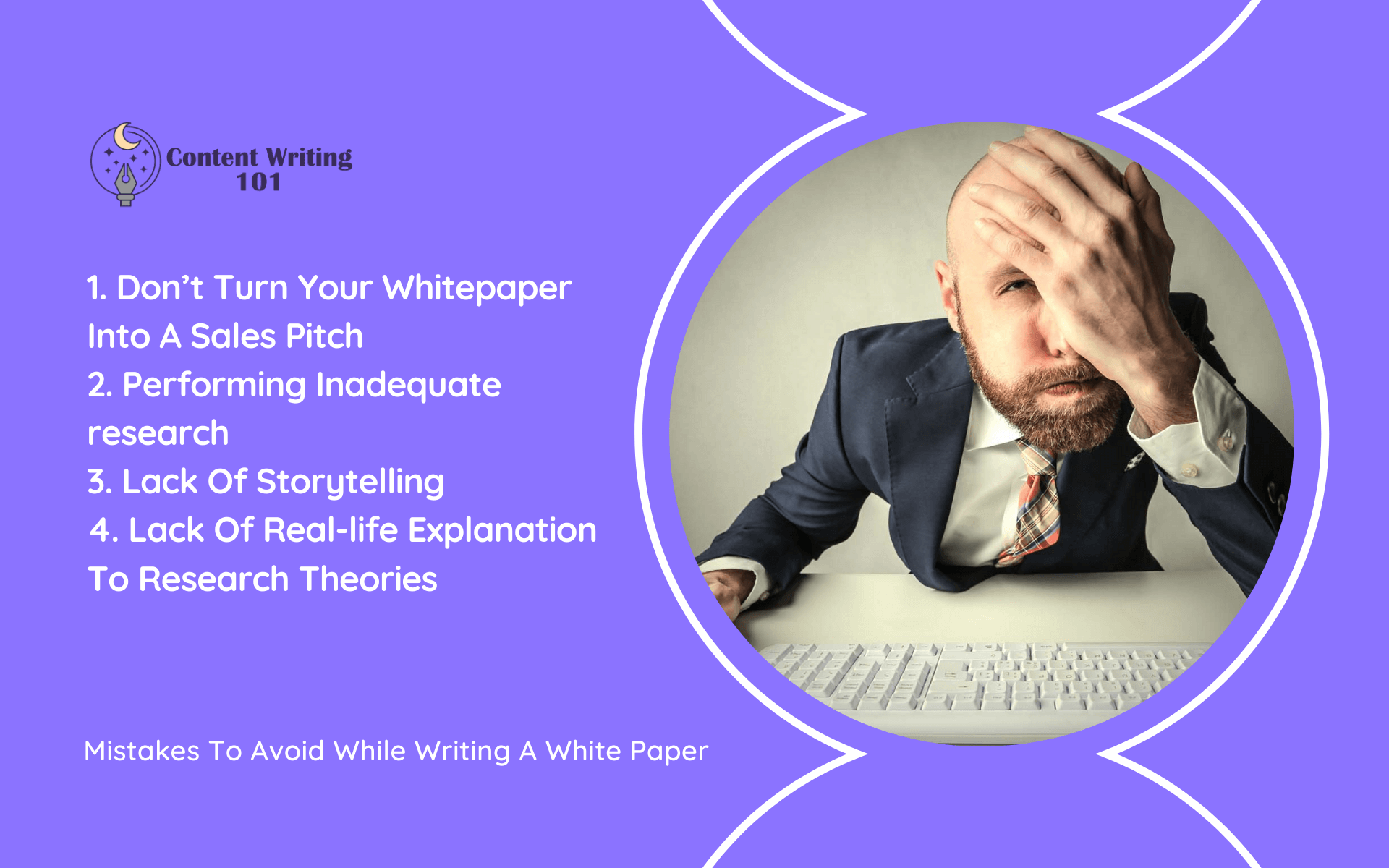 Buckle Up To Write, Write And Write Your White Paper!
You've made it!!!
Now you know white papers are not just blank sheets of paper (literally what I thought when I heard for the first time). Instead, they're part of a larger marketing ecosystem across all kinds of industries.
So, are you interested in writing white papers?
Whatever you need – Research, plan, format, design, distribute, repurpose your white paper content. All the steps are laid out here for you.
As you progress along the content writing journey, following these steps will help you meet your marketing goals and better equip you to write any form of content you choose. Learn How-To write other types of content
When did you first hear about White Paper? Let me know in the comments.