Your search for the perfect guide to help you write a newsletter ends here. Read on to learn everything you need to know about newsletters.
In my initial days, I always thought, "Emails, huh. Are people still using it!"
Thankfully, it was not until I wrote one for an influencer marketing campaign two years ago that I realized it is much more than just cranking a 200-word letter.
See, you're not the only one to gag over the idea of writing emails. It seems easy and outdated, isn't it?
Like who in the seven heavens would care to read your mail, quite frankly, even I don't open too many of them. So, how come it became the most incredible marketing tactic?
Yes, the coolest. Don't believe me? Let me throw you some facts here.
In 2020, the email marketing industry was valued at $7.5 billion, and it is anticipated to shoot up to $17.9 billion by 2027. That's not just a statistic showcasing emails as major marketing weaponry. It's social proof that amidst the social media bandwagon, emails still exist.
Though everyone's familiar with emails, do you know many entrepreneurs struggle with writing newsletters? It's uncanny but true. Email marketing is not simple. It takes a lot to make it to the inbox of your customer and get them to open your mail.
The Right Way To Create Email Newsletters
There's a preconceived notion that emails have to be short and catchy, which is the right way. But trust me, the shorter the content, the harder it gets to write it down.
So, today we're going to learn about this correct method a little differently. We'll understand the Whys, the Whats, and the Hows of the newsletter in a short bit, but before we move further, let me ask you a little question:
Have you ever volunteered or been asked to write a "clickbait" newsletter? If yes, how was the experience? Tell me in the comments below.
I had a harrowing experience at first. It took me a long time to figure out how emails worked. They seemed simple, but they weren't. Over time, the process became comforting. Trust me, when you see those numbers creeping up, it becomes more fun.
If you're new, I promise you'll learn as much as possible from this article. So, while you're reading, I urge you to jot down your doubts as you read on. We have a Facebook Community Page which you can join and post your doubts there. We'll have a hearty discussion and clear them all out.
So, let's get going.
What Is A Newsletter?
Newsletters are valuable pieces of content that contain stories, information, announcements, promotions, and other interesting content.
Businesses use newsletters to drive traffic to their website, drive sales and grow relationships with customers. This is called email marketing.
According to experts, email marketing generates a 4200% return on investment. It's huge, right?
But that's not the only special thing about emails. There are many benefits of email marketing.
Let's take a look at them one-by-one: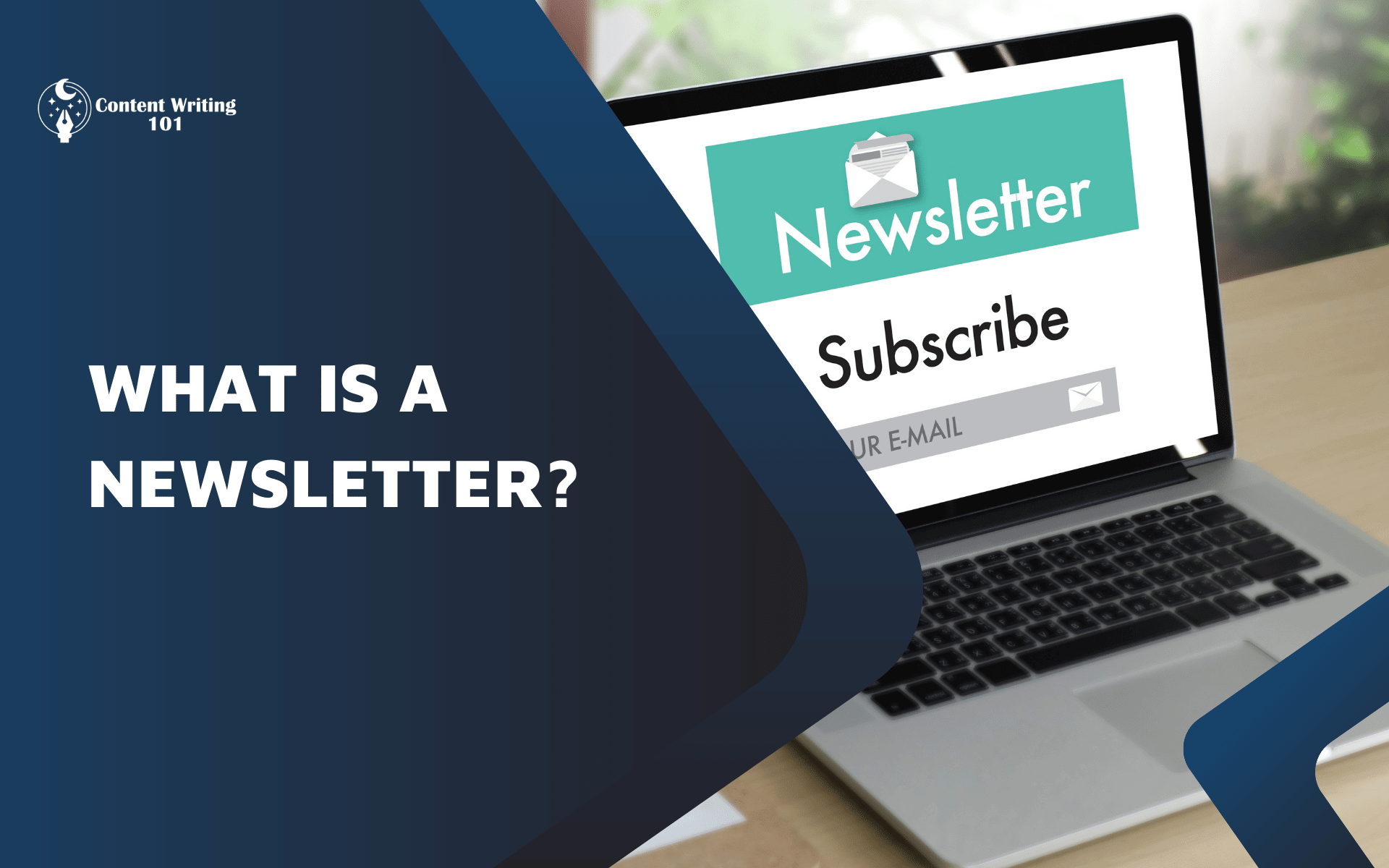 Benefits Of Email Marketing – Why You Should Send Out A Newsletter
1. Cost-effective
In addition, email marketing is also cost-effective in comparison with traditional marketing. A study by McKinsey & Company suggests email marketing is up to 40 times better than social media. The study also shows that purchasing happens three times faster in emails than in social media.
In other words, you can utilize email marketing tactics to launch your business into space.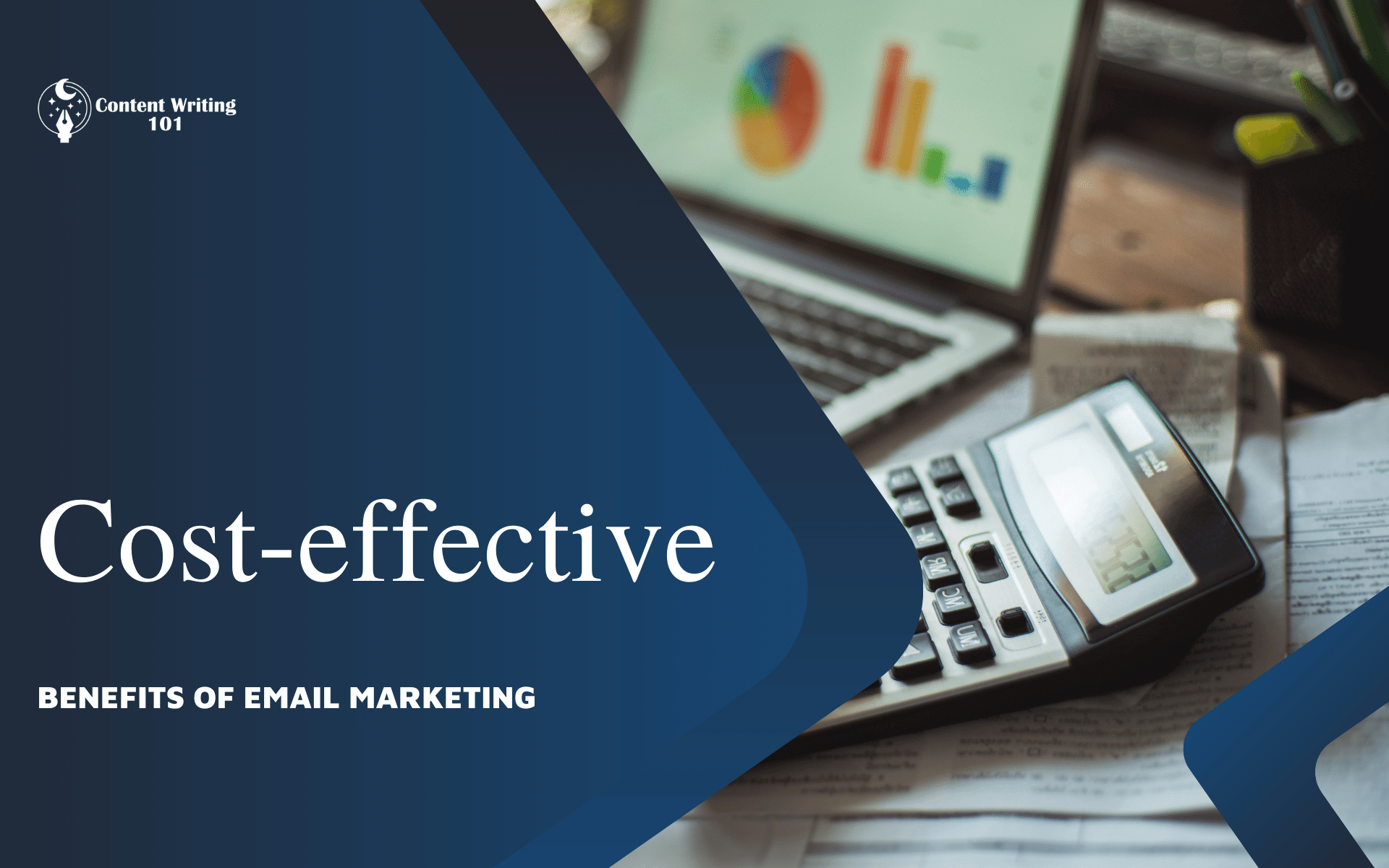 2. Ability To Personalised Content
It is a great way to leverage personalized content to grow your business. No wonder 87% of marketers use emails for advertising their content. Therefore, if you're a marketer who wants to forge relationships with customers, emails are the way to go.
3. Improves customer experience
When subscribers engage with your content, you can use those metrics to gauge your content marketing strategies.
How Many People Opened Your Mail And
Click Through Rate On Your Mail,
How Many Reached Out Your Website Through Newsletter
These are some of the key indicators that can help you improve the reader's experience.
4. Person-to-person Interaction
Imagine getting an email from a brand you love. Wouldn't you be interested in reading what's inside?
Influencers have become who they are today thanks to this idea. They use emails to interact with their followers. People love to interact when they believe the business cares about them.
The bonding will help you to generate leads from scratch. Also, this interaction encourages people to share the content with their friends.
5. Drives Sales At The Cost Of Haystack!
The nature of email marketing is such that you can earn a lot at the cost of a dime. There is no need to pay for the print, postage, advertising, or any other expenses.
It is thus the best way to automate your sales cycle. When customers subscribe to your mail, they're already into your content. You just need to tempt them to purchase something at an extra discount or for free if they're new to your list.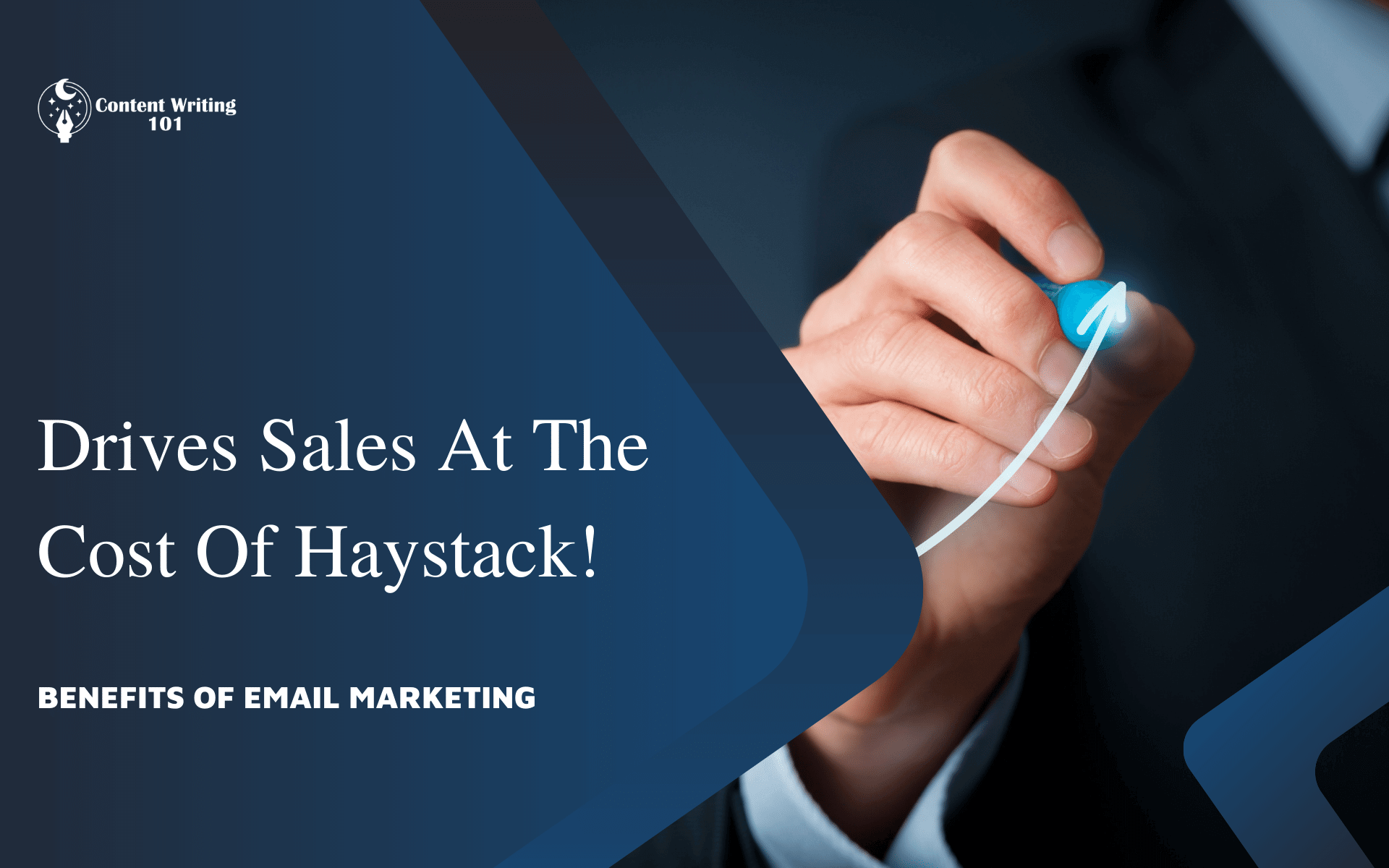 6. Drives More Traffic To Your Website Or Social Media
What would you like your customers to experience when they visit your website? Is there any new product you are offering? If yes, then how would you call them out?
A newsletter can be one of the most effective ways to increase traffic to your website and social media. You can add buttons that link to your website, Spotify podcast, YouTube channel, or Instagram handle.
Newsletters should also provide connections outside of email. Once you become valuable, readers will want to socialize. What better way to do this than to utilize social media?
7. Builds Brand Recognition
This goes without saying that personalized emails improve your brand recognition.
Have you seen Swiggy, Uber, or other companies send exquisitely curated emails to their customers?
Such emails contain relevant information, new offers, exciting coupon discounts, or just an informal heads up to check their app. Wouldn't it be worth it to follow these footsteps and create catchy email newsletters for your small business?
So, as you saw, email newsletters are a top-of-the-line tool to create a buzz within the audience. Do you also want to write unique newsletters? Here are the elements that make up a newsletter.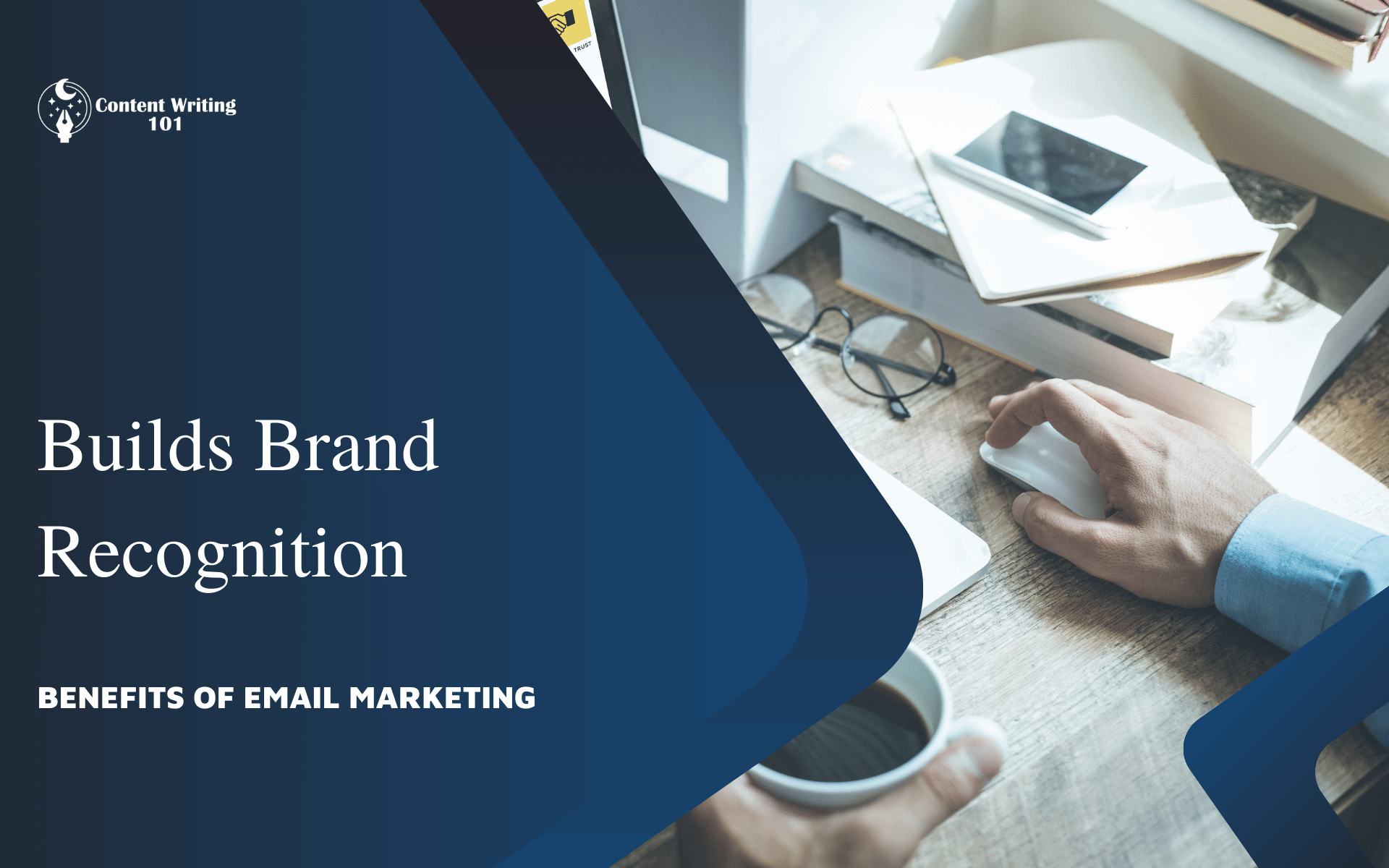 Elements Of A Good Email Newsletter
1. Subject Lines: The Trump Card
This is what the reader sees first. Therefore, the subject line must be impeccable without any excuse. Subject lines can make or break the whole campaign. They have to be right on the money. If they're boring, there's no reason to open them.
One of the best methods is to address the recipient by their first name. Even a "Hey Judy" can work wonders for you. The reason is simple. When you call someone by their name, it sparks awareness and makes them more attached to your message.
Writing names also helps you stand apart from the copy-pasted newsletters. Here is an example where an outreach program contacted its subscribers using this tactic-
"John, Can you represent us at Stephens University?"
Now, Stephens University happens to be John's alma mater. Wasn't it cool how they utilized a bit of research to create a personal connection? The reader will certainly want to at least open and read the mail.
Another good way to write good subject lines is by reviewing good newsletters. Keep a spreadsheet file to record those impactful subject lines or any copy that is relevant. They'd be your tiny "ideas pack." You can use these for brainstorming and create something unique.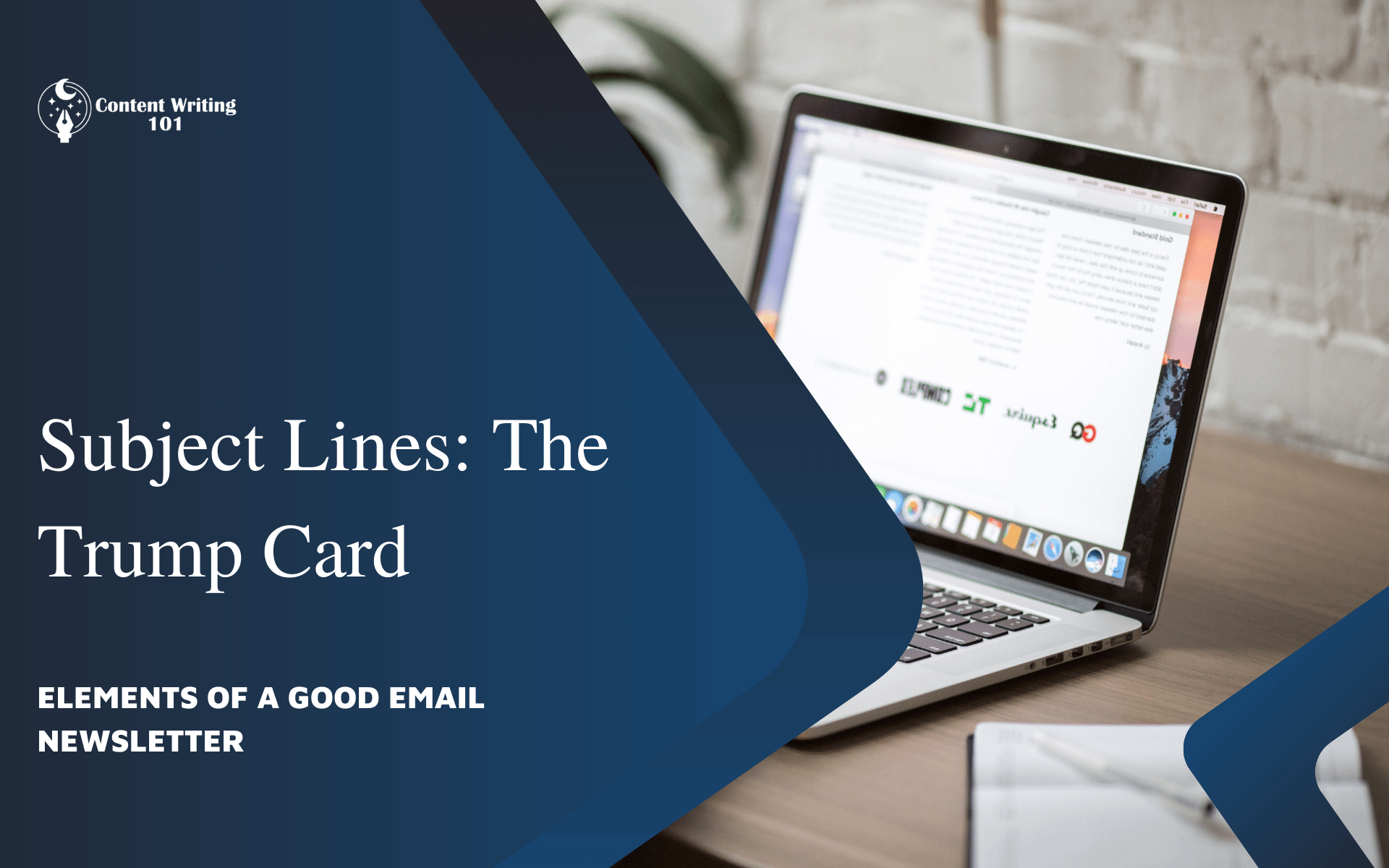 2. An Engaging Preheader Copy
After the subject line, the next thing that readers will come across is a subheading or a preheader. Make sure you tease them a little more along with the headline. This gives you an outside chance to stand apart from all the inbox noise.
A preheader acts as the bridge between your subject line and the content. So keep it as simple and relatable as you can.
Take this for example:
"Learn it Right" gives you another chance to break into its free training courses."
It's simple and worth skimming i.e, readers will be tempted to scroll down. So, make it as concise as possible, approximately 70 characters.
3. Top Stories Or Featured Content
What's that one awesome piece of content that you'd like everyone to read?
Use this content to feature at the top of your newsletter. It not only builds curiosity but also helps you drag visitors to the website straightaway.
Narrow down your options until you filter down that one must-read content. This concept is very common in newspapers. The big headlines you see are the most newsworthy. As a result, they make the top of the page. The same goes for your subscribers who will want to read something worthwhile upfront.
This featured content provides them with an early peek into your content library. Also, it's a good practice to analyze your best work every now and then.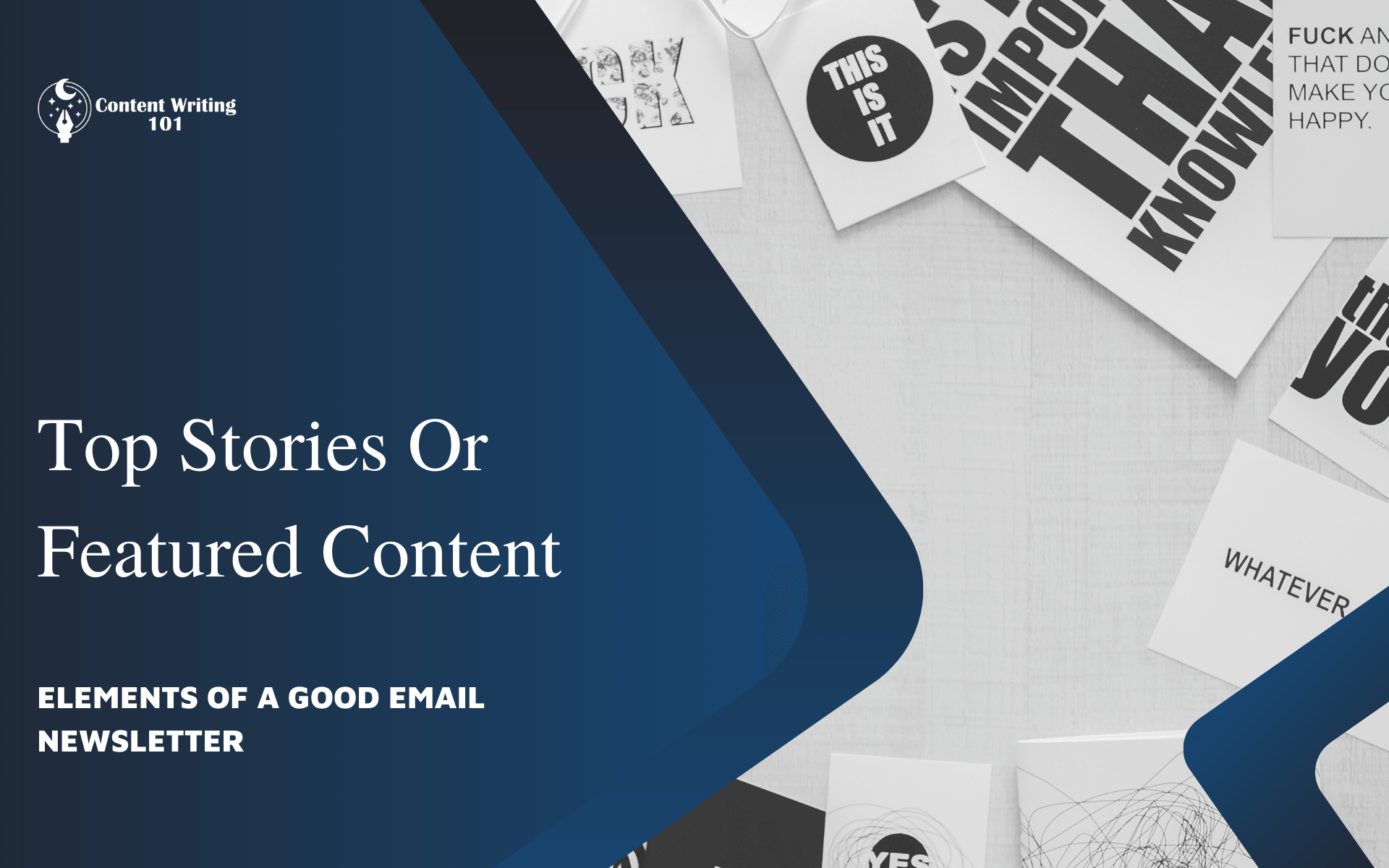 4. Use Graphics And Images
Your newsletter needs more than just text. It should be something that the readers can relate to from a distance.
This generational transition in content marketing is fueled by visuals. In newsletters, it's even more important to hook recipients with relevant visuals. You can try memes, short videos, or GIFs to pull them into reading your newsletter. The key is mixing up the visuals along with the text.
The caveat is to avoid using blurry images that could hamper the appearance. There's nothing more disgraceful than a low-quality image that does not embed properly within the content. As a result, it hampers the reading experience.
You must use clear, crisp, high-resolution images that serve a purpose in your newsletter.
5. Use Scannable Layout- Blocks, Zig-zag, Inverted Pyramid, Etc
Have you seen the layout of a newspaper?
It has a block-by-block pattern that displays content under different blocks-big or small.
Similarly, you can use blocks to organize your newsletter content. This not only improves readability but helps the reader discover important topics.
An organized layout provides a direction to the reader. Do you read the newspaper thoroughly or skim through the headlines?
Even if you do read thoroughly, your eyes don't tire out because of the pattern. Now, you get why patterns are important. Even magazines, ebooks apply the same tactic—all for improving the reader's experience.
Along with blocks, you can also try out other email layouts like the inverted pyramid or the zig-zag method to make it more attractive.
The key to these layouts is to come straight with the most important information at the top and then follow up with extra details down the line.
You have to take the structural constraints into account for email marketing. Because the attention span of your subscribers largely depends on your layout.
6. Include Titles And Descriptions For Each Type Of Content
This is similar to why we use subject lines in our emails. The same way a subject line pulls you into the Inbox, titles, and descriptions do the same.
Let me be honest. People don't read all your content. Sometimes, it's the title that gets your content the desired attention. Therefore, each piece of your content must include a title and a one-sentence description.
The description helps the reader get a bird's eye view of the theme of the content. It makes your content more noticeable to the reader.
7. Strong And Prominent Call-to-actions
A killer Call-To-Action gets the customer closer to purchasing your product. Without this, you can't expect your reader to become your customer.
It's incredible how CTAs play with the human mind. People want directions. Rather than thinking for ourselves, we like it when someone tells us what to do.
By including a call to action, you can encourage the reader to take the next step (action) to your website, visit your social media, or go to any online portal where your products are listed for sale.
Some examples of the most effective call to action are:
Click Here To Open
Buy It Now
Don't Miss Out
Schedule A Meetup Today
Register Today
Now, these are not the only ones, but you'll get the idea. They're short, crisp, and action-oriented.
Also, make sure these CTAs are the most visible on the page. You can use contrasting colors to make the CTAs pop off the newsletter. Trust me. The design makes a huge difference.
Meanwhile, statistics love CTAs too. A research study shows that newsletters with CTAs led to a whopping 1600% increase in sales.
Yes, read that again.
It's a simple trick without any rocket science behind it. So, write clear and excellent CTAs to make your newsletter click-worthy.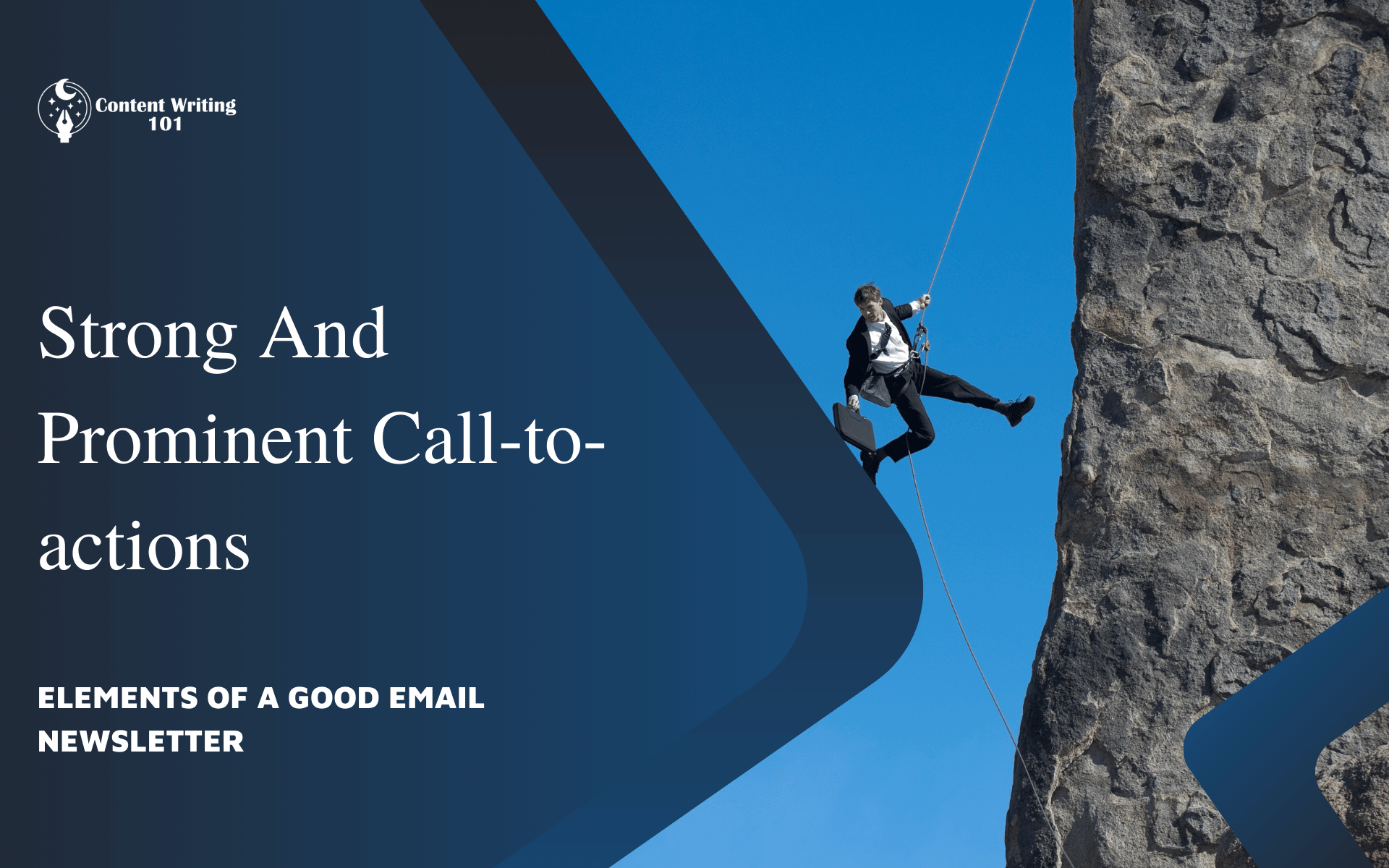 8. Use the 90:10 rule
There is a high chance your reader doesn't want to purchase your products or services at the moment. If they're your subscribers, they already are loyal customers. While they may need to see offers and discounts, you must also provide them with some relevant information.
If you provide good content, readers will be more inclined to purchase your products and services.
This is why you should divide your content as 90% informational and 10% promotional. Don't send promotional content unless you have some big announcements, exciting offers, or some important company news share.
The informational content serves as the glue in your sales cycle. It keeps the customers waiting for the big surprise.
9. Lead Them With Links
You don't just want to leave them hanging within the newsletter. You have to lead them somewhere. To ensure readers stay updated on the progress of your campaigns, you must also provide a link to your social media handles. The social icons on your newsletter must be visually appealing, so it is easy for the subscribers to follow you. You can also send them to a landing page, a product, or anyplace else where you wish to drive traffic.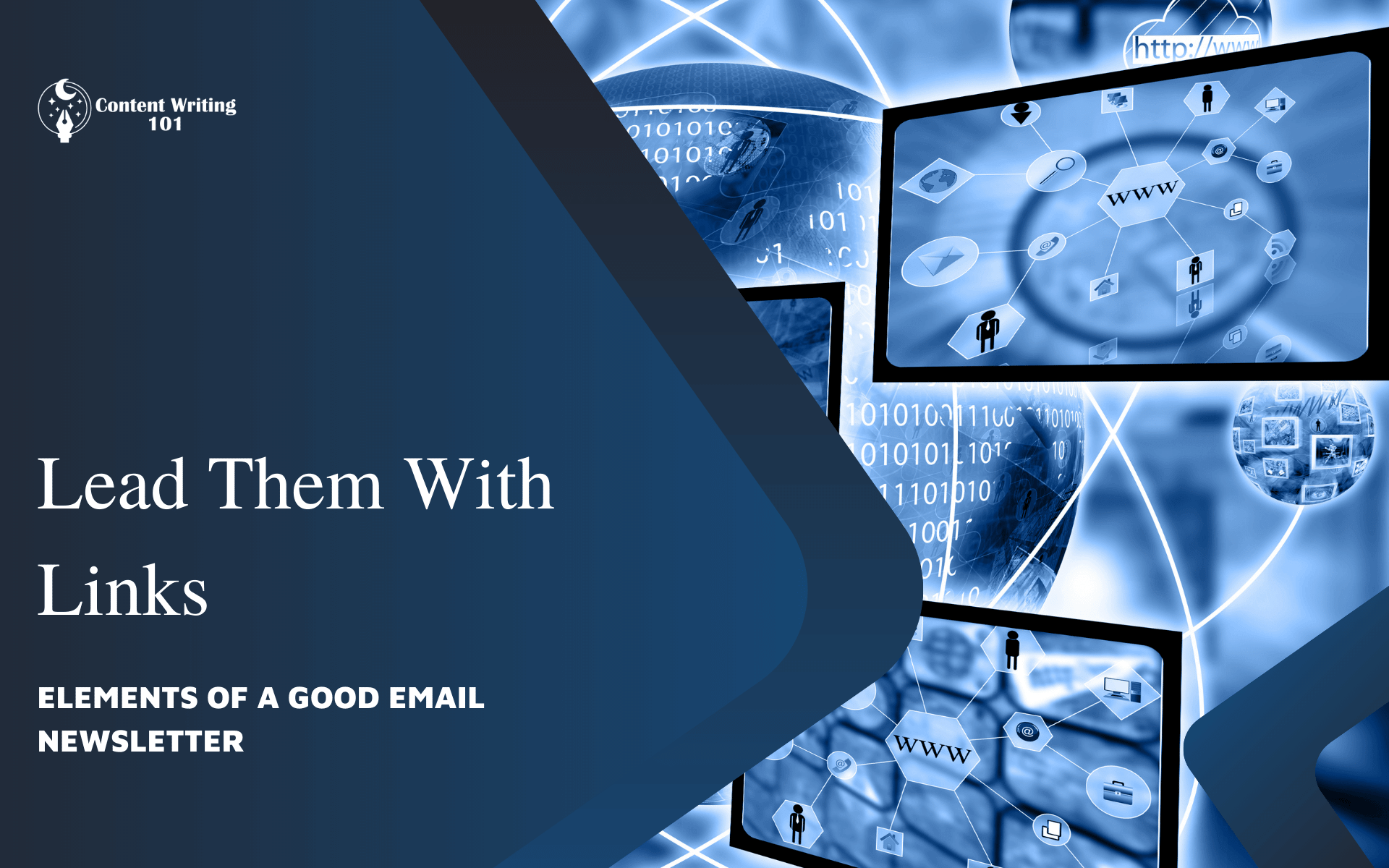 10. Use A Checklist
Your subscribers don't want to read everything you send. So, it might be wise just to ask them what type of content they'd like, how often they would like to receive emails, what they like or dislike about your product and many more.
Here, a checklist helps you personalize the user experience. Let the users tell you what works for them. This way, you build loyalty among the audience.
Who knows, you might even get a thank you note from your readers if you follow this practice!
11. Unsubscribe Option
As part of the new rules and regulations, You must provide your subscribers with an option to opt out of receiving future newsletters.
You have to include this in the footer of your newsletter. Also, you have to make it clear that they won't be receiving any more emails in the future.
Check out this message I received from Stage 32, a creative writing platform while writing this article:
Look how polite it is. It's about acknowledging your reader's patience and gently asking them if they want to continue or not.
It's a healthy practice to take care of your readers, isn't it?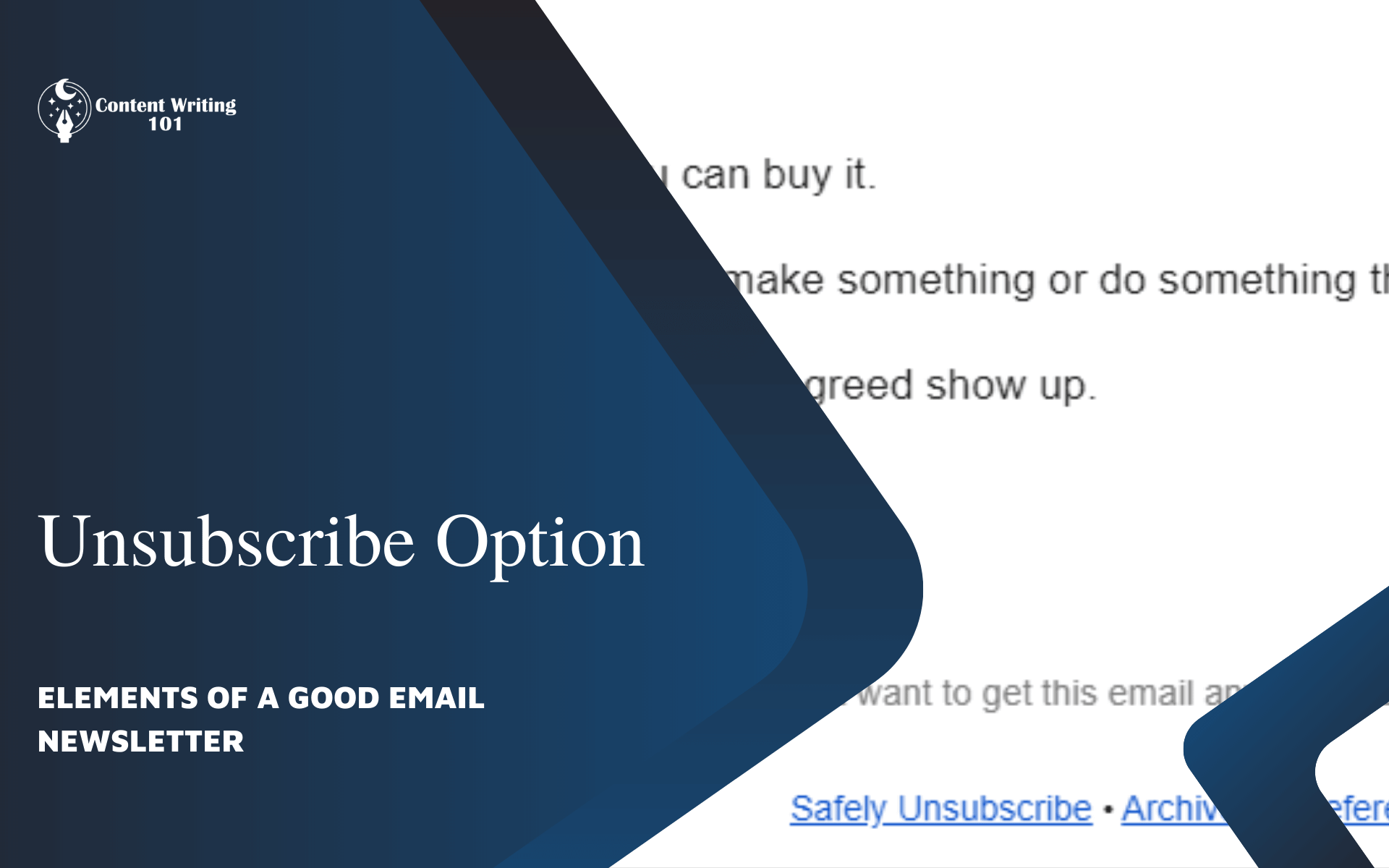 How To Create An Impact With Your Newsletter?
Now that you've all the tools in your pocket, it's time you learn some key pointers to carve out an effective newsletter. First, let's talk about what you, as a writer, can do to make it work. Then we'll take the customer's point of view:
A. From A Writer's Standpoint
1. Decide On A Specific Topic
You don't want to sound all over the place with your newsletter. Often companies get repetitive with their content. And that spoils the overall messaging.
So, narrow down on a specific topic you want to talk about. Some options that you may consider for newsletter ideas:
– A new content you created (Youtube video, blogs, infographics, podcasts, etc.)
– Some projects you're working on. Giving them a heads up about your progress or simply asking them for some suggestions can never be a turn-off.
– Customer reviews & success stories
– New product launch
– Monthly round-ups
– Recent surveys conducted at your company
– Behind-the-scenes videos and content from your company
– Quotes
– Informative content (best practices, listicles, etc.)
Once you've zoned in on your topic, it's time to craft a story.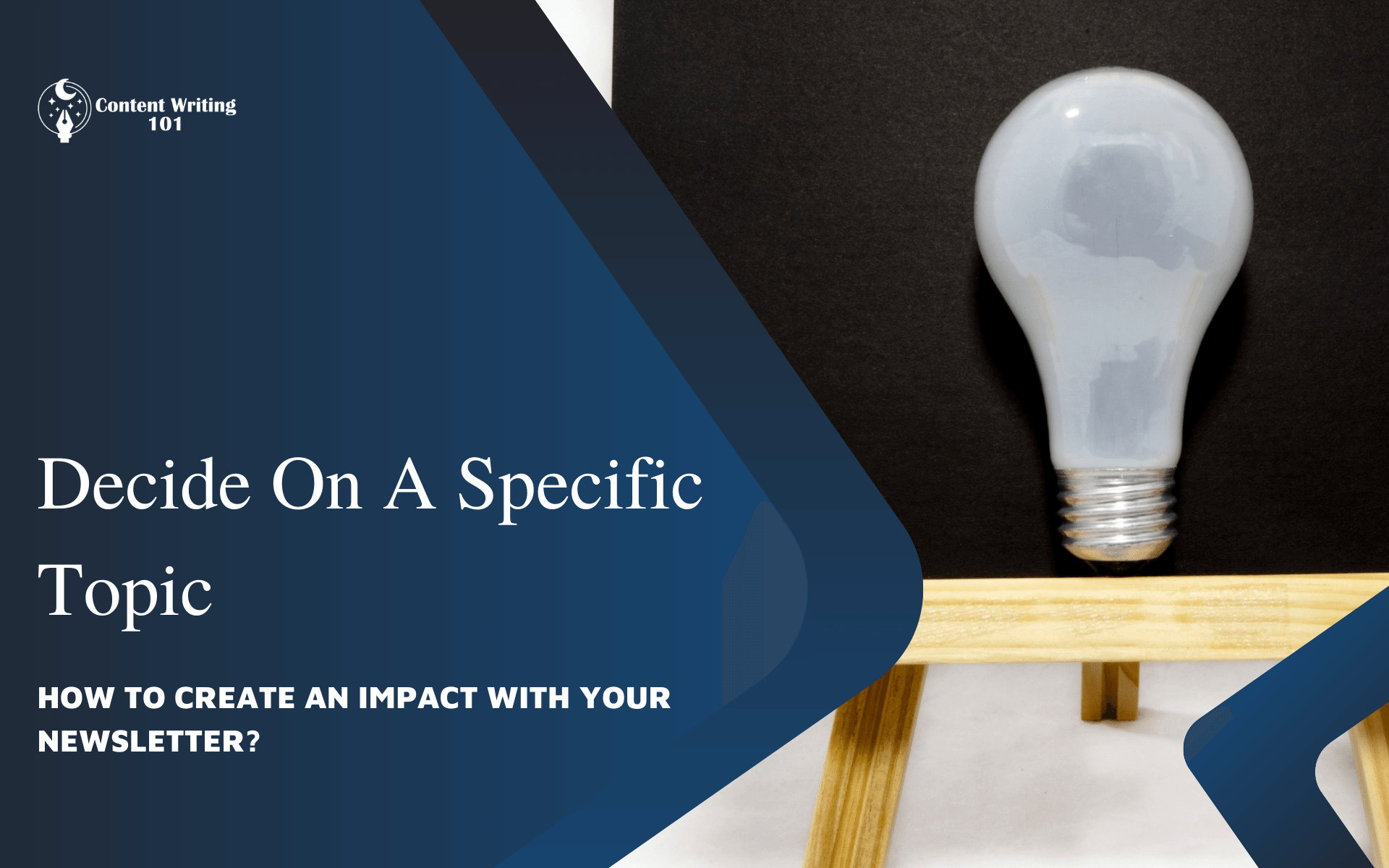 2. Tell A Story
Storytelling is an evergreen tool for any type of communication. By stories, I don't mean life stories. People don't care much about life stories. They just want their pain points to be addressed.
I know it's harsh but true.
I'm talking about telling a story that is relevant to the situation. Prepare a great hook. It could be anything related to your customer reviews or the success stories.
You have to play with the reader's mind. It's part of human psychology to hear stories. But at the same time, don't make the story all about you. Ask yourself: If someone sent me this mail, would I read it?
Your story must have some common objective i.e, to provide value to the customers. I know I'm blabbering this every second line, but it's true that it's a golden tactic to appease your customer base.
3. Keep The Story Short And Simple
On average, an American receives 130 emails per day. Clearly, nobody has the time to open and read a long story.
So, keep your emails short and crisp. Use bulleted lists and margins to convey your point. Avoid using more than 5-6 sentences in your email. The shorter, the better.
This way, you're doing yourself and the readers a huge favor. The time you save from creating short emails allows you to focus on distribution.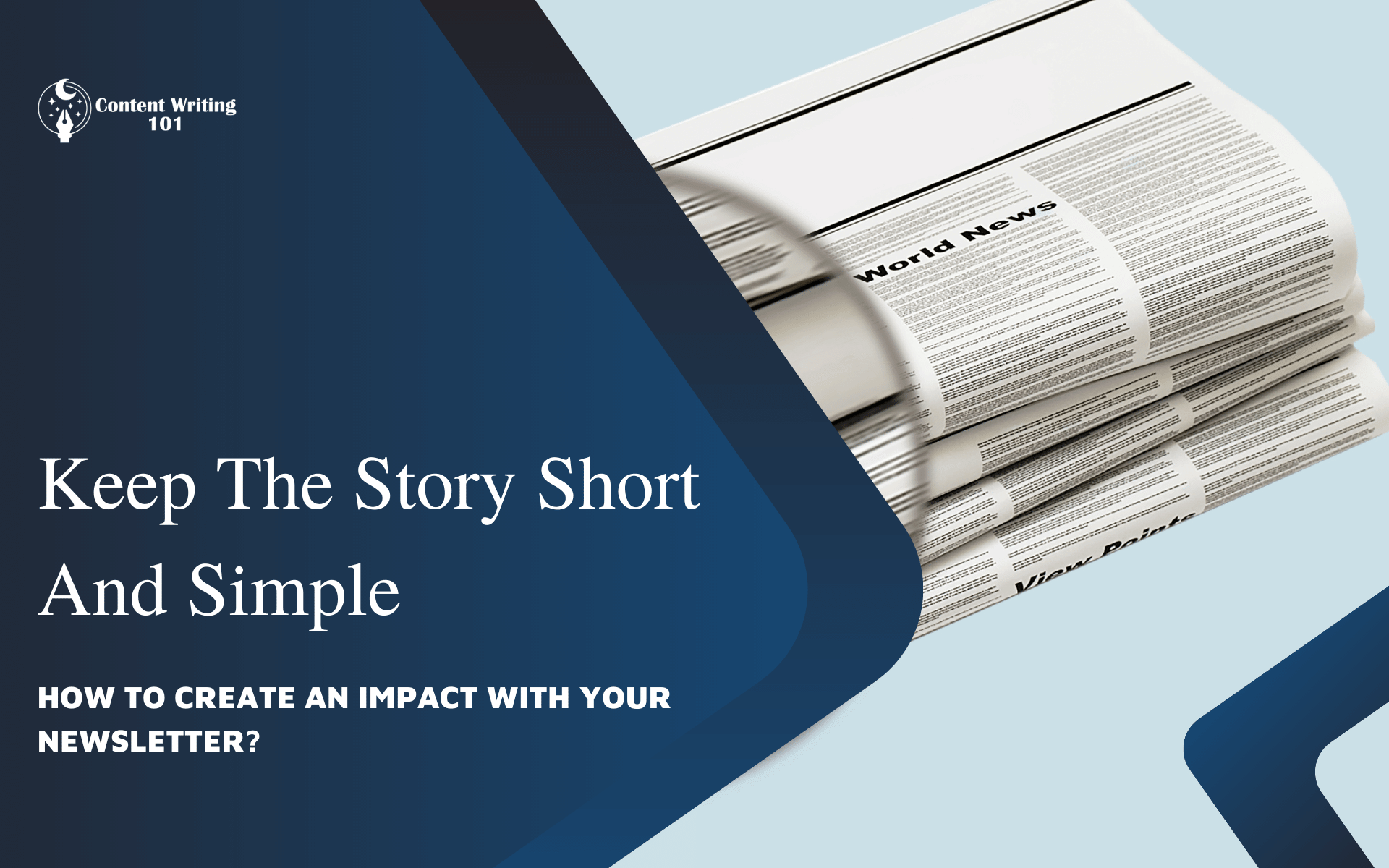 4. Be Consistent
How often will you send your newsletters? Daily, weekly or monthly. All are good, depending on how often your subscribers prefer to consume if they like to open your mail daily. Great! Send them every Saturday if they like it every two weeks or monthly, awesome. Send them accordingly.
You must figure out a schedule and stick to it religiously.
Research says it's a good practice to send an email daily or every other day. But in the end, it all comes down to what works for you the best. So, try experimenting with all types of frequencies- daily, alternate, weekly and monthly. You can even ask your audience for suggestions regarding the schedule.
This can help you get a perfect idea. Additionally, once a pattern is established, you can always involve your audience for further suggestions or changes.
5. Write To An Ideal Reader.
Write as if you're reading it out to a friend. This will help you make the content more relatable and conversational.
Reading it out aloud is the best editing practice. Whoever it may be – you reading out to yourself or to your friends, the purpose is clear – To make it specific and personal for the reader.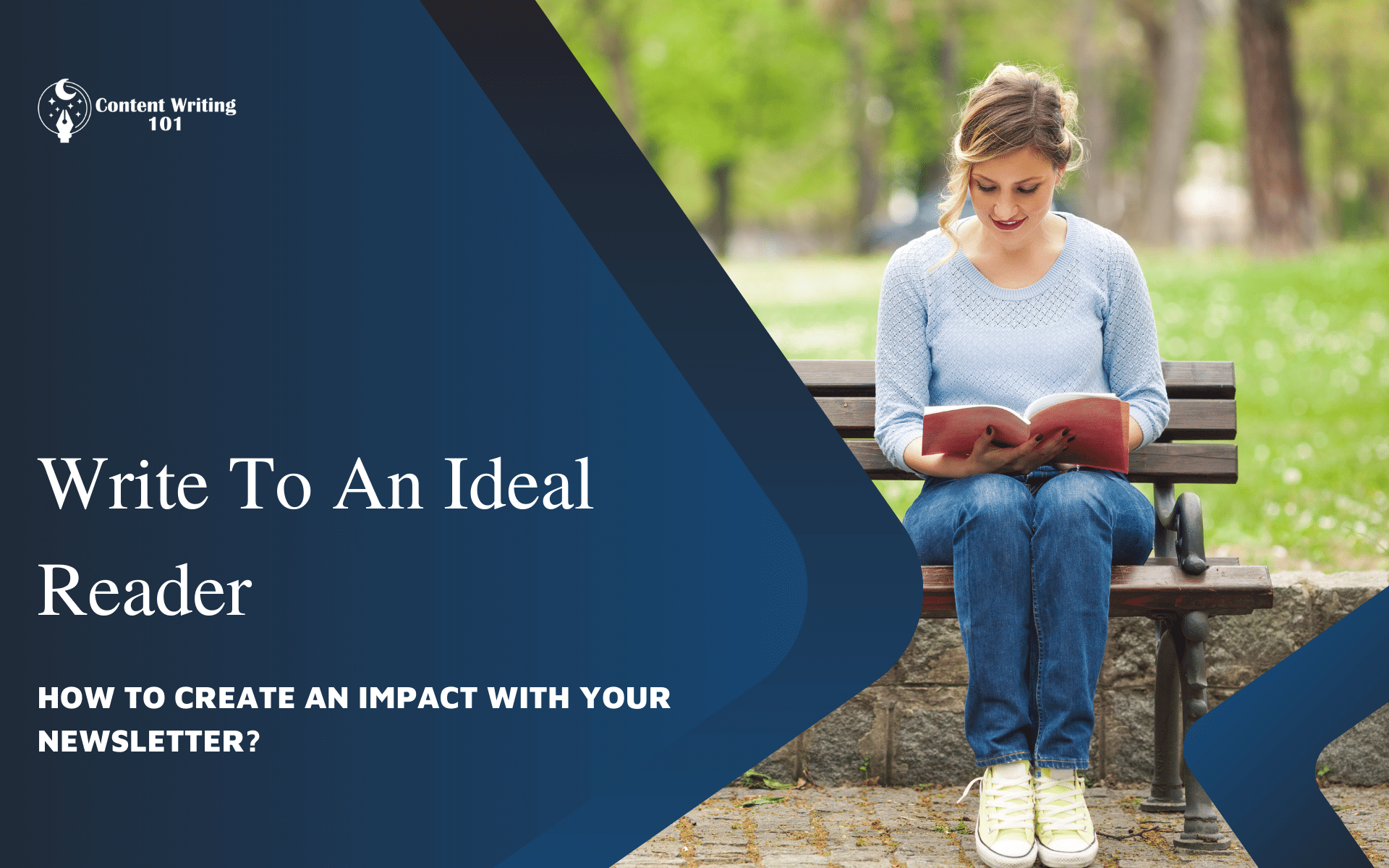 From A Subscriber Standpoint: How To Get The Subscribers To Love Your Email Newsletter?
1. Ask People To Sign Up
Now that you know a little about human psychology, you'd understand why we need to ask people to take action. Because we all love directions. When you ask them to sign up for your mail, it creates an actionable impact on the reader.
Writers and small businesses often don't like to get out of their bubble. While they think asking is more of a pestering activity, readers tend to like it.
A simple "Sign up to the newsletter" can work if done in a "non-salesman-like" manner.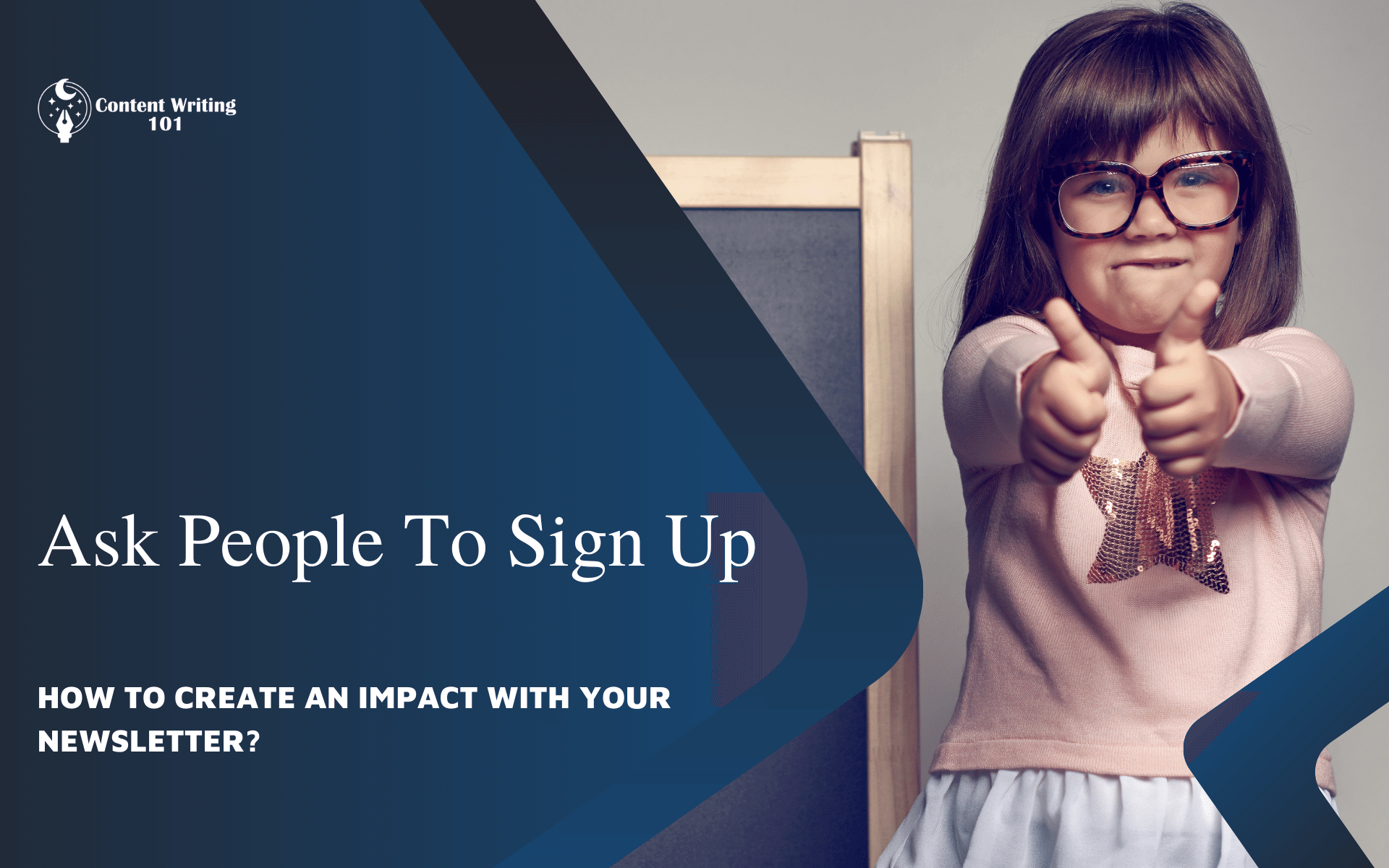 2. Offer Them Incentives
Quite frankly, no one will read your newsletter if you don't have something to offer. People want valuable content, service or product.
So, you have to give them something to hold onto like discounts, free trials, free sign-ups or a social media feature. And if you have planned for something, let them know beforehand.
It takes an open-line communication style to set the tone for a great reader experience. As a result, the audience remains intrigued while you gain constant traffic.
Remember, it's the intent to provide value that matters.
3. Optimize For Mobiles
A study by SuperOffice revealed that approximately one in five email campaigns are not optimized for mobile devices.
But, what's the need to optimize your email for mobiles? You must have heard marketers talk about "how to make emails look good for mobiles." Why? What's the big reason?
Well, answer this question first. What's the first thing you do when you wake up? If it's not a smartphone, keep your spirits up. But what about the rest of the world? About 80 percent of smartphone users check their mobile phones within 15 minutes of waking up each morning, reports a study from IDC. That's how we live these days.
Strange, but we have to adjust to this transition. Thus, it's very understandable why more than half of people check their emails on smartphones. And if the email is not fairly optimized, they simply delete it. Either the link gets grouped clumsily, or images don't load properly, resulting in a poor reading experience.
The good news is that we have the right method to deal with this problem now. Here are some of the best practices involved in mobile optimization:
– Use links and CTAs larger than 50-pixel range
– Use space between so that there isn't any accidental clicking
– Use services such as TinyPng or Photo Resizer to reduce your file size up to 70% without affecting quality.
– Use the "from" label, subject line, and the preheader text very cleverly. These are one of the first things a reader sees in an email. So, you have to make these words count.
Take these steps now, and very soon, your newsletters will start to look great on mobile phones. I hope I have laid down the basic steps, but if you feel there's more, feel free to add in. Spread your word!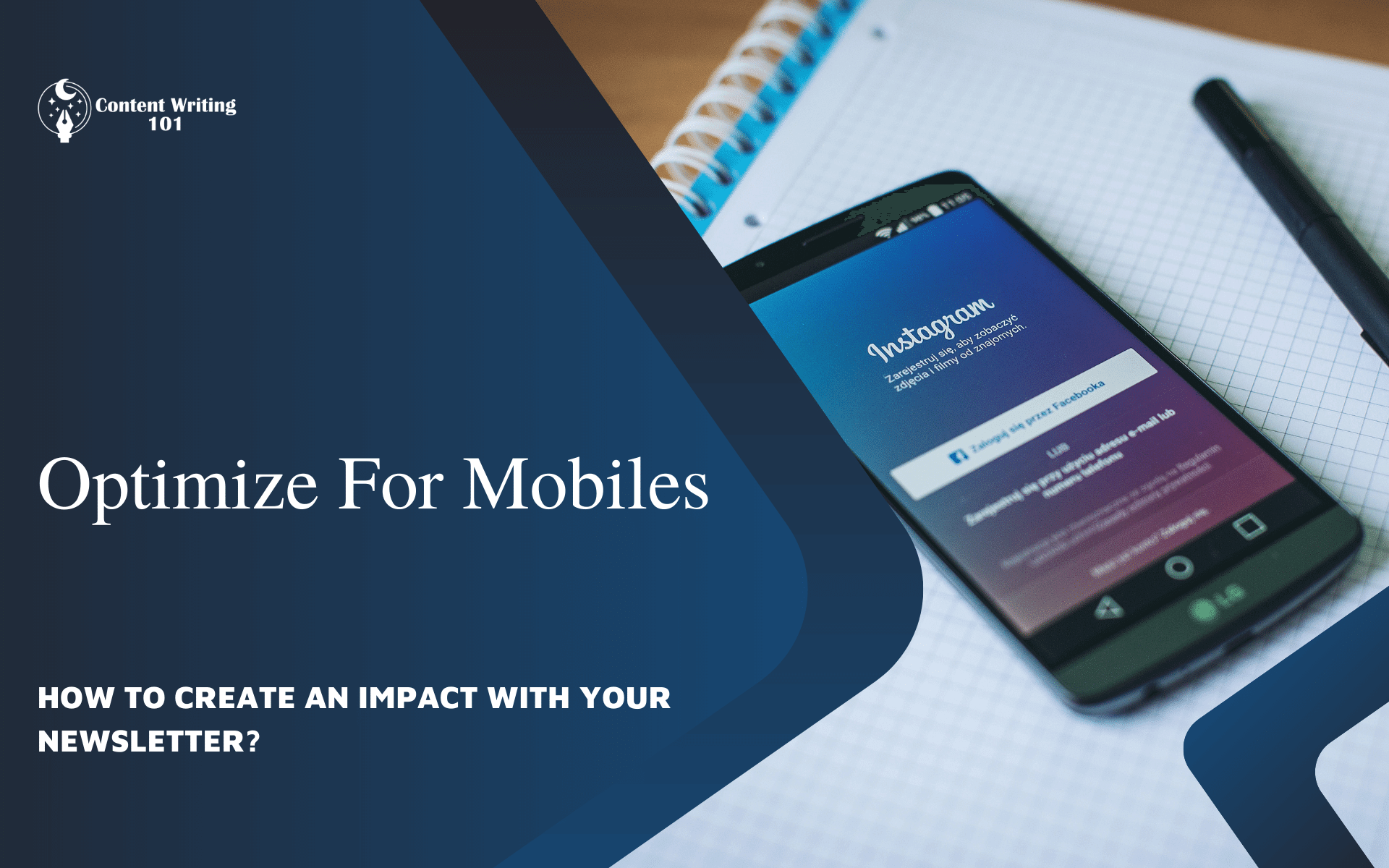 4. Utilize Segmentation Techniques
The segmentation technique refers to separating your subscribers into different segments or parts.
Let's suppose you conducted a survey where you found out about the user's preferences. Based on what they opt-in for, you can now send them personalized content respectively. For example, if someone opts in for some job-related content, you can send them articles about various courses, internship programs, or recent job postings.
As a result of what emails they open or which links they click, you can send them more emails about the topic they're interested in. This is called segmentation, and it works far better than non-segmented lists—the reason being a simplified reader experience.
So, make sure you put a little thought into your customer's preference and craft your emails in segments. Although it will take time, you will reap so many benefits.
5. Use A/B Subject Lines.
It's another name for Temporary or Extra subject lines. A second email could be sent to a similar set of customer segments with an additional subject line so that you can assess which of the two emails was more successful.
It's more about experimenting with multiple subject lines in tandem. So, make sure you have created a list of at least a dozen subject lines from different sources. Pick two at a time and let them play out.
This practice improves your subject line writing. This results in a better understanding of your subscriber's likeability. As a result, knowing your audience will result in more impactful content.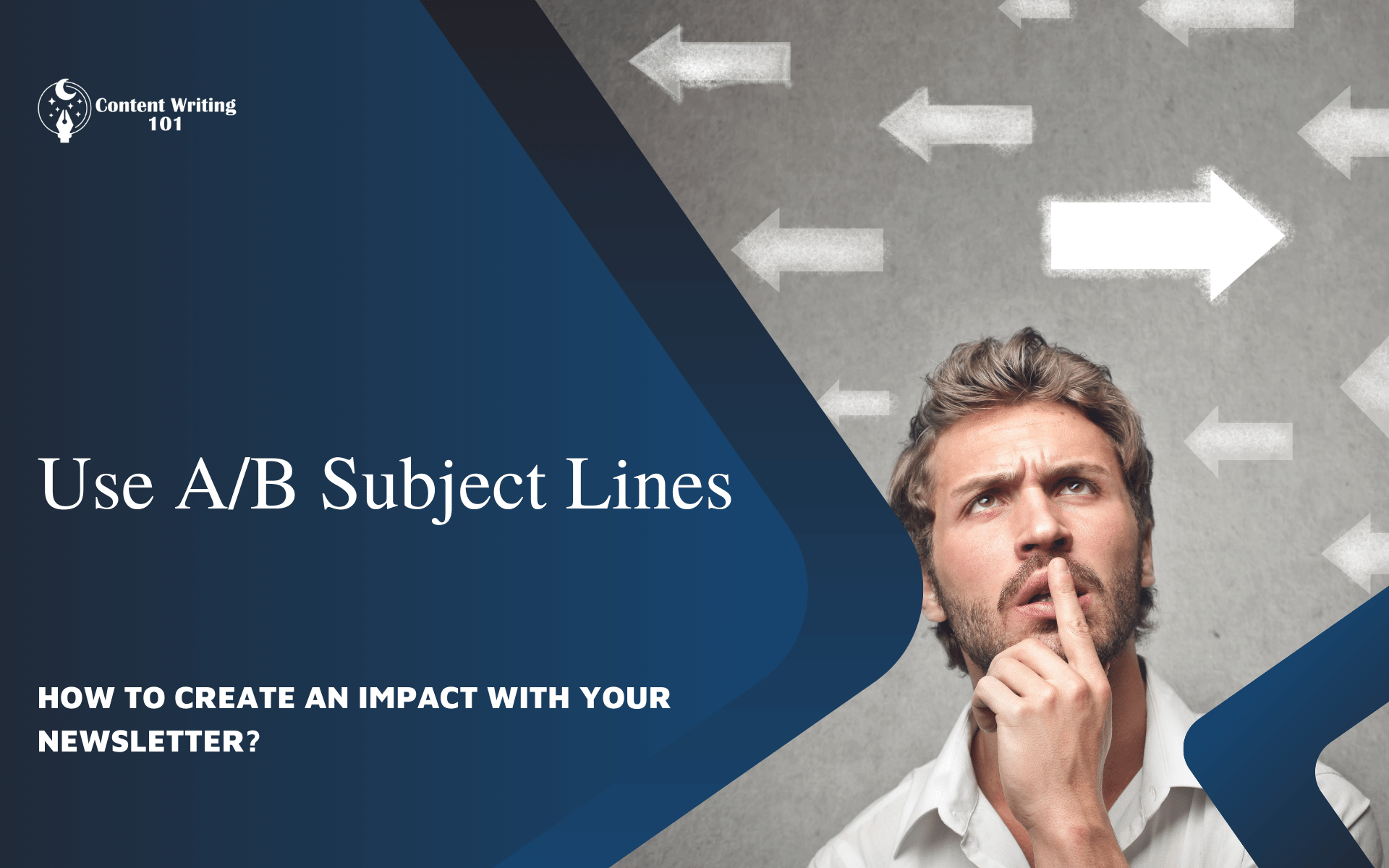 6. Keep The Design Simple.
A newsletter can easily look cluttered if it lacks harmony in its design. The lack of whitespace and jarring colors make it unbearable for the reader to look into.
Every designer needs white space. Whitespace makes the design uncluttered and easy to skim. While designing anything, make whitespace your best friend.
Another significant aspect is the coloring. Make sure the CTAs are brightly colored. They should appeal to the reader in one go. Try as many different combinations as you can until the perfect one rings in for you.
The purpose is to keep the design natural. Now, don't worry if you don't know enough about designs. Tools like Canva offer free tutorials to beginners where you can learn the basic techniques of designing.
And trust me, designing is fun. Once you start going, there's no way back!
What Is The Best Place To Create A Newsletter?
A big shout out to the internet. You can create anything for free. Beginners can easily experiment with so many free tools available.
Below, I have shared a list of 10 softwares where you can create and get your newsletter up and running in a flash:
Canva
Venngage
ZURB Ink
99designs
MailChimp
Stampa (via Litmus)
Campaign Monitor
Email on Acid
ActiveCampaign
CakeMail.
Now, here's how you can create newsletters using these tools:
Sign up with your email address, Facebook account, or Google account.
Choose the best template. You can browse and choose from a wide range of newsletter themes.
Check out the features.
Add some personal touch to your design.
Publish and share.
Yes, it's that simple. Get your hands dirty and start creating.
Where To Find The Best Newsletter Writers For Hire?
A newsletter is one surefire way to build your audience. Once you start hitting those numbers and people start pouring in, you'll realize how much fun emailing can be.
The content marketing efforts can be cumbersome. You may not get the time to create your newsletters though it's something you'd enjoy learning. Constraints are inevitable, so it's best to outsource in that case.
There are many platforms where you can find newsletter writers. The best writers can be found on agency.contentwriting101.com
Other places where you can find newsletter writers including – Fiverr, Upwork, freelancer, etc.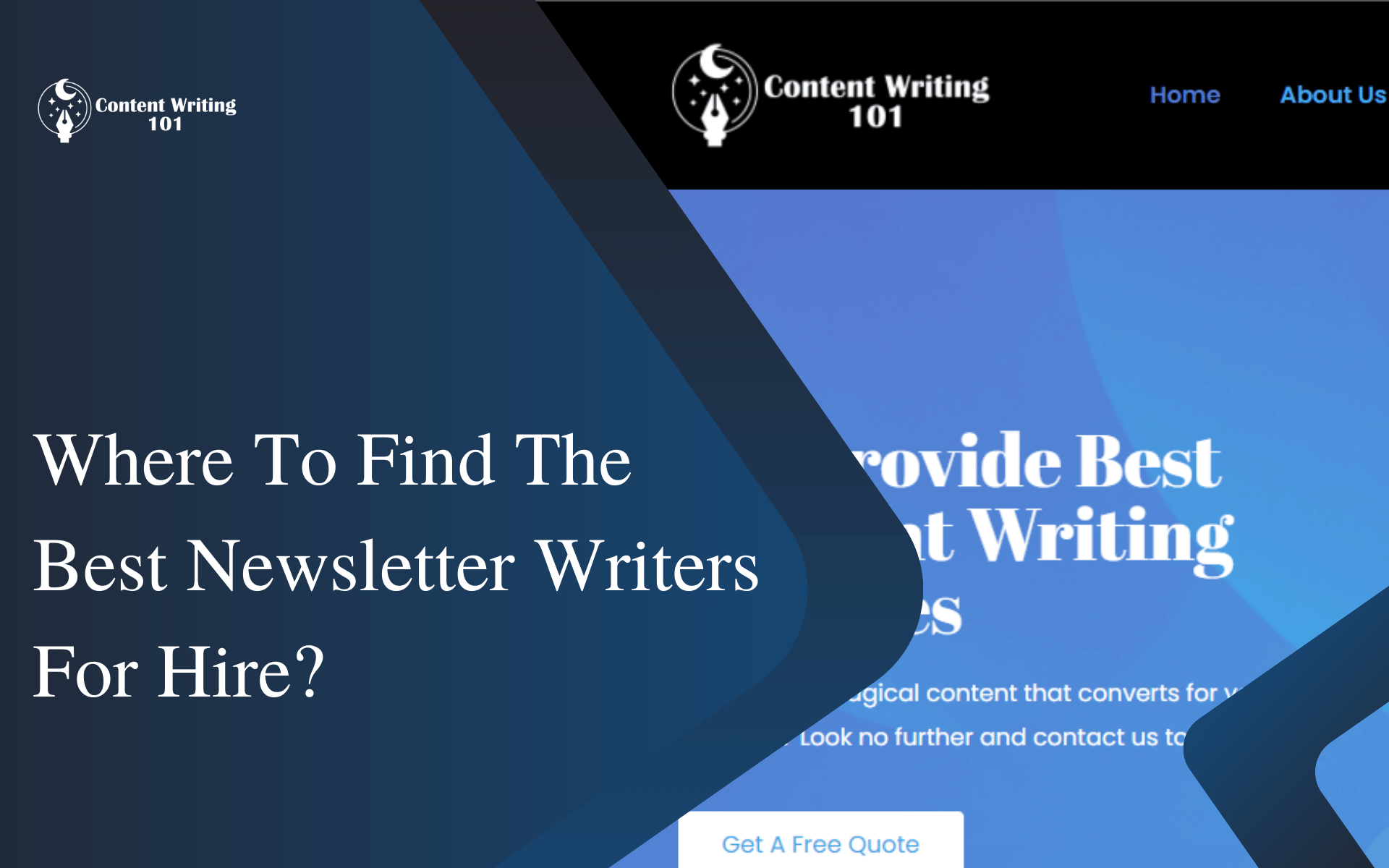 So, Are You Writing The Newsletter Now?
Now that you know about the elements and best practices, it's time for the rubber to finally meet the road.
Pick your topic, craft an awesome subject line, write your content using storytelling and visuals, include an impactful CTA, revise the draft at least a dozen times, and now you're ready to send them flying.
But hey! Hold on.
I think I missed one thing!
Don't forget to put in some research. Analyzing some of the best email newsletter examples gives you a good idea of how it should be done.
So, with this, I leave you with some of the best newsletter examples by Brafton. You can use these as references if you're thinking of writing newsletters. Other sources include Hubspot, which has an ultimate lookbook of newsletters from some of the best companies.
The internet is filled with information. Learn from your resources and keep digging until you find your style. Once you have a few ideas under your belt, you will be able to craft the newsletter of your dreams and set your business on course.
So, are you feeling inspired to craft your first newsletter? Is there anything you'd want to add here? I'd love to have it discussed in the comments!