What is it about freelance writing that makes the rumors spread like wildfire? If you've just stepped into the freelancing world, you need to cut the noise down.
I would say the biggest roadblock to success in freelancing is digging out the truth regarding these myths.
But firstly, let's talk about the widespread impact of freelance writers across industries.
Research studies show that currently, every 1 out of 2 Americans work as a freelance writer. In the next five years, the freelancing industry is projected to occupy the majority of the workforce in the United States, with almost 51% of the working population. This states that it is a thriving industry and is here to stay for longer than you can imagine.
Freelancers are the pillars of society- coming up with new ideas is no layman's job. But the realm of freelancing is full of mysteries. I'm sure you're still confused and holding up to the myths bombarded by your peers along your journey. Believing these myths will undoubtedly hold you back from growing as a freelancer. So let's debunk them one by one:
Myth #1 – I'm The Boss
Freelancing is all about meeting deadlines, producing high-quality work, and communicating your priorities effectively to your client, which makes your client The Boss!
It's very common for freelancers to work for multiple clients, which means you have to live by their rules accordingly. That doesn't mean you get to work for bad clients for the sake of doing it. But you need to be answerable to someone else.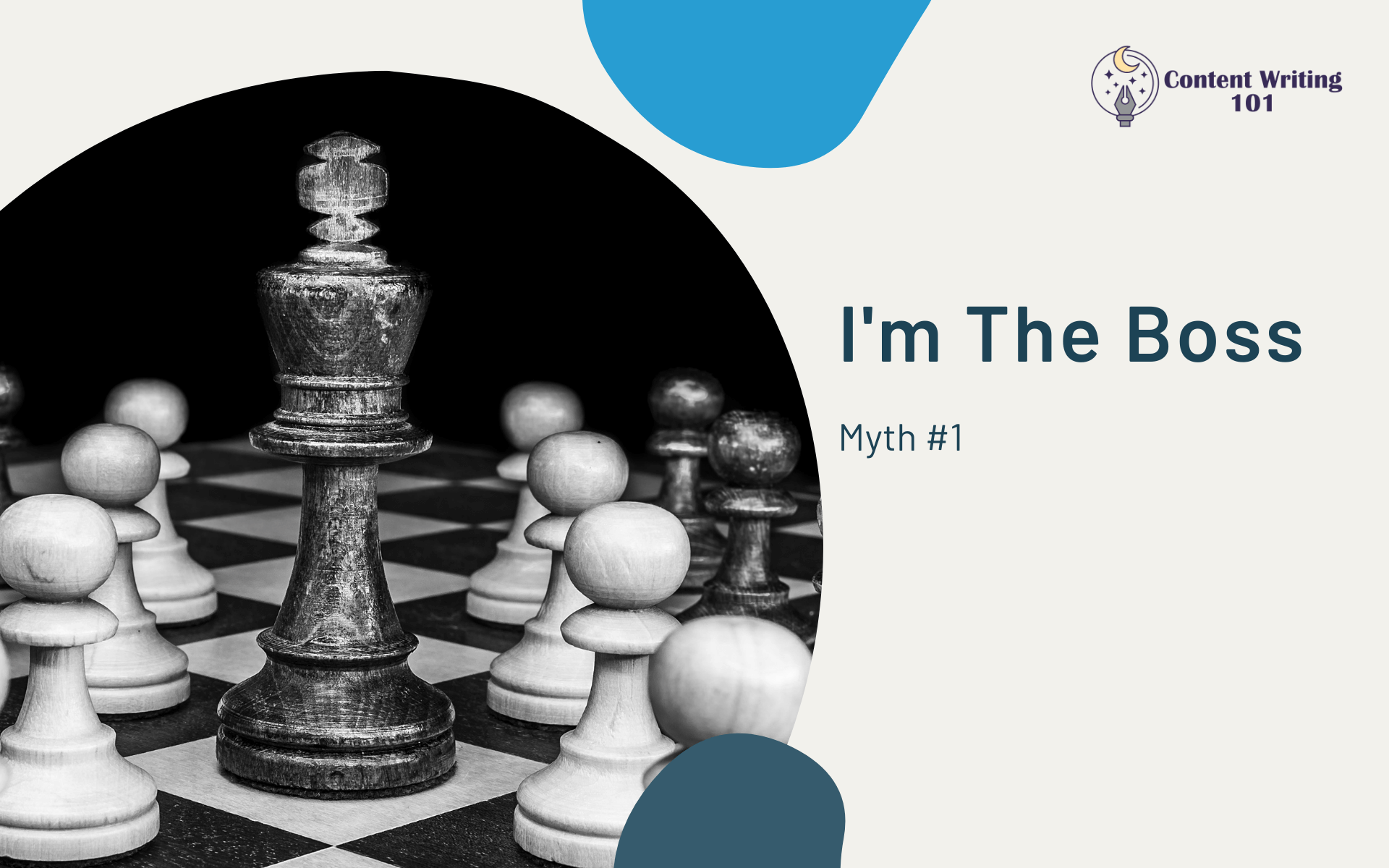 Myth #2 – It Is Impossible To Make A Living From Writing
This is one of the most generic myths about writing in general. But if you think rationally about the digital ecosystem and chat with your friends working in the industry about it, you'll get an idea about your future career prospects in freelance writing.
Content is the king. Every industry needs content, not just the powerhouse companies but the mid-to small size business, non-profits, websites, social media. But it isn't necessary that each company has enough budget and workforce to carry out its operations. They need to outsource their content creation activities to freelancers like you. Work out your portfolio and start searching for job entries and internships on freelancing job boards.
Myth #3 – You Need A Strong Network To Get Your First Gig.
You don't need to be a Beyonce or a Lebron James kind of a fanbase to get the first kick in freelancing. That's not what it takes to get your feet wet in this world. It takes a compelling pitch, a strong body language and truckloads of confidence in your skills to land your first gig. And for a fact, freelancers know a lot of people once they start working, but initially, it's the other way round. You can reach out to your first client through freelancing job boards. All you need is a few writing samples and a portfolio. Or you can offer a free selection and ask your client to evaluate you on that basis. If the sample works fine, you're good to go.
Another effective method is by cold outreaching. This can be done through e-mails, social media platforms like LinkedIn, Facebook. You have to stick to the cold mailing guidelines to craft a perfect pitch that can land you the first-ever gig.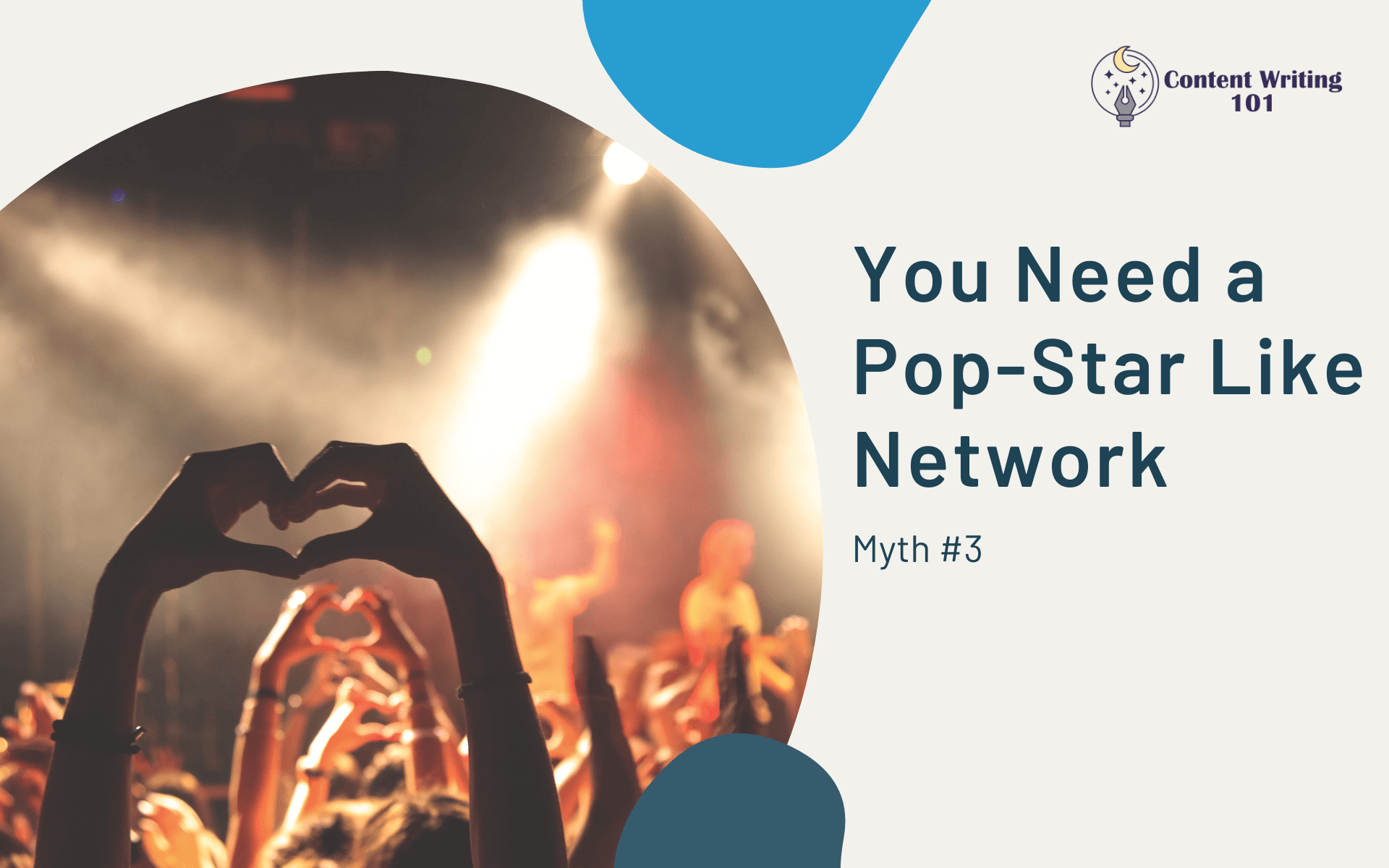 Myth #4 – You Need A Formal Degree For Freelancing
"You need a degree in English Hons, Journalism or Mass communication"- You must have heard this false golden criterion at least once in your life.
To state the obvious, you should care least about degrees or any educational qualifications when it comes to freelance writing. All that matters is you're eager to learn the basic rules and guidelines if you're entirely new to the job. Biases exist in every industry, and you might be led to believe that formal education is required to get any job. But that is the USP of freelance writing. There's no distinction, no education barrier.
The real test that differentiates you as a special entity is your ability to handle multiple roles effectively and your eagerness to read more and more. That's what separates an expert from an average writer.
Myth #5 – You Can't Say No In Freelancing
If you want to cut down on truckloads of underpaid gigs, you have to learn the art of saying No in freelancing. It's very natural for a new writer like you to be insecure about opportunities. An optimistic approach of fitting in everywhere works wonders, but sometimes it can lead you to work for hours without any regard for payment or the job type.
You need to have patience and improve your portfolio. The day will come when a legitimate brand will reach out to you with a good pay scale. You certainly don't want to miss out on such golden opportunities because of some dull underpaid gigs you're overloaded with. So, say No whenever required.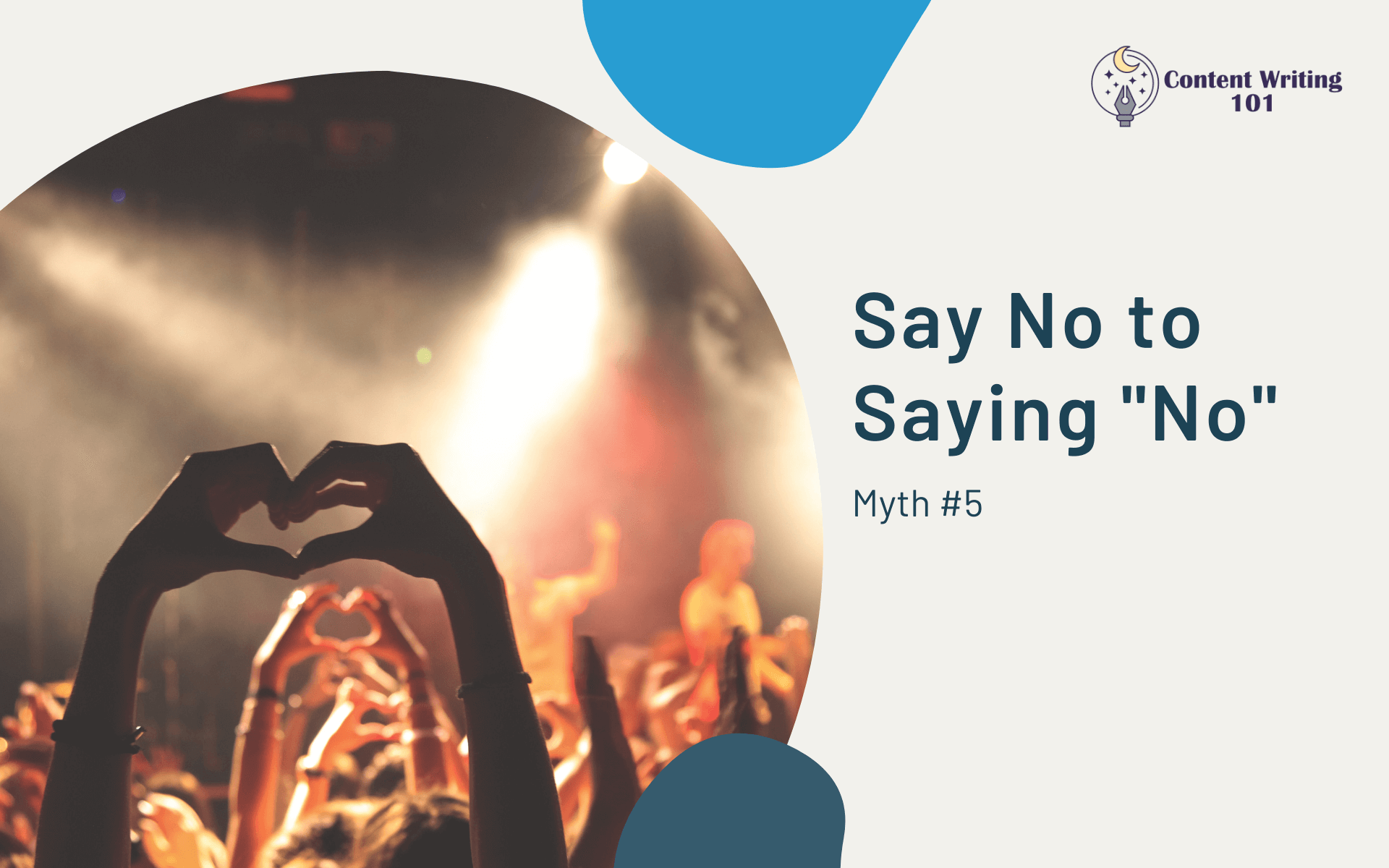 Myth #6 – You'll Have All The Free Time In The World
Yes, you have the liberty to make your own schedule and work out the best time. But if you want to earn big bucks, you have to cut down on your Netflixing and start putting in those precious hours to build up your experience. Since there will be a lot of time shortage, you might struggle to get back on track once you've lost the motivation.
Freelancing hours can overlap with your personal time as well. So it's essential to learn how to strike a balance between your personal and professional life. But that doesn't necessarily mean it's all pajamas and Blue Bell coffee all day. Take it as a rule of thumb or anything but the initial years will be a roller coaster and most of the time you'd be compromising on leisure. Well, sure you can counterbalance by being organized but it will take a lot of effort up front. Not to scare you away, but the struggle's worth it. At least if you feel it's worth it, you'll never give up and ultimately live a successful freelancing journey.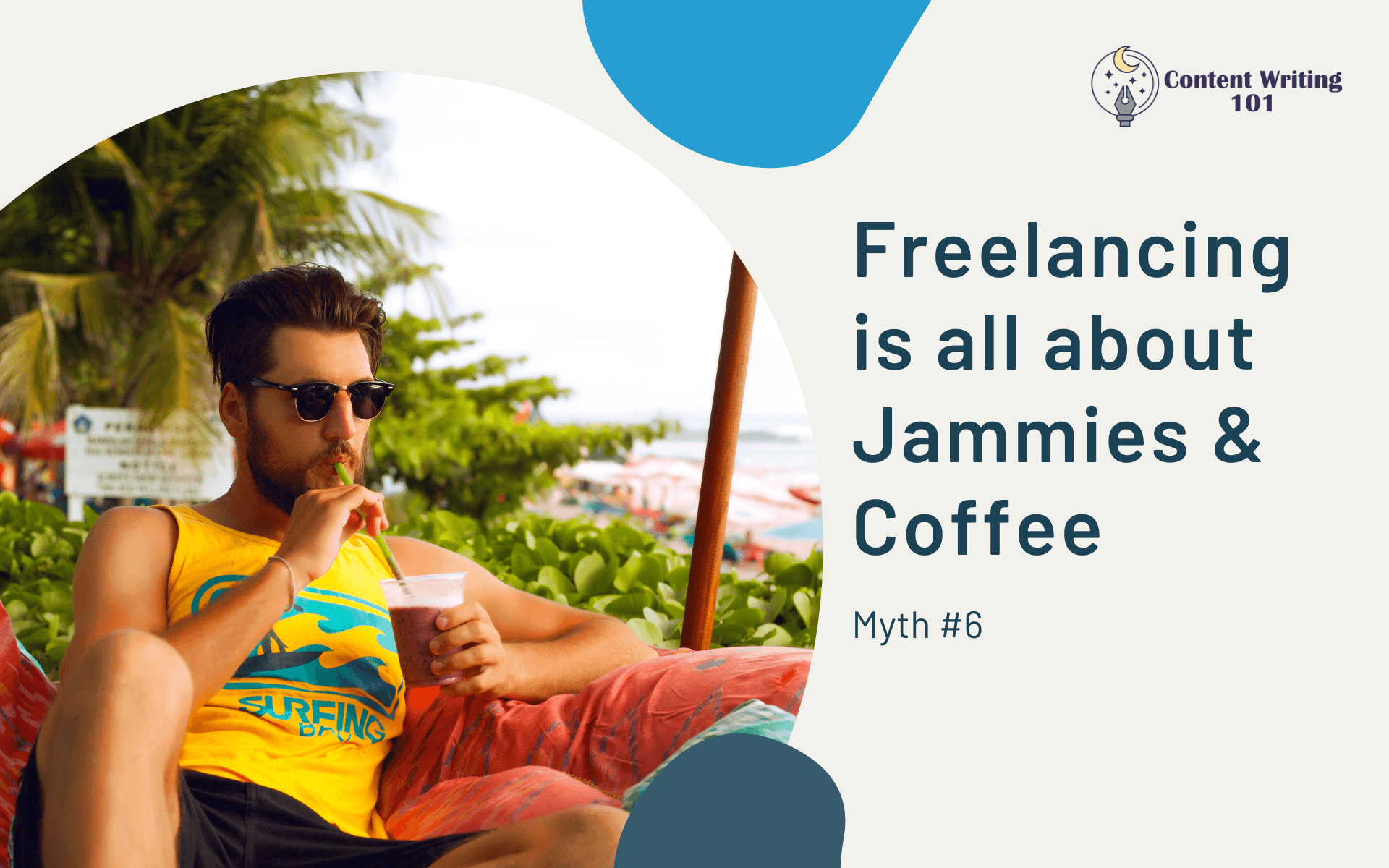 Myth #7 – There's Liberty To What You Can Choose To Write
Let's just say that freelance writing is a subset of the freelancing universe. So it's not necessary that the projects will always align to your specific areas of interest.
Suppose you are a tech buff, but the current content marketing strategy involves finances.
Will you leave the job? That's crazy to think, right?
You must have heard the phrase, Jack of all trades, master of some. This means you have to be open to learning everything that comes your way. The current digital landscape is all about skills. Once you know how to adapt to the changing demands, you'll end up with the world's biggest asset by your side, comprehensive knowledge.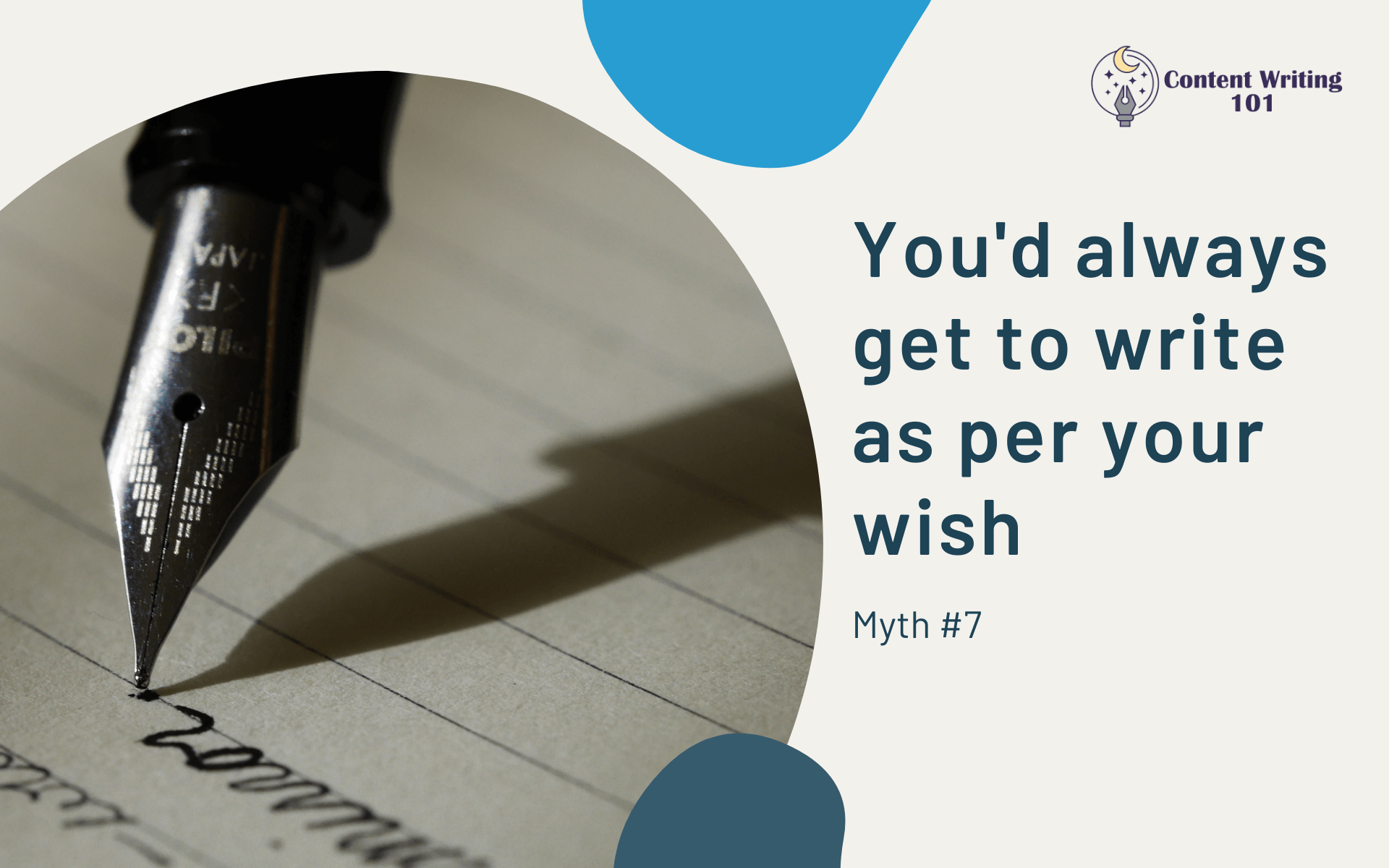 Myth #8 – If You Were Bad The First Time, Your Career Is Over.
The freelancing industry has a wide array of opportunities where one failure won't matter much. If you couldn't make it through a gig, the least you got out of it was the experience of how not to do things. Plus some incentives and perhaps even a certificate of recommendation as well. So, in other words, you have nothing to lose in freelancing. You have to keep digging through job boards to land clients. And always keep writing.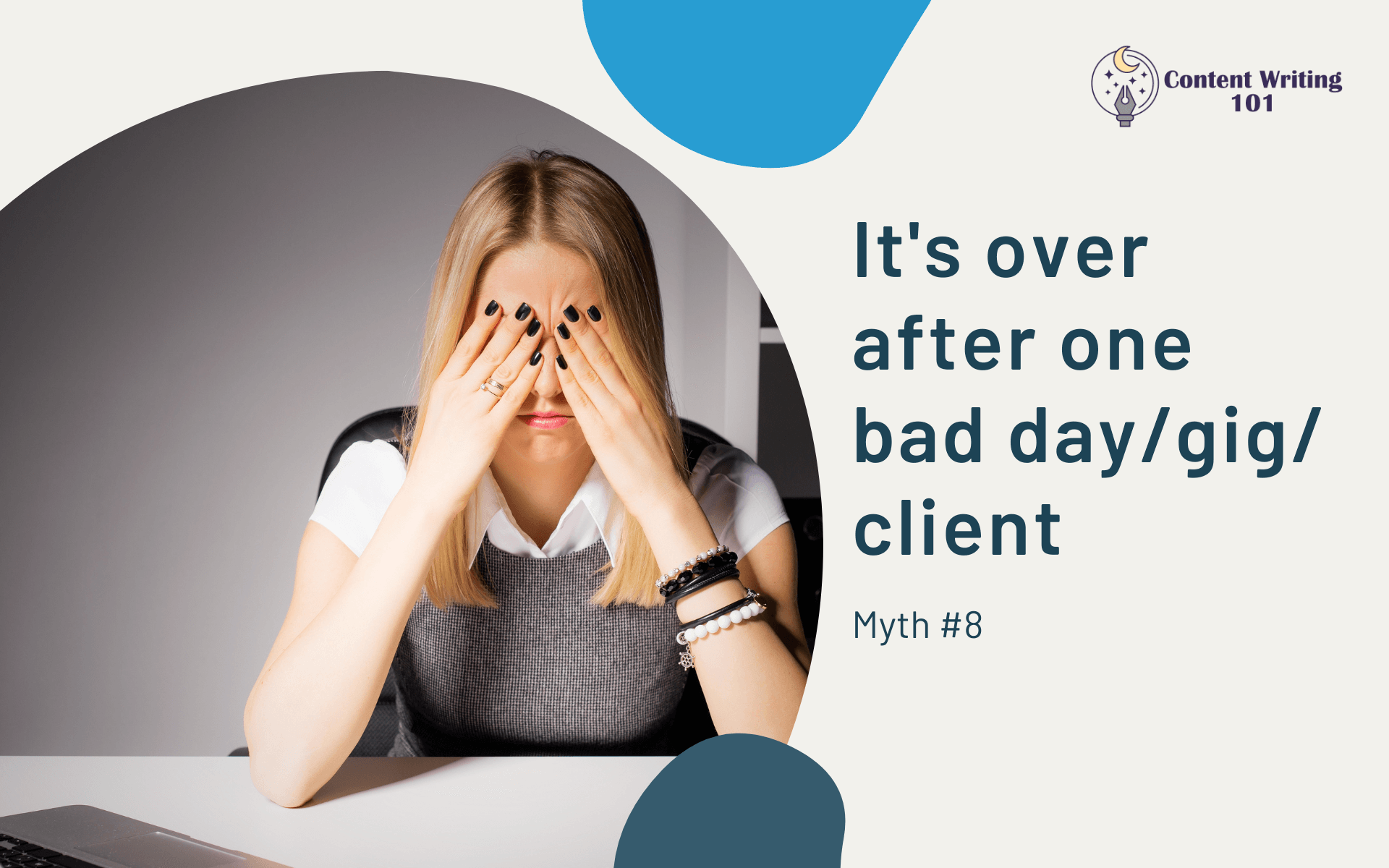 Myth #9 – It's Easy Stack Up to Six Figures.
It's funny how two extreme spectrums of myths can coexist. Earlier, we talked about how prosperous the freelancing industry is. And now, the exact opposite of it. To state the obvious, it takes time. But it's definitely possible.
All it takes for you to learn and unlearn the craft of writing and marketing your content effectively.
It also takes an effective content writing schedule and basic organization skills so that you don't have to reinvent your process every time you land a new project.
If you work hard and smart, it's not tough to build a concrete writing process. You have to start investing in upskilling, and the days won't be far when you'll begin to earn good bucks.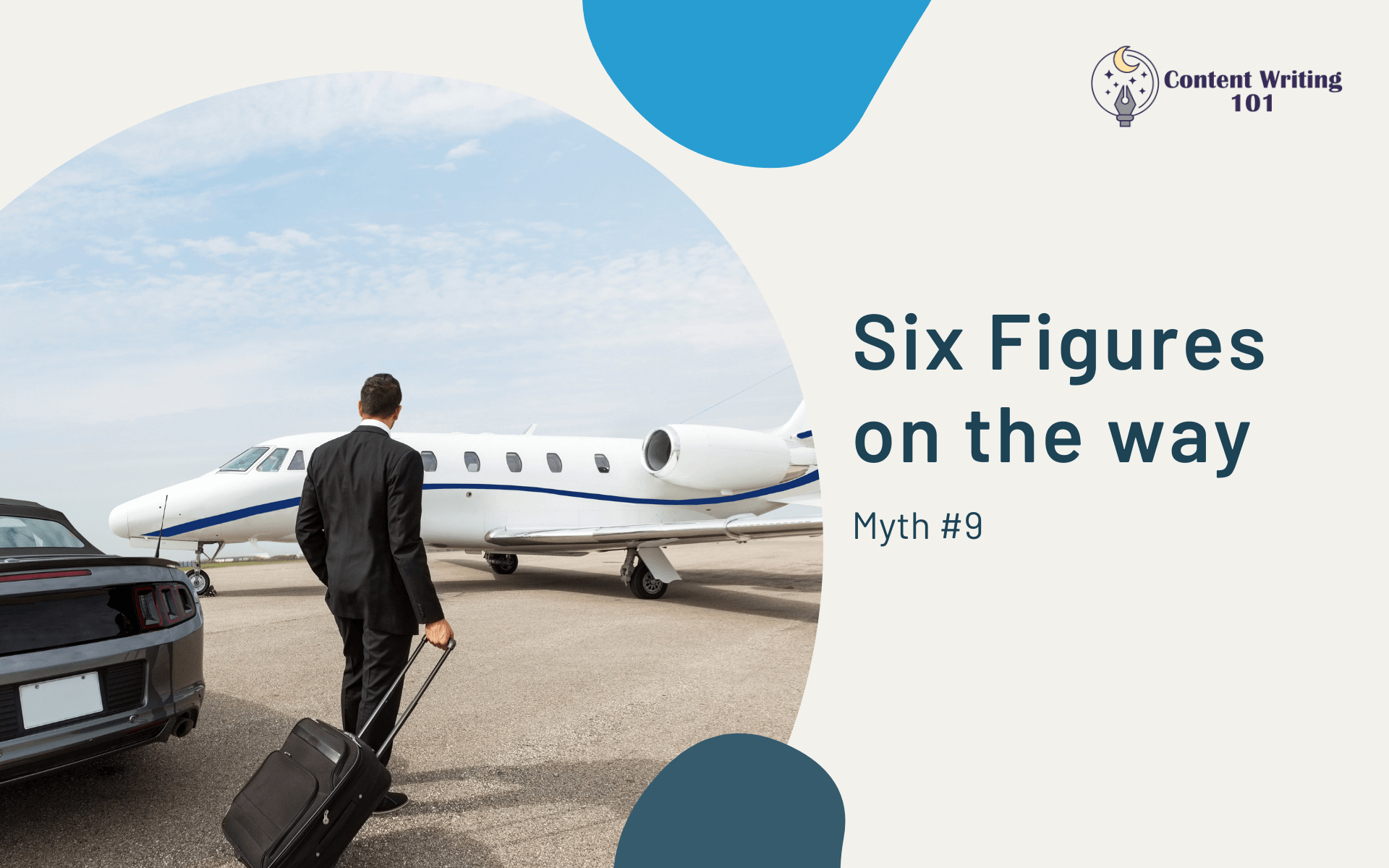 Myth #10 – You'll Spend All Day Writing
There's a big difference between being a hobbyist and a businessman. In freelancing, you're first a businessman, then a writer. Research shows that freelancers spend almost 40% of their time in content distribution, project management, accounting, and other aspects of a business.
Freelancing is all about creativity. So it's essential to manage your time wisely to come up with great unique content consistently. Since you don't want to end up with a truckload of tasks on holiday, you need to learn everything besides just writing.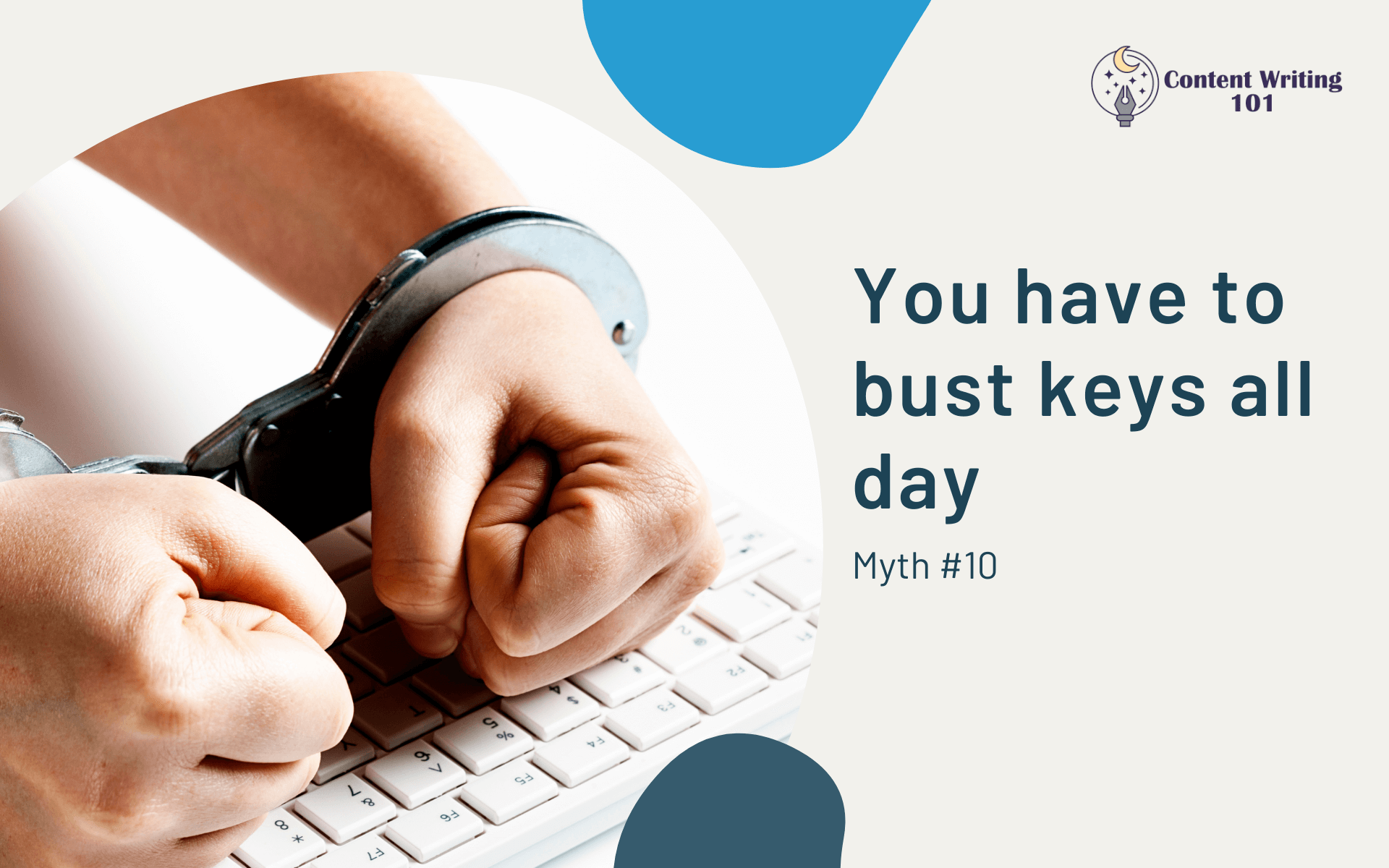 Myth #11 – If You Write For Companies, You Can't Write For Publications
It's very important to create a separate line between your client's work and publications. If you write for publications about the company clients, you'll have to reveal that the company paid you. If there's an NDA in place, It's forbidden for freelancers to disclose the client's work to other publications or freelance writing firms.
It's not just because of copyright issues but also about maintaining the credibility of the company. So refrain from overlapping your content across distinct platforms.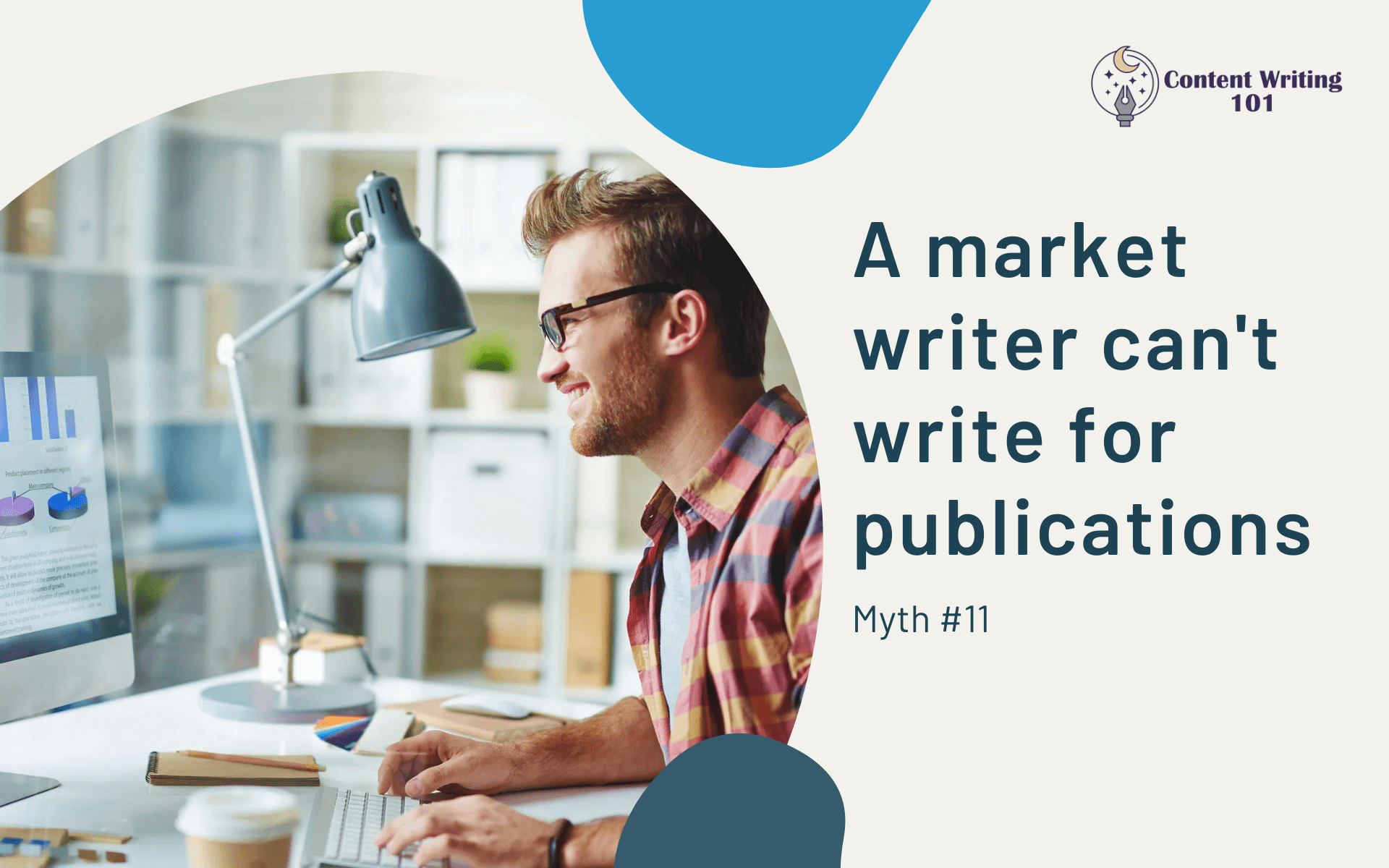 Time To Ditch Those Myths!
Myths are easy to believe. But that is the challenge you've to overcome in this field. People take freelancing for granted. And they make sure that you also get bogged and don't put in the hard work.
Freelancing is a real business for individuals who are always willing to learn and improve along the way. A simple Google search can give you a headstart into this field. If possible, maybe follow some writers on Twitter for a change. Just try to derive the feel of this world if you feel tentative about this. Once you set your eyes on the bigger picture, the real challenges will strike in. Be it any field, these challenges freelancers face will test your guts to the very core, and believe it or not, only those who know why they started in the first place make it through.
It takes time for new writers to build a forte and figure out their style. So there's no room for fabricated rumors.
Have you heard any of these myths during your freelancing days? We'd love to know. Reach out in the comments.