Josh recently graduated as a Graphic Designer and is struggling to find a job. Even though he's desperate, he has no idea what his options are. Several of his friends suggested he look for some freelancing gigs online. So, he scoured the internet for some "graphic design gigs" and found a posting on a freelancing platform.
The client wanted a customized logo for his website. The pay was low, but he applied anyway. Moments later, Josh received an email from the client. In the email, the client had asked for some free logo samples, after which they would be able to pull him in for the job. Since Josh had no job experience, he had no option but to send the samples. As written in the email, the client was supposed to revert in two days. Josh tried his luck at the mentioned contact number, but it was unreachable.
Josh had fallen for a prevalent widespread scam. One where a client is never looking for a freelancer but just some free samples they could use. After this experience, he promised never to allow others to go through the same thing. So, he asked us to jot down a list of warning signs and red flags freelancers commonly overlook while looking for their first "freelance gig."
If you're new to freelancing, you may spot these red flags in your journey. To avoid getting scammed as a freelancer by following some simple tips.
Red Flag #1 – The Client Asks You To Pay First
These scams can take many forms. The client requires freelancers to pay a deposit or purchase some specialized equipment available only through them to help you work from home. Perhaps it is a software or product of theirs that they consider essential to the project.
No matter what, they always expect you to send them money for your work.
How To Save Yourself From This Common Freelancing Scam?
Never agree to any payment requests before getting paid. It's understood if there was any requirement, they would have been mentioned in the job description itself. A good rule of thumb to ensure if a client is genuine or not is to ask for a deposit upfront. We usually charge at least 50% upfront before commencing any work.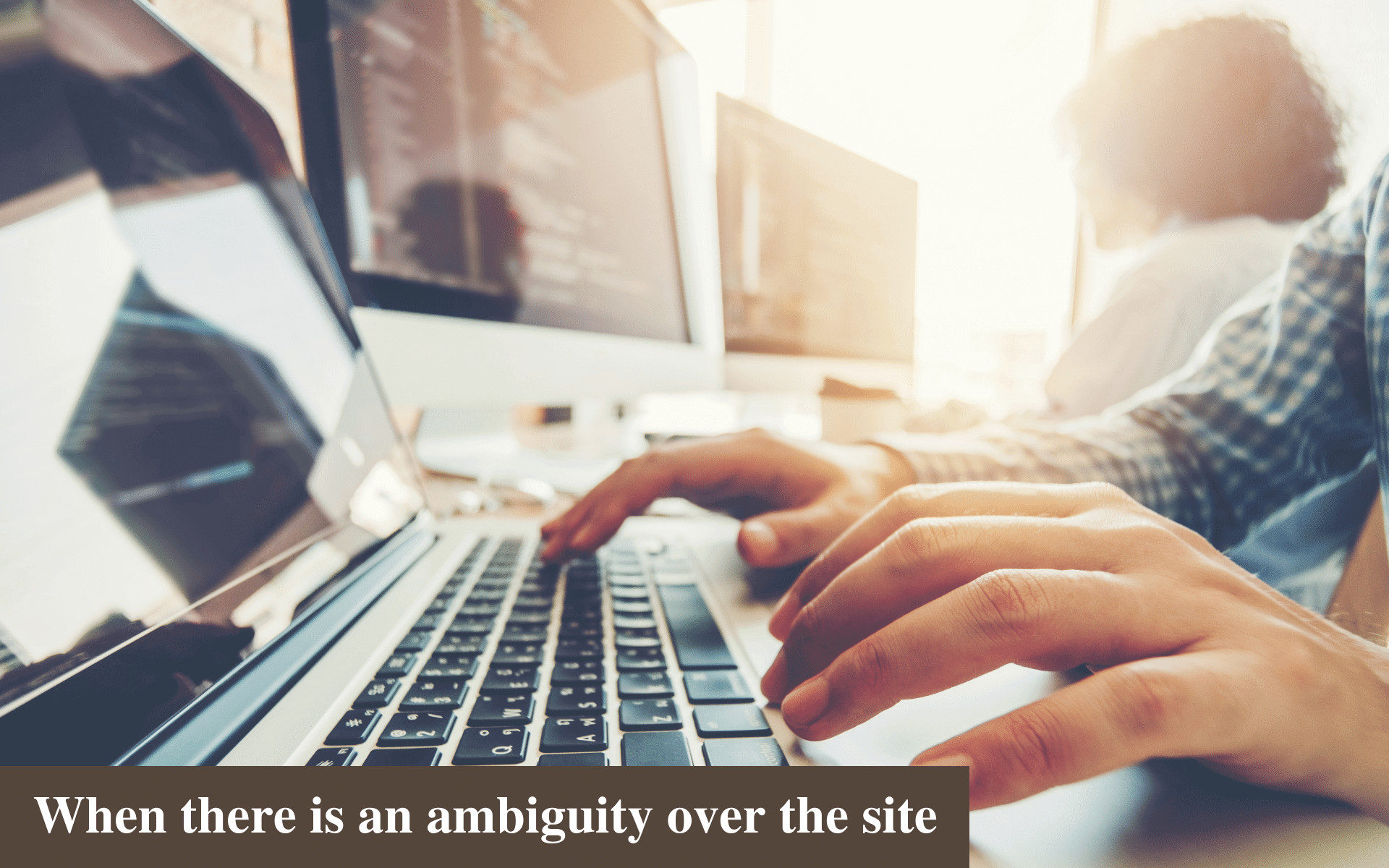 Red Flag #2 – The Client Offers To Grossly Overpay For A Relatively Simple Job
You should be wary of freelancing assignments that seem too good to be true. Yes, some clients do have a large budget, but if a "small business owner" offers to pay $500 an hour for a data processing job, it should raise a red flag. Various employers" might offer elementary tasks like organizing excel sheets or sending cold emails at ridiculously high gig prices, but all they care about is free labor. Come time to pay up. They will disappear into oblivion.
How To Save Yourself From This Freelancing Scam?
Dig deeper into the client's profile and look for illegitimate listings, ex-job reviews, complaints on portals like BBB, etc. It's also crucial to research the type of job, average salary, and responsibilities so you know what to expect.
Red Flag #3 – The Client Want You To Join Pyramid Scheme/MLM
A pyramid scheme is loosely based on a chain referral system. In the pyramid scheme business, money is generated by recruiting new members and not by actually following any standard business practice. So, the business often collapses when the pool of new recruits dries up.
Although they seem exciting at first, they are, more often than not, scams. In addition to being illegal, pyramid schemes waste resources, time, and money. The typical result is that people are promised easy ways to riches but spend more than they earn or barely cover the cost of the venture.
How You Save Yourself From A Pyramid Scheme In Freelancing?
It would be best to always reject offers to work with companies that want you to sell and add new members to their chain. In addition, if you're promised big profits through a company's "proprietary and secret" method, they're likely frauds. These types of companies heavily push the blame on the members for failure and ask them to buy expensive training programs that can "change their lives."
Red Flag #4 – The Client Insist On Using Off-site Communication
Most freelancing platforms like Fiverr, freelancer, UpWork, etc., have built on-platform communication tools to ensure the safety of all parties involved in the gig. When a client insists they use a 3rd party platform, it throws up a huge red flag. Common off-site communication platforms include Skype, followed by Facebook messenger.
Scammers tend to take personal details, account credentials, and other final deliverables and then disappear. Leaving you, the freelancer, in the dust because the concerned freelancing platform is not responsible for any off-channel dispute.
How To Save Yourself From This Common Communication Scam In Freelancing?
To avoid issues, you should only use the official channels of communication with clients if you are working on a freelance platform. All work discussions and payment details must take place on the platforms.
If you wish to move to off-site communication, make sure you trust the client and have strong contracts in place that safeguard your interests/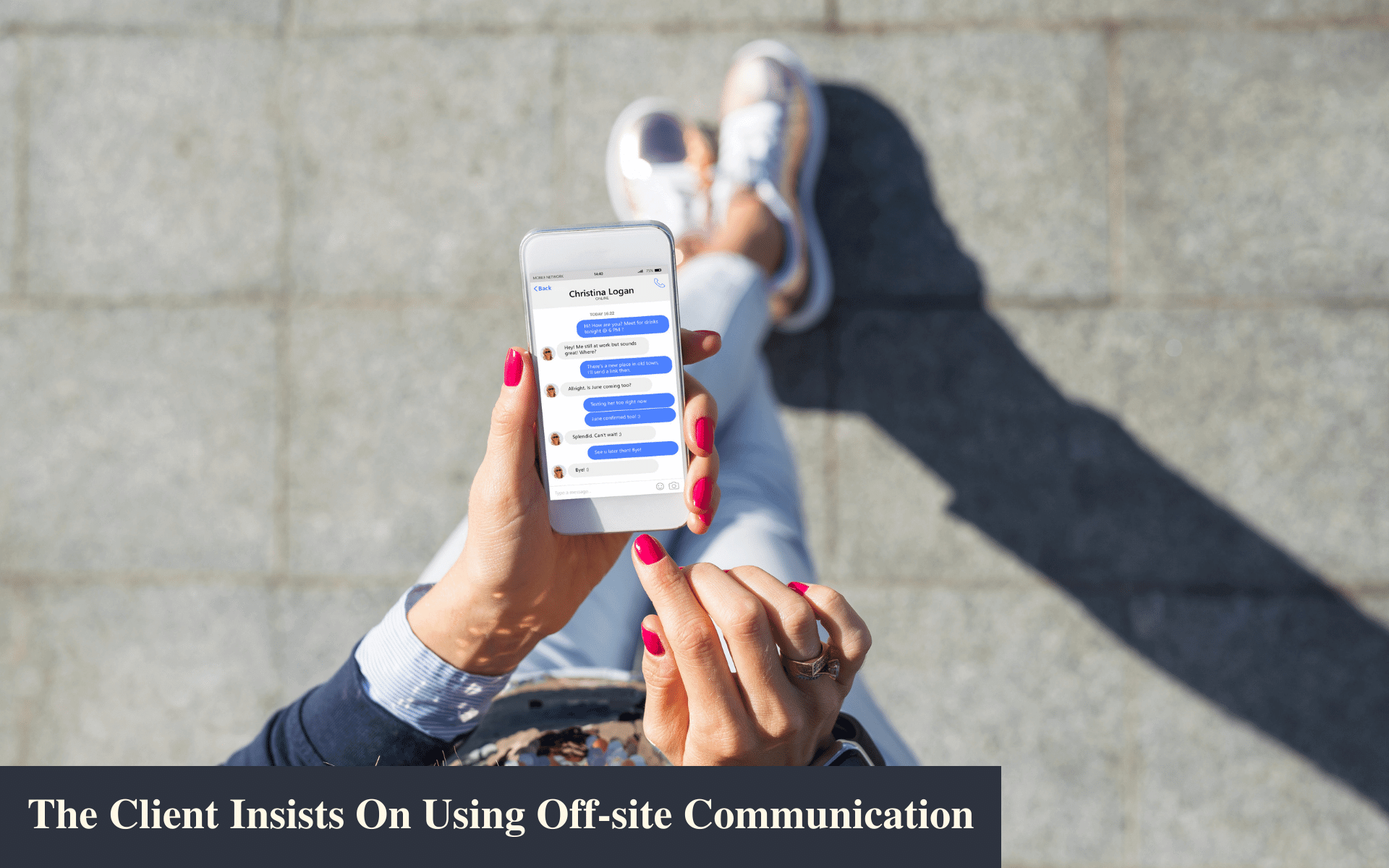 Red Flag #5 – The Client Too Many Free Test Samples
Remember what happened to Josh from the introduction of this post?
Because not all test projects are scams, it can be hard to avoid this trap. When you are a beginner, you might feel that showing potential clients your ability is vital for landing the project. However, you may be giving away free work to scammers.
Some clients ask for free samples from multiple freelancers and join these "samples" together to get what they need without spending a dime!
How To Say No To Free Test Samples In Freelancing?
A great way to ensure you don't do free work for clients is by opting to go for discounted yet paid samples. Be sure to understand how many samples your client is requesting.
If you're a new freelance writer, it's good to have a portfolio to showcase your work. If you don't have a portfolio, you can build one with us. Visit the Build Your Portfolio page.
When you have no prior experience, clients may request a free sample in order to gauge your capabilities. Sometimes, however, they are just scam artists out to take advantage of vulnerable people.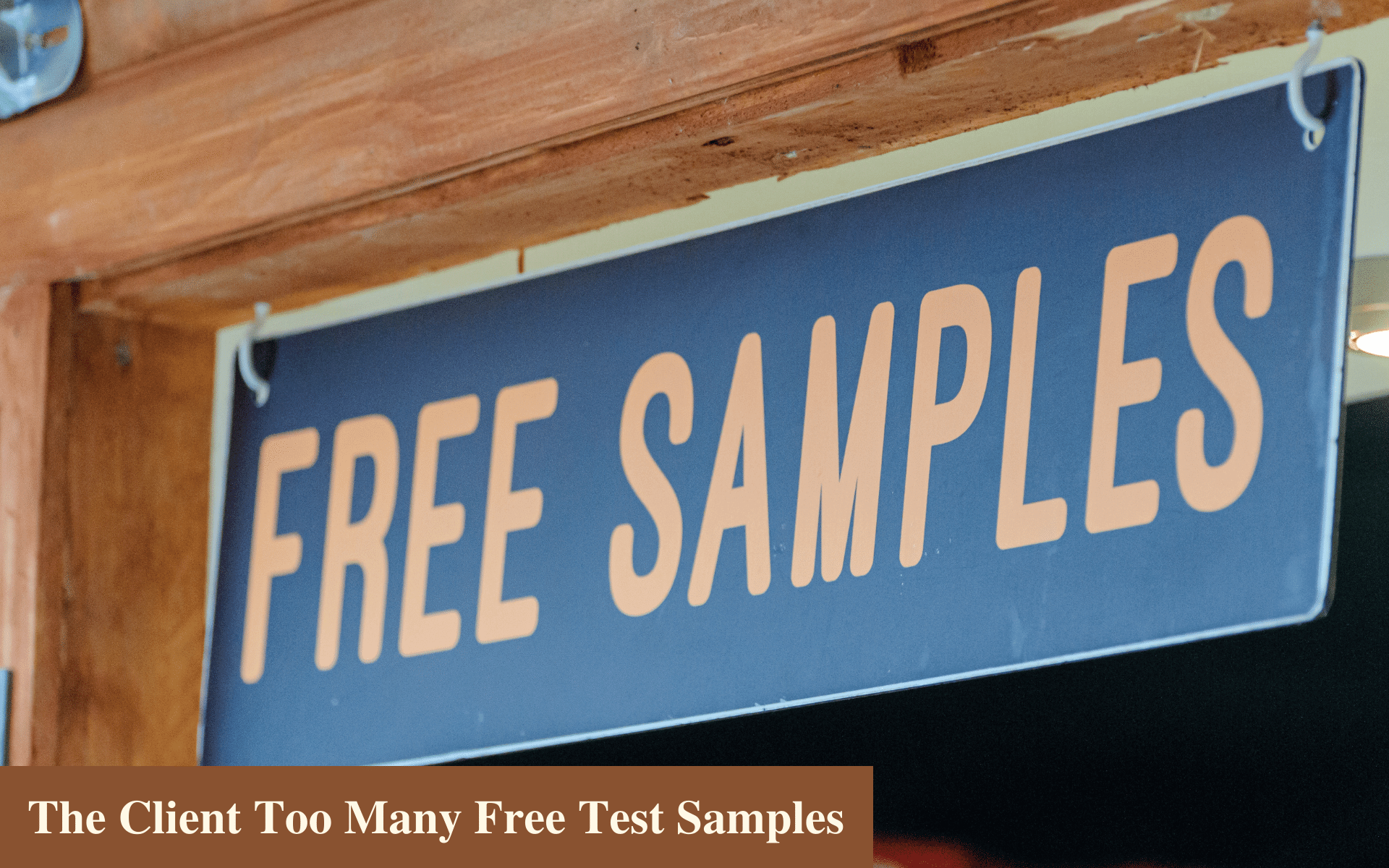 Red Flag #6 – The Client Wants You To Work With A 3rd Party
The triangle scheme, as it's commonly known, is a type of scheme where three parties are involved: You, the client, and a 3rd party.
A check is mailed to you before you even begin working. This check may be considered a prepayment, and the value of the check may exceed your quote. You may hear that it includes another employee's pay or money that you are liable to send in the company's name. It is even possible for the "client" to provide you with details of these third parties that other freelancers have shared with them to make everything appear credible. You'd have to cash out the money and deposit it into an account.
The story takes a darker turn now.
Once you cash in and send the money away, you will find everything has been taken from your account as you got a fake cheque. The "client" tricks you into sending them your own money.
How To Save Yourself From This Common Remote Work Scam?
Make sure any work agreements include a clear payment plan and that you accept money through wire transfers. Double-check everything and if something seems unusual, proceed with caution.
Red Flag #7 – The Client Pushes You To Verify Your Identity
Identity theft scams have become commonplace in the freelance industry. This scam is a part of identity theft where clients collect private information like your social security number, ID proofs, credit card information, date of birth, etc., to steal your identity.
Independent contractors aren't forced to disclose such details to get a project. Some remote jobs may require your SSN for filing purposes, but most are trying to steal your identity.
How To Safeguard Your Identity As A Freelancer?
If a client wants your private information before discussing the project and the payment, then it is a major red flag. Avoid starting a project with clients who are looking to get your personal information instead of discussing the work process and payment.
Red Flag #8 – The Client Wants To Use An Unusual Payment Method
Freelancers should be cautious when a client uses unconventional payment methods. These methods could include payments through gift cards, cryptocurrencies, or goods and services clients produce.
Gift cards are oftentimes stolen, cryptocurrencies untraceable. So be cautious when dealing with such clients.
If the platform a client wants to use is unconventional, it may be a scam. It is usually to shortchange you or avoid taxes. Stick to standard platforms like PayPal, Payoneer, Stripe, Bank transfers, etc.
How To Save Yourself?
Accept payments through proven and trusted methods like Paypal or Stripe to safeguard yourself. If you're using freelancing platforms, then you can also use their payment processing.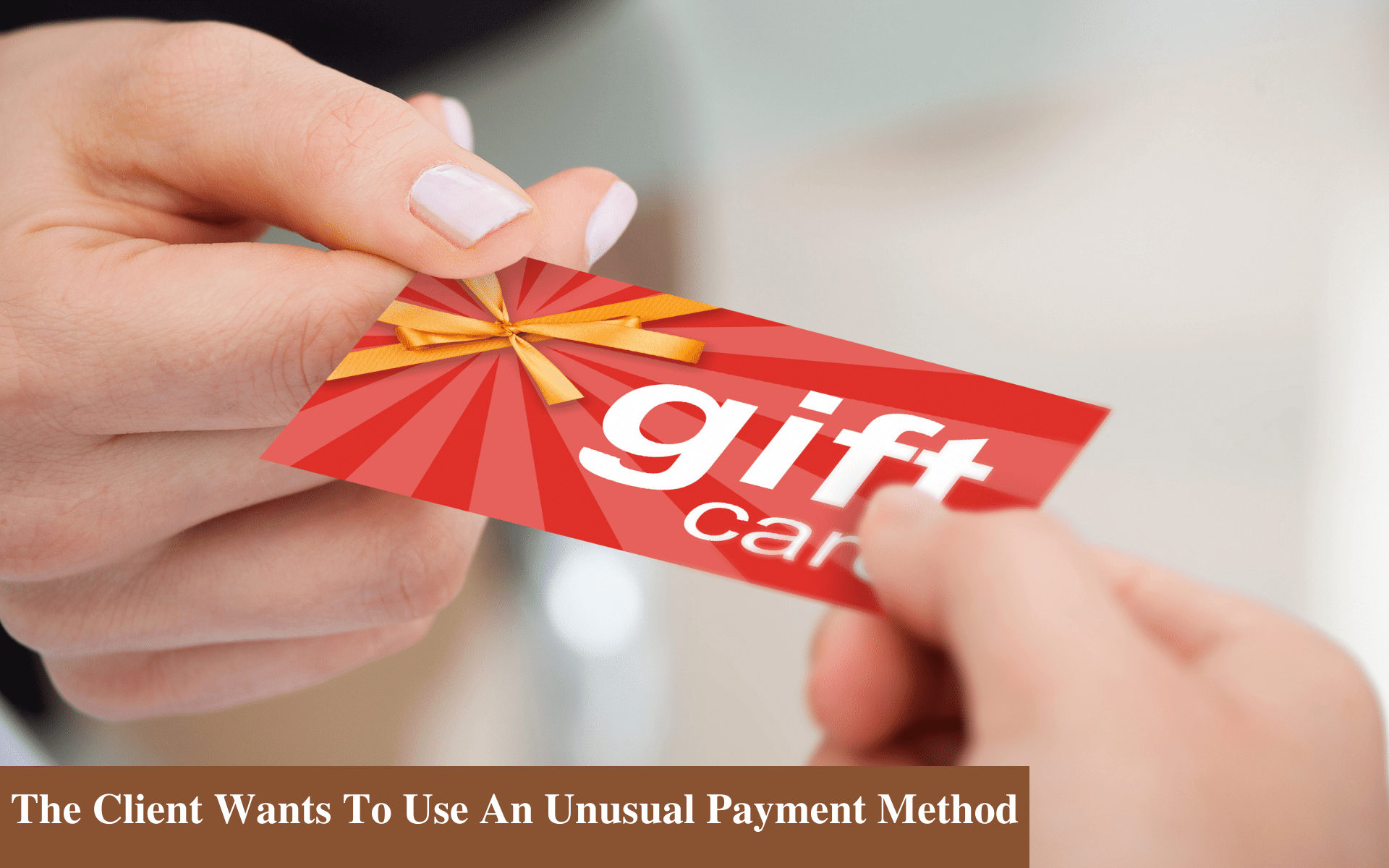 Red Flag #9 – The Client Doesn't Want To Sign A Mutual Work Agreement
Your client's unwillingness to sign the agreement of work or scope of work document suggests that they are underfunded or lack seriousness. This is an obvious red flag.
The document should clearly outline the project scope, payment information, duration, and other things. Without an agreement in place, it's impossible to keep the project on track.
How To Save Yourself From This Scam?
Never start any project before finishing the legalities and having all the documents in place. If your client isn't ready to budge or sign an agreement, then it's better to let them go, as they will cause nothing but hassle moving forward.
Red Flag # 10 – The Clients Has Way Too Many Negative Reviews
The best part of any freelance portal is the relative transparency it brings with it. As a freelancer, you have your profile which is essentially your brand. The same is the case with an employer. They have a brand and reputation to maintain too.
Go to an employer's profile after receiving an offer and take a look at their profile. An easily accessible website and social media profiles are essential components of a clear digital presence. The absence of a legal address or a website is a major red flag.
If their profile, social media, or BBB profile is full of negative reviews, then try and steer clear of that job as they likely don't treat the people they work with well.
Red Flag #11 – The Client Asks You To Purchase Their Software Or Tools Before Work
Freelancing jobs mostly require an internet connection and a laptop to be successful. You should be wary of clients asking you to purchase specific tools or software, especially ones they make themselves.
There are often promises of good work in exchange for paying a fee or the promise of making a lot of money if you resell a company's product. A business or client making you pay upfront is usually creating a profit by signing you up and/or making you purchase the product they want you to sell.
How To Save Yourself From This Common Scam In Freelancing?
The same old advice: Never work if you have to pay beforehand.
Sometimes you may have to pay for extra services on freelancing platforms like Freelancer or Upwork. These fees are not a scam but are a cost of using their services to find work – and they are not compulsory.
However, if you find a service that requires you to sign up and pay a fee or to buy a product before you can work for them, avoid working. There's zero chance of any return on this type of investment.
Red Flag #12 – The Client Asks You To Share Your Freelancing Account Credentials
One of the common types of scams is when a fellow freelancer or a client asks you to share your existing Upwork or Freelancer account. They promise to grow your profile and eventually share the profit. This is a full-fledged scam where you'll be giving them access to all your personal information on the platform plus account details, and in return, you often get scammed.
How To Save Yourself From This Common Scam On Freelancing Platforms?
Say no to anyone requesting your freelancing account access. As you grow a strong reputation on freelancing platforms, you will usually see scammers using sweet words to entice you so that you will grant them access to your account.
As a result, your entire business will be stolen in just one act. You would also be putting your whole freelance career at risk as any platform that offers freelancing has a strict No Sharing Policy.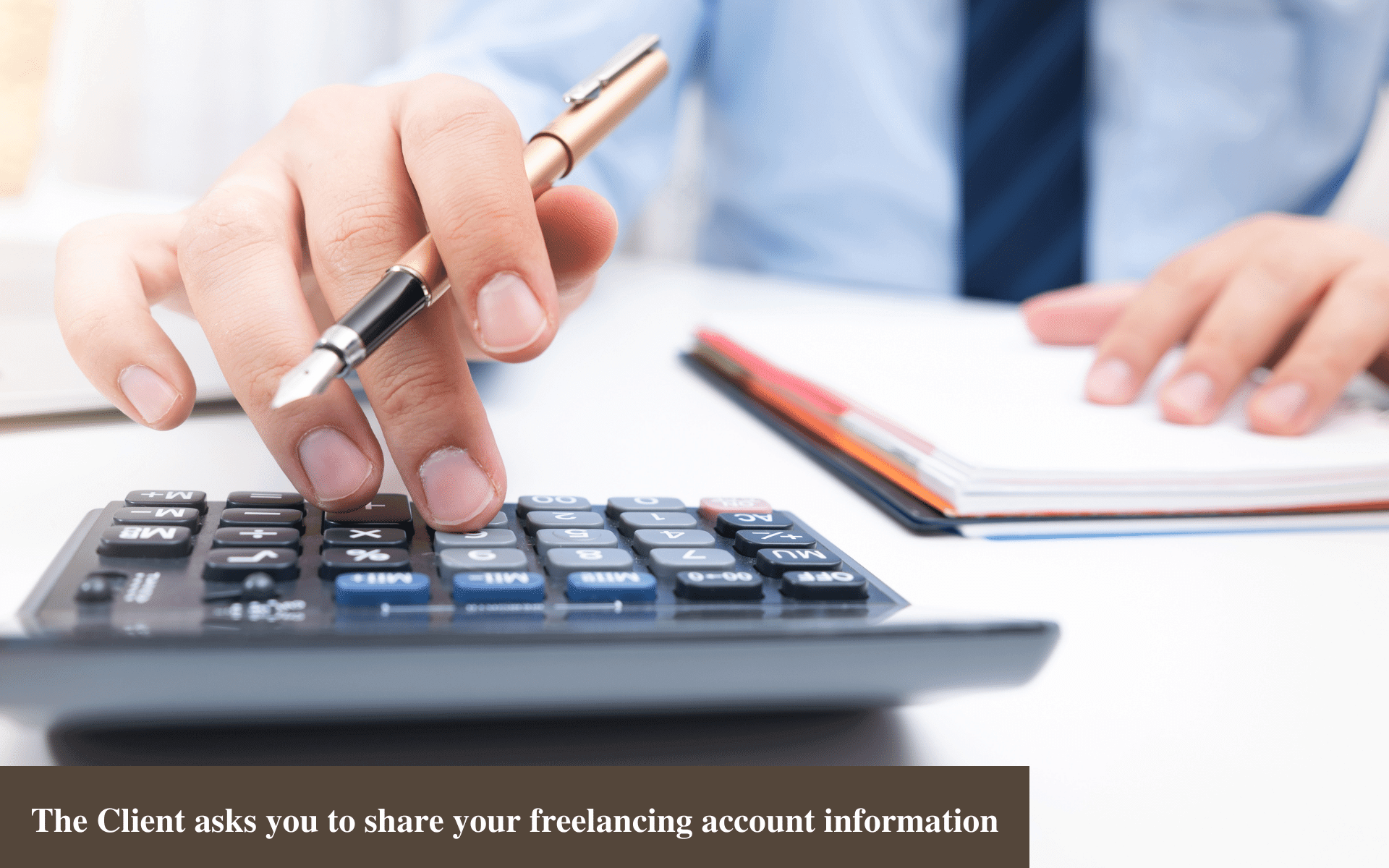 Red Flag #13 – The Client Asks To Purchase Their Online Course To "Learn"
Another scam involving freelancers looks too legit to be a scam but is, in fact, a scam. Online courses promise freelancers a formula that will guarantee them a substantial income and plenty of work.
As you will see, there are various great courses and mentorship programs that offer advice on how freelancers can improve their business. Some websites, however, offer courses that use clickbait and cost hundreds of dollars while teaching you nothing you can't learn from Google.
Often clients will ask you to buy a course they developed for you to be eligible to work for them.
How To Save Yourself?
Invest only in online courses provided by well-known professionals or courses recommended by other freelancers who found them to be useful.
Red flag #14 When they need you to download a tracking software
It is not uncommon for scammers to attempt to obtain sensitive information, including usernames and passwords, for malicious intentions using remote tracking and monitoring softwares. In some cases, they will ask you to install tracking software to ensure that you are "working."
These clients are simply trying to hijack your accounts or spy on your computers.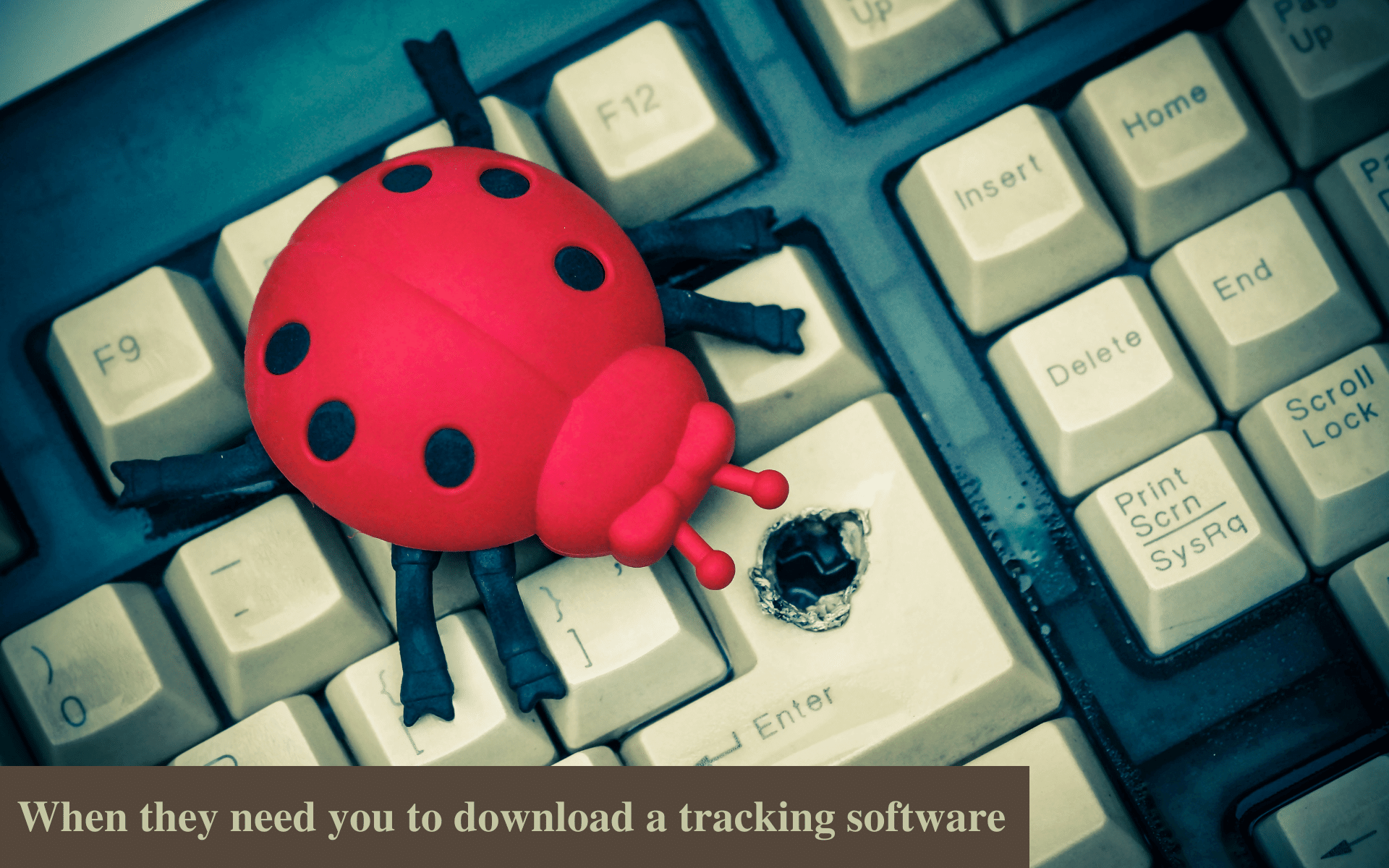 That's enough about the scams. If you choose to freelance, you should watch out for these red flags. As you prepare for your first gig, it's natural for you to get excited and assume everything will go smoothly. But there are also a lot of fraudsters in online businesses.
As an independent worker, you must realize that good opportunities are one step ahead of the worst. Being aware and prepared all the time will help you make a hassle-free career out of it.
Did I miss out on any other type of scams? If you have personal stories about freelancing scams, share them in the comments below.