You, being the owner of a small business, want to spend less, increase the efficiency of your employees, and increase revenue per employee. You may have read or heard about outsourcing, but you may not be sure if it is the correct option for you and your business.
Outsourcing refers to hiring a third party independent contractor to perform specialized tasks, handle clients, or provide a service on the company's behalf. Small businesses outsource a lot of functions and services. The main tasks that are outsourced are content marketing, customer service, and other backend business functions.
Outsourcing has always been an excellent choice for businesses. As a small business holder, choosing the service provider to outsource content marketing has always been difficult. In this article, we will be taking a look at why you should be outsourcing and how you can outsource your content marketing to professionals like us.
Primary Reasons To Outsource [Benefits of Outsourcing]
Businesses mainly outsource because they are unable to hire in-house round the clock employees. The main reason why companies outsource is to access specific expertise at lower costs and improve efficiency.
1. Outsourcing Helps Save Money.
Saving money is the most crucial task for any small business. Outsourcing allows you to save a considerable amount of money that you would likely be spending on:
Overheads
Project Management
Physical location
IT infrastructure
Rent
2. Outsourcing Helps Mitigate Risk
Risk is the first thing that comes into mind when thinking of starting a new business. In order for businesses to succeed, it is necessary to take calculated risks. By reducing risks, you can rest assured that your project will succeed. Businesses need to maintain a positive image. By outsourcing tasks such as online marketing or content marketing to a company that is already established and qualified, you accomplish specific business goals faster than an in-house employee.
3. Outsourcing Gives You Access To Competitive Expertise
Any person in business who's well trained and confident in their abilities are bound to be triumphant and victorious. No one can be the master of all trades, and it is easy to lose focus when it comes to managing everything required to execute your business. Professional assistance from qualified external service providers allows you to compete with your larger competitors.
4. Outsourcing Allows You To Complete More Projects In Less Time
Whenever a small business outsources, more projects start to come and get completed in a shorter span of time. Outsourcing gives you the ability to take on projects and complete them on time as well. It also does not limit you to the limited ingenuity available in your area of operation.
5. Outsourcing Allows You To Free Your Time So You Can Focus On What's More Important – Growing Your Business
Outsourcing gives you the freedom to concentrate on your core business functions. When you outsource the non-core business function, you can ensure that every on-roll employee is engrossed in only the core business functions.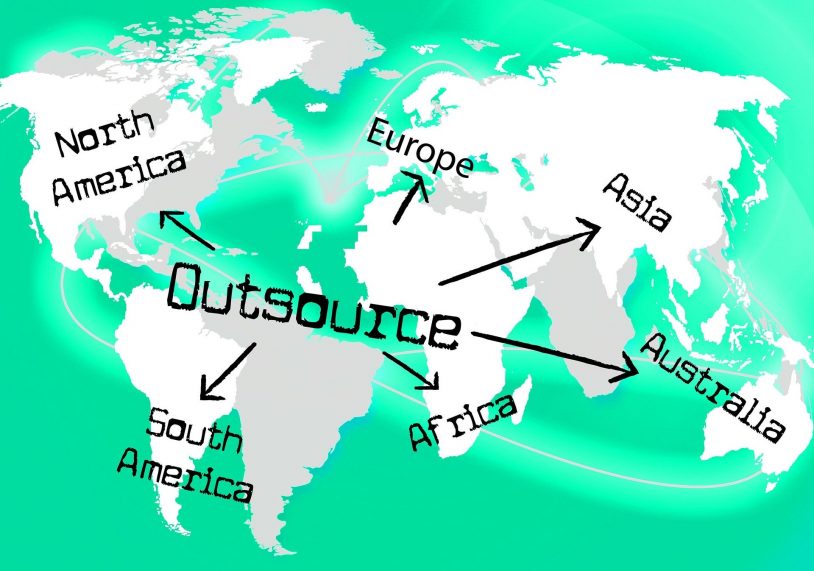 Who Should Outsource?
Outsourcing is beneficial to every business such as –
1.Start-ups
New businesses don't usually have the time to create a brand new framework when they need to be agile and flexible towards changing circumstances. Their entire energy should be utilized to develop the business rather than searching for administration and compliance. Outsourcing provides an invaluable resource at a critical stage in the life of the business.
2. Business That Have Relocated
Businesses that have relocated have a chance to review and re-engineer their business ideas and personnel. Outsourcing offers a brand new start and avenue to recreate business processes and to enhance efficiency and profits.
3. Businesses Expanding Internationally
Starting a business in a foreign country is reasonably difficult. As business owners, you have to worry about regulations, customs, and local practices that impact your bottom line. Outsourcing to our local experts can solve this problem without having to establish an overseas administrative function.
4. Businesses Without The Need For A Physical Office
Some businesses, such as investment companies, may not need a permanent office. The same is true for NGOs and Trusts. Outsourcing is particularly suited to these operations and can often be used to provide the majority of resources required.
Disadvantages of Outsourcing
1. You Lose Some Control
As you might expect, when you farm work out to external agencies or freelancers, you lose control over the process. Most freelancers and agencies have their own standard processes, but some don't. As long as you trust whom you've hired, this shouldn't be a huge issue.
2. Security Issues
Data is more valuable than gold, and at a time where data is protected, it is crucial that you exercise caution while sharing your private data. If you use industry-standard practices of sharing data, you should be good to go.
3. You May Need To Give Additional Time
Because many outsourcing agencies or freelancers tend to service multiple clients at any time, there may be additional work required on your end to improve what you receive.
Difference Between Insourcing And Outsourcing?
We know the meaning of outsourcing by now. Let's take a look at what is insourcing. Insourcing is a business practice that is conducted within the operational boundaries of an organization. Insourcing refers to bringing in the specific efficiencies to complete the interim needs or to coach existing personnel and perform different tasks.
Companies might need to invest in new equipment, hardware, and software when insourcing, and they might require re-engineering their business processes.
As a small business owner, outsourcing can help you a lot. What do you think benefits you most? And which of the above is the most advantageous to you? Please share your thoughts, concerns, and views with us by leaving a comment below. We love to hear from you!